Bulky yarn… so luscious to dig your fingers into and so cozy once it's a finished project.
If you're used to working with thinner yarns, bulky yarn can be a little unwieldy to get used to. These tips can help you quickly adjust!
Know the different types of bulky yarn
Not all bulky yarns are the same, and it helps to know just a few things about bulky yarn before you pick a yarn.
Bulky vs. super bulky vs. jumbo
There are actually three official yarn weights that are heavier than worsted weight yarn (#4):
The next size up is #5, which is called bulky yarn.
Bigger than that is #6, super bulky.
A relatively recent addition was #7, which is called jumbo yarn.
Bulky yarn tends to like regular yarn, just thicker; jumbo yarn often looks more like roving. If you're new to working with thick yarns, you may find it easiest to start with a #5.
Smooth vs. textured yarn
As with other weights, bulky yarn comes in a smooth design (the kind most commonly used for crocheting) as well as in textured designs including thick-and-thin yarn, yarn with nodules built in, fuzzy yarns, etc. Beginners will likely find it easiest to work with the smoothest yarns.
Flat yarn
Most bulky yarn options look the same as regular yarn, which has a rounded, tubular shape. However, there's also flat yarn (sometimes called tape yarn or ribbon yarn), which, as the name suggests, lies a bit flatter. T-shirt yarn and recycled sari silk are often made as flat yarn, as are specific yarns such as Lion Brand Fast Track.
Yarn Color
Even an experienced crocheter might have some difficulty finding the right place to insert the crochet hook in a bulky yarn stitch at first. A lighter colored yarn, especially one with great stitch definition, makes seeing stitches a lot easier. Working in a well-lit space helps, too.
Yardage
Generally speaking, the thicker the yarn, the less yardage you get per skein. But within each category, there can be a huge range. If you want a lot of yarn to work with, check the yardage on your bulky yarn before purchasing it (look for skeins with at least 100 yards), or purchase several skeins if there's not a lot of yardage.
Selecting the right crochet hook for chunky yarn
For many crocheters, manipulating a large hook makes working with bulky yarn a challenge. These tips will help you select the right crochet hook.
Use the recommended crochet hook for the yarn.
First, check your yarn comes with a recommended hook size. You can find this on the yarn label or in the pattern you're using. Try this size hook first, and if it doesn't work well for you, then try one size smaller or one size larger.
Try the smallest of large hooks that will work for the yarn.
If there's no recommended hook size. you need to find out the right hook size for yourself.
Bulky yarn typically uses a large hook — anywhere from size J to size S. Choose the smallest hook size within this range that seems suitable to your yarn, test it with a swatch and see if you need to increase before you move forward with the rest of the project. 
Try out a few different types of crochet hooks.
Large crochet hooks are usually made from aluminum or plastic. You may find that you prefer a different material with larger hooks than smaller hooks. Likewise, you may generally prefer an inline hook head over a tapered one. Don't be afraid to try new things when it comes to crochet hooks for heavier yarn weights.
Practice makes perfect.
Remember when you first started crocheting and it was really awkward? It got easier the more than you did it, and the same will be true when you work for awhile with larger crochet hooks than those you are accustomed to using.
Try a new way of holding your crochet hook.
There are two common ways to hold a crochet hook: pencil grip and knife grip. The way that you normally use for crochet might not suit you as well when working with heavy, chunky crochet, so give the other method a try if you're having a tough time.
Work with your fingers instead!
You could also try giving up on crochet hooks altogether, because finger crochet is especially perfect for working with bulky yarn!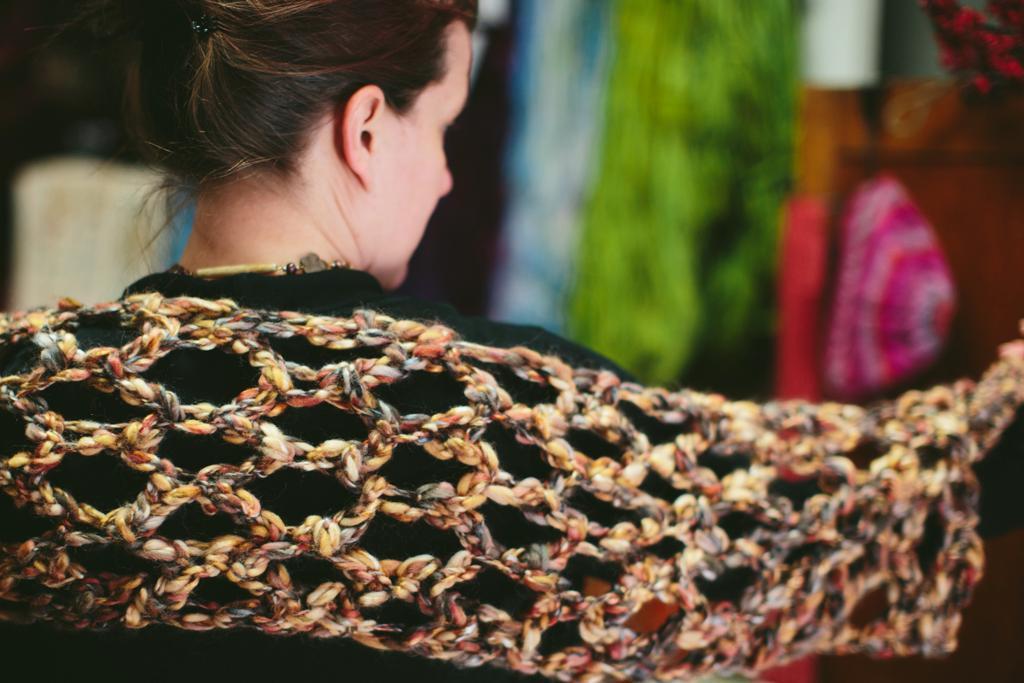 Photo via TheFireflyHook
The right crochet stitches for bulky yarn
While you use the same stitches in any weight of yarn, some crochet stitches lend themselves really well to bulky yarn — and others aren't so easy with a thick yarn.
Some of the best crochet stitches for bulky yarn are the basic crochet stitches (single, half double and double crochet); the stitch patterns that use those stitches (like moss stitch, herringbone stitch, V-stitch); stitches worked in the back loop only; and post stitches.
Loosen your tension
Some people crochet "loose" and others crochet "tight." When working with bulkier yarns, do your best to loosen up your tension to allow more space for each stitch in this large yarn. Switching to a larger hook can help but it's also about relaxing your shoulders, relaxing your grip and getting into the smooth motion of the craft.