These guidelines apply to those who wish to be on-camera panelists during the Craftsy Member Exclusive Class: Snow Day Slippers. These guidelines are intended only for those who wish to be panelists, all other viewers may disregard. Those chosen to participate as a Zoom Panelist will be notified by email and will be sent a seperate link to join the event.
1. Interested panelists must be available starting at 11:30 a.m. CT on Friday, December 9th, 2022. The project will take about 2 hours to complete. The instruction will last from 12:00 p.m. to 2:00 p.m. CT. Please be prepared for the class to go past 2:00 p.m.
2. Technical issues may occur. If this is the case, please stay on the zoom call with your camera active, the crew will troubleshoot and resolve the issue.
3. You must have an active zoom account to participate. Make sure you have the app downloaded onto your computer. Download Zoom here if you do not already have it on your computer.
4. All panelists must have cameras on to participate. All panelists will be shown in front of a live audience and must behave accordingly. Be cautious of what you are wearing, you will be on camera.
5. Panelists must remain muted when not speaking. In order for participants to speak, we encourage participants to use the raise hand function at the bottom of the Zoom screen (see image below). The host will call on panelists to speak.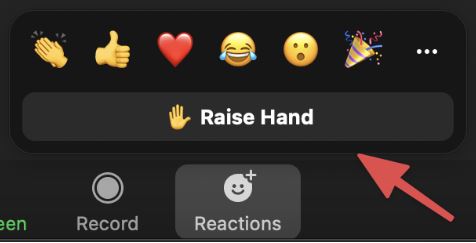 6. The behind the scenes Zoom operator will be pinning speakers on the Zoom screen. Please do not unpin the current speaker or pin someone who is not speaking.
7. Please only add questions and comments relative to the discussion when speaking on the panel.
8. We invite you to create your project along with the instructor to make this a fun, immersive experience for all involved!