Pumpkin spice is certainly nice, but sweets aren't the only way to employ pumpkin in your culinary creations.
Pumpkin is a delicious (and nutritious) addition to savory recipes as well, from morning till night. Here are some of our favorite ways to use this fall staple to make your culinary creations shine. 
Start by making your own pumpkin purée!
Pumpkin purée is the most common way to use pumpkin in cooking. To create a version that tastes way better than the canned variety, make your own pumpkin purée. On the Bluprint Blog, we break it down into an easy process so that you can use thispurée to make recipes both sweet and savory. 
Check out our easy DIY pumpkin purée recipe here!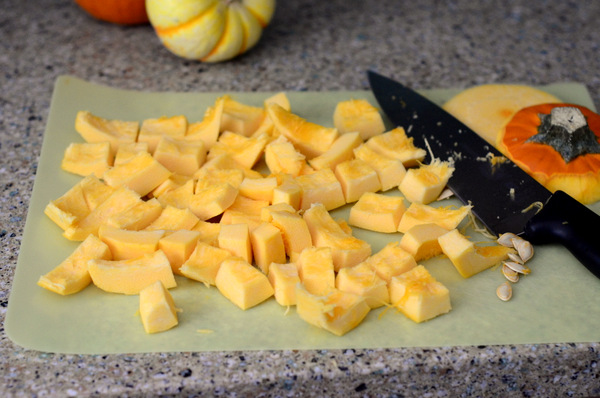 Or, roast chunks of pumpkin
Pumpkin doesn't have to be puréed to eat. Chunks of pumpkin can be sliced or cubed, coated in salt, pepper and olive oil, and roasted at 400 F for 35-40 minutes, to tender perfection. Roasted pumpkin is great on salads, combined with other vegetables for a hearty vegetarian main dish, or as a side dish. 
Put pumpkin in your chili
Pumpkin can add a wonderful earthy element to chili with a bean base. It also works with a variety of different chili recipes. Black bean and pumpkin chili is delicious and nutritious, or try a tasty turkey pumpkin chili!
Cook a pumpkin soup 
Pumpkin is a fantastic soup base. It's hearty and satisfying, and works well with a variety of flavors. Whether it's a roasted pumpkin soup with brown butter and thyme or a curried pumpkin soup, this fantastic fruit will help make the recipe perfect. 
Try pumpkin pulled pork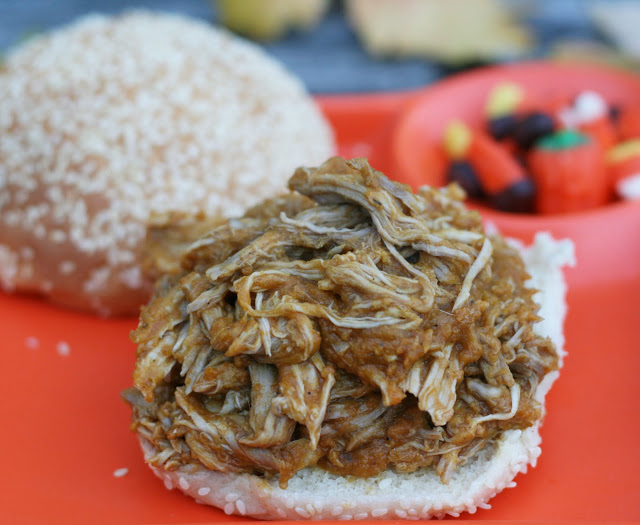 Photo via Coconut & Lime
This pumpkin is spiced, but not with your traditional "pumpkin spice." This recipe on the blog Coconut & Lime features Jamaican spices that bring out the natural sweet earthiness of the pumpkin, which pairs beautifully with tender pulled pork.
Pumpkin pasta? You bet!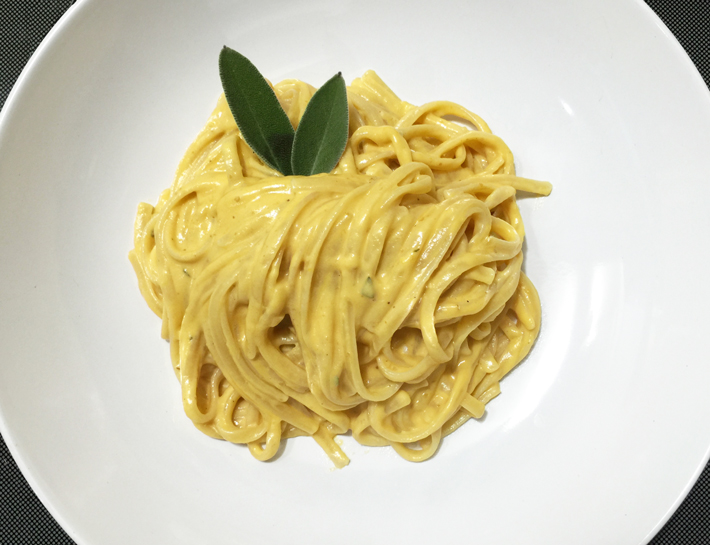 Photo via Bluprint Blog
Pumpkin loves cheese — really! If you need proof, look no further than our recipe for pumpkin alfredo, which features pasta slathered in a rich cheese-and-pumpkin sauce. It's hearty, warming, addictive and everything that's good about sweater weather. 
Check out our pumpkin alfredo recipe here! 
Or, for a simpler option, mix pumpkin into your mac 'n' cheese. It brings fall flavor and a bit of nutrition to this classic dish. Just add ¾ of a cup of pumpkin purée to your favorite mac 'n' cheese recipe.
Mix pumpkin into your biscuits 
Pumpkin can help you make moist, delicious biscuits that are perfect as a side with savory meals or wonderful for breakfast. King Arthur Flour's pumpkin cheddar biscuits is an ideal recipe to try. 
Combine pumpkin purée and hummus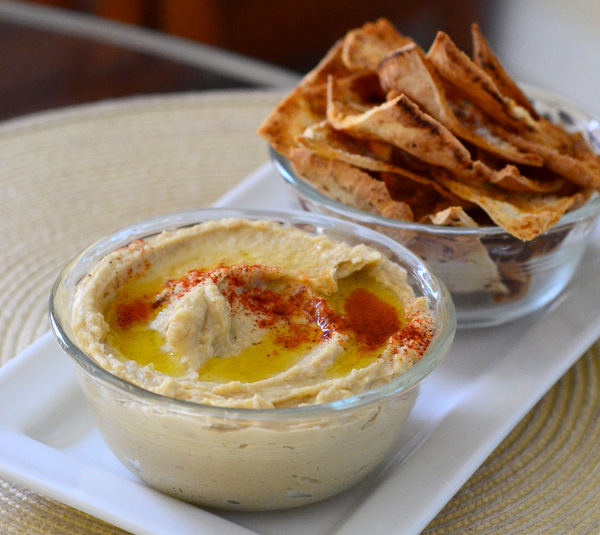 Pumpkin hummus is easy to make and it's so flavorful. All you have to do is start with our classic hummus recipe  and add about 2 tablespoons of plain pumpkin purée per 1 cup of hummus (more or less to taste). Add additional salt or spices to taste for a perfectly fall-flavored treat. 
Pumpkin pancakes (with just 2 ingredients)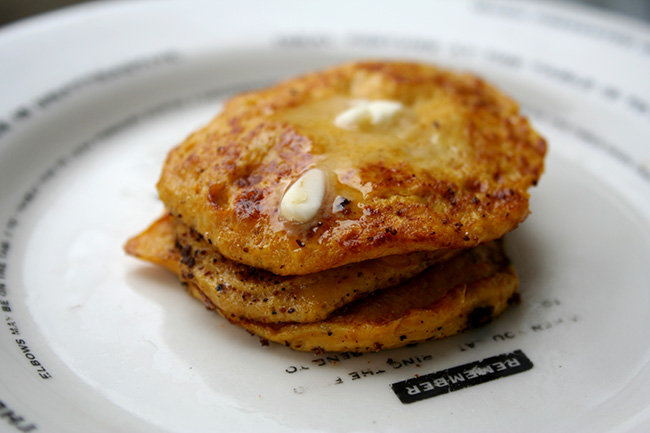 Remember these two-ingredient banana pancakes? Well, you can also make them with pumpkin! Instead of two mashed bananas, use 1 cup of plain pumpkin purée (you could use seasoned pumpkin pie mix too). Complete the recipe as instructed. Take care flipping the cakes, because the cakes are delicate.
Check out our banana pancake recipe here!
Another breakfast option: pumpkin oatmeal 
Pumpkin can add a nutritional boost and a tasty flavor to your morning oatmeal or other favorite cereal grain. Stir in a few tablespoons (more or less to taste) of pumpkin purée to your next bowl of oatmeal and spice as you normally would (I like it with cinnamon and honey). 
How about pumpkin mashed potatoes ?
There are a number of ways to make pumpkin mashed potatoes, but I like a sweet but simple approach: Fold 1 can of pumpkin into about 3 cups of mashed potatoes. Mix until smooth and cohesive in color. The pumpkin will impart an earthy flavor and will also add some nutrition to this classic side dish! 
And we couldn't forget pumpkin pizza!
Next time you're making pizza, try using pumpkin purée instead of tomato sauce! Mix the pumpkin puree with a bit of salt and any other seasonings you like, then spread it on top of your unbaked pizza dough. Top with mozzarella cheese and any other toppings you like, and bake as usual. Or, leave it cheese-less and enjoy as a flatbread.
What's your favorite non-pie way to use pumpkin in cooking?