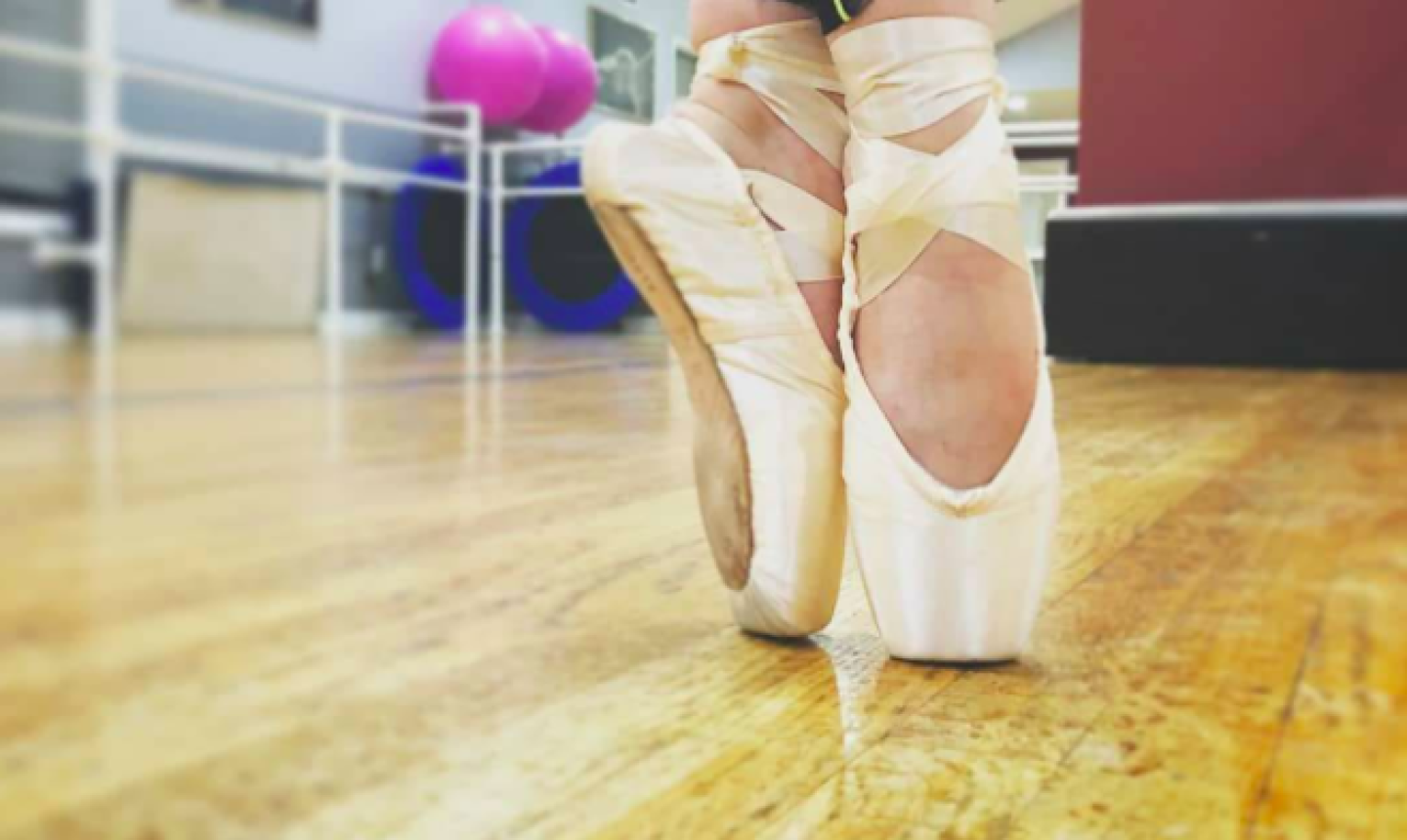 Photo by Brooke Kosofsky Glassberg
Team sports: no thanks. The gym: groan. Yoga: closer, but not quite. Ballet has always been My Thing. I started in kindergarten and didn't ease up until college, when my prima ballerina dreams took a backseat to adulting. As with any old flame, though, I never totally got over it.
Four years ago, my first-ever dance teacher advertised an adult class on Facebook, and I literally leapt at the chance. When you're a mom, nothing intimidates you anymore and, as an editor who sits at a computer all day, I knew I needed to ramp up my activity level. Right thing, right time.
The class was a revelation. Passing through the door, I felt like a child again — only more confident because I knew what was coming. The little suburban studio was still my happy place; 7pm Thursdays became my happy hour. Here's why:
There's Comfort in the Familiar
Dance rituals are soothingly repetitious: bashing pointe shoes to soften them, grinding sticky rosin underfoot, gossiping between exercises, warming up with pliés, finishing with an adagio. When so much of life seems random, it's reassuring that some things can always be (eight-)counted on.
The Rigors Are Mental and Physical
Ballet is the only workout I've ever loved because it doesn't feel like one. I can practically hear my synapses sizzling as I tune out my to-do list and try to sync my feet with my brain, memorize combinations, or remember some elusive French word. Deconstructing the most seemingly basic steps, breaking old habits, and starting again is now the whole — forgive me — pointe. What hasn't changed: how good it feels to stretch yourself (literally and figuratively).
It's a Master Class in Self-Acceptance
I'm years past ingenue, with flat feet and "meh" flexibility, but I'm no quitter. It's humbling to have a decade on my teacher, liberating to realize I'll never be the next Misty Copeland. Nevertheless, I persist. There's zero pressure. Mistakes don't matter. It's just me versus me, still showing up for what stirs my soul.
My daughter, now 5, is starting to dance. I hope she'll continue because she loves it, not because I do. Last month, when the sitter fell through, I brought her to class with me. There we were, my tiny human holding the same barre under the same Balanchine poster I did 30 years ago. The affection (also the flat feet) appears to be genetic. If that's not divine grace, I don't know what is.