Have you ever baked your oatmeal? If you haven't, you're in for a treat. Up until just a few months ago, my only experience with oatmeal was either in a powdery packet or over a simmering stovetop.
But it turns out, throw some oats in a cast-iron skillet with milk, eggs, and a few of your favorite mix-ins, and what you get is an oatmeal that's not only completely hands-off (with no risk of bubbling over in the microwave!) but also completely delicious.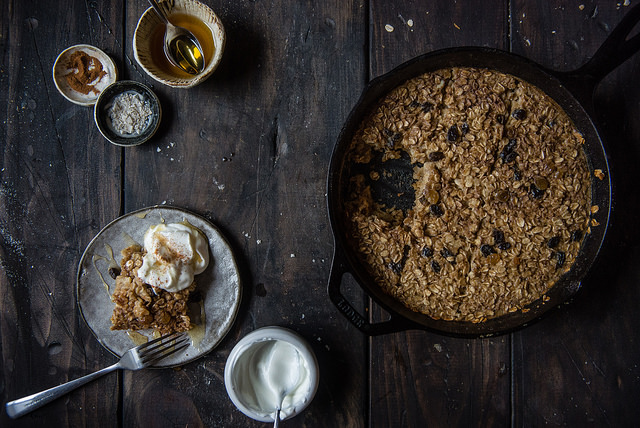 Photos by Two Red Bowls
Baked oatmeal is a sturdier, firmer version of traditional oatmeal.
What really appeals to me about baked oatmeal is its texture — unlike the traditional version, baked oatmeal is sturdy, dense and toothsome, more like a sweet breakfast casserole than a soft porridge.
Plus, the texture is almost reminiscent of a giant, soft cookie, meaning it's perfect for dressing up in cookie flavors!
Throw in chocolate chips and a hefty dose of vanilla for a chocolate chip oatmeal "cookie" for breakfast, dried cranberries, orange zest, and almond extract for a holiday take, or, like here, a few teaspoons of cinnamon and some plump raisins for an oatmeal raisin cookie version. I absolutely love it with a dollop of Greek yogurt and a generous drizzle of honey or maple syrup.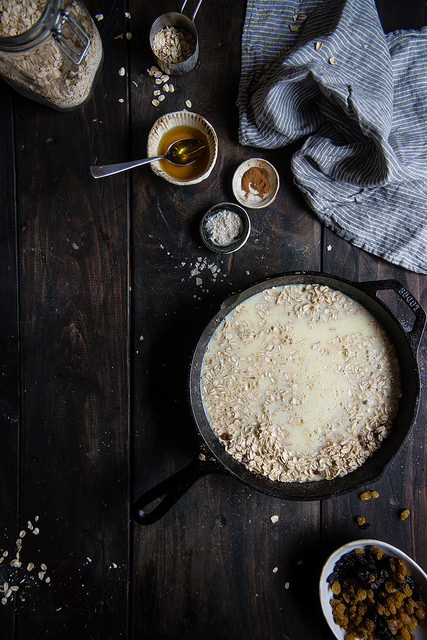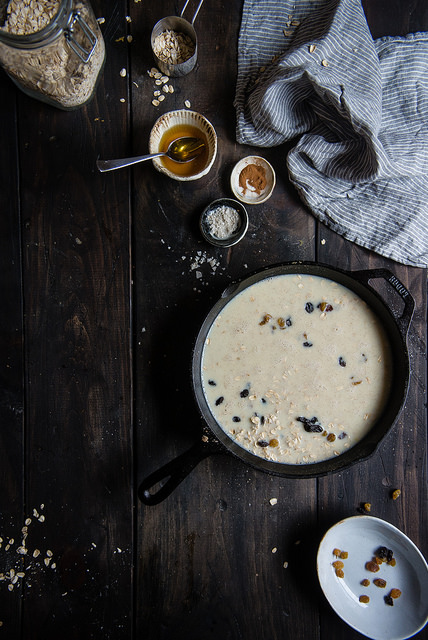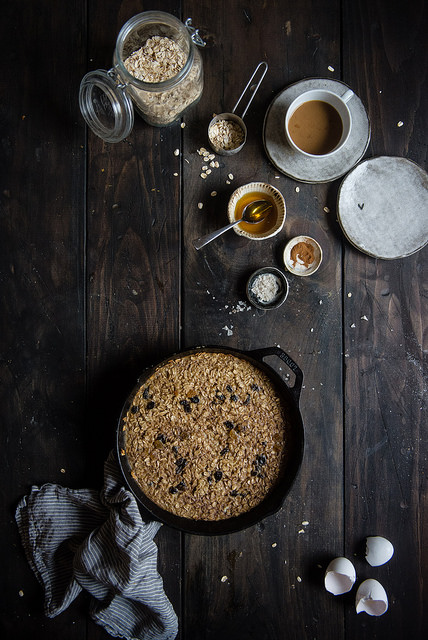 Wrap up individual portions and freeze them for easy, portable make-ahead breakfasts!
Best of all, the sturdiness of baked oatmeal means it's just begging to be taken to work as a quick, on-the-go breakfast. Once cool, the oatmeal slices up into perfect squares to be wrapped up in plastic wrap or foil. As a bonus, it freezes and reheats beautifully. Here's how to make it.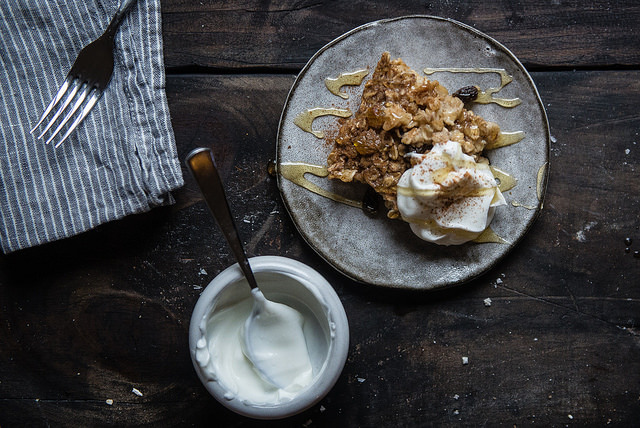 Cinnamon Raisin Cookie Baked Oatmeal.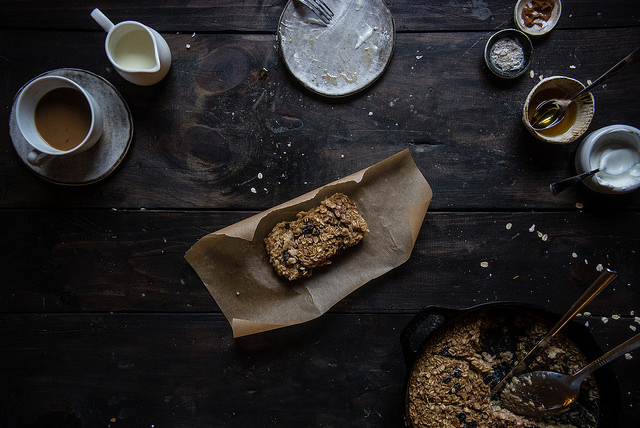 Ingredients:
2 tbsp butter (optional)
2 cups rolled oats (use certified gluten-free if needed)
3 tbsp brown sugar
3 tbsp granulated sugar
2-3 tsp ground cinnamon
1 1/4 tsp baking powder
1/4 tsp kosher salt
2 cups whole milk (or non-dairy milk of choice — any will work!)
1 tsp pure vanilla extract
2 eggs
1/2 cup raisins (or more or less, to taste)
For serving:
Yogurt
Honey or maple syrup
Cinnamon
Instructions:
Preheat oven to 350 degrees.
Optional: Toast your oats first. In a 10-inch cast-iron skillet, melt the butter over medium heat. Add the oats and stir to coat evenly, then continue to cook, stirring every few seconds to prevent burning, until oats smell toasty, like popcorn. This should take only 2-3 minutes, but gives the oatmeal a deeper flavor and makes it taste a little more cookie-like, in my opinion. But totally okay to skip it if you're pressed for time!
Mix together oats, both sugars, ground cinnamon, baking powder, and salt in a 10-inch cast-iron skillet. You can also use an 8×8-inch baking dish — in that case, you may want to line it with parchment paper to prevent sticking.
In a bowl, whisk together milk, vanilla, and eggs. If you didn't toast your oats, you can add a tablespoon or two of melted butter here, if you'd like. Pour the wet ingredients over the dry and give the dish a shake or stir it to evenly moisten. Scatter the raisins evenly across the mixture and stir again to incorporate.
Bake for 30-35 minutes, or until golden on the edges. Oatmeal should still be soft in the center when removed but will set as it cools.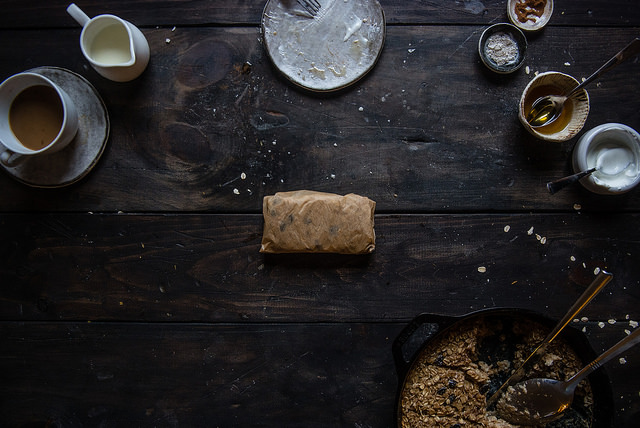 Recipe options:
I'm one of those oddballs who loves oatmeal raisin cookies almost (almost!) more than chocolate chip, so I was head over heels for this. But if you'd prefer another cookie hiding in your oatmeal, this dish is fantastically customizable!
For a chocolate chip oatmeal cookie version:
Up the vanilla to 2 tsp, omit the cinnamon, and swap out the raisins for chocolate chips.
For a cranberry-orange one:
Add one to two tablespoons of orange zest, half a teaspoon of almond extract, and swap out the raisins for dried cranberries.
It would also work wonderfully with a diced apple, or pear, or pretty much anything you can imagine short of ground beef. It's kind of my dream breakfast
Want traditional oatmeal on-the-go instead? Check out Ashley's tutorial on how to freeze regular oatmeal here! And for make-ahead oatmeal in the warmer months, try chilled overnight oats.