Choosing an embroidery machine is important not only from a technical perspective but also as a considerable investment. Not sure what machine to buy? These tips will help you purchase the right machine the first time.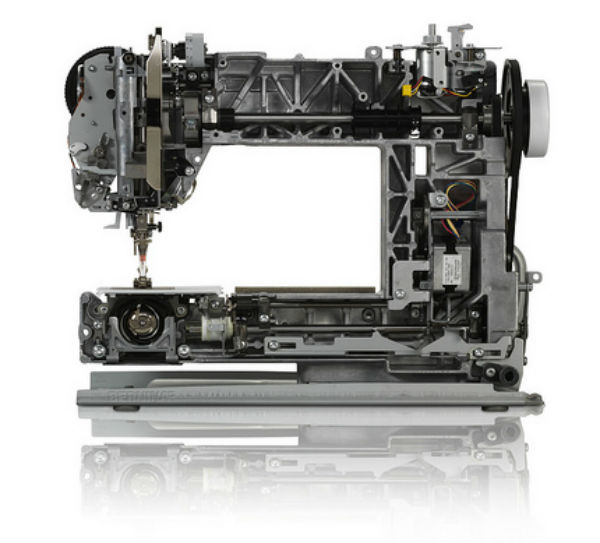 Embroidery machine cutaway photo via Bernina
Depending on the model, you could buy a big chunk of a good used car with the money spent on an embroidery machine. Any large expenditure merits some research. After all, how many embroidery machines will you buy in your lifetime?
Here are 12 things to consider when choosing an embroidery machine.
1. What brand is best?
For the most part, the name brands are all good quality. Check the manufacturers' blogs and forums to get a feel for customer satisfaction. The biggest bonus is the dealer. Find an enthusiastic dealer who excels in customer service and support and chances are good that you will be happy with your purchase.
2. How do you plan to use the machine?
Is it for home use or business use? Business embroidery is best done on commercial machines which are built specifically for mass production and continuous hours of operation.
3. Does it feature minimal requirements of your must-have list?
Certain functions are essential to your individual sewing needs, like automatic thread cutting, bobbin winding from the needle, pressure sensor or needle threader.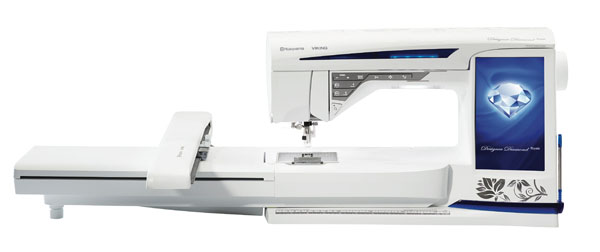 Designer Diamond photo via Husqvararna Viking
4. What is the throat width?
Some of the newer models have throat widths (the amount of space between the needle and machine body) that rival long-arm machines. It gives you more room to move around, allows use of larger hoops and is ideal for machine quilting of any kind.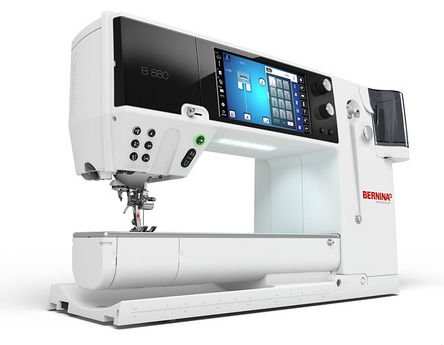 Bernina 880 photo via Bernina
5. Is the embroidery unit separate from the sewing machine?
If it is, you will be able to use the machine for sewing and quilting as well as embroidery. It is also an economical way to buy a sewing machine to which you can add embroidery capabilities later.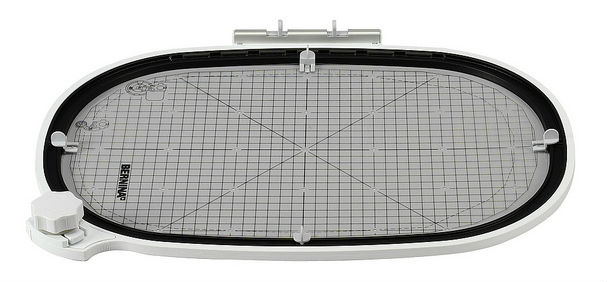 Jumbo hoop photo via Bernina
6. What hoop sizes are available?
Hoop sizes range from 100 x 100 to 360 x 350 and beyond. If your largest hoop size is 100 x 100, it limits the size of in the hoop embroidery designs or projects that can be stitched.
7. What optional accessories are available?
Find out extras you can add on later such as different presser feet, a quilting table or attachments for special techniques. Buy a machine you can grow into!
8. Are the embroidery designs built in or are they separate?
Some embroidery machines only have designs built into the memory. To access as many stitch and design files as possible, machines should also connect directly to a computer or load files from a thumb drive.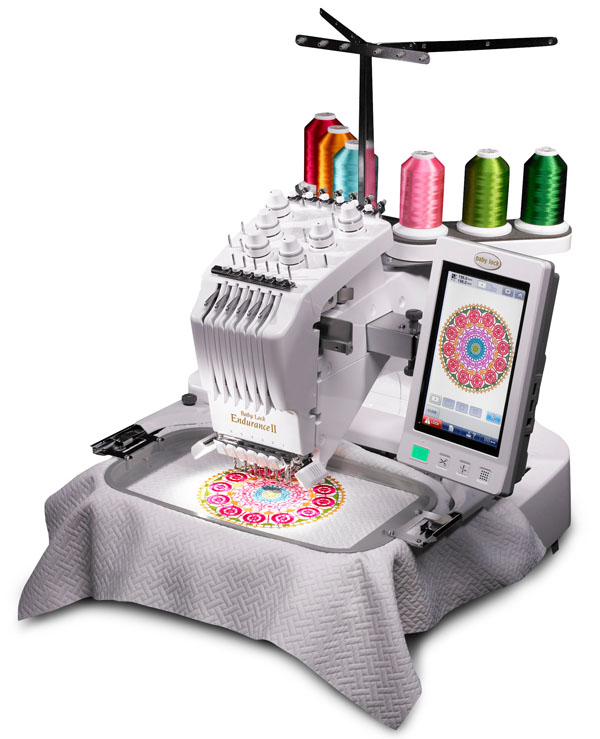 Endurance II photo via Baby Lock
9. What kind of portal is used to transfer and access designs?
Early machines used floppy disks to transfer designs from the computer to the embroidery machine. Others use a data card or "magic box." You will want USB connectivity with embroidery designs accessible from a jump drive or directly through a USB cable to the computer.
10. Can you get digitizing software specifically for your machine?
To run the whole gamut, you may want to digitize, customize and create your own designs. A variety of digitizing programs exist depending upon how detailed you want to get. Some are brand specific and others are compatible with any embroidery format.
11. Do owner's classes come with the machine?
Most dealers provide at least one owner's class and offer refresher classes on basic machine functions. Once you are comfortable with how your machine operates, you can benefit from project and technique classes.
12. What warranty and service is included?
Dealers have trained technicians on site or under contract which saves a lot of time and worry when your machine needs cleaned or serviced. Otherwise, you would ship it off to the manufacturer for repair which is timely, costly, and risky.
Nobody wants to buy a machine and then find out you'd rather have a different model. A little bit of research is time well spent when investing in an embroidery system.
Once you select your embroidery machine, get started learning new techniques for FREE! Join the online Craftsy class Machine Embroidered Classics at no cost, and find out how to personalize pillowcases, kitchen towels and even high-pile bath towels—the perfect touches for your home.
What tips do you have for choosing an embroidery machine?