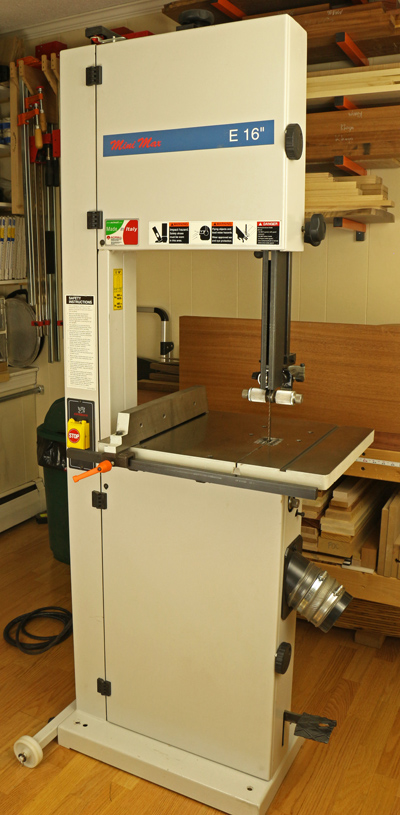 Whether you're mustering a first set of machines or upgrading, the bandsaw is definitely a priority and it's important to choose the right one. I actually think the bandsaw ought to come before the table saw.
Really? Yes, really. Sure, the table saw is unmatched at clean, straight ripping and crosscutting, but the bandsaw is so much more versatile. It'll really broaden your design palette early on, and it'll give you an approach to woodworking that combines machine efficiency with hand-tool skills — critical for giving your projects a personal touch.
A properly tuned bandsaw can rip surprisingly cleanly, especially with a carbide-tip blade. And crosscuts can be cleaned up accurately with hand plane shooting, a powerful technique you may have seen us gush over before.
So do get a table saw at some point, but consider putting a bandsaw higher on your list. If inspirational quotes get you pumped up, the late James Krenov (hero to countless woodworkers) wrote in The Fine Art of Cabinetmaking, "Of all my machines, the bandsaw has done the most to help me use wood the way I really want to."
The Specs
A bandsaw is nominally sized by the diameter of its wheels. The throat width is then immediately recognizable as about 1″ less — that defines the widest board that can be passed between the blade and the column. The resaw capacity is the maximum height (thickness) that can be cut.
For the small shop furniture maker, go with 14″ as the minimum for a bandsaw, though 16″ is better. Those doing larger work might even want 18″ or 20″ machines. Just make sure you have a minimum resaw height of 12″ for versatility.
Now let's talk frame design — you'll likely be choosing between cast iron and welded steel. For a while, the classic 14″ stand-mounted machine with a cast iron frame and 6″ resaw height was the most popular machine in small shops. Though the height can usually be expanded to 12″ with a "riser block," these machines typically have a motor rated at 1 horsepower (or at most 1.5 HP) . That's just not enough power for resawing 12″ of hardwood.
But something even better — and increasingly popular — is a bandsaw with a frame made from heavy, welded sheet steel. These bad boys have elegant rectangular frames. Don't buy a machine with less than a legitimate 2HP motor, and if you can get another half horse or more, all the better.
These bigger saws are great because they take little or no more floor space than their cast-iron cousins. And you can get mobility kits for any saw in order to move it around as needed. The only practical limits may be the height of your shop and the weight of the machine.
Features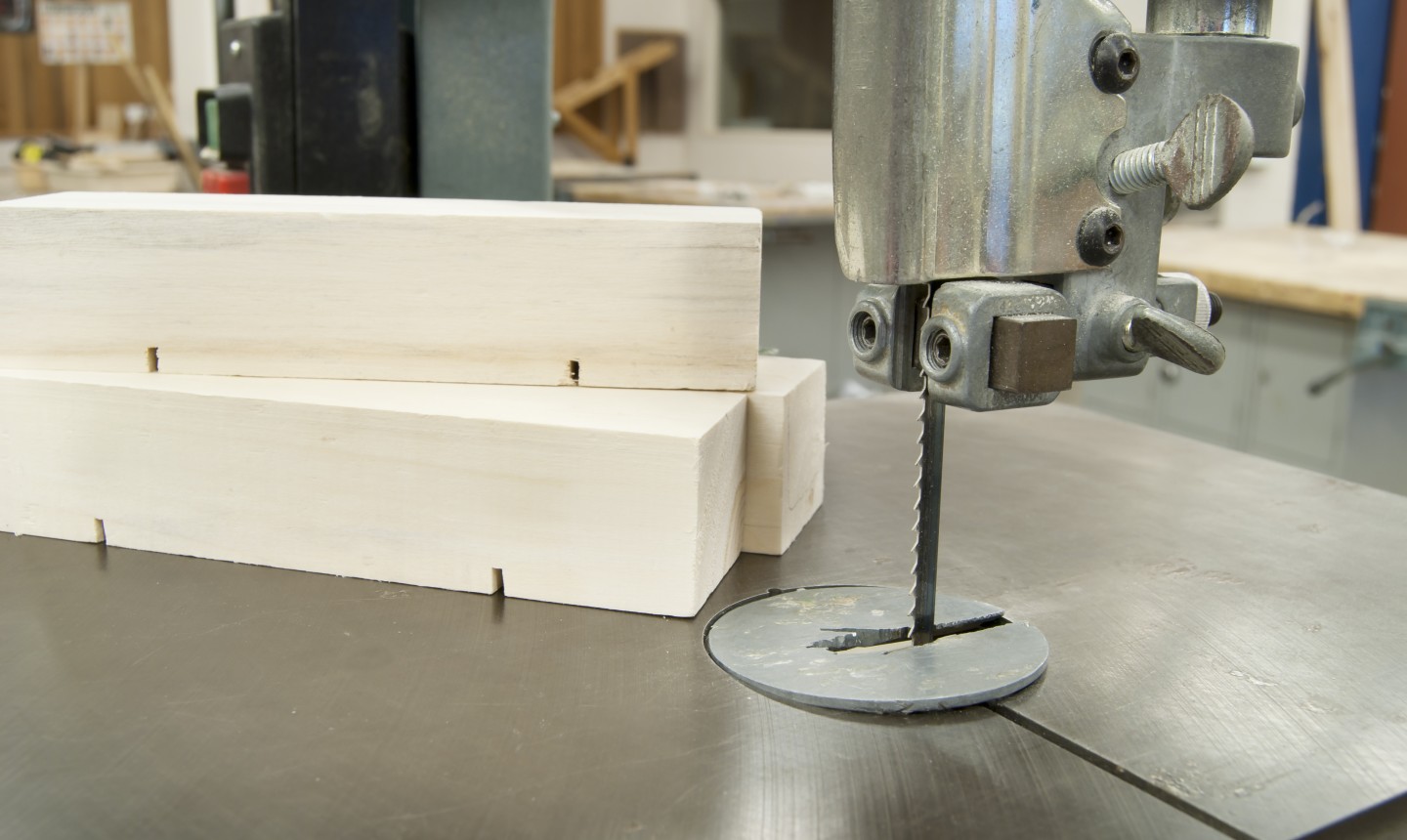 Wheels
A quality steel-frame saw will have heavy cast-iron wheels — they provide a powerful flywheel effect that helps give a strong, steady cut. A bandsaw blade tracks on rubber "tires" on the rims of the wheels. The tires on most steel frame machines are flat (or nearly flat), which helps to track blades 1″ or more in width. That's good for heavy resawing. The "crowned" wheels of the classic 14″ cast iron bands don't do that as well.
Spring
You'll see this behind the wheel and near the top of the frame — look for the thick spring that you adjust to maintain proper blade tension. You won't be able to see this when you're buying the machine (unless you take it apart), but that's a good reason to invest in a brand that uses quality parts.
Guidepost
Another important component of a bandsaw is the guidepost, which contains the upper blade guide assembly and blade guard. It's adjusted with a rack and pinion to accommodate the thickness of wood being cut. The precise setting of the guides in relationship to the blade must be maintained by the post assembly throughout the height range.
Blade Guides
We could go on forever here, but let's keep it quick: Bandsaw blades are big beasts (12 feet or more in length) and they're moving really fast. Yet we expect them to cut precisely, right? And as the blade engages the wood, it wants to drift, distort and do all sorts of other funky things that'll ruin the project. So, above and below the worktable are pairs of guides that are set very near (or against) the sides of the blade to help keep it on course.
Below are "Euro" style guides — that's a pair of roller bearings (the round gray steel objects sandwiching the blade) adjusted by screw mechanisms (here, colored bright silver) to nearly meet the blade. Other types of roller bearings meet the blade on their outer round edges. Another general type of guide consists of a pair of blocks made of steel, phenolic or ceramic material that sandwich the blade and are adjusted with various mechanisms.
Along with these guides is another bearing behind the blade called the thrust bearing. This just limits the backward displacement of the blade from the feed pressure of the wood while you're cutting. The most common type is a roller bearing whose flat face meets the blade. It's partially visible in the photo below, above and to the left of the guides, with lettering on it.
Most woodworkers seem to have preferences in bandsaw blade guides but, in most cases, quality's the most important thing.
I get good results with the Euro guides on my saw, though edge-bearing rollers are probably more popular. The most important thing is that the guides are easy to adjust accurately and they stay in place.
Table Size
This one isn't a big issue for most woodworking. I find the 16″ x 20″ table on my saw works well even for large projects, though you'll want to use a separate support stand in any case. The table should be heavy cast iron set on stout trunnions, and it should be easily adjusted to different angles with a stop at 90°.
Fence
A heavy fence with a simple adjustment mechanism is fine for most work. If you're wanting more, aftermarket fences with microadjustable mechanisms are also available for most saws. I use a shop-made tall fence for resawing.