Despite the fact that zucchini is a vegetable, most recipes for zucchini breads and cakes aren't exactly heath food. Like carrot cakes, baked goods made with zucchini are often heavy with extra butter and oil that you don't really need — and you don't need them because zucchini itself is enough to create a very moist bread. This chocolate zucchini bread recipe is lighter than most, yet still packs a lot of chocolate flavor into every single bite!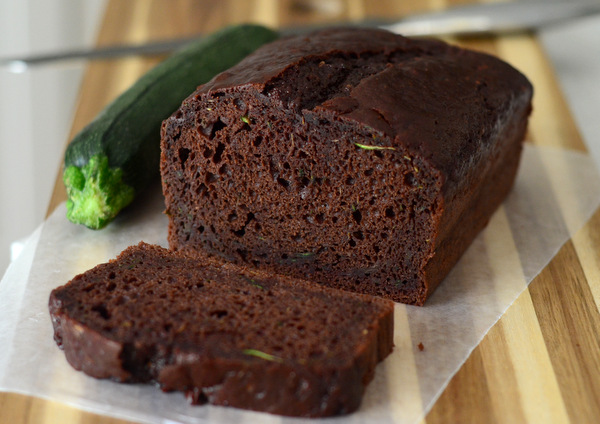 About this recipe
You will need two or three medium-sized zucchini to make this chocolate zucchini bread recipe. During the height of zucchini season, you might find that you want to double the recipe just to use up extras you might have around the kitchen.
Simply wash your zucchini and grate it with your cheese grater, using the medium/standard grate (as opposed to a super fine grate). I grate my zucchini with the skin on. You're not going to taste the peel of the fruit in the finished bread, but you will catch a few small flecks of green here and there. If you want to hide the zucchini completely, peel it before grating.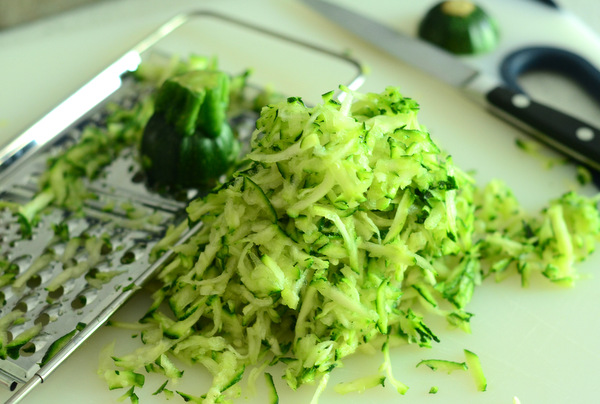 The batter for the bread comes together very quickly and easily. It uses unsweetened cocoa powder to develop a deep, bittersweet chocolate flavor. It uses vegetable oil, rather than butter, so it can easily be whipped up using only a whisk or spatula. The zucchini is folded in just before pouring the batter into the loaf pan. You won't be able to taste the zucchini in the finished loaf — all you'll taste is the chocolate.
If you want to put a twist on this recipe, you can do so by adding in some mix-ins. A half cup of chocolate chips will make this bread even richer, while a half cup of chopped, toasted walnuts will add a nice crunch. You can even stir in dried fruits, like diced pineapple or raisins. That said, I usually stick to the basic recipe. I will serve generous slices of this bread both for breakfast and dessert. It's not overly sweet and pairs perfectly with a cup of coffee, but delivers more than enough chocolate flavor to feel indulgent. The bread is extremely moist and will keep well for several days after baking.
Easy Chocolate Zucchini Bread Recipe
Makes 1 loaf; Serves 10-12
Ingredients:
2 cups all-purpose flour
1/2 cup cocoa powder
2/3 cup sugar
2/3 cup brown sugar
1 tsp baking powder
1/2 tsp baking soda
1/2 tsp salt
1 cup buttermilk
2 large eggs
1/4 cup vegetable oil
1 tsp vanilla extract
1 1/2 cups shredded zucchini (from about 3-medium zucchini)
Step 1:
Preheat the oven to 350 F. Line the bottom of a 9×5-inch loaf pan with parchment paper and lightly grease the entire inside of the pan to make it easier to remove the loaf after baking.
Step 2:
In a large bowl, sift together flour, cocoa powder, sugar, brown sugar, baking powder, baking soda and salt.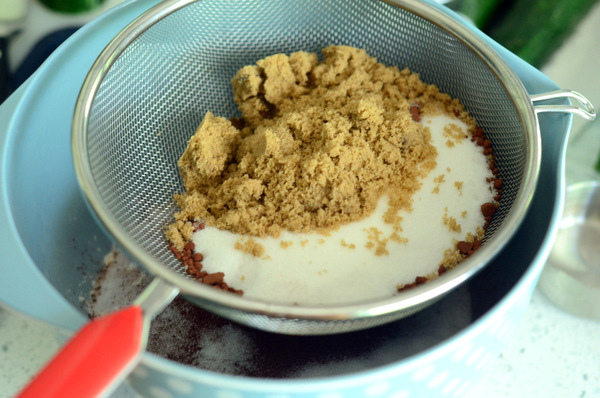 Step 3:
In a small bowl, whisk together buttermilk, eggs, vegetable oil and vanilla extract until well-combined.
Pour into bowl containing dry ingredients and mix until only a few streaks of dry ingredients remain. Add in zucchini and stir until batter is uniform.
Pour into prepared pan.
Step 4:
Bake for 55-65 minutes, or until a toothpick inserted into the center of the loaf comes out clean and the top springs back when lightly pressed. Allow loaf to cool in the pan for at least 20 minutes, then run a knife around the edge to loosen it from the pan and turn out onto a wire rack to cool completely.