Chocolate chips are a wondrous little food: they make cookies better, act as a sweet garnish for cookie or cake decorating projects, and they taste pretty good as a snack, too. But your chocolate chips don't need to be cookie-cutter conformist: did you know it's possible to make your own homemade chocolate chips? It's true, it's easy to do, and this fun DIY project opens up new avenues of creative baking.
Photos via CakeSpy
Why make homemade chocolate chips when it's so easy to buy the pre-made kind at the store? 
There are several reasons why making your own is advantageous. To name just a few: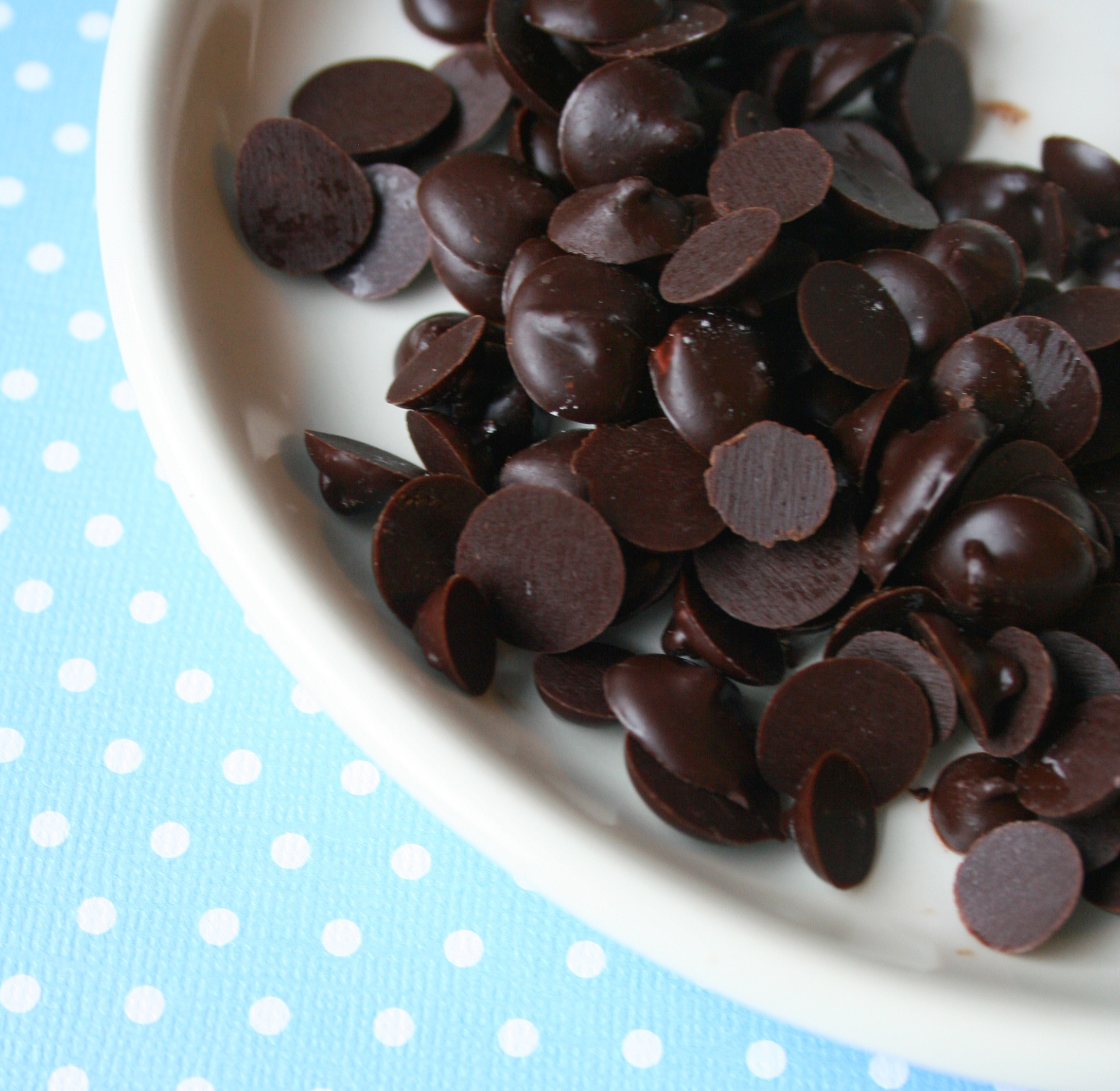 Quality control
When making your own chocolate chips, you are in control of the ingredients you use. You can create a superior-tasting product by using good quality ingredients. 
Dietary considerations
Homemade chocolate chips can be made to suit different diets and help avoid allergens. Homemade chocolate chips do not contain soy products or gluten, which many people are sensitive to; this makes them a safer choice for bakers with dietary restrictions. The homemade chips can easily be made to suit a vegan diet by using coconut oil. 
Creative flavoring
You can get creative with flavoring your homemade chocolate chips by substituting an extract other than vanilla for unique morsels that are perfectly suited to your baking project. For instance, orange-scented chocolate chips might work nicely in a recipe featuring citrus; almond-flavored chocolate chips will make for chocolate chip cookies unlike any you've ever tasted before.
Pretty presentation
You can make your homemade morsels look unique, too! If using white chocolate, you can tint your chips with any color you'd like, making for a pretty-as-a-picture garnish or addition to a cookie recipe; you could also use a decorative piping tip to pipe your chips into unique shapes. 
Note: With some of the chips I made for this tutorial, I made two-tone chips. Any cookie would be lucky to have these!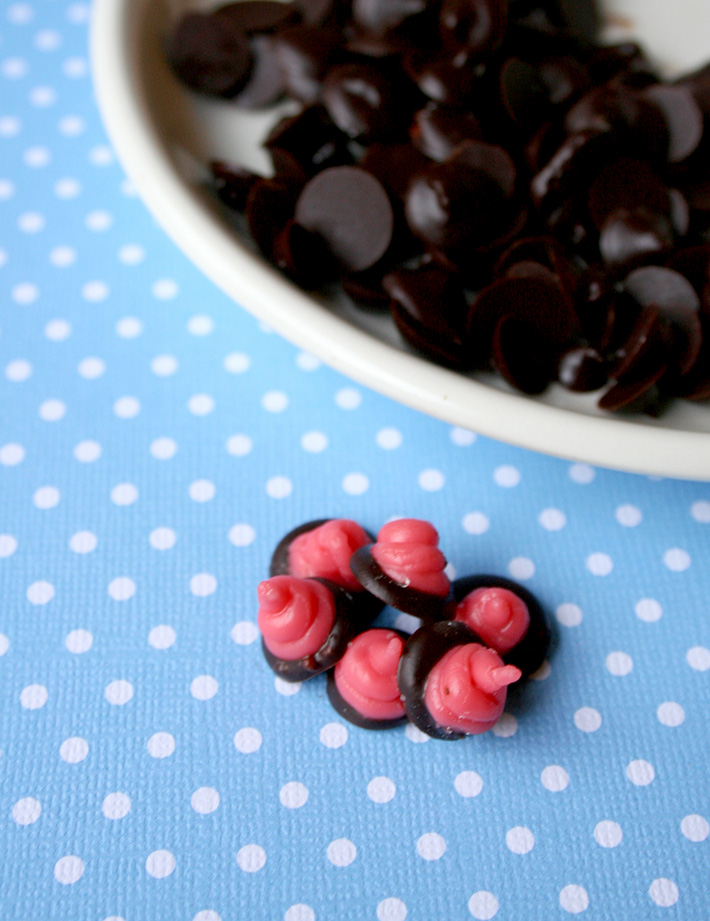 Homemade chocolate chips recipe
Ingredients: 
4 ounces unsweetened baking chocolate, coarsely chopped
2 tablespoons butter
4 tablespoons confectioners' sugar
1 teaspoon vanilla or other extract
Note: International readers may enjoy our handy metric conversion guide<.
Step 1:
Line a baking sheet with parchment paper; set to the side. Have a piping bag and your desired piping tip at the ready. 
Step 2:
In the top of a double boiler, melt together the chocolate, butter, confectioners' sugar and vanilla or other flavoring extract. Once melted, remove from heat. Let the mixture cool slightly.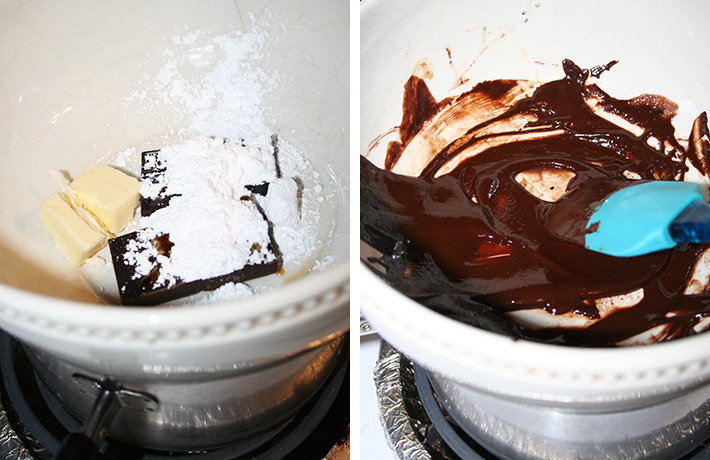 Step 3: 
Once the mixture is not scorching hot (but is still warm), load it into your piping bag. Let the mixture cool further; every few minutes, try piping a dot of the chocolate. Once the chocolate is holding its shape once piped, get to work. Pipe the chocolate into dots, pulling the tip away to form a "kiss" type shape. Repeat until you're out of chocolate. 
Note: If you find that your morsels have lost there shape, here's a little trick. Gently touch the top of the chocolate with a clean finger, and then pull it away. The morsel shape will be revived, like magic.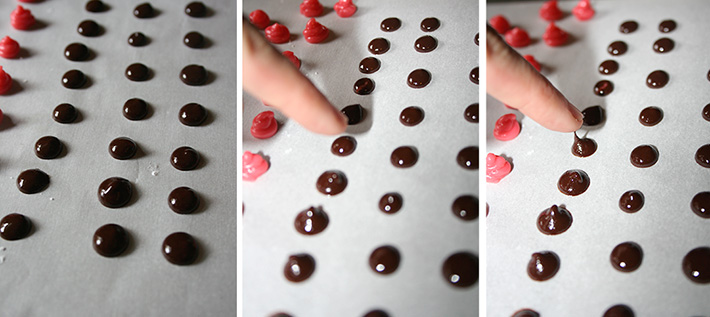 Step 4:
Let the morsels set (you can hurry this process by putting the tray in the refrigerator for several minutes). Once set, you can use in your next baking project.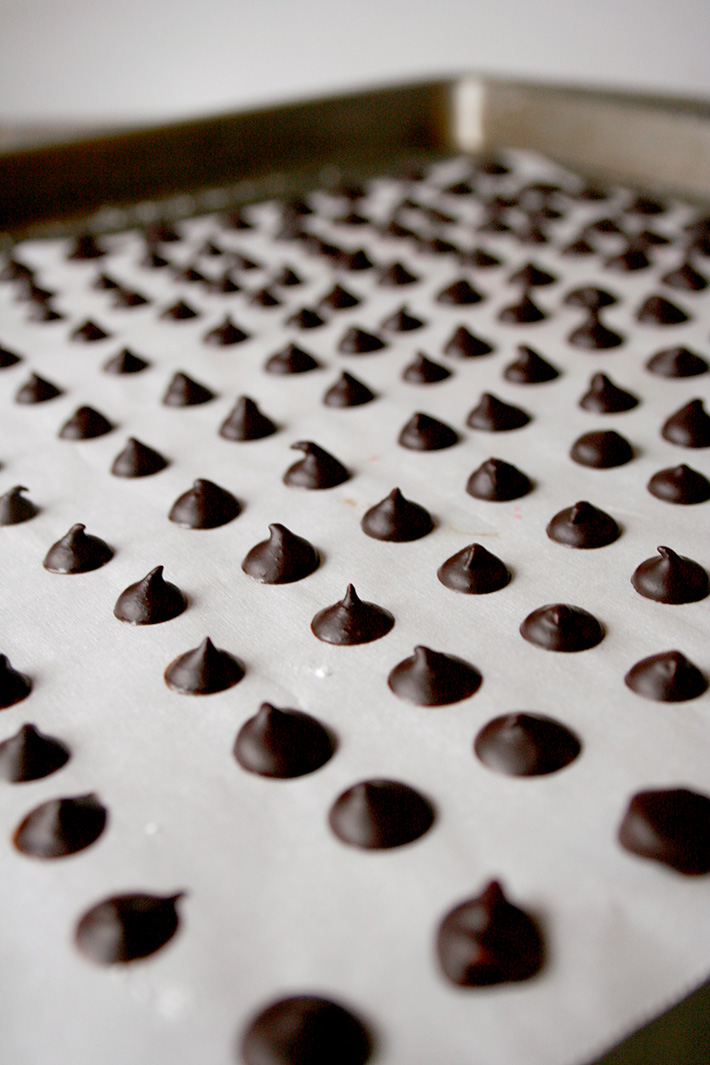 Storing your homemade chocolate chips
Gently sprinkle your morsels with 1 teaspoon of cornstarch before storing in an airtight container. This will give them a slightly white dusty look, it's true, but it will also discourage them from sticking together. 
Using your morsels in baking 
Substitute these morsels for the chocolate chips in your favorite cookie recipe. They may melt slightly differently from a store-bought morsel, but they will work comparably enough.
Recipe variations
Variation: vegan morsels
To make your morsels vegan, substitute coconut oil for the butter called for in the recipe. Proceed with the recipe as directed. 
Variation: colored morsels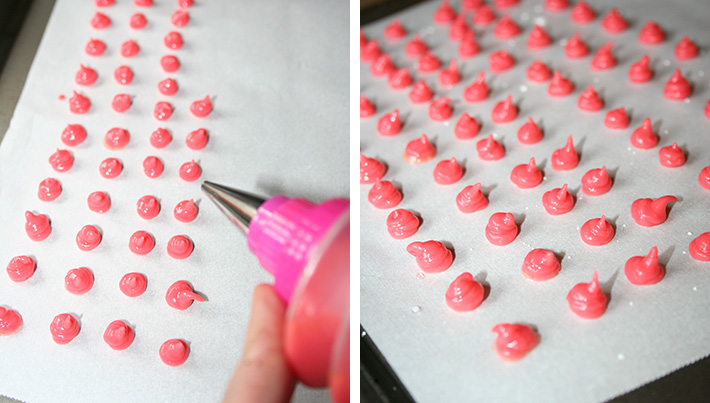 To make colored morsels, use white chocolate instead of unsweetened baking chocolate; omit the butter in the recipe. Melt the white chocolate, confectioners' sugar, flavoring extract and several drops of food coloring together. Repeat with piping per the recipe. The texture will be a little different, but the outcome comparable.
Note: For tips on melting white chocolate, check out our post on how to melt white chocolate.