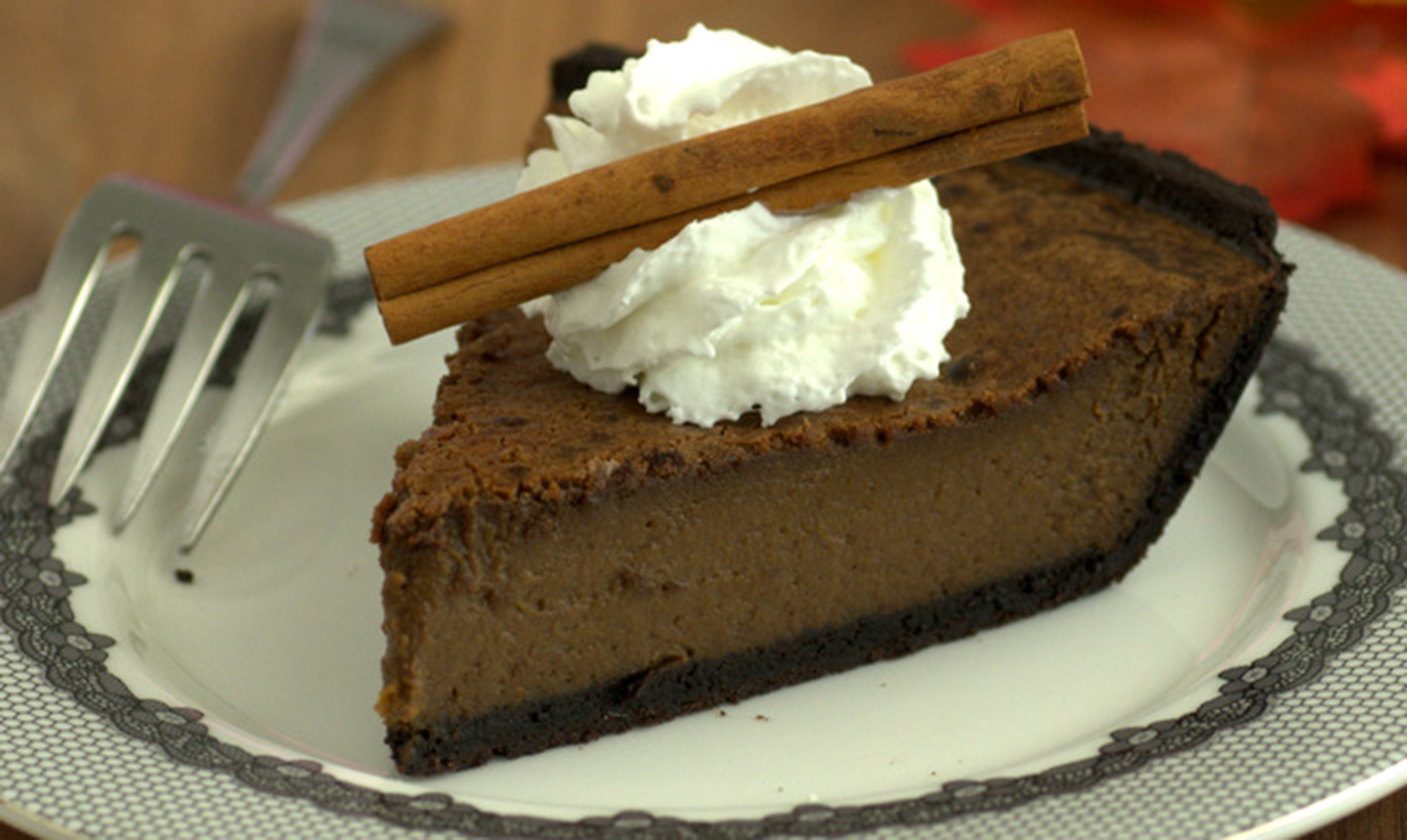 Pumpkin pie is a staple autumn dessert, but let's be honest: it could be better with chocolate. So why not satisfy your sweet tooth and keep it seasonal by combining the two?
The secret is having not one, but two types of chocolate in the filling: dark chocolate and unsweetened cocoa powder. The dark chocolate gives the pie additional richness, while the cocoa powder ensures there's a strong dark chocolate flavor without making the pie too dense or heavy. Combining the two results in a finished pie that's loaded with chocolate, while the pumpkin puree and pumpkin pie spice mix ensures it still feels like it belongs on your holiday table.
Good to Know: Pumpkin pie spice typically includes a mixture of cinnamon, ginger, nutmeg and cloves, though some have additional spices such as cardamom or allspice. If you don't want to DIY your own mix, the spice blends are readily available and save you time, as you won't have to measure out each spice separately.
Chocolate Pumpkin Pie
Yield: One 9″ pie (serves 8)
Ingredients
One 9″ chocolate wafer crust
2 ounces semisweet chocolate, chopped (or substitute semisweet chocolate chips)
¼ cup unsweetened cocoa powder
1 can (14 ounces) sweetened condensed milk
1½ teaspoon pumpkin pie spice
¼ teaspoon salt
1 teaspoon vanilla extract
2 large eggs
One can (15 ounces) pumpkin puree
Instructions
1. Preheat oven to 400 F. Place pie crust on a baking sheet and set aside.
2. In a small, microwave-safe bowl, melt the chocolate and stir until smooth.
3. In a large bowl, combine melted chocolate, cocoa powder, sweetened condensed milk, pumpkin pie spice, salt and vanilla. Whisk until well-combined. Add in eggs and pumpkin puree and whisk until batter is smooth.
4. Pour pumpkin mixture into prepared pie crust, filling it almost to the top. Bake pie for 5 minutes at 400 F, then turn the temperature down to 350 F. (Don't open the oven door.) Bake for an additional 35-40 minutes, or until the pie is set and jiggles only slightly when you tap the pan.
5. Allow pie to cool to room temperature, then refrigerate for at least 4 hours before serving so the filling can set. If desired, top with whipped cream and a pinch of cinnamon before digging in!