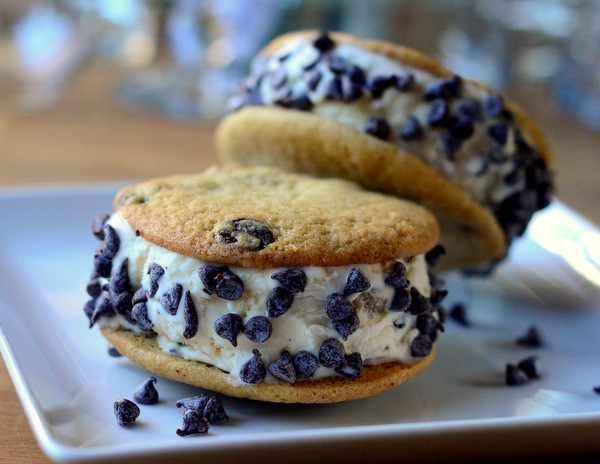 Photos by Nicole Weston of Baking Bites
A chocolate chip cookie ice cream sandwich is the most wonderful indulgence during the summer. They're always more satisfying than a simple ice cream cone or just one chocolate chip cookie. These tasty treats bring a bunch of flavors and textures into one amazing sweet sandwich.
These chocolate chip cookie ice cream sandwiches allow you to mix and match flavors, creating ice cream sandwiches that are even better than the ones you remember eating as a kid.
This chocolate chip cookie ice cream sandwich recipe is perfect for anyone who loves chocolate chip cookies.
The sandwiches start with homemade chocolate chip cookies, which are baked to be thin and slightly chewy. Thinner cookies make better ice cream sandwiches because they don't get as hard (and hard to bite) in the freezer. Plus, they don't make a sandwich that's too wide to fit in your mouth.
The cookies are loaded with chocolate chips, so you get plenty of chocolate in each bite!
Between the cookies is a layer of chocolate chip cookie dough ice cream, carrying on the chocolate chip cookie theme. An ice cream with a bit of texture makes each bite a bit unique! That said, you can certainly substitute in classic vanilla or chocolate if you like.
To finish the sandwiches, I rolled the sides in mini chocolate chips. Full-sized chocolate chips become too hard when they are frozen, but the minis add a nice crunch and a little bit of extra chocolate flavor. Plus, they give the sandwiches a really nice look!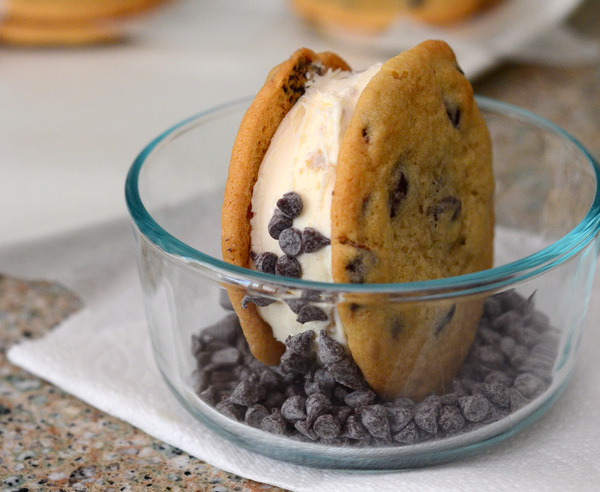 Once assembled, your chocolate chip cookie ice cream sandwich can be enjoyed immediately or stored in airtight containers in the freezer for several weeks, ready to eat whenever you're in the mood to treat yourself.
Quick Tip: I like to make the cookies and assemble my ice cream sandwiches all on the same day. If you need to bake the cookies a day in advance, you can freeze them. Pair up the cookies with like-size mates and place a small square of wax or parchment paper between then, then freeze them overnight (or longer). The cookies will be ready for assembly and they won't stick together!
Chocolate chip cookie ice cream sandwich recipe
Makes 24 ice cream sandwiches
Ingredients:
2½ cups all-purpose flour
1 teaspoon baking soda
1 teaspoon salt
1 cup sugar

½

cup light brown sugar
1 cup butter, room temperature
2 large eggs
2 teaspoons vanilla extract
2 cups chocolate chips
Approx

½

gallon cookie dough ice cream
¾ cup mini chocolate chips
Step 1:
Preheat oven to 375 F. Line a baking sheet with parchment paper. In a medium bowl, whisk together flour, baking soda and salt.
Step 2:
In a large bowl, cream together butter and sugars until light and creamy. Beat in the eggs one at a time, followed by the vanilla extract. Gradually blend in the flour mixture until it has been completely incorporated. Stir in chocolate chips.
Step 3:
Shape dough into 1″ balls and arrange on baking sheet, leaving 2″ between the balls to allow the cookies to spread.
Bake for 12-14 minutes, until cookies are light golden around the edges. Let cookies cool on the baking sheet for 5 minutes, then transfer them to a wire rack to cool completely.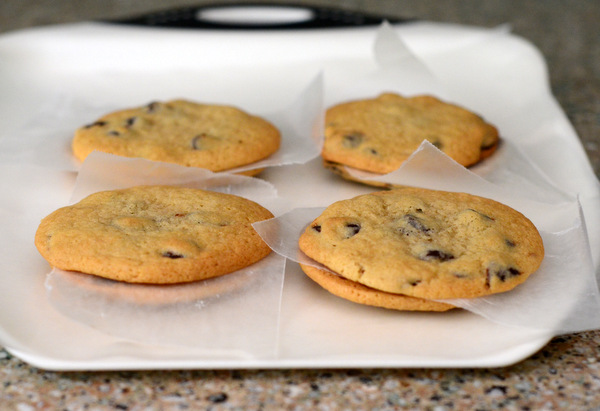 Step 4:
Once cookies are cooled, allow the ice cream to soften for 5 minutes.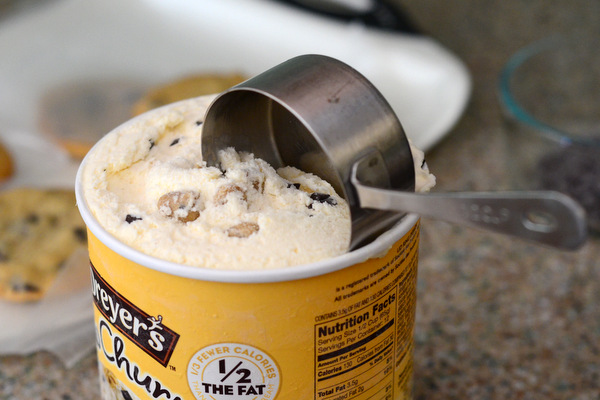 Spoon a generous 1/3 cup scoops of ice cream between equal-sized cookies, pressing the cookies together to allow the ice cream to come right up to the edge of the cookies.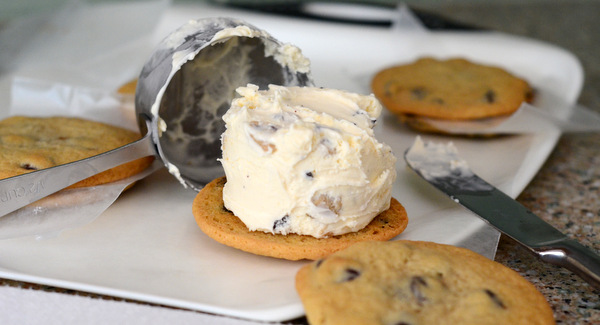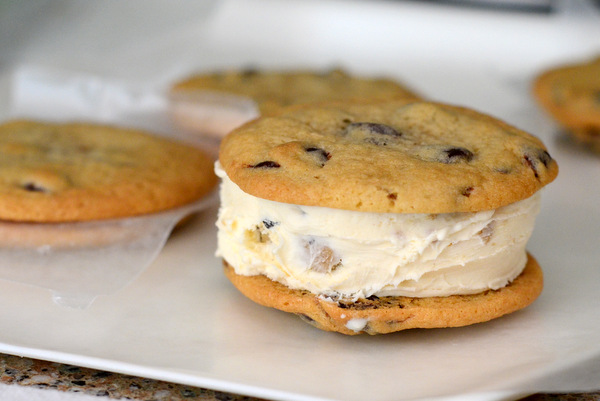 Roll exposed edges in mini chocolate chips, then place on a baking sheet in the freezer and allow cookies to set for at least 1 hour before serving.
Make More Delicious Frozen Treats
Make addictive frozen desserts — without the fancy machine! Join YouTube star Gemma Stafford in Craftsy's online kitchen and whip up simply scrumptious treats.
Enroll Now »