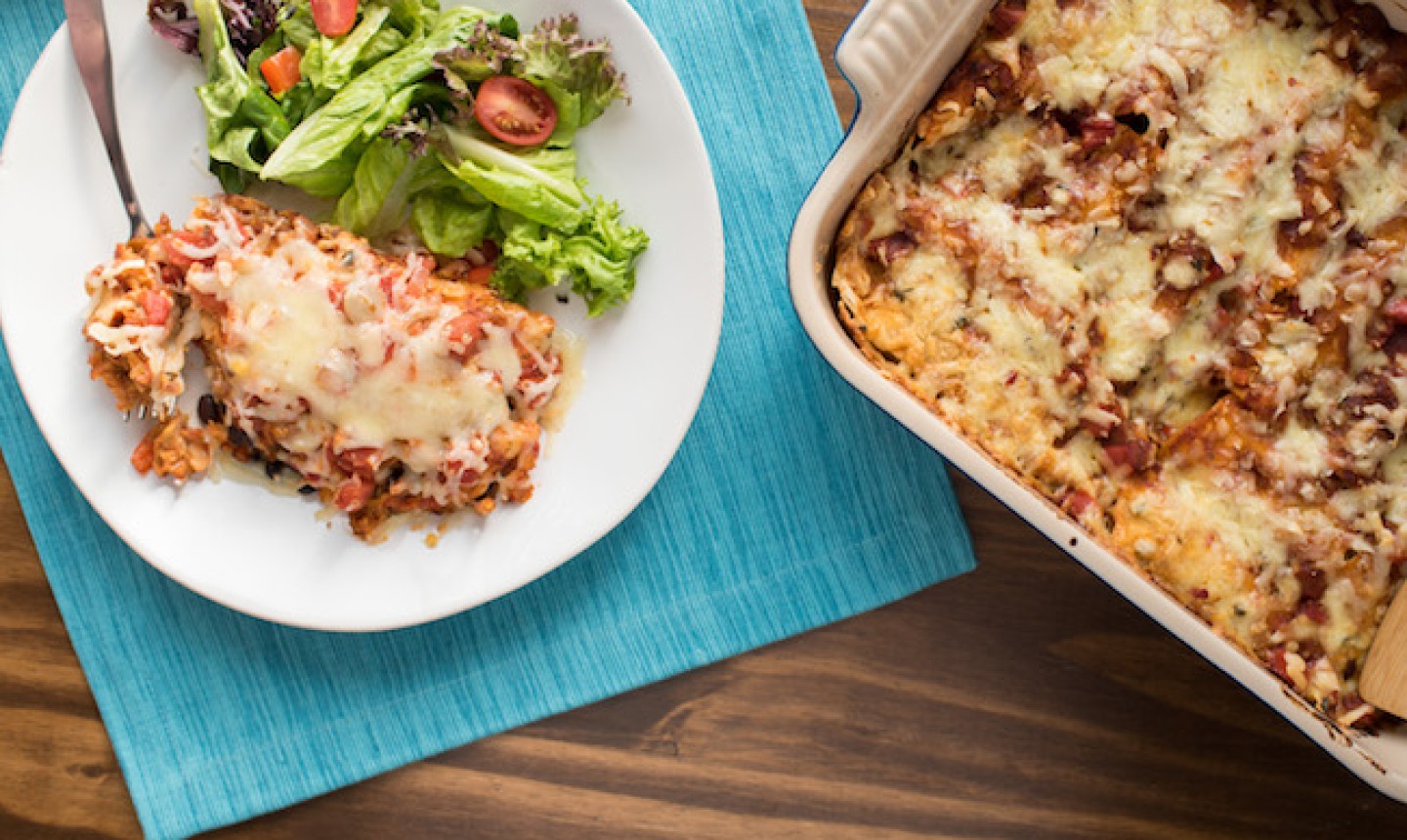 Fact: We all have leftovers. Rather than letting them sit in your fridge for days on end, put 'em to good use. In the first episode of Real Life Cooking, hosts Robin Miller and Katie Workman share one of their favorite ways for using leftover rotisserie chicken. Their from-scratch black bean enchiladas are so good, you'd never guess they were made with yesterday's chicken.
Chicken and Black Bean Enchiladas
Yield: Serves 6
Ingredients
Cooking spray
1 tablespoon canola oil
1½ cups chopped onion
1 cup chopped red pepper
5 garlic cloves, minced
2 teaspoons chili powder
1 teaspoon ground cumin
½ teaspoon dried oregano
1 tablespoon puréed canned chipotle chiles in adobo sauce
1 cup unsalted chicken stock
2 (8-ounce) cans tomato sauce
3 cups shredded cooked chicken breast
1 (15.5-ounce) can unsalted black beans, rinsed and drained
4 ounces (about 1 cup) shredded Cabot Seriously Sharp Cheddar Cheese™
4 ounces (about 1 cup) shredded Cabot Pepper Jack Cheese™
Sixteen 6″ corn tortillas
1 cup salsa
½ cup sour cream
Fresh cilantro leaves (optional)
Instructions
1. Preheat the oven to 350 F. Coat a 13 x 9″ baking dish with cooking spray.
2. Heat the oil in a large skillet over medium heat. Add the onion, red pepper and garlic; sauté 4 minutes or until the onion and red pepper are tender. Stir in the chili powder, cumin and oregano. Add the chipotles, stock and tomato sauce and bring to a gentle simmer. Cook for 5 minutes or until slightly thickened.
3. Combine the chicken and black beans in a medium bowl; add half of the sauce mixture. Combine the cheeses in a bowl; add ½ cup of the cheese mixture to the chicken mixture. Toss to combine.
4. Heat a skillet over medium high heat. Place one tortilla at a time in the skillet, for about 20 seconds on each side until warm and browned in spots. Stack them on a plate.
Pro Tip: Alternatively, place 8 tortillas on a microwave-safe plate and cover with a slightly damp paper towel. Microwave on high for 45 seconds or until warm.
5. Working with 1 tortilla at a time, place it on a flat work surface and spoon ¼ cup of the chicken mixture onto 1 end of tortilla. Roll up, jelly-roll style. Repeat the procedure with the remaining tortillas, heating up the second batch when first is used up.
6. Arrange the enchiladas seam-side down in the prepared dish. Pour the remaining sauce over the enchiladas and sprinkle with the remaining cheese mixture. Bake uncovered for 30 minutes, or until the sauce is bubbly and the cheese is melted and golden brown. Serve the enchiladas with salsa, sour cream and cilantro, if desired.