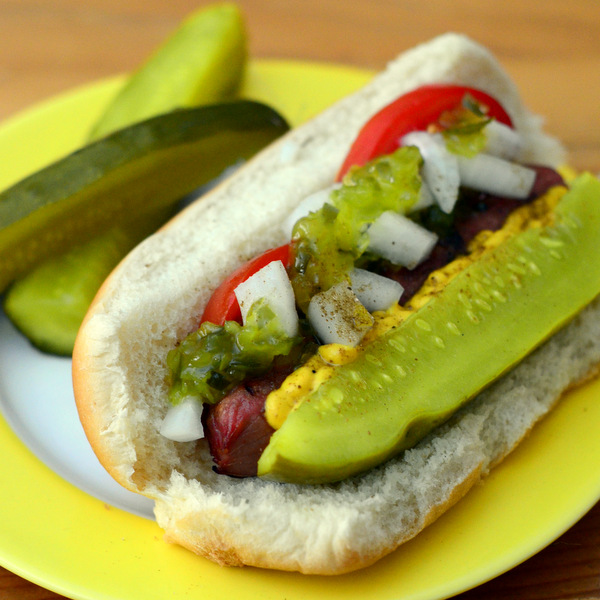 If the phrase "drag it through the garden" has you saying, "what the heck?," there's a good chance you're not from Chicago. It's commonly heard in the Windy City, and it stands for one of the most delicious ways locals say you can eat a hot dog: piled high with veggies!
But dragging your dog through the garden doesn't mean you can toss on just any ole' veggie. A Chicago-style hot dog always has a few key ingredients: fresh red tomatoes, diced white onion, bright green relish, Kosher pickle spears and yellow mustard. And you never, ever, top that hot dog with ketchup. (Some stands don't even offer ketchup as a topping!)
Now that you've got the basics, here's how to put together your own Chicago-style hot dog.
Chicago-Style Hot Dog
Ingredients
All-beef hot dogs with natural casings
Hot dog buns
Red tomato, thinly sliced
White onion, diced
Sweet pickle relish
Dill pickle spear
Yellow mustard
Celery salt
Sport peppers (optional)
Instructions
1. Bring 1″ of water to a simmer in a large skillet. Add hot dogs and simmer until heated through. Remove from water and drain.
Pro Tip: The hot dog should be all-beef with a natural casing, which provides a nice snap when you bite into it (plus plenty of flavor that stands up to all the toppings). They're usually steamed or boiled, but you can cook them on a skillet or grill if you prefer.
2. Place hot dog in bun. Cut one slice of tomato in half (to form two half circles) and tuck between the bun and the hot dog.
Pro Tip: A traditional Chicago dog is served in a poppy seed bun, but they may be hard to find outside of Chicago. Substitute with a plain bun if needed.
3. Place a dill pickle wedge on the other side of the bun. Generously spoon on sweet pickle relish, chopped white onions and mustard. Sprinkle with celery salt, then top with two whole sport peppers (if using).
Pro Tip: Sport peppers are small, spicy green peppers packed in vinegar. If you can handle the heat, they're a worthy addition to your Chicago dog. Skip if you prefer less spice.