Is there anything better than farm-stand cherries this time of year? Perhaps the same fresh cherries transformed into an elegant chocolate pastry?
Celebrate the season with this rich and rustic cherry chocolate galette recipe.
What is a galette, you ask? It's a french flat, round cake of pastry filled with a sweet or savory mixture. Galettes are not molded in tart pans, rather, filling is placed directly on top and in the center of the flaky crust and wrapped up free-form around the filling and baked. The tart becomes crisp during baking as the center cooks.
I tend to have trouble with traditional tarts — I almost always burn the edges and when I remove the tart from the tin things always seem to crumble apart on me. I need a lesson from Ashley on how to make her simply beautiful simple fruit tart, stat.
Galettes end up playing to my strengths and I find it to be a more forgiving dessert option when trying to manage other dishes for a backyard barbecue or picnic. The dough and filling can be made ahead and stored separately in the fridge until you're ready to assemble and bake. Plus, there are really no limits to the combinations you can create with the filling throughout the seasons.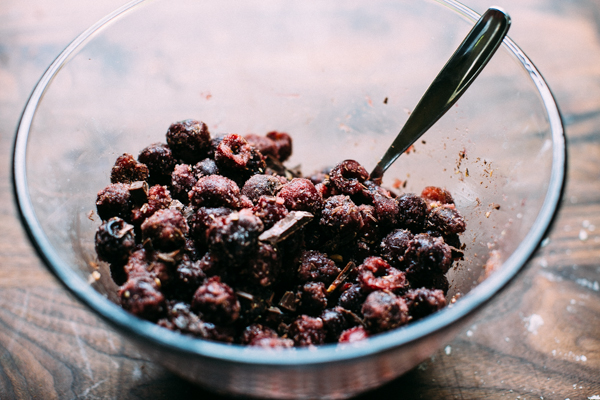 Cherries and chocolate are one of my favorite summer food combinations. As a child, one of my favorite summertime memories was stopping by a locally owned, roadside ice cream stand that made the best milkshakes in town. They put their spin on Ben & Jerry's famous Cherry Garcia with a bit of malt and salted, toasted almonds. It was heaven to me then, and still is now.
I've used salted almond chocolate in this recipe to replicate the experience, but any of the dark stuff you fancy will do.
Recipe for cherry chocolate galette
Pastry
2 cups unbleached all-purpose flour
1 tsp sugar
Pinch of salt
12 tablespoons cold unsalted butter
1/2 cup ice water
In a bowl, mix the flour with the sugar and salt. Using a pastry blender or your fingers, cut in half of the butter until the mixture resembles coarse meal. Cut in the remaining butter. Pour in water then begin to mix and knead the dough until a ball forms and the mixture is no longer shaggy looking. Flatten the dough into a disk, wrap in plastic and refrigerate for at least 30 minutes. Preheat oven to 400 F.
Filling 
2 lbs cherries (a hint over 4 cups)
1/4 cup sugar
1 tablespoon cornstarch
1 tablespoon lemon juice
1 tablespoon orange zest
1 bar (3.2 ounce) dark chocolate with almonds
1 large egg beaten, for brushing
Coarse sugar, for sprinkling
Pit and halve cherries in a large bowl. Stir in sugar, cornstarch, lemon juice, orange zest and roughly chopped chocolate. Set aside.
On a floured work surface, roll the dough out into a 12-inch round. Transfer to a baking sheet lined with parchment paper. Pile on cherry-chocolate mixture into the center of the pastry, leaving a 1 1/2 inch border for folding edges up and over the mix. Finish outside exposed dough with an egg wash. Bake for 30-40 minutes. Cut into wedges and serve warm.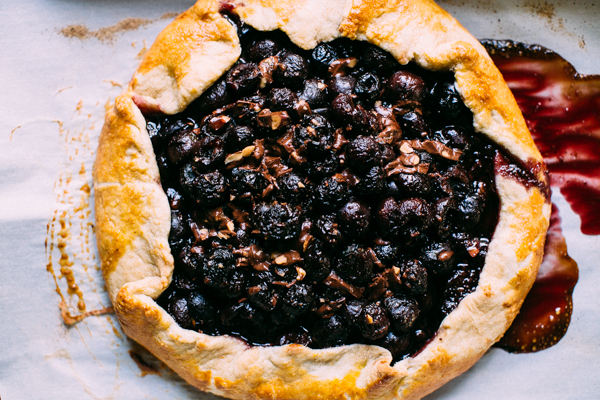 What's your favorite way to use fresh summer cherries?