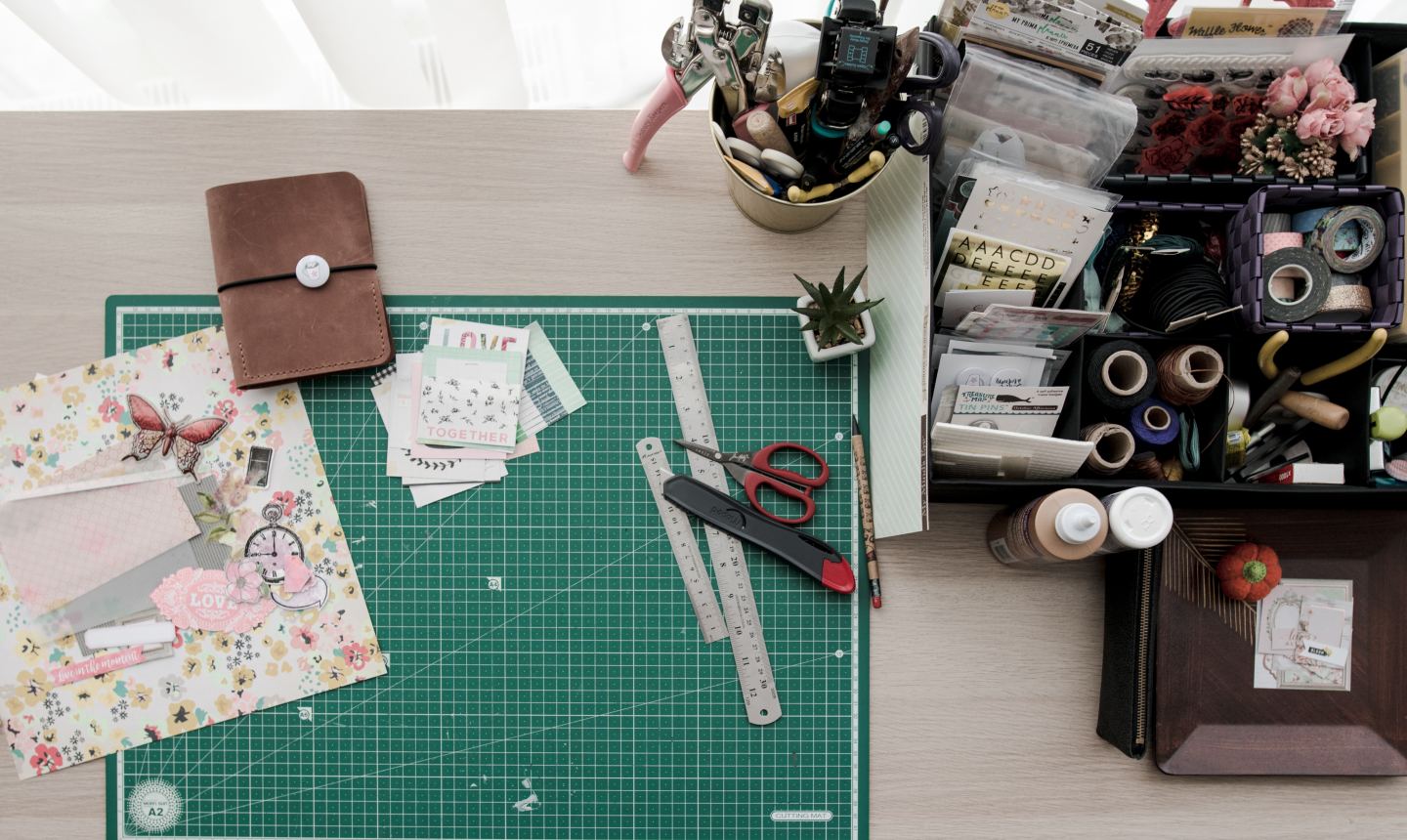 Making your own stationary is THE BEST way to share your creativity with all your favorite peeps. And while you certainly can dive into the world of card making with nothing more than a pair of scissors, some construction paper and a bottle of white school glue, having a few more specialized tools and materials on hand will make the whole process a whole lot more fun.
1. Paper Trimmers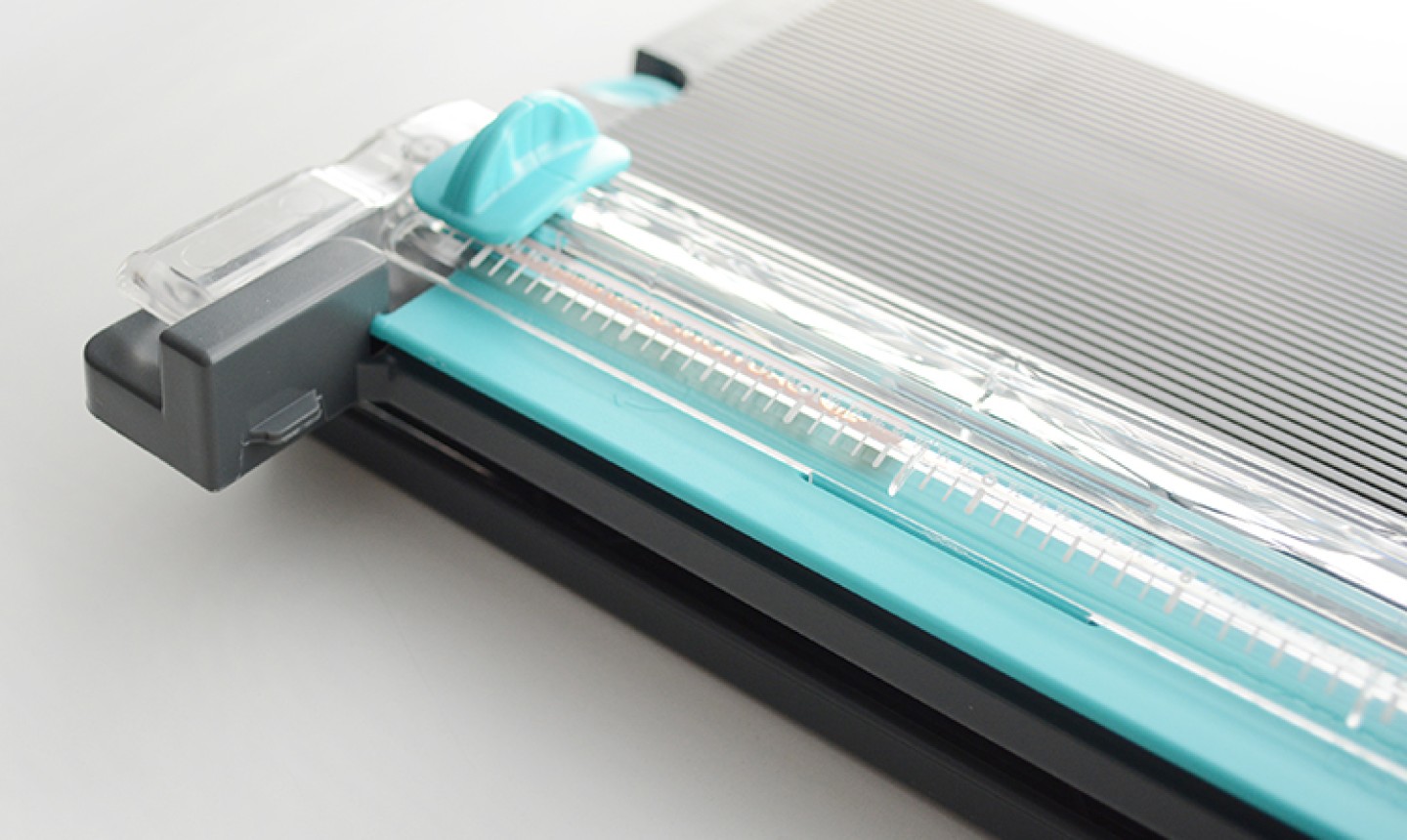 We'll give it to you straight: a paper trimmer is a must for card making and scrapbooking. It keeps your edges straight and square and also makes cutting soooo much faster. You can find some pretty inexpensive (but perfectly effective) options at craft stores — just make sure you choose one that has both a trimming tool (for cutting paper) and a scoring tool (for creasing).
2. Circle Punches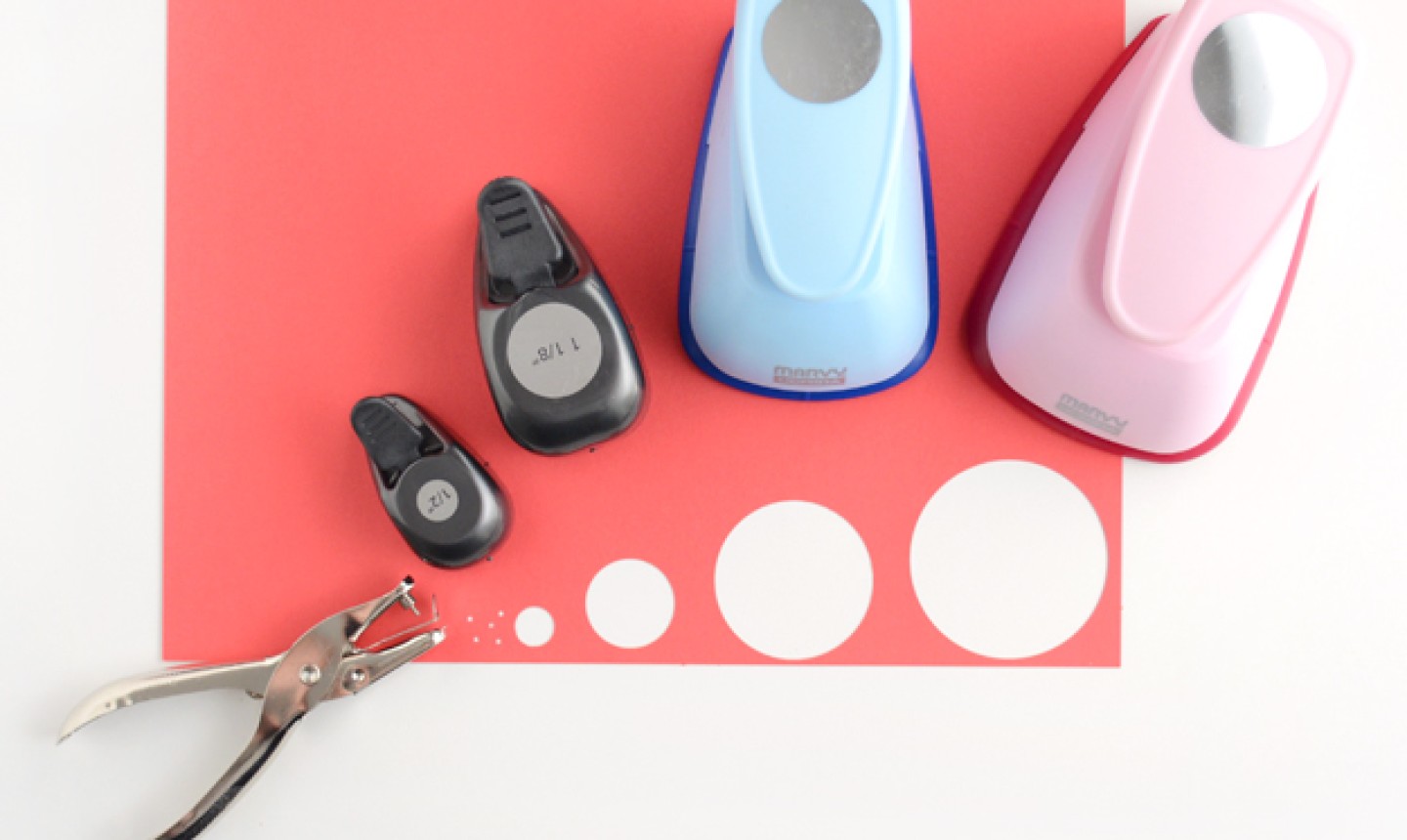 These babies are life savers. Just like the name says, they punch perfect circular holes. Which means they also make perfect circular shapes you can attach to your projects. Grab a few in a range of sizes and we promise you'll use them all the time — for everything from basic functional hole-punching to creating cool modern dot designs.
3. Stapler
A stapler is clutch when it comes to attaching tags and small embellishments. A standard office stapler is fine to get you started, but eventually you might want to upgrade to a thinner design so you can get into tight places!
4. Adhesive Runner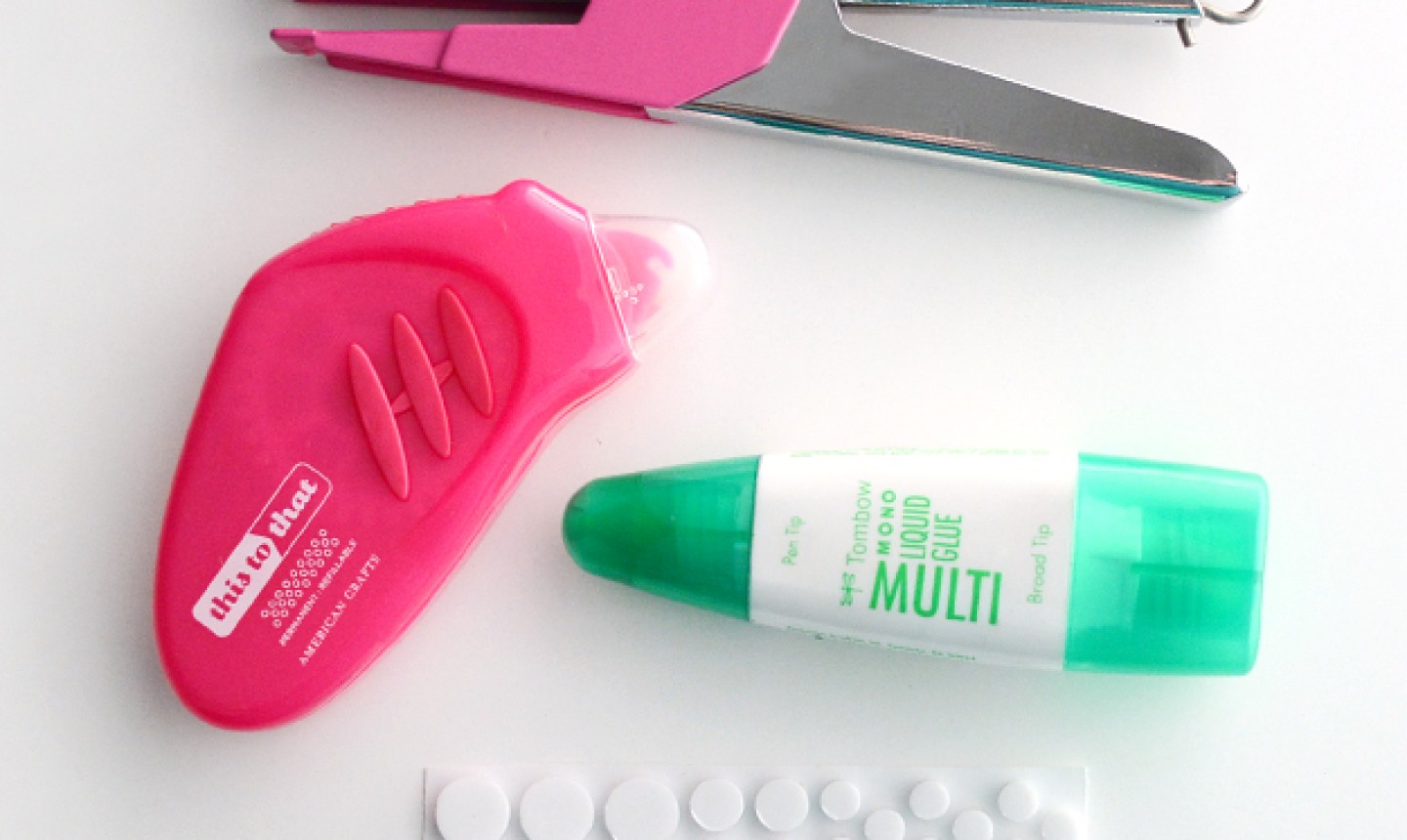 There are tons of different types of adhesives for paper projects, but for attaching photos and paper to cards, you're gonna love the convenience of an adhesive runner like American Craft's This to That. Just roll it over the paper and it leaves a solid trail of fast-drying glue behind it.
Keep in mind, though, that adhesive runner isn't strong enough to hold everything. Don't use it for gluing on thick embellishments like chipboard or holding together 3D projects, like boxes.
5. Liquid Glue
For fancier dimensional embellishments like chip board or buttons, use a strong, liquid glue. The Multi Mono Liquid Glue by Tombow is our go-to because it dries fast (only a minute or two to set) and holds everything perfectly in place.
6. Foam Adhesive Dots
Need some subtle 3D action? Use a foam adhesive dot to attach your doodads. The foam elevates your pieces off the page, literally making them pop.
7. Specialty Papers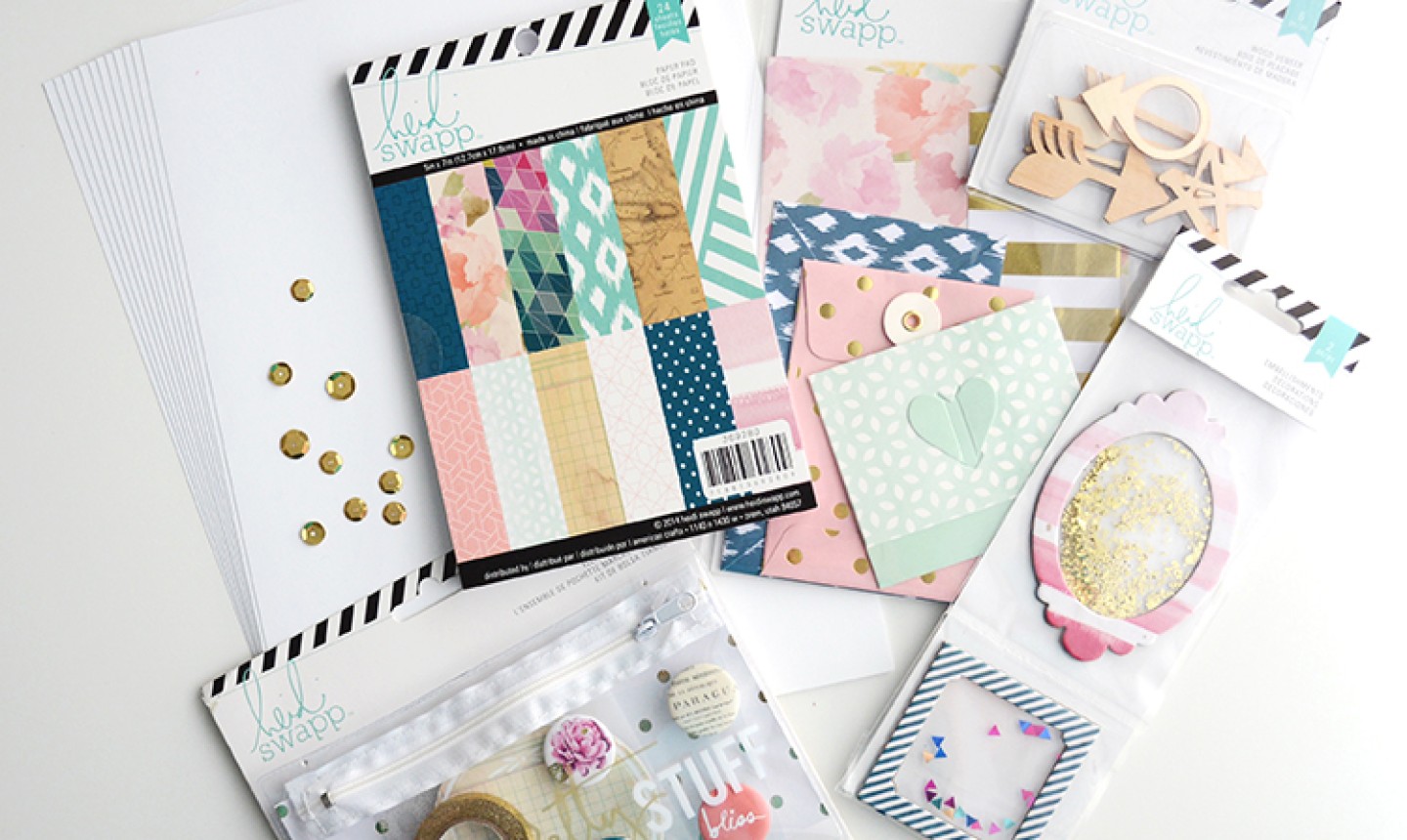 Every card maker needs a stash of 8½"x11″ smooth, white card stock on hand. But the real fun begins when you explore all the other papers out there. Check out any craft store and you'll see the options are pretty much limitless.
We suggest picking up a small amount of paper across a wide variety of styles at first (think metallics, florals, geometric prints), so you can really experiment and see what effects you like best. Then build your collection gradually from there.