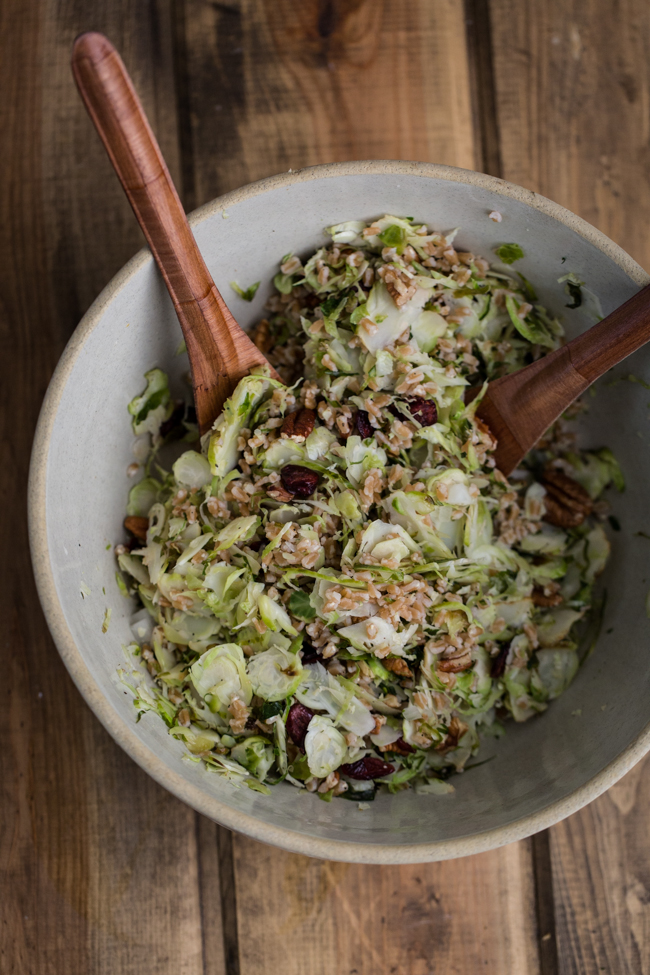 Say hello to your new favorite side salad. This dish showcases the best of Brussels sprouts by skipping the blanching and ramps up the flavor with a good roast. Pair it with a honey mustard dressing and even Brussels sprout skeptics will be converted!
Shaved Brussels Sprout Salad with Honey Mustard Dressing
Yield: 3-4 servings as a side dish
Ingredients
¾ pound Brussels sprouts, ends trimmed
1 tablespoon olive oil
¼ teaspoon salt
¼ teaspoon black pepper
1 cup cooked farro
¼ cup minced onion
¼ cup dried cranberries
½ cup roasted pecan pieces
1 tablespoon olive oil
1 tablespoon lemon juice
2 teaspoons honey
½ teaspoon brown mustard
Instructions
1. Preheat oven to 400 F. Trim the ends from the Brussels sprouts and toss with olive oil, salt and pepper.
2. Spread into a single layer in a roasting pan and roast for 25 to 30 minutes until Brussels sprouts are warm and starting to brown. Remove from oven and let cool slightly.
3. Using a food processor fitted with a slicing blade, shred the roasted Brussels sprouts. Alternatively, roughly chop the Brussels sprouts until shredded. Place them in a bowl and toss with cooked farro, minced onion, dried cranberries and pecans.
4. In a small bowl, whisk together olive oil, lemon juice, honey and mustard. Pour over the salad and toss until well combined. Taste and adjust salt and pepper as needed.