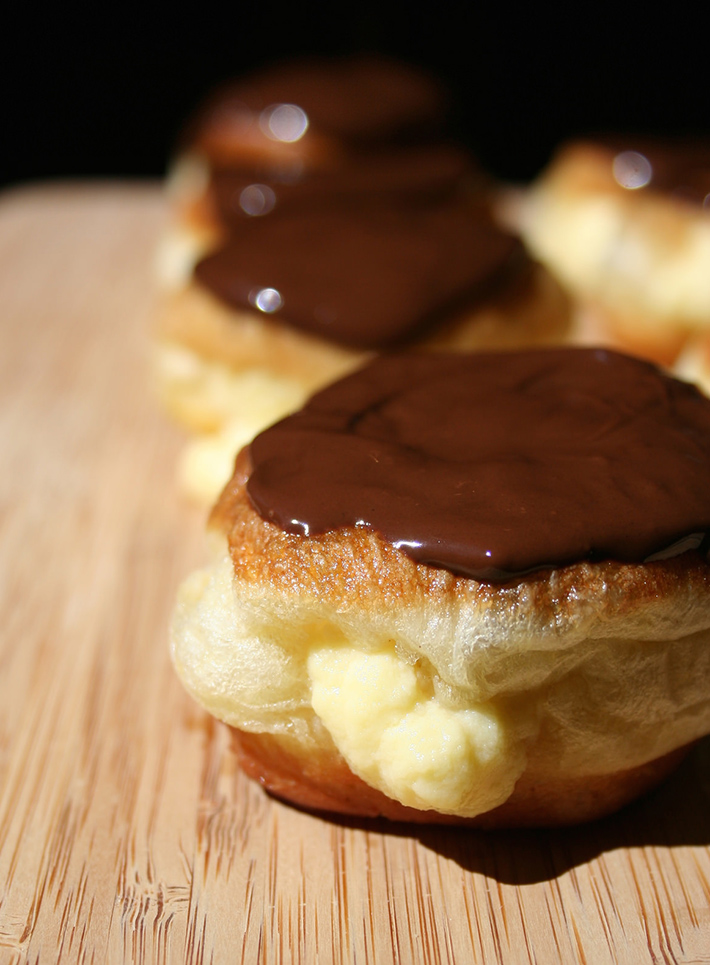 Despite their New England-centric name, Boston cream donuts are beloved worldwide. It's easy to see why: the fluffy donut is filled with a rich, creamy custard and topped with chocolate glaze, so it's the perfect dessert — or, let's be real, breakfast. And while the store-bought versions are delicious, they can't compare to ones you bake in your own kitchen.
Boston Cream Donuts
Yield: 18-24 donuts
Ingredients
For the Donuts
2 cups all-purpose flour, plus more for dusting work surface
1 packet active dry yeast
1 teaspoon salt
⅓ cup granulated sugar
2 large eggs
¾ cup whole milk
1½ tablespoons melted butter
Enough olive oil to fill a deep skillet 2 inches deep
For the Cream Filling
1 tablespoon butter
1 cup milk
1 cup heavy cream
¼ cup sugar
1½ tablespoons cornstarch
3 large eggs
1 teaspoon vanilla
For the Topping
5 ounces dark chocolate, coarsely chopped
2 tablespoons butter 
Instructions
1. Prep the Filling
In a medium saucepan over medium-high heat, combine the butter, milk and cream. Bring to a simmer, then remove from heat.
In a separate large bowl, whisk together the sugar, cornstarch, eggs and vanilla. Whisk until the mixture is light yellow and ribbon-like strings form when you lift the whisk. Slowly pour the milk mixture into the egg mixture, whisking until completely combined.
Pour the mixture into a clean medium-sized saucepan and cook over medium-low heat, whisking constantly to keep the eggs from scrambling, until the mixture begins bubbling. Continue whisking until the mixture has thickened to the consistency of a pudding.
Pro Tip: This process can take over 10 minutes. If there are any little lumps or bumps in the mixture, strain it through a fine mesh sieve.
Transfer the cream filling to a clean bowl. Press a layer of plastic wrap directly on top of the custard. Refrigerate for at least 2 hours.
2. Make the Donut Batter
Place the flour, yeast and salt in the bowl of a stand mixer. Set aside for now.
In a medium saucepan, heat the milk, sugar and butter over low heat until the mixture is warm, but not hot — between 105 and 115 F (just warm enough to activate the yeast). Remove from heat and whisk in the eggs.
Add the wet mixture to the dry ingredients in your stand mixer. Using the paddle attachment, mix on low speed until the dough comes together. Increase the speed to medium-high and continue mixing until the dough is smooth and pulls away from the sides of the bowl, about 5 to 7 minutes.
Form the somewhat sticky dough into a ball and place in an oiled bowl. Cover with a towel and let it rise in a warm place for about 1 hour, or until doubled in size.
3. Shape
Dust your work surface with flour and turn the dough on top. With a lightly floured rolling pin, roll the dough until it's about ¼" thick. Using a 2″ or 3″ round cutter, cut out as many circles as you can and place on a lightly floured baking sheet.

Re-roll the scraps and continue cutting out circles until you've used all the dough. Cover the rounds with plastic wrap and again let them rise, this time for about 30 minutes.
4. Prepare for Frying
Place the oil in a large, deep skillet or a deep pan, but don't heat it yet.
Prep your work space by grabbing a slotted spoon or tool for flipping and fishing your donuts out of the oil. Place paper towels under a wire rack near your frying surface — this is where you'll put the doughnuts to cool off. 
5. Fry
Heat your oil to 350 F. Transfer the dough, a few at a time, into the hot oil and fry until browned, about 1 minute. Flip and fry the other side. Using a slotted spoon, remove from the oil and transfer to the wire rack. Continue frying until all are done.
Pro Tip: The second side takes less time to fry, so pay close attention.
6. Fill 'Em Up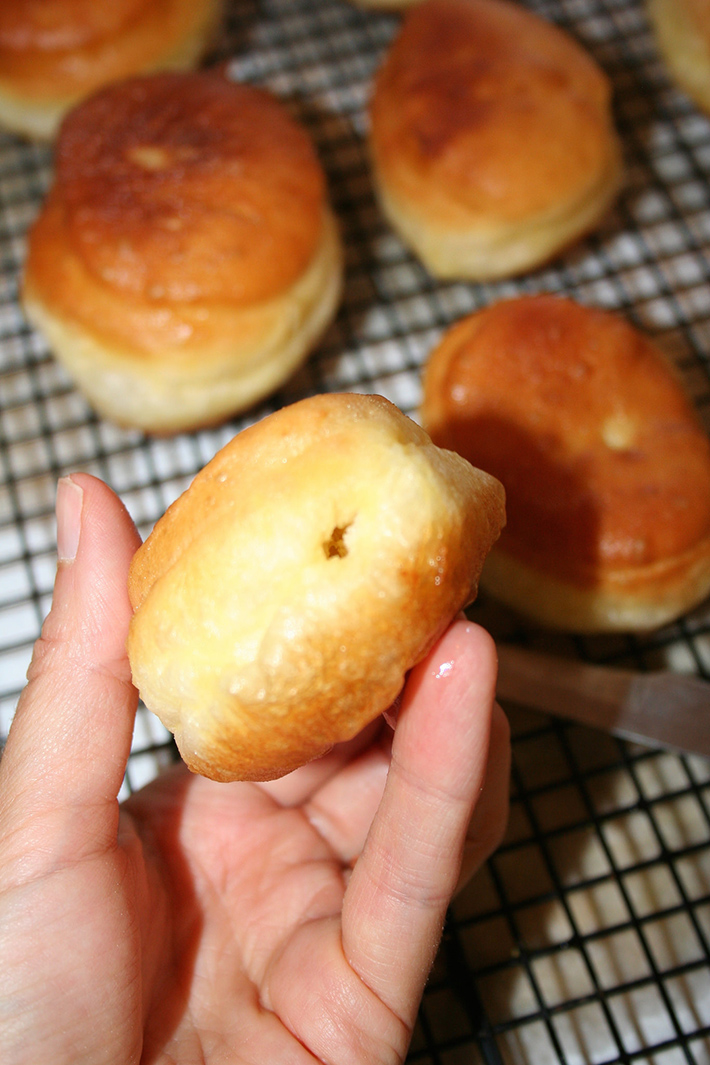 When the donuts are cool enough to handle, use a small knife or skewer to make a hole in each one. Slightly work it (without enlarging it too much) to make more space inside for the filling.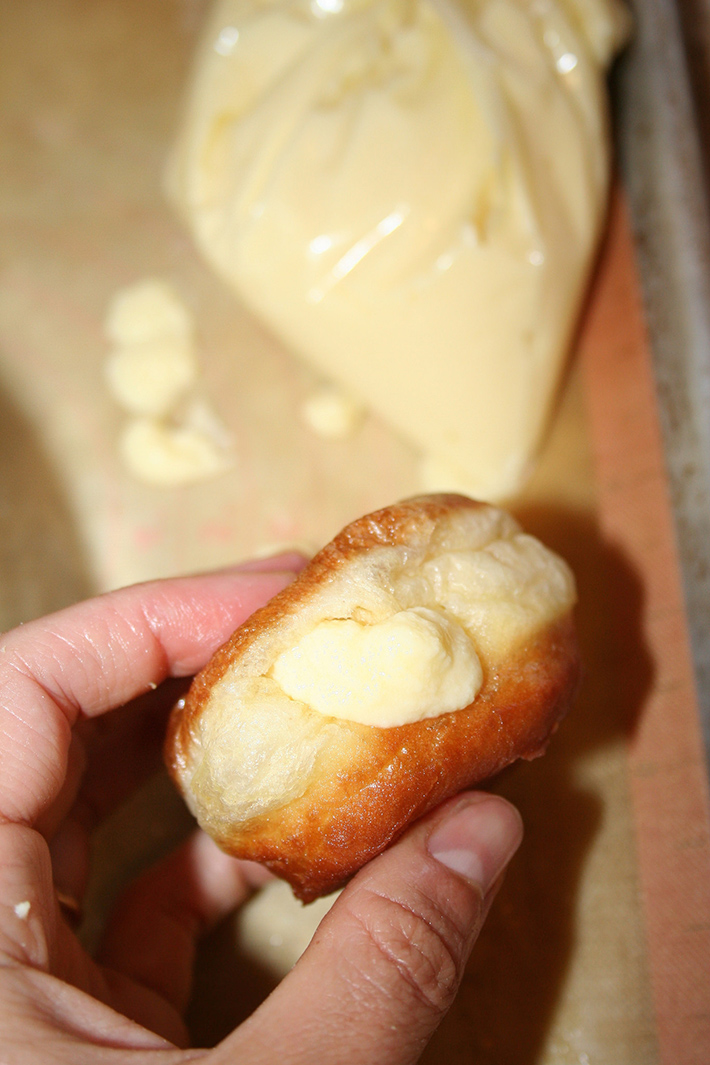 Remove the filling from the fridge and spoon it into a piping bag. Pipe into the hole of each donut.
7. Top 'Em Off
Melt the chocolate and butter in the top of a double boiler over medium-low heat. Once melted and smooth, spoon a small amount of chocolate on top of each donut.
Let the chocolate set slightly before serving.