When it comes time to add a border to your quilt, you can go simple or plan something elaborate. That is, unless you decide to skip the border altogether. If you are sewing a quilt pattern, you may choose to sew the pattern as is or innovate on the design with your own border ideas.
For those quilting enthusiasts who also enjoy designing quilt patterns, it's always a good idea to have some new border ideas in your arsenal of go-to techniques.
Find inspiration for your next project with these border ideas for quilt patterns that range from familiar to something a little more fancy.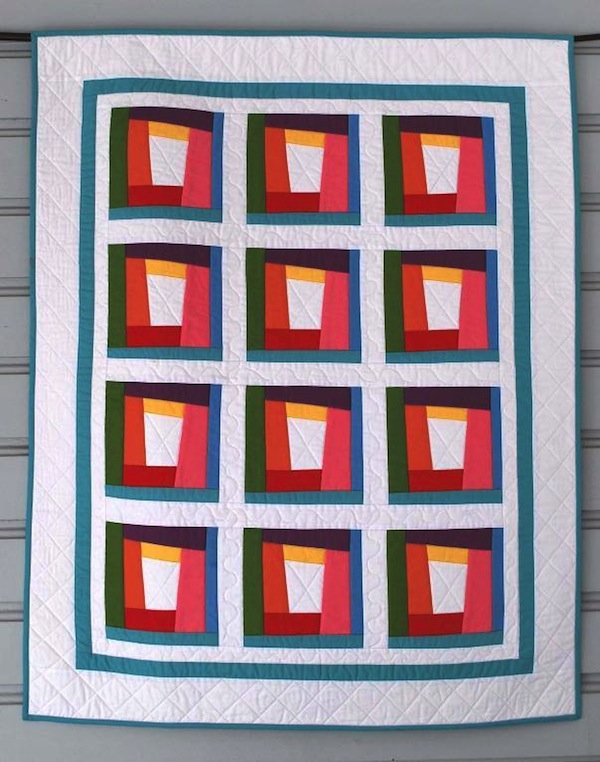 Photo via Bluprint member Pipers Girls
Simple stripes
Never underestimate the power of a simple, solid border. A thin teal border is paired with a wider white border to complement the clean look of the sashing in this Modern Rainbow Baby Quilt pattern, offered for FREE by Bluprint designer Pipers Girls. This type of border looks great with simple quilt blocks, but can also pair well with a complex design, since it doesn't compete with more elaborate blocks.
Get the FREE Modern Rainbow Baby Quilt pattern.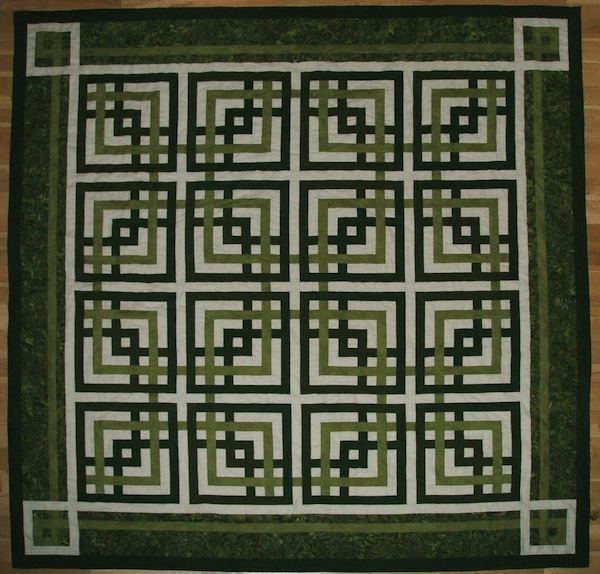 Photo via Bluprint member Tenar
Cornerstones
The cornerstones of the border on this Carpenter's Square Sofa Quilt give it an extra something special, and they also echo the basic lines of the Carpenter's Square quilt blocks. If you are designing a border for your quilt pattern, you might try to sew a simpler version of one of your quilt blocks and use it in the four corners.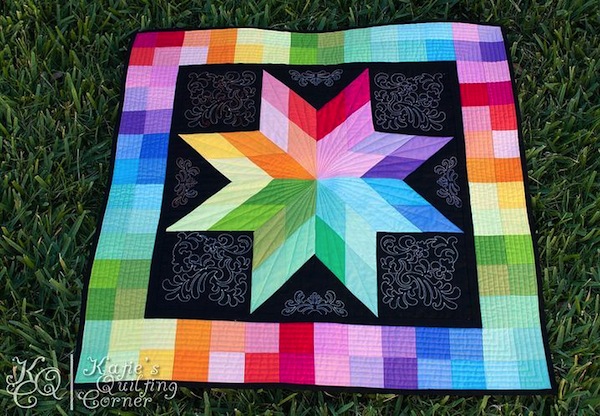 Photo via Bluprint member Katie Ringo
Solid squares
If you have a stash of Charm Squares on hand, why not use them to create a custom border for your quilt? The rainbow squares of this colorful border work so well with the diamonds in the center because they share the same fabrics. Bluprint member Katie Ringo made this Rainbow Lone Star Quilt while enrolled in Kimberly Einmo's Magical Jelly Roll Quilts Bluprint class. She used machine quilting to complement the border and center star with straight-line quilting.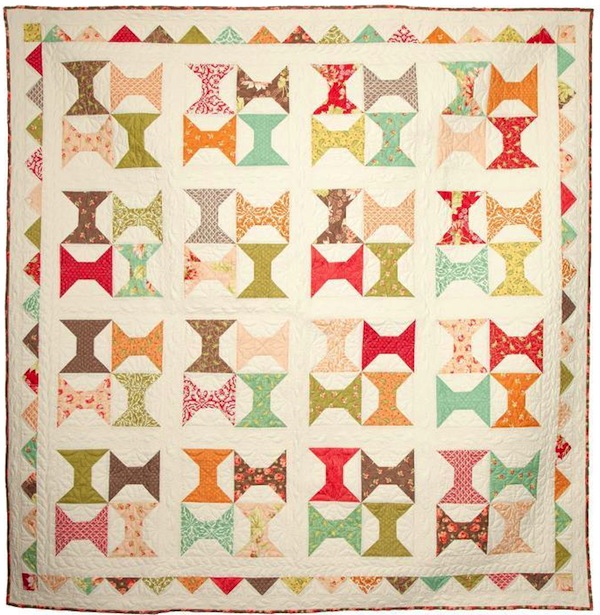 Photo via Bluprint instructor Joanna Figueroa
Flying Geese
Some basic elements of quilt blocks make wonderful borders. For instance, look how perfect these Flying Geese blocks with simple square cornerstones work with Joanna Figueroa's Spools Quilt blocks.
Learn how to make this quilt in Joanna's Simple Fresh Quilts Bluprint class.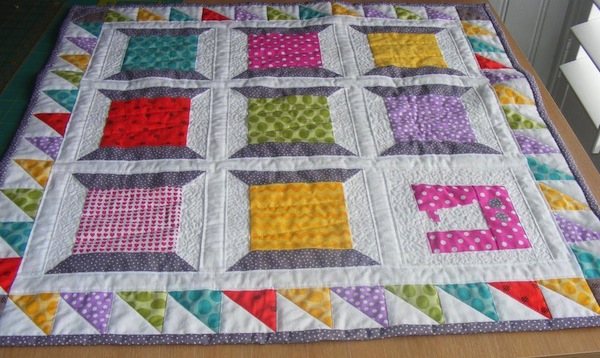 Photo via Bluprint member ellequilt
Half-square triangles
These Sewing Spools Wall Quilt blocks are sashed in plain white fabric, which helps the half-square triangles in the border really pop. The polka dot prints complement the spools of thread and sewing machine blocks. When designing a quilt with triangles in the border, consider the direction of your blocks and how they draw the eye into or away from the quilt center.
Have you heard of the Magic 8 Method for making 8 half-square triangles at once?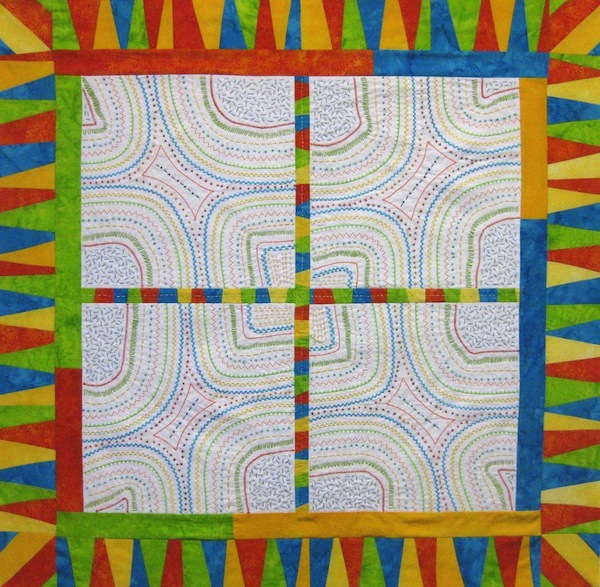 Photo via Bluprint instructor Carol Ann Waugh
Improv piecing
Who says that borders need to be precise? If you are looking for border ideas that will help you exercise your freedom of creativity, check out this Modern Stupendous Stitching Quilt by Carol Ann Waugh, instructor of the Bluprint classes Snazzy Stitched Portraits, Stitch & Slash and Stupendous Stitching. Try this yourself by simply piecing together fabric squares or triangles at a slightly wonky angle, and trimming the border strips to your desired length and width.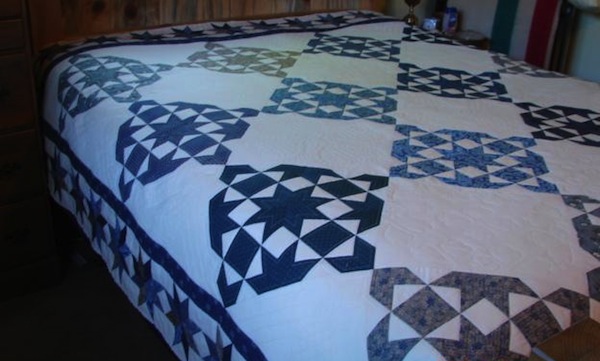 Photo via Bluprint member margarett89670
Star blocks
If you happen to have some extra quilt blocks from your project, you can use these to make a border for your quilt pattern. The star quilt blocks in the center of The Margaret Quilt by Bluprint member margarett89670 are as eye-catching as the beautiful blue blocks that make up the border.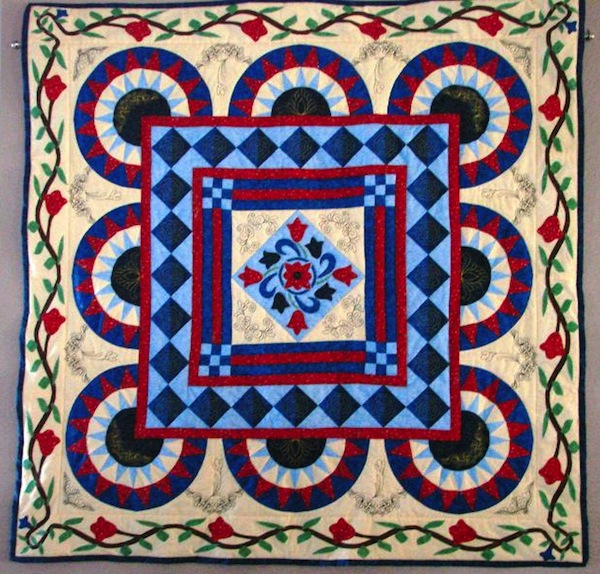 Photo via Bluprint member doubledee516
Awesome appliqué
Have you ever tried your hand and making medallion quilts? These quilts are defined by their borders, which often come in different widths and can be very elaborate to piece. You can find inspiration for your own quilt border ideas in medallion projects like doubledee516's Twisting Tulips Quilt, which has floral appliqué as the outermost border.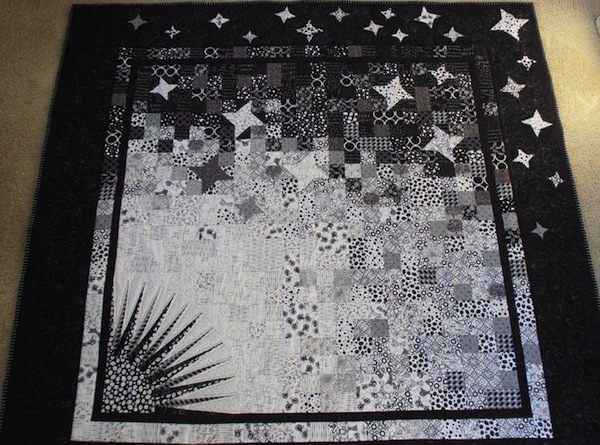 Photo via Bluprint member Majo
Asymmetrical stars
Break all of the rules with an unexpected border for your next quilt. The Rising Son quilt, for example, utilizes three borders of different widths as well as some asymmetrical stars to draw the viewer's eye between opposing corners. Notice how the dark and light contrast between the fabrics helps the stars in the outside border really pop.
Do you follow quilt patterns as written, or do you prefer to create your own adventure?