Canvas is a classic surface for creating art. But what is the best paint for canvas? Read on to learn the best and worst types of paint to use on canvas.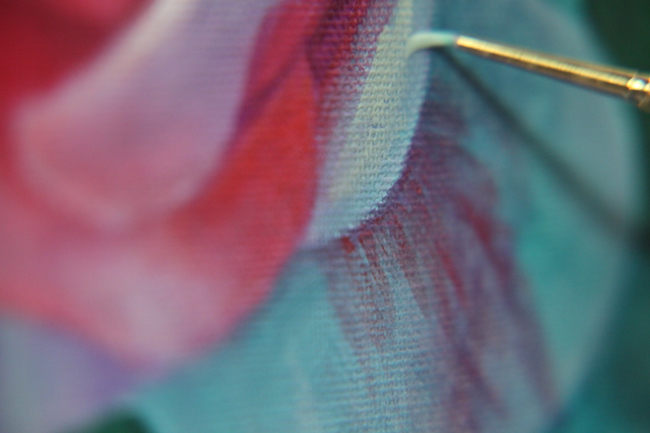 With so many paint options out there, it can be hard to know which medium is best suited for which painting surface. But you don't have to learn the hard way. In this post, we'll explore what paint to use on canvas by reviewing common painting media and explaining why they do or don't work well on for painting on canvas. 
The best types of paint for canvas
Acrylic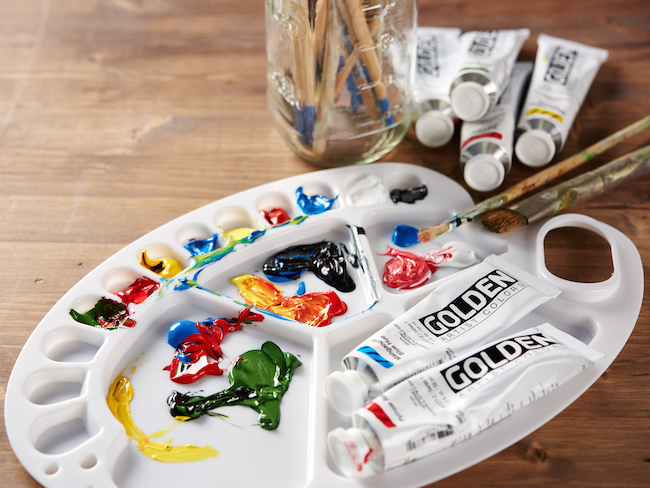 Acrylic paint is one of the most popular types of paint for painting on canvas, and with good reason. It's easy to work with, requires minimal supplies and dries quickly. A primed canvas provides an ideal surface for acrylic, which can be applied with a brush or palette knife.
In terms of what type of acrylic paint to use, a thicker acrylic paint (sometimes called "heavy body") will work best on canvas. Thinner acrylic paint (sometimes called "fluid acrylic") will require a lot more paint to create an opaque layer, and can drip downward if painting on an easel. 
Oil paint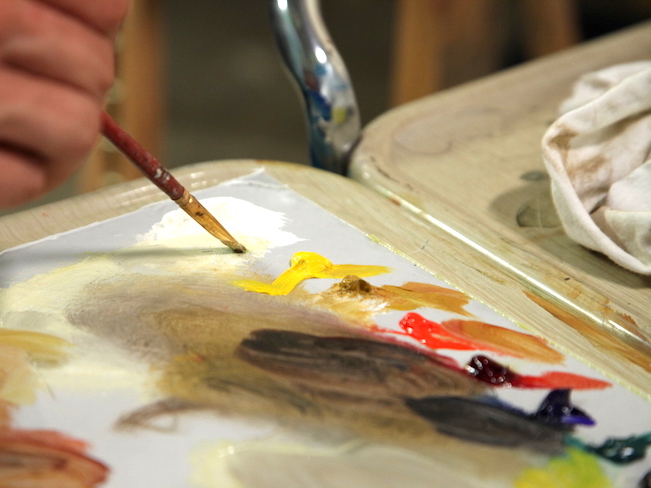 Whether it's traditional oil paint or water-soluble oil paint, oils are very well suited to painting on canvas. Their thick, viscous texture requires a heavy-duty painting surface to rest upon that won't be degraded by oil, and a primed canvas provides just that. Like acrylic, oil paint can be applied either with a brush or a palette knife; it can even be applied without either, by using oil pigment bars (sort of like oil pastels). 
So-so paints for canvas
Gouache
Gouache is a unique type of paint that has characteristics of both acrylic and watercolor paint. It is composed of color pigment with a binding agent such as gum arabic, often with a solid white pigment such as chalk (or sometimes even acrylic) incorporated. These two factors give gouache a much heavier texture and higher opacity than watercolor alone, but not quite the opacity of acrylic.

Gouache can be applied to canvas, but it is best to apply a fairly thick layer, with minimal water added. While gouache can be used on smaller paintings or to create effects like the gouache resist technique, painting on canvas can use up gouache very quickly, and you may find that using acrylic paint is a better choice.
Tempera
Tempera paint is made of pigment with a water-soluble binder (in old times, the binder was egg, hence the alternate name: "egg tempera"). Tempera can be used on canvas, but it's not always an ideal medium. Like fluid acrylic, tempera paint is not extremely thick, so it can drip downward if applied to a canvas on an easel. Additionally, tempera paint is typically not permanent or archival, so while it is a great and inexpensive medium to explore painting with, it is not an ideal medium for painting on canvas in the long term. 
Latex paint
Did you know that Picasso used house paint to create many of his masterpieces? Truthfully, house paint works pretty well on a primed canvas; it's usually fairly opaque and lightfast, and it can be bought in bulk for a fairly inexpensive price. The problem? House paint is not designed for painting on canvas, and its longevity can vary greatly. Where acrylic and oil paint are designed to last for years, the same cannot be said for house paint, which is designed to last for a few years, but not centuries. So don't use house paint to create the masterpiece you want to hand down to future generations!
Not suggested for canvas
Watercolor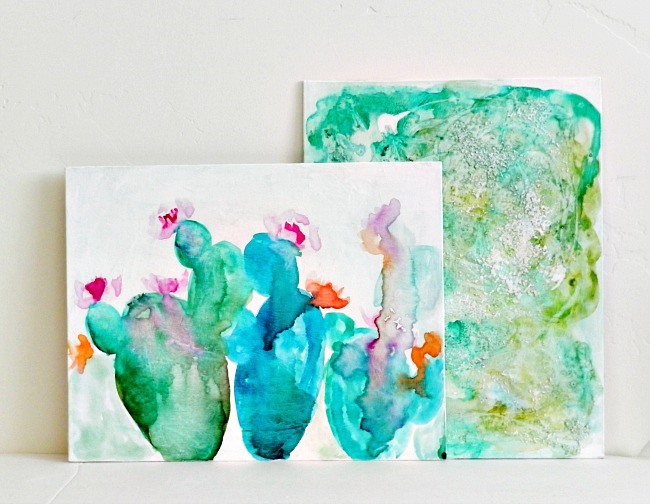 Watercolor is a beautiful painting medium, but it is not well suited to painting on canvas. The water-based paint tends to form beads and dry irregularly on canvas, especially a primed canvas.
While this could be fun to add effects to a mixed media painting, working in watercolor on canvas will likely be frustrating for creating a complete work of art. An absorbent watercolor paper is a far better choice.