Lingerie and sleepwear are worn right next to your skin, so choosing fabric for these projects is very important. After all, you don't want to itch or deal with undergarments that cling to the other layers of your clothing.
While there are plenty of different fabric options to choose from when sewing lingerie, the key is to consider how you plan to wear the garment and find the option that's the most comfortable for your body. Here are just a few different fabric options to consider next time you're sewing lingerie or sleepwear.
Photo via Alison Smith
Silk
Silk is a difficult fabric to work with since it slides all over the place. But it certainly makes for some luxurious lingerie and sleepwear! Silk is also a great choice for slips, especially in cold weather, because the silk can be warmer than a lot of other fabrics that let air seep in.
If you are using silk (or any other slippery fabric) for your project, check out these tips for stabilizing the fabric so it doesn't slide all over the table.
Lace
No, I'm not talking about that itchy lace that leaves rashes on your skin. There are plenty of lace options out there that are smooth and comfortable. For lingerie, look for lace that has a bit of nylon or spandex in it so that there's a little bit of stretch.
Lace has a good reputation in the world of bras because lace holds its shape better than most other fabrics. Knits, for example, tend to stretch out over time. But lace will take a little longer, especially if you buy a high-quality lace.
Lace can be used as the main fabric, but it can also be used as a trim or an applique to embellish your lingerie. If you're using it for a trim, be sure to stick with something lightweight so it doesn't weigh down the garment.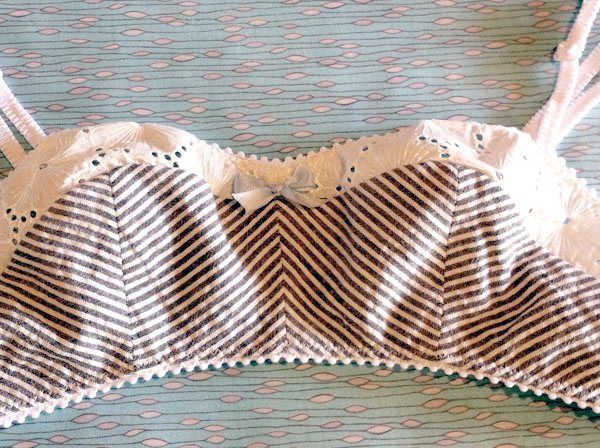 Photo via Christine Haynes
Cotton
We traditionally think about using woven fabric for things like lightweight lounge pants and boxer shorts, but we don't often think of it when we think of lingerie. However, woven fabrics like cotton are a perfectly fine choice for lingerie, too; just remember to place the pieces on the bias when you cut the pattern to give the fabric some extra stretch.
Cotton is especially desirable in the summer when you need a breathable, lightweight layer under your clothing. I own a cotton slip that is my go-to on steamy days. I love it because it is light and doesn't cling to my skin like other fabrics do.
To make the Bambi Soft Bra pictured above, Bluprint blogger, instructor and pattern maker extraordinaire Christine Haynes cut a seersucker on the bias, but you could also use a jersey or lace.
Knits
Since lingerie like panties and pajama pants usually have an elastic waist, it's important that they have the right amount of stretch so you can slip them on and off without tugging them too much. Knits work well in these situations because they offer a good amount of stretch. Be aware, though, that not all knits have the same amount of stretch. You'll need to keep that in mind when choosing a size for lingerie and sleepwear.
When you're shopping for lingerie knits, don't limit your choice to jersey. There are plenty of other knits, like tricot, that are also good options.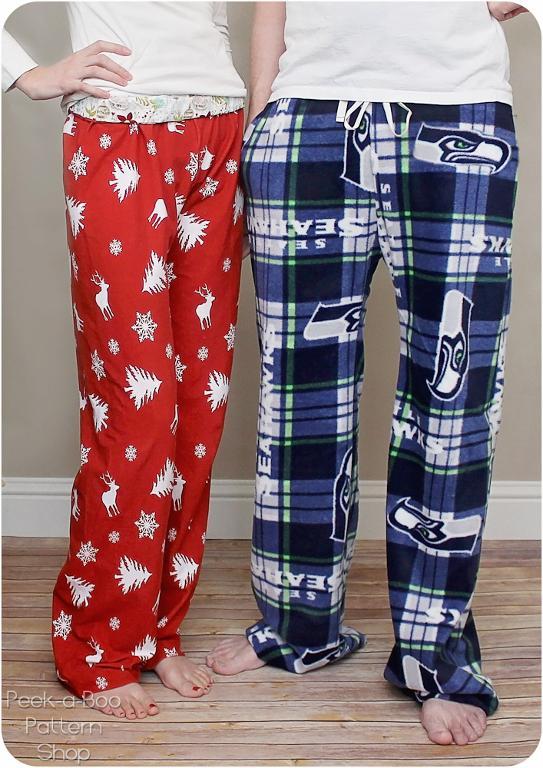 Photo via PeekaBooPattern
Flannel
Flannel is ideal for comfy pajama pants and even a pajama set. Flannel is definitely an option for the Hit the Hay Pajama Pants pattern pictured above. One advantage of flannel is that it often comes in fun prints, so you can choose anything from plaid to your favorite sports team.
Velvet
Velvet can be used for sewing an entire garment, sure, but it can also serve as an embellishment or trim. Velvet ribbon is perfect for a fancy bra strap, and small velvet bows are the perfect embellishment for lingerie.
If you're considering velvet as lingerie that will be worn under your clothing, think twice. Velvet is a bit bulkier than the other fabrics listed here, so it might not be the best option for layering.