Congratulations! You are about to start drawing. While one of the best things about drawing is that you can dive right in, spending time choosing the best drawing paper for the job has several advantages.
While paper doesn't make the artist, selecting a high-quality paper can elevate your drawings. The ones pictured here are Strathmore 400 Series Sketch Pads.
The most important advantage is the ability to draw without fighting against poor art supplies. If both your paper and pencils are good, even a beginner-level drawing looks nicer than its counterpart done with cheap art supplies.
There are three parameters in choosing drawing paper: texture, thickness (or weight) and color. As a rule, textured papers are excellent for pastel and charcoal drawings (like Canson Mi-Teintes papers), but they're terrible for colored pencil work. Paper's thickness and color are usually noted on a pad's cover. The heavier the paper, the better it is for drawing, storing and framing. Today, all professional drawing and printmaking papers come acid free for archival purposes.
For many mediums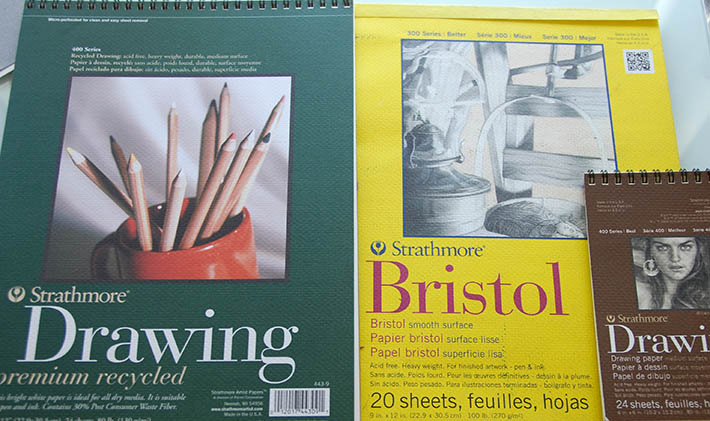 Strathmore drawing paper pads are a favorite among numerous artists because the brand has a variety of sizes that are suitable for drawing in various dry media. Plus, Strathmore offers the best price-to-quality ratio — a key factor especially for beginners who want a lot of practice. If you're experimenting with a variety of tools, this option is for you.
They're acid-free, medium weight (80 lbs.), medium surface (a light texture) and come in light ivory or bright white colors. They are good for graphite, pen and ink, charcoal and some colored pencil drawings.
Other brands, like Canson, also make good drawing papers, and the same rules of weight, texture and color apply. It's best not to buy any paper that is under 80 lbs. in weight because it's too thin to make a good drawing. 
For easy blending
For mechanical drawing, pen and ink and colored pencil painting, Strathmore Bristol pads are a perfect fit. They're acid-free and heavyweight (100 lbs.) — this paper doesn't crumble. The smooth surface has no texture, which allows for easy lay of colored pencil and graphite. The colors seem to blend by themselves. However, this perfect smoothness can be a disadvantage for pastel and charcoal because the paper doesn't accept as many layers of pigment as a lightly textured paper.
For simple sketching
When it comes to general sketching in any dry medium, Strathmore Sketch is a great, lightweight pick. The main difference between the drawing paper and a sketch one is weight. These pages are very thin (50 lbs.) and can't withstand the same amount of layering and erasing as the drawing paper. The paper is lightly textured and acid-free. It's a superb surface for preparatory work in colored pencil to transfer the outlines onto a better-quality drawing paper. 
For drawing in colored pencil
The most important factors in choosing paper for colored pencil drawing are its smoothness and weight. The Stonehenge paper by Legion Papers is the absolute favorite among numerous colored pencil artists. It comes in sheets and pads, in white and several medium to light colors. A smooth vellum, the 90 lb. surface accepts lots of pigment and is suitable for other dry media, including pastels and printmaking. Layering and blending of colored pencils is almost effortless in comparison to working on other surfaces.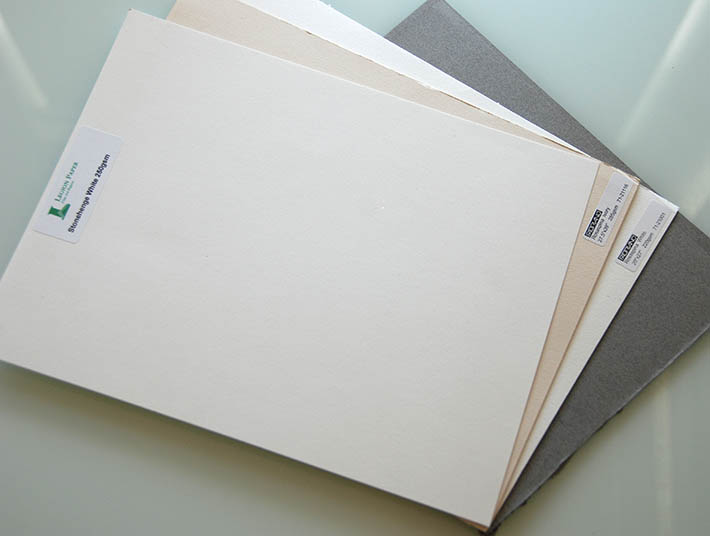 Toned paper
Strathmore's toned gray sketch paper pad is an excellent choice for quick sketches and studies completed in black-and-white colored pencils or charcoal.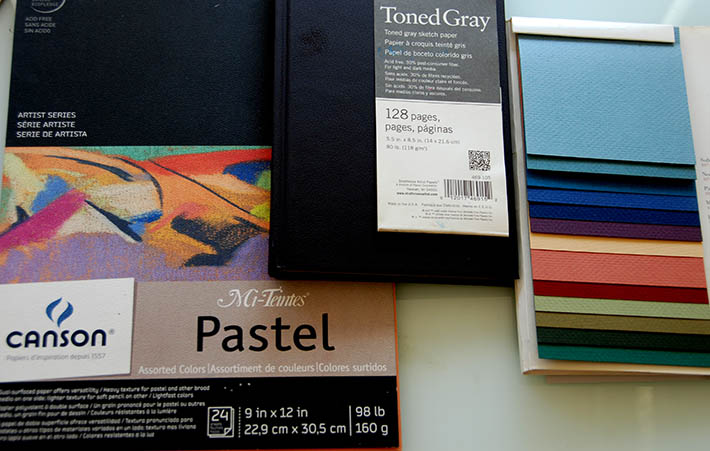 Overall, it's best to feel the paper's texture and weight by touch. In my experience, what works for one artist doesn't always work for another, and thus some trial and error is necessary to figure out your best paper choice.