I learned how to make the best Bolognese sauce from the master of Italian cooking, Marcella Hazan. I wish I could say I'd met her during her lifetime, but her gold standard and deservedly famous cookbook, Essentials of Classic Italian Cooking, is the next best thing. I learned quickly, after studying and testing only a few of Hazan's Italian recipes, that if you follow her instructions, you will achieve Italian food perfection every time.
This Bolognese sauce is my favorite Hazan recipe of all time. It's not just meat and tomatoes over pasta. No, it is so much more. It's meaty, yes, but it's also creamy and sweet and has the ability, if the lighting is right, to make you feel like you're dining on a balcony in Florence. It's that good.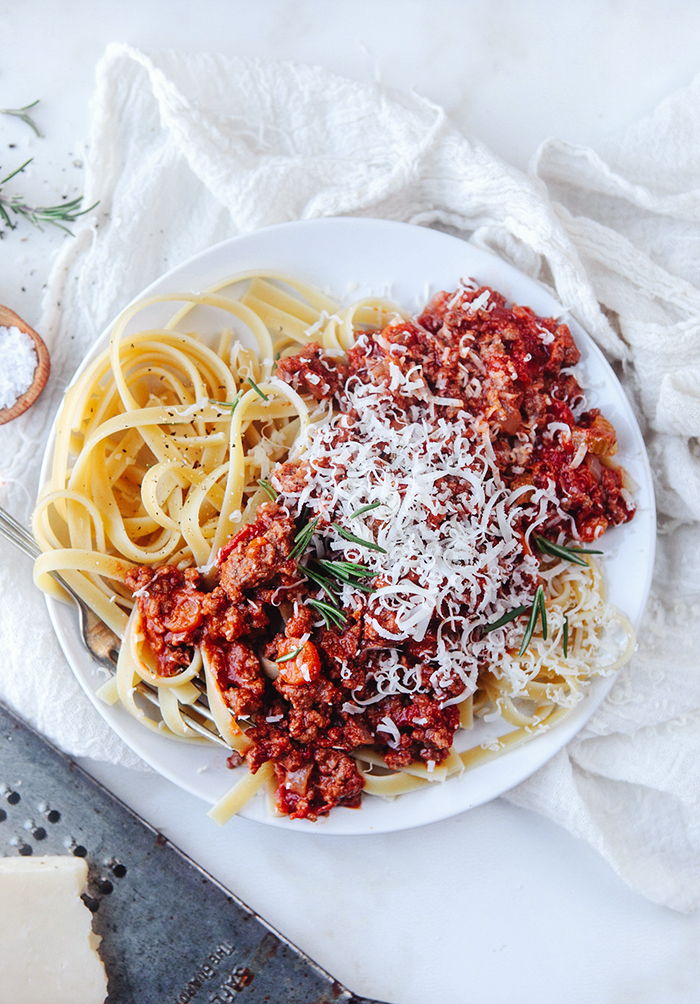 Photos by Allison Ruth of Some the Wiser
Making a Bolognese sauce is part technique and part good ingredients.
Sometimes it doesn't matter, but when you're making Bolognese, you want to use the best imported Italian plum tomatoes you can find. You most definitely want to serve it with the good parmesan — a hunk of the really kind that still has Parmigiano-Reggiano stamped on the rind, and be generous with it. Best of all, consider serving it with homemade pasta. It will be a big bowl of Italy in your very own kitchen.
Making Bolognese sauce is simple, but it does take time.
In fact, I think Marcella would agree that the difference between good Bolognese and amazing Bolognese is probably just a few hours.
If you want to do it like Marcella Hazan, and I assure you that is the best way to do it, she says, "It must cook at the merest simmer for a long, long time. The minimum is 3 1/2 hours; 5 is better." I of course, always opt for the 5 hours and I'm never disappointed.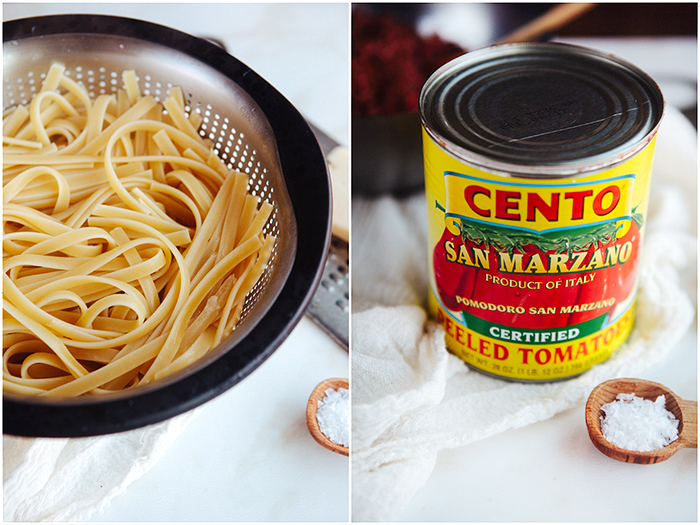 However, having made this countless times since I first discovered Hazan's genius, there are few small changes I've made along the way.
Mostly simple things like switching out the vegetable oil for olive oil, cutting back the milk just slightly, and subbing ground nutmeg for fresh because finding fresh nutmeg proves to be very difficult in my neck of the woods.
This is still Hazan's famed Bolognese, just made slightly more approachable. The final product is the best Bolognese sauce recipe that my family is always excited to see on the table and that guests always, never fails, want the recipe as soon as they dig in.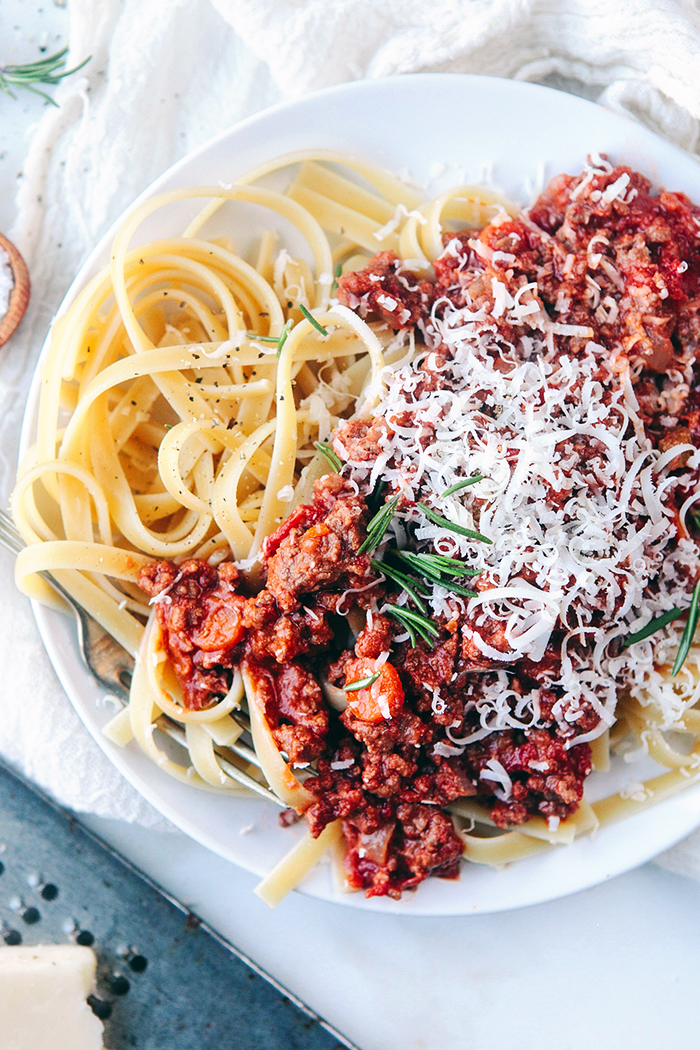 The BEST Bolognese sauce recipe:
Serves 6
Ingredients:
1/2 cup chopped yellow onion

2 tablespoons olive oil

3 tablespoons butter, divided

1 stalk celery, chopped

2 large carrot, chopped

3/4 pound ground lean beef

salt and freshly ground pepper

1 cup dry white wine

1/2 cup whole milk

pinch of ground nutmeg

2 cups canned Italian whole plum tomatoes, chopped, with their juice

1 lb pasta (traditionally tagliatelle, but fettuccine and spaghetti work too)
Step 1:
In a Dutch oven or large heavy-bottomed pot, heat the butter and olive oil over medium heat. Add the onion and sauté until translucent. Add the celery and carrot and sauté for an additional 2 minutes.
Step 2:
Add the ground beef, using a fork or spatula to crumble it as you stir. Add 1/2 teaspoon salt and cook meat just until it is no longer pink.
Step 3:
Add the wine and increase heat to medium-high. Let the wine simmer until it has evaporated completely.
Step 4:
Add the milk and a pinch of nutmeg. Reduce heat to medium and let the milk simmer until it has evaporated completely.
Step 5:
Add the tomatoes and stir until thoroughly mixed. When the tomatoes begin to bubble, reduce heat to the lowest simmer and cook uncovered for at least 3 hours, but optimally 5 hours. Stir occasionally during the cooking process. If you keep it on the lowest possible simmer, you shouldn't need to add any more liquid. If, however, it starts to stick, add a few tablespoons of water, but make sure no water is left at the end of the cooking time. Taste and adjust salt if necessary.
Step 6:
Serve over cooked pasta, tossed with a teaspoon or two of butter. Top generously with freshly grated Parmesan.
Make pasta dishes guaranteed to impress any guest!
Discover the authentic techniques behind 9 meat & tomato sauces, from pomodoro to hearty Bolognese, in 5 HD video lessons you can access forever.
Enroll Now »