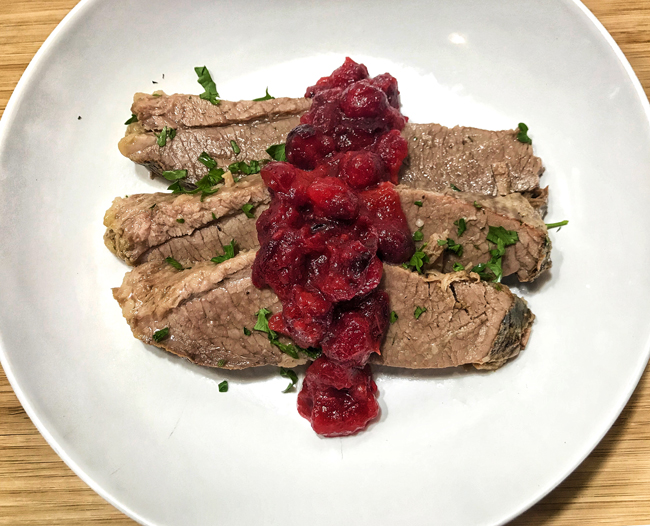 Whether you're bored with the traditional holiday bird or just want to try something different this Thanksgiving, we're serving up a genius idea: Thanksgiving brisket. It's juicy, serves a big crowd and if you serve it with cranberry sauce, it's *chef's kiss*. Just make sure to give yourself plenty of time to prepare it — the brisket takes a full 24 hours to marinate and a good chunk of hours to cook.
Beef Brisket and Cranberry Sauce
Ingredients
For the Brisket
Beef brisket (we used 6 pounds)
1½ cups beef stock
Juice of 2 lemons (about ¼ cup)
½ cup red wine (optional)
6-8 garlic cloves
2 bay leaves
1 onion
1½ – 2 tablespoons onion powder
Kosher salt
Freshly cracked black pepper
Parsley for garnish
For the Cranberry Sauce
1 pound fresh or frozen whole cranberries
1 cup unsweetened applesauce
¼ cup pure maple syrup
Zest of one lemon
Good to Know: We're making 6 pounds of brisket, which would serve approximately 12 people. The general rule of thumb is to prepare ½ pound per person, plus an extra pound or two in case your guests want second helpings.
Instructions
To Make the Brisket
1. Pour beef stock, lemon juice and wine (if using) into a large roasting pan.
2. Peel and smash (or rough-chop) garlic. Add garlic, bay leaves and 1 teaspoon salt into the pan and stir.
3. Place brisket on a board and liberally rub salt, pepper and onion powder on both sides. Depending on the size of the cut, you may need more onion powder.
4. Cut the onion into slices and arrange in a thick layer on the bottom center of the pan. Lay the brisket, fat side up, on top of the onions. Spoon some of the liquid over the top. Cover tightly in foil and refrigerate for 24 hours.
5. Preheat oven to 275 F. Place the roasting pan (still covered in foil) into the oven. The rule of thumb is about 45 minutes per pound to cook. Our brisket is just shy of 6 pounds, so we roasted it for about 4.5 hours.
6. Remove the brisket from the oven, taking extra care when opening the foil covering so the steam escaping doesn't burn you. The meat on the edges should be fork-tender and fall apart. Cover loosely and let the meat rest for 15-20 minutes.
7. Use a spoon to remove the fat cap and discard.
Pro Tip: Using a spoon (instead of slicing the fat off with a knife) is a more thorough method of getting rid of the fat without compromising any of the meat.
8. Place the meat on a cutting board and use a sharp knife to slice pieces against the grain. Brush the meat with (or pour over) the pan juices. Give it a sprinkle of salt, pepper and chopped parsley and serve immediately.
Pro Tip: Reserve the pan juices for auju steak sandwiches (for leftovers) or to make gravy. Place any leftover meat in a container and pour the pan juices over the top before refrigerating.
To Make the Cranberry Sauce
1. Place all ingredients in a medium saucepan over medium heat. Bring to a simmer, then turn the heat down to medium-low.
2. Allow to simmer for 8-10 minutes, stirring occasionally. Serve over the brisket.