Pasta is so easy to dress up and dress down, cook it fancy or eat it plain. However, it's the classic pasta dishes that everyone returns to time and again. 
This classic baked ziti is simple but delicious in a timeless sort of way.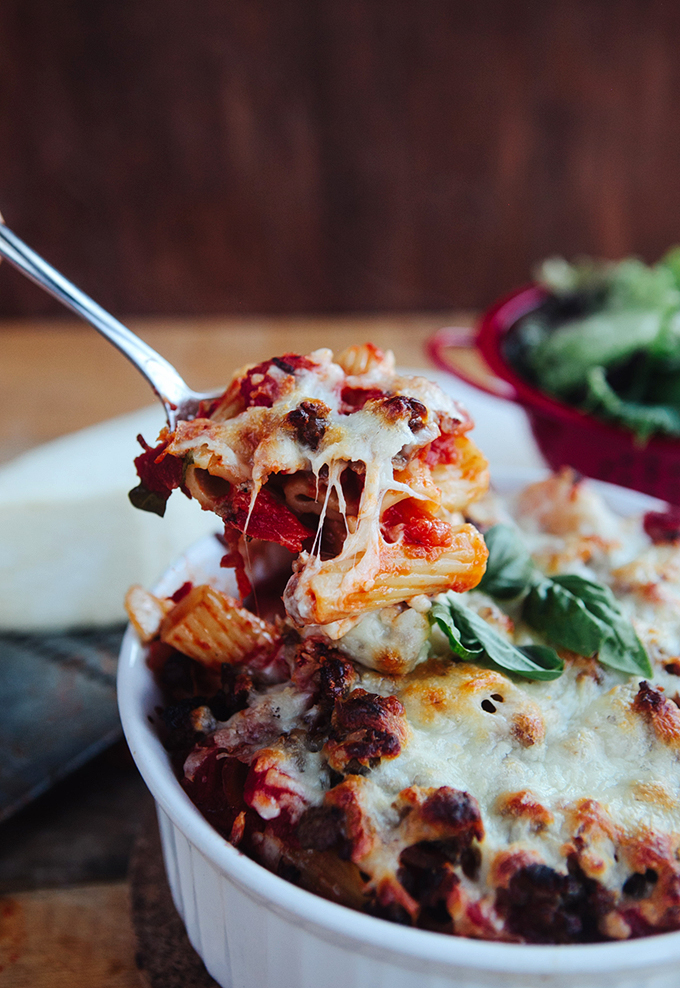 I am lucky enough to have kids who are not very picky eaters. They don't love everything I make and, like most kids, they often have to be talked into eating their vegetables. However, they are willing to try anything and they eat almost everything, even if it does take a little coaxing from time to time. 
That being said, pasta night at our house is everyone's favorite and is the most anticipated weekly meal. They'll eat their lentil salads and their vegetable chili, and sometimes they even really like those soups and salads, but it's the cheese-noodle-sauce combination that really holds the key to their hearts.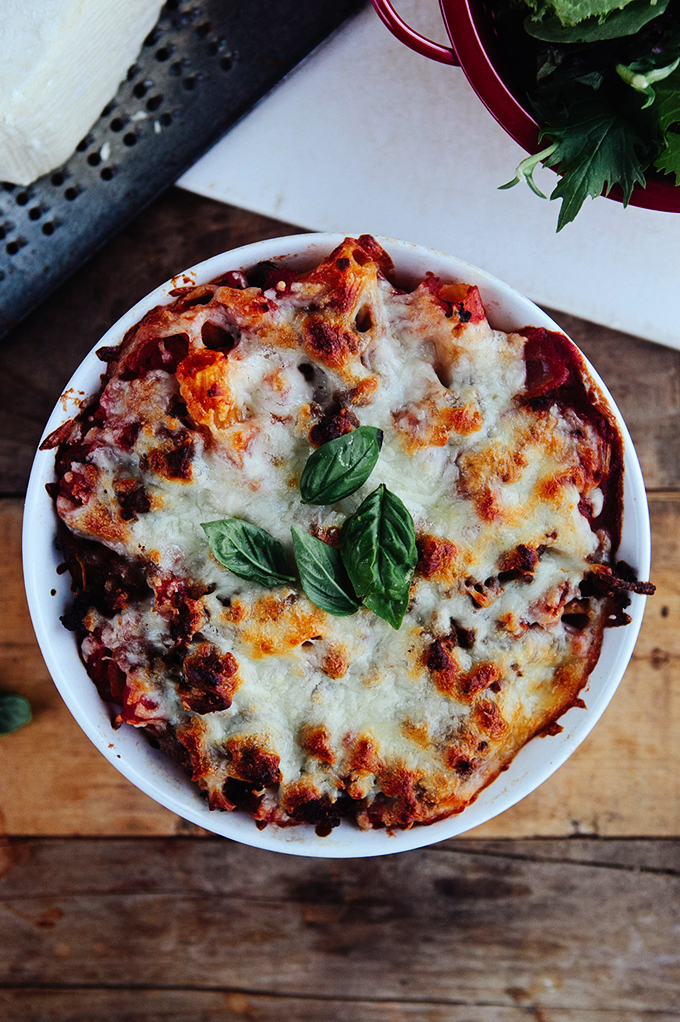 This classic baked ziti is a family favorite meal. It has the cheese, noodles and sauce that my kids look forward to. It also has the fresh herbs and sweet Italian sausage that I anticipate in every bite. It's one of those basic Italian pasta dishes that really never gets old. 
Baked ziti is simple to prepare and only slightly more involved than a simple spaghetti dish. It's also very versatile and can be easily adapted to your family's food preferences and the contents of the fridge. 
Free Online Cooking Class
Make fresh, flavorful pizzas your family will love! Enroll FREE Now »
If you don't eat meat or don't have meat, leave it out and the pasta will taste just fine. You can even swap the sausage for zucchini or eggplant for a hearty vegetarian version of this classic dish. You can also swap the ziti for other similar kinds of pasta like penne or rigatoni. Parmesan or pecorino romano work well. The classics like this can really stand up to the variation without sacrificing the great flavor. 
Treat your family and friends to this delicious classic baked ziti! It's simple enough for a weeknight family dinner, but also delicious enough to work for company on the weekends. Enjoy! 
Classic Baked Ziti
Makes approximately 8 servings
Ingredients
1 lb sweet Italian sausage
1 medium onion, finely chopped
3 cloves garlic, minced
1 can (28 oz) whole tomatoes
1 can (15 oz) tomato sauce
3 tablespoons tomato paste
2 teaspoons brown sugar
1/4 teaspoon salt
1 can (14.5 oz) fire roasted diced tomatoes with oregano
1/2 cup chopped fresh basil leaves
1 lb ziti, or similar pasta
1 cup shredded mozzarella
1/2 cup grated Pecorino Romano 
Step 1:
Preheat oven to 375 F. Grease a 13 x 9 baking dish and set aside. 
Step 2:
In a large saucepan, crumble the sausage and cook over medium heat until cooked through and no pink remains. Using a slotted spoon, remove sausage and set aside. Add the onion to the pan and saute for 5 minutes. Add the garlic and cook for an additional minute. Stir in the whole tomatoes and their juice, breaking them up with a wooden spoon as you stir. Add the tomato sauce, paste, sugar, and salt. Bring to a boil then reduce heat to a low simmer. Cook for 20 minutes, stirring occasionally. 
Step 3:
Bring a large pot of water to a rapid boil, salt water generously. Add pasta and boil for 10 to 11 minutes, or until pasta is al dente. Drain pasta and return to pot. 
Step 4:
When the sauce is done cooking, remove from heat and  stir in sausage, diced tomatoes, and fresh basil. Taste and adjust seasonings accordingly. Add half of the sauce mixture to the cooked pasta and stir to thoroughly coat.  Pour the ziti mixture into the prepared baking dish then top with remaining sauce and cover with the cheeses. 
Step 5:
Bake at 375 F for 25 to 30 minutes or until pasta is bubbly and cheese is lightly browned. Cool slightly before serving. Garnish with fresh basil and additional Pecorino Romano if desired. 
Free Online Cooking Class
Make fresh, flavorful pizzas your family will love! Enroll FREE Now »