Eggplant isn't just for eggplant parm or baba ghanoush anymore. These eggplant fries just might redefine the way you think of this beautiful, violet-skinned vegetable. This easy recipe comes together in minutes, and includes variations for making pan-fried or baked eggplant fries. It's suitable for vegan< and vegetarian diets, and easy to customize for gluten-free diets, as well. 
Photos via CakeSpy
With a crispy exterior, soft interior and an earthy, salty flavor, these fries make for a crave-worthy snack. They also make a great side dish for veggie burgers or sandwiches. You've got to taste them to believe it!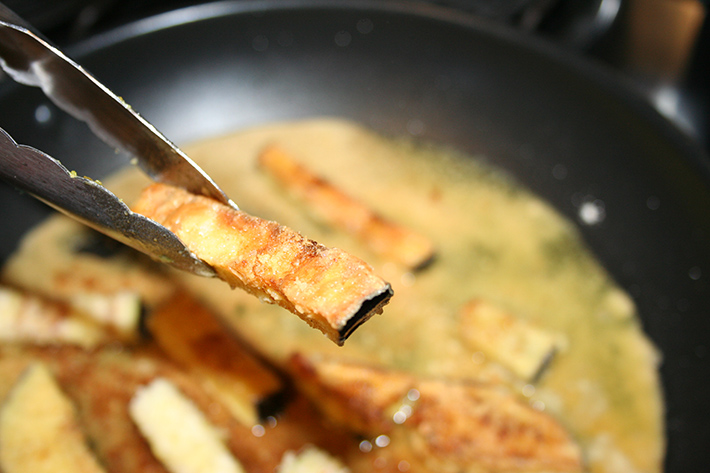 How to make fried eggplant fries 
Ingredients:
1 large (approximately 1 lb.) eggplant 
1 cup all-purpose flour (see recipe note) 
Spices of your choosing (I used a mixture of ½ teaspoon turmeric, ½ teaspoon chili powder, and 1 teaspoon garlic powder) 
1 teaspoon coarse sea salt

½

 cup olive oil
1 tablespoon lemon juice 
Vegetable or olive oil
Note: International readers may enjoy our handy metric conversion guide.
Equipment:
Large skillet or frying pan
Frying thermometer
Tongs
Paper towels
Cooling racks 
Step 1:
Using a chef's knife, slice the eggplant into approximately ½"-thick rounds. Then, slice the circles into approximately ½"-wide strips.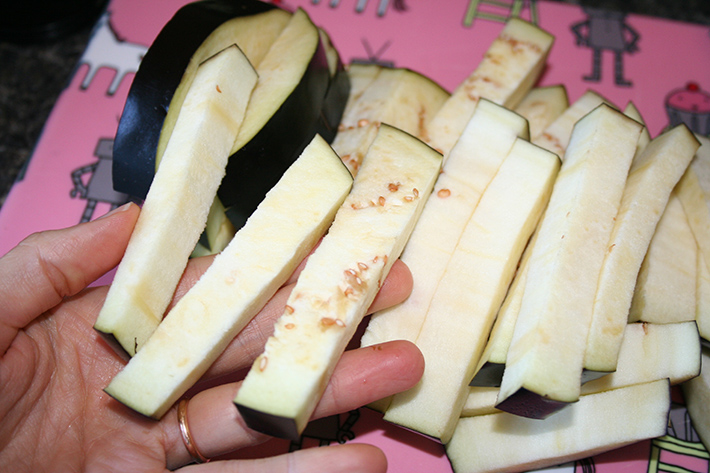 Place the strips in a large bowl with about 1 cup of ice, then pour cold water on top to submerge the eggplant. Leaving the eggplant in the ice water mixture will discourage browning while you complete the next steps.
Step 2: 
In a shallow bowl or cake pan, whisk together the flour, spices and salt until incorporated. Set to the side. In a separate shallow dish, combine the olive oil and lemon juice, and give a brief stir to combine. Set to the side. 
Step 3:
Fill your skillet or frying pan with about ½" to 1″ of oil. Affix the thermometer to the side of the pan. Heat on medium-high until the temperature registers 325 F. This will take a few minutes, so while you wait, you can work on the following step. 
Step 4:
Drain the eggplant and blot dry. Brush each portion with a small amount of the oil-and-lemon juice mixture, and then dip it in the flour mixture to coat. Tap off the excess.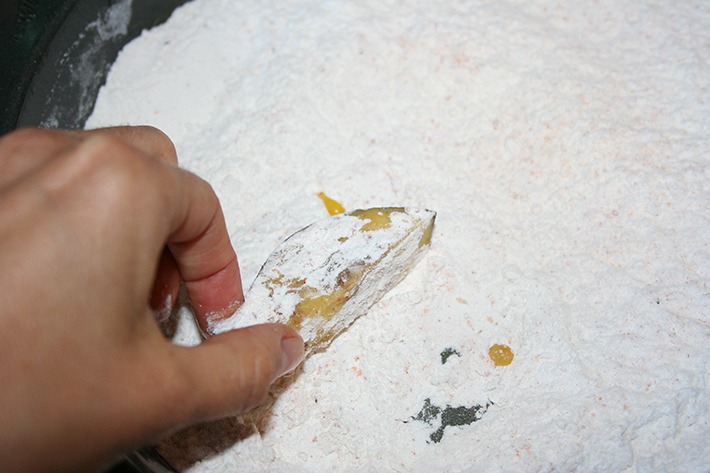 Step 5: 
Working in batches, drop the coated eggplant portions in the hot oil, giving each piece a little space. Turn occasionally with your tongs, cooking until browned to your liking (about 3-4 minutes total). Transfer to paper towels atop cooling racks when finished.
Step 6: 
Fry the eggplant in batches, monitoring the temperature of the oil and reducing or raising the temperature of the heat to keep the oil at a steady 325 F. 
Step 7:
Enjoy these fries while still warm, with a dipping sauce of your choosing.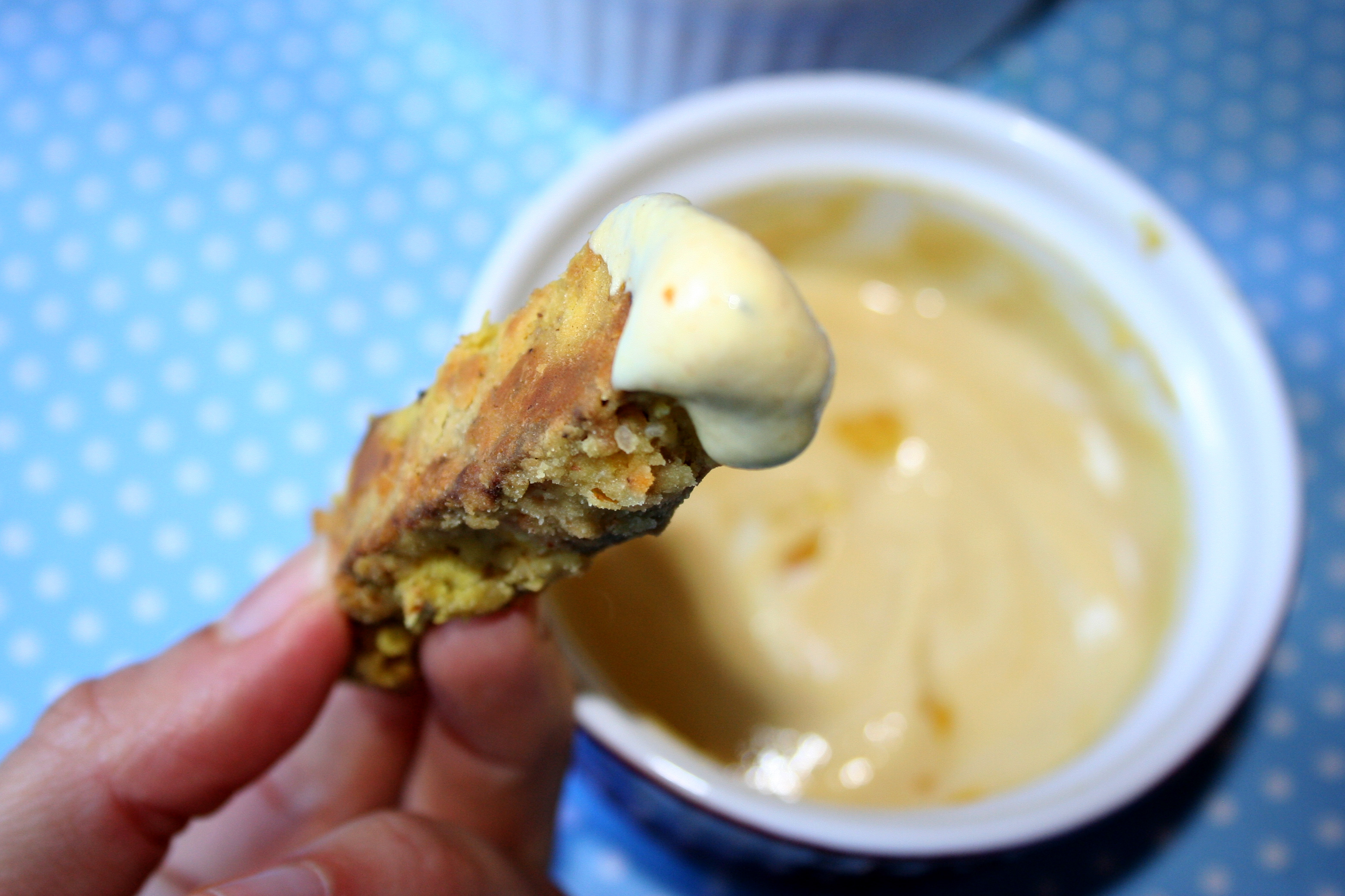 How to make baked eggplant fries
Prefer your eggplant baked instead of fried? It's easy to do with the recipe above!
Instead of heating the oil, preheat your oven to 400 F. Once you've coated the eggplant pieces (in Step 4), place them on a baking sheet. Bake for 7-10 minutes, flipping after about 4 minutes, or until the fries are browned to your liking.
I found that finishing them under the broiler for the last minute or so gave them a great, crispy edge.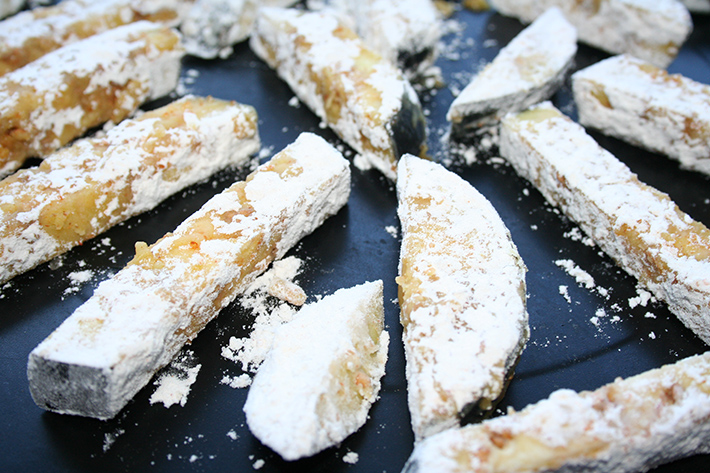 Recipe notes
Looking for a gluten-free variation? You can substitute rice flour for the all-purpose flour called for in this recipe.
Looking for a great sauce to serve these fries with? I enjoyed mine with an easy sauce made from equal parts sour cream and spicy mustard. They would also taste great with the Greek yogurt ranch dip included in our recipe for buffalo cauliflower bites.
These eggplant fries can get slightly soggy as they cool; it's simply the nature of this moisture-rich vegetable. To re-crisp them, put them on a baking sheet and place in an oven heated to 450 F for a few minutes, or until crisped and warm. 
Love snacking on veggies? You may also enjoy our easy and crave-worthy roasted avocado slices recipe.
Add this to your Pinterest boards!