Here's some happy news: Eggplant parmesan is extremely easy to make gluten-free.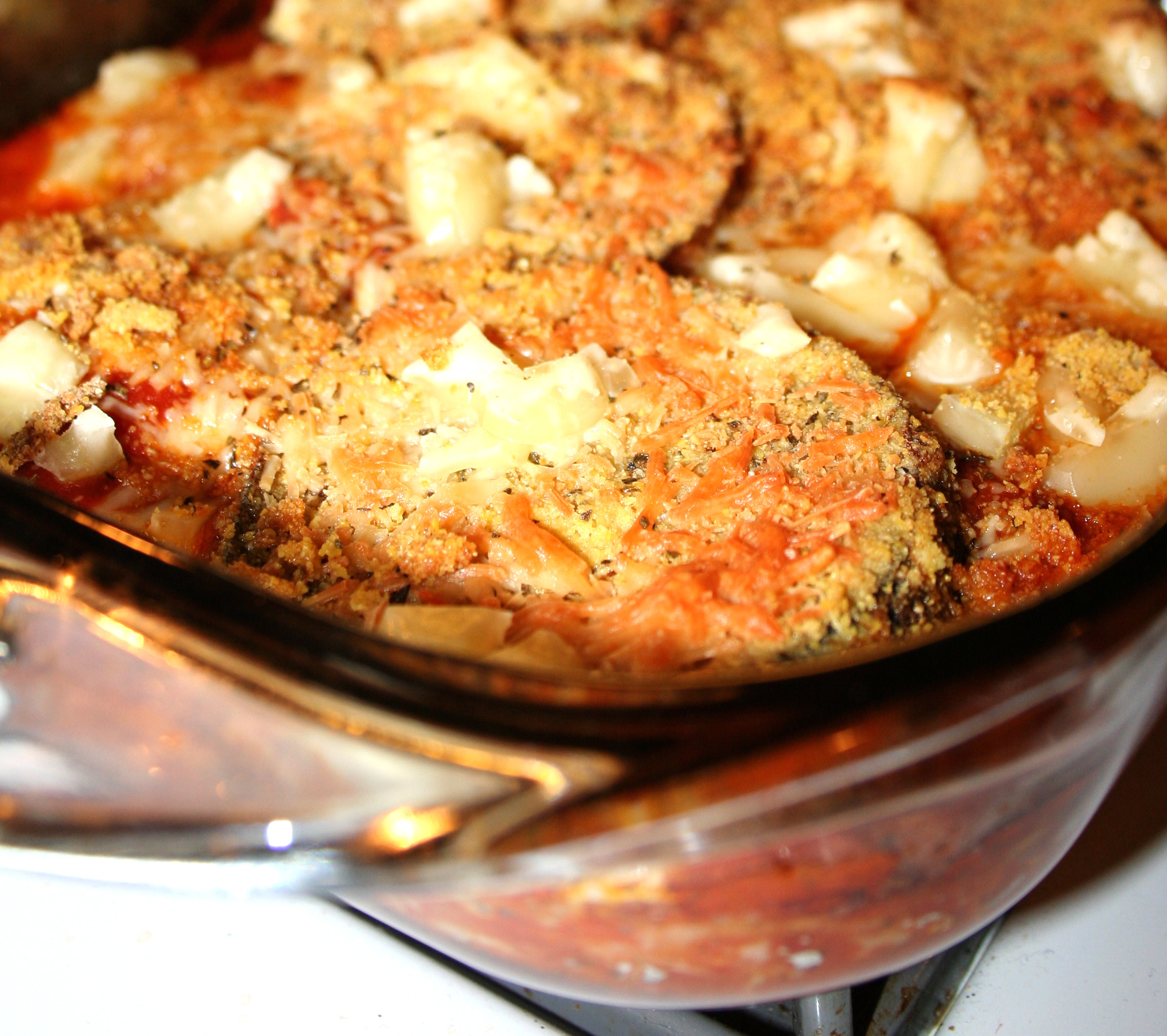 Photos via CakeSpy
While traditional recipes feature breadcrumbs, this gluten-free eggplant parmesan recipe employs stone-ground cornmeal to bread the eggplant slices. Once coated, the eggplant is baked, not fried, to crispy perfection, then layered with tomato sauce, cheese, and spices to form a healthier adaptation of a comfort food classic. The cornmeal gives the dish a slightly polenta-like flavor, which works beautifully with the tomato sauce and mellow eggplant flavor. Yes, it's gluten-free, but even gluten lovers will never miss the wheat.
Served with a simple salad and some gluten-free bread on the side, this recipe is bound to become part of your regular cooking rotation.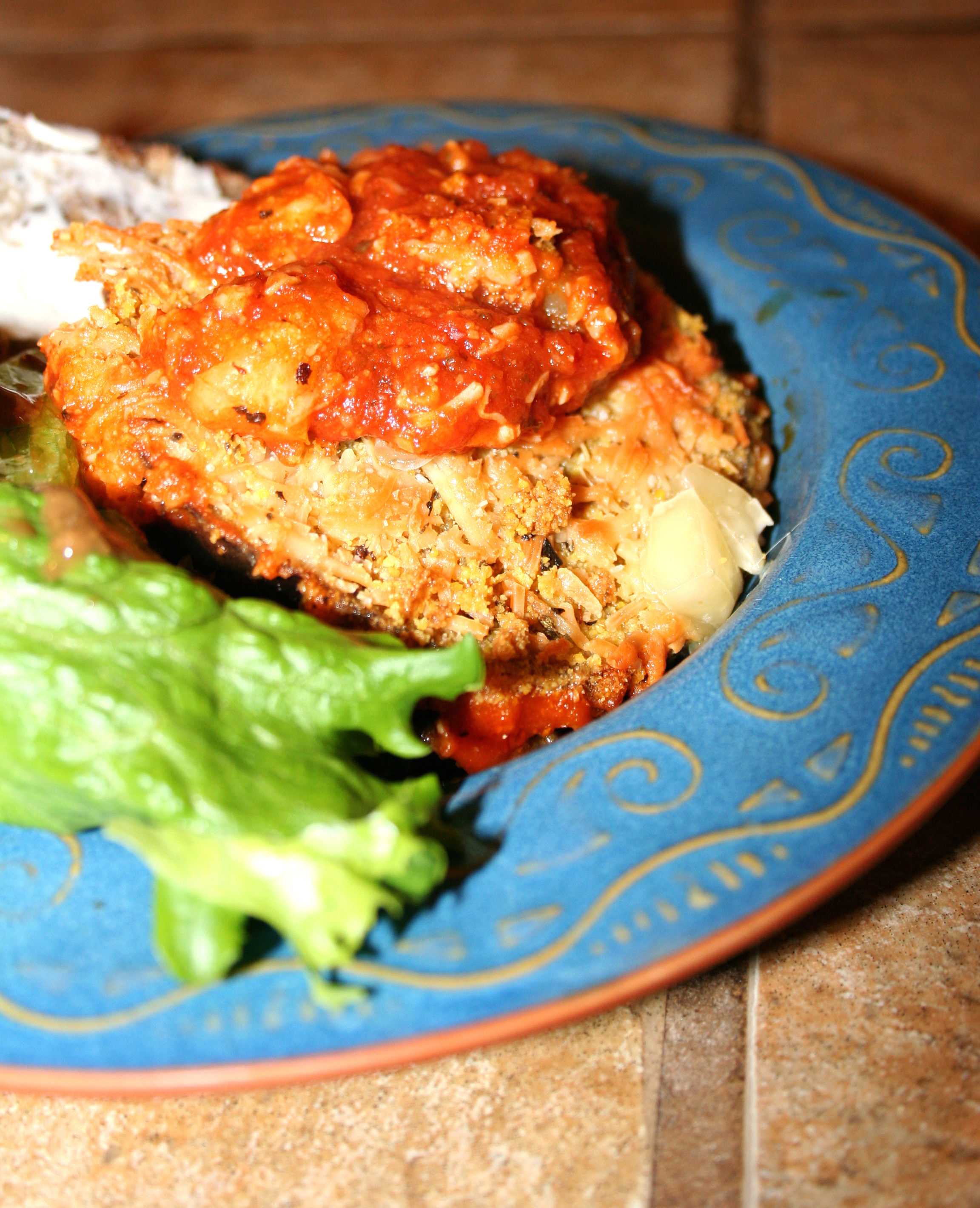 Gluten-free eggplant parmesan
Serves 4
Adapted from Whole Foods Market
Ingredients:
1 large eggplant, sliced lengthwise into 1/2-inch-thick pieces (about eight slices)
1 large egg
1/4 cup milk
1 1/2 cups stone ground cornmeal (fine or medium grind)
1/2 tablespoon oregano
1/4 teaspoon salt
2 tablespoons olive oil
1 (25-ounce) jar pasta sauce
1 cup finely cut or grated mozzarella cheese, from a block
1/2 cup finely cut or grated parmesan cheese
Note: International readers may enjoy our handy metric conversion guide.
Step 1:
Preheat oven with a baking sheet inside to 375 F. Prepare the next two steps. If the oven is fully preheated before you finish, just leave the tray in the oven until you are ready to progress to step 4.
Step 2:
While the oven heats, combine the milk and an egg in a shallow bowl, beating together until no streaks of yellow yolk remain, and the mixture is a creamy, cohesive light yellow color.
Step 3:
Combine the cornmeal, oregano, and salt in another shallow bowl, stirring with a fork to combine.
Step 4:
Carefully remove the pan from inside of the oven, and spread all over the surface with the olive oil, being careful not to burn yourself on the hot sheet. Set up an assembly line: eggplant slices, egg mixture, cornmeal mixture, and oiled baking sheet.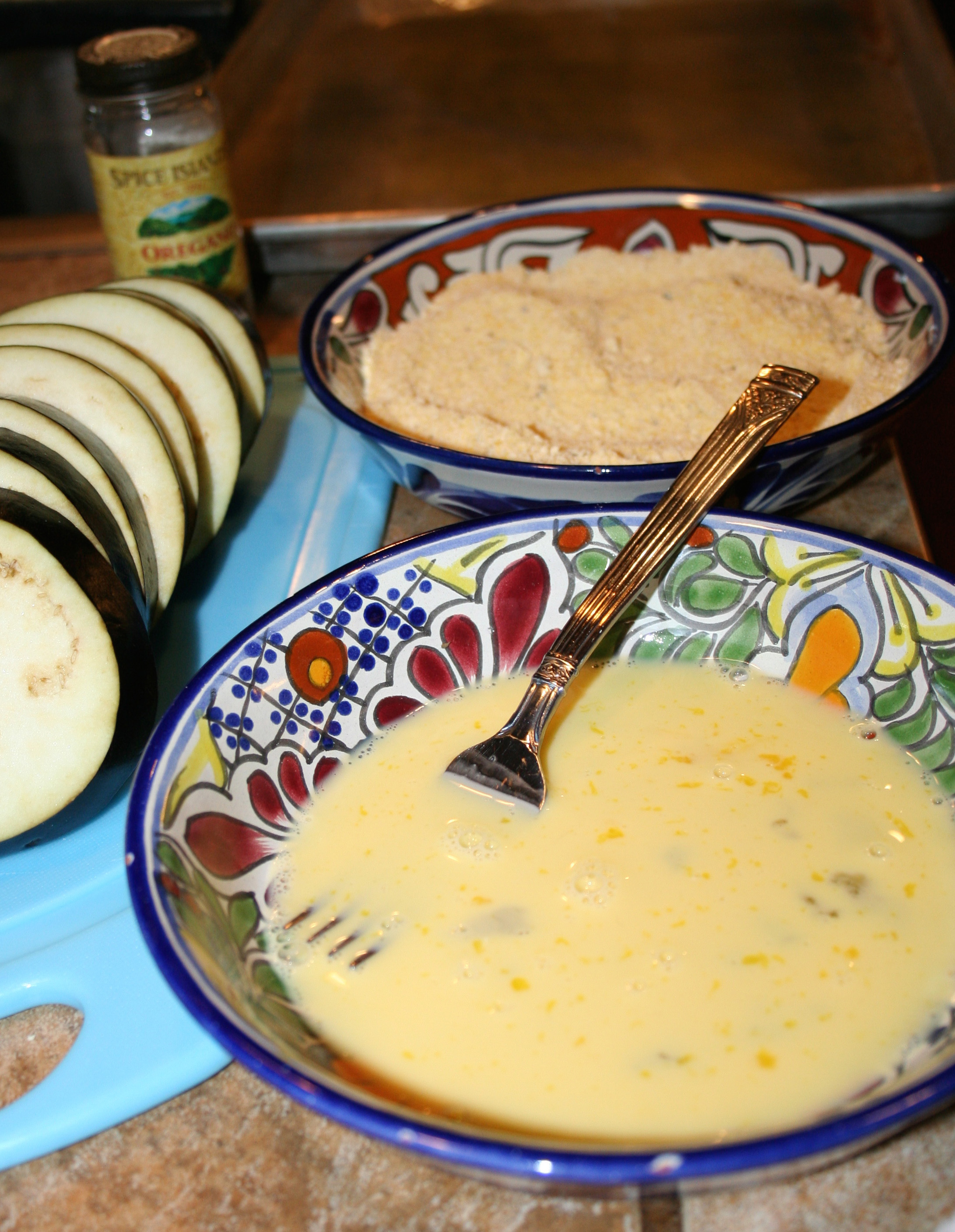 Coat the eggplant slices in the milk and egg mixture, then bread using the cornmeal. As you finish coating each one, place it on the hot baking sheet.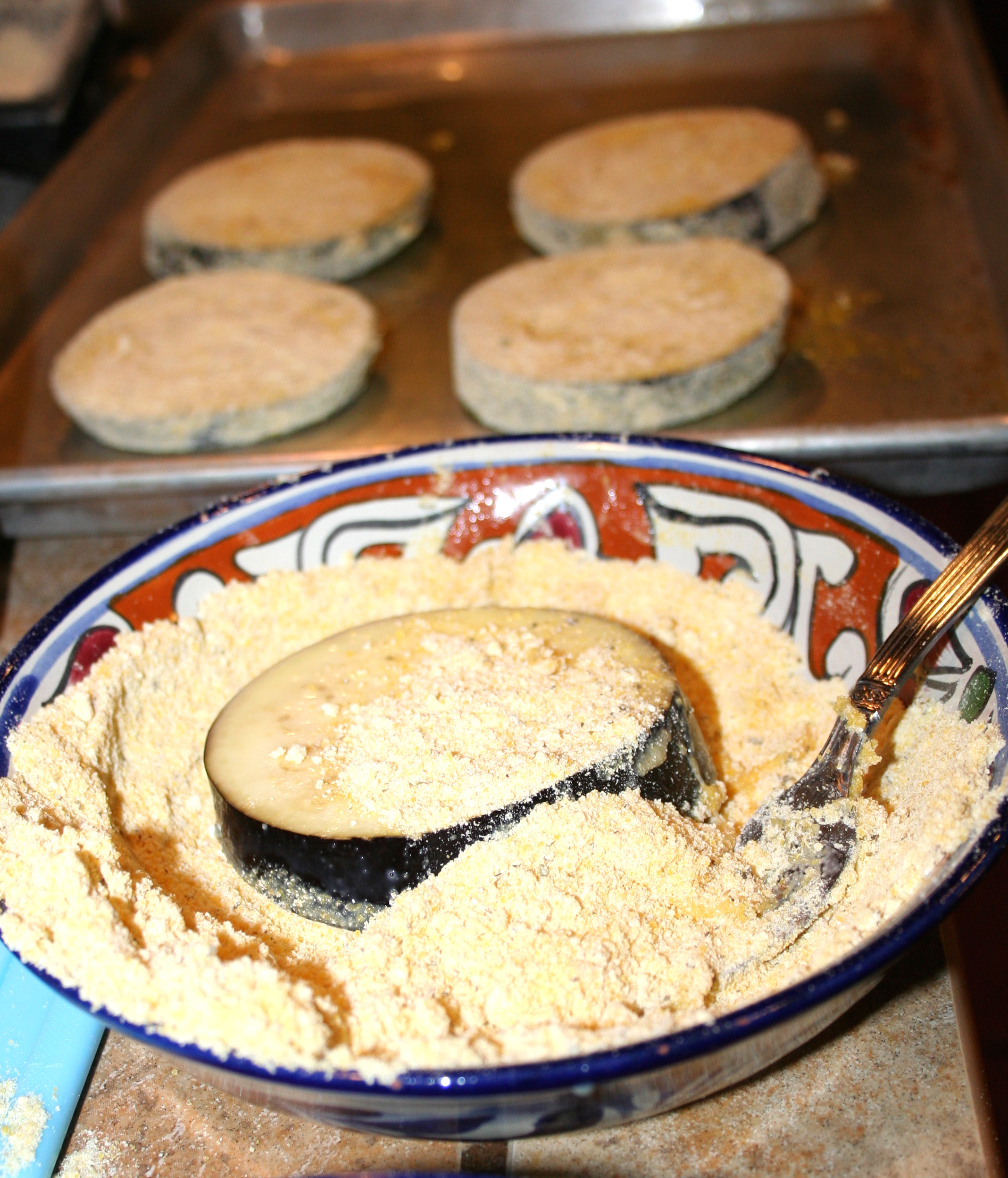 Step 5:
Once all of the slices have been placed on the baking sheet, bake for 15 minutes, and lift a corner of one of the eggplant slices to check if it has become lightly browned. If not, bake for a few more minutes. Once browned on the bottoms, remove the pan from the oven, flip each slice, and bake another 10 minutes, or until browned and toasty on both sides. Remove from oven and set to the side.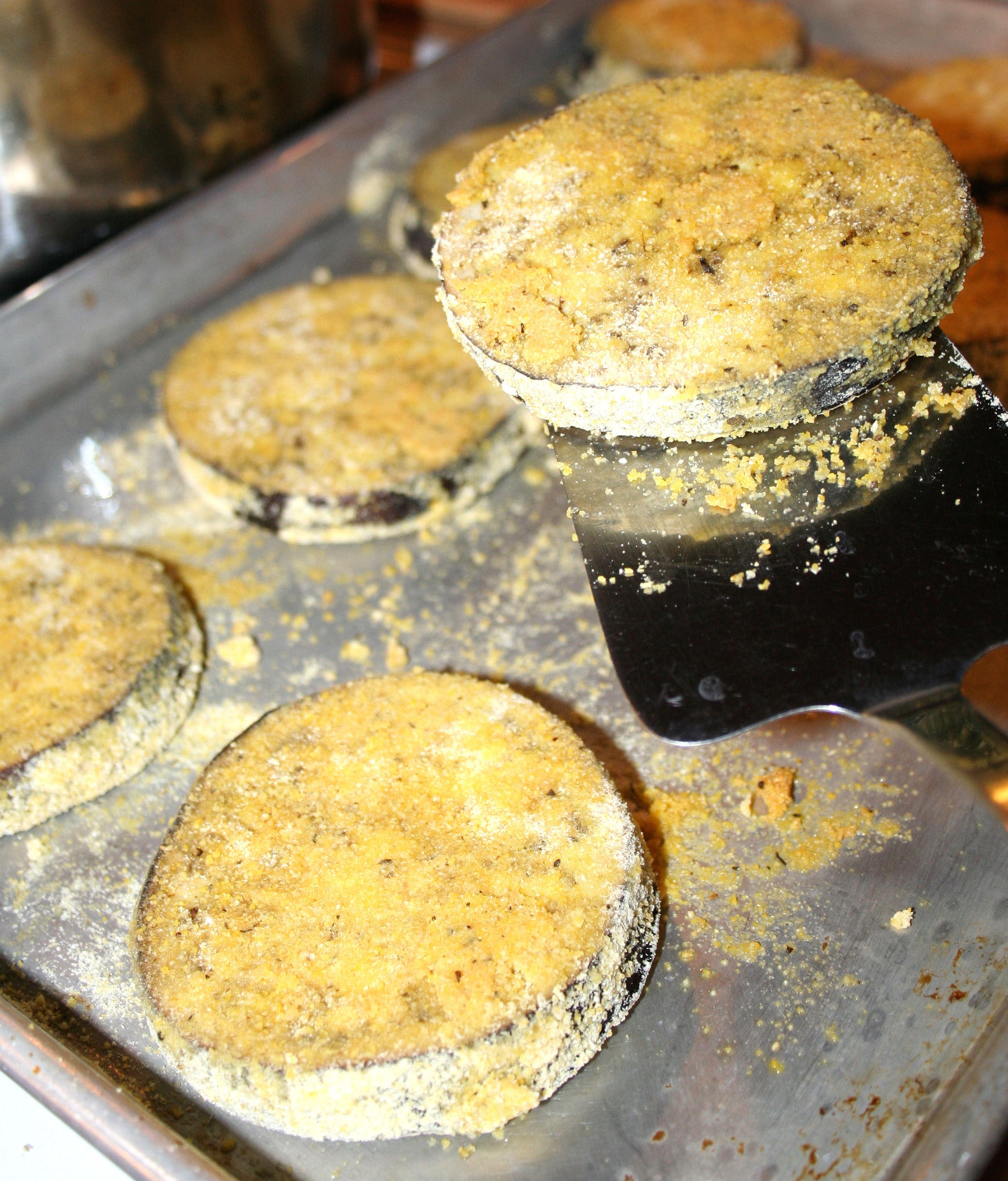 Step 6:
Increase the oven to 475 degrees F. In an 8×10-inch baking pan, layer half of the sauce, half of the eggplant, and half of the cheeses. Repeat the layers again, ending with the cheese on top. If you still have any stray bits of the breading mixture on the baking tray, you can sprinkle them on top, too.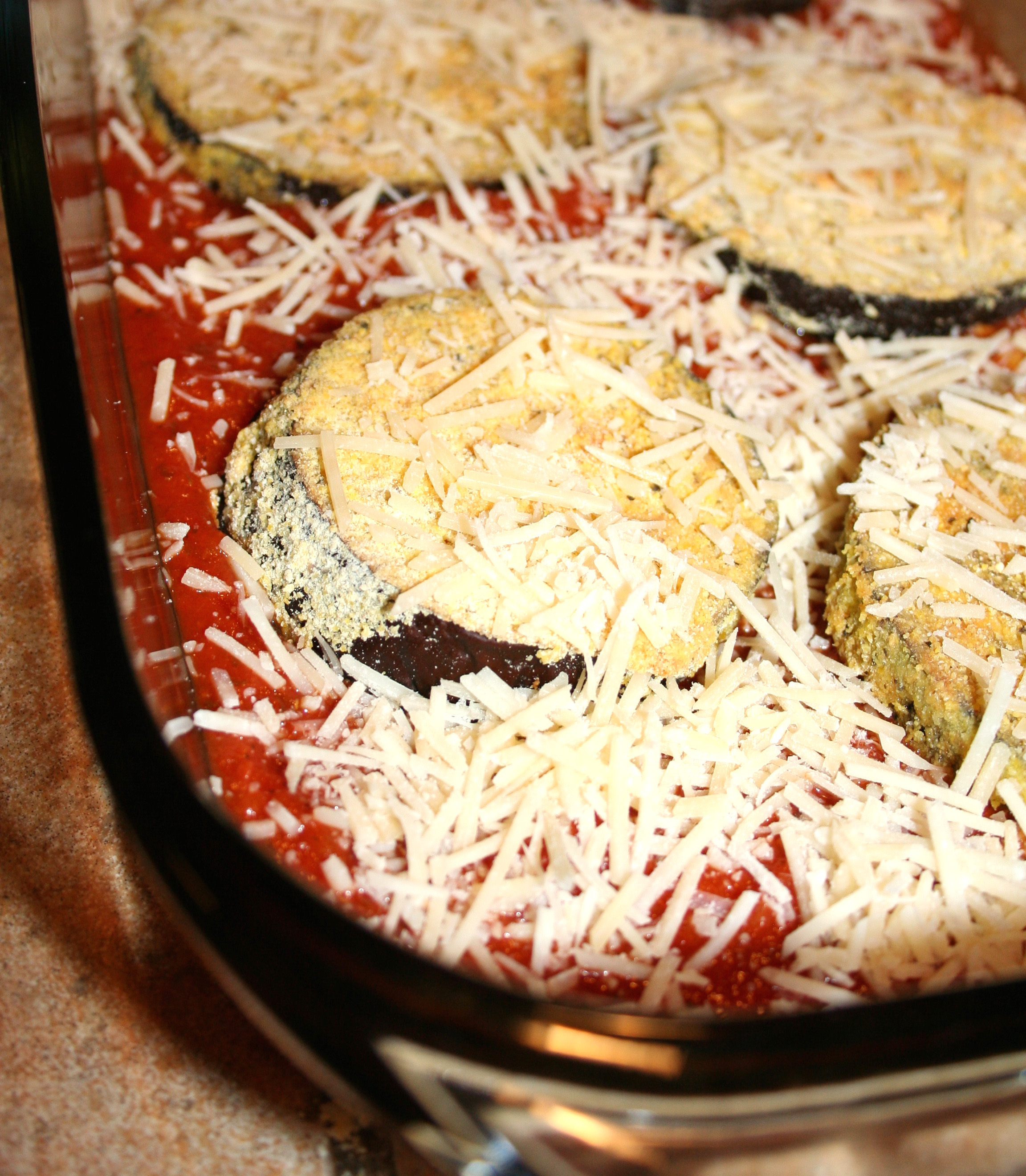 Step 7:
Bake for 15 minutes, or until the cheese melts, and turns golden. Let cool for several minutes before serving, so that the dish can "set" a bit more before you dig in.
Recipe notes:
Don't have an 8 x 10-inch pan? You have other options. You can make the recipe in a 9-inch square pan, but keep an eye on the bake time: it may require 5-10 minutes more time in the oven, because the mixture will be deeper in the pan. Or, you can bunch foil in a 9×13-inch pan to make the pan slightly smaller, so that you can attain the delicious layers that make this dish great.
For best results, use stone-ground cornmeal which is labeled "fine" or "medium" grind. Coarse ground cornmeal will remain somewhat hard, and nobody likes breaking their teeth while eating eggplant parmesan!
While all of the ingredients in this recipe are naturally gluten-free, be sure to read the labels to ensure that all of the ingredients are processed in gluten-free facilities and do not include any glutenous products as stabilizers or thickeners.
For best results, slice the eggplant directly before using. If you are not going to use it right away, spray or brush with lemon juice to keep the slices from browning.
This recipe is easy to make vegan as well as gluten-free. All you have to do is substitute vegan cheeses. Since vegan cheese melts differently than dairy cheese, your consistency might be slightly different and you need to keep a close eye on the dish as it bakes, so that you can make sure the cheese is melted to your liking.
Author's note: I like to keep the skin on the eggplant, but if you prefer, you can remove it.
Have you ever tried a gluten-free eggplant parmesan?