Let's be real: Gluten-free cooking is intimidating enough, gluten-free baking is even scarier. With all of the different types of flours, flour mixes, add-ins to help with texture, and so on, gluten-free baking especially makes most people run the other way. But, my goal with gluten-free baking has always been to keep things as simple as possible, use whole-food ingredients and then play the game of trial and error.
And the best part is, I've done the hard work for you. All of the trial and error is done in my kitchen. The even better news is this savory quick bread recipe can soon be yours!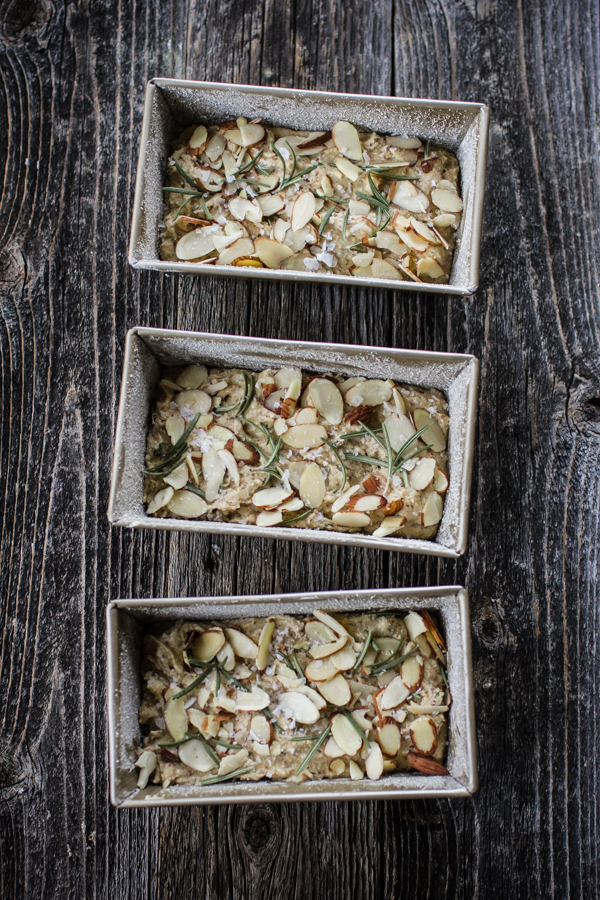 Photos via Edible Perspective
Today I'm going to teach you how to make a delicious, gluten-free savory quick bread!
I'm not going to lie, this recipe does take a few types of flour. I don't typically go for the bagged gluten-free "all-purpose" mixes from the store. They just never seem to be quite right, and I've had much more success using the flours below:
Gluten-free oat flour
Raw/light buckwheat flour
Almond meal
Sweet rice flour (check Asian markets for this flour – also known as "glutinous rice flour" but it contains no gluten)
Ground flax seed meal
Millet flour
Quinoa flour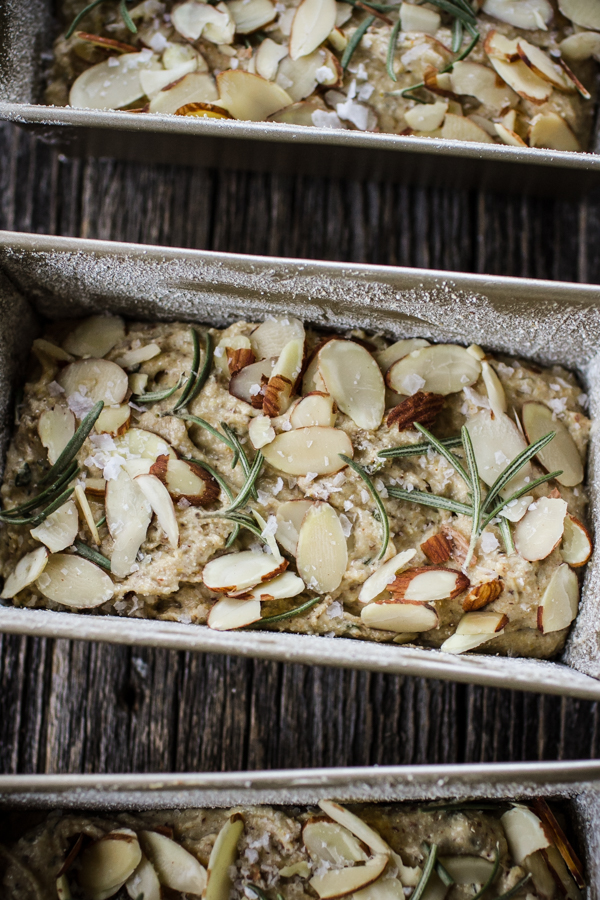 Don't be scared, though. We're not using all of those flours in this loaf! But we are using oat flour, buckwheat flour, almond meal and flax. I know that sounds like a lot but I'm about to give you my best tip when dealing with gluten-free flours…
Grind your flour at home and keep them in 32oz mason jars in the fridge!
All you do is place a small amount in your high-powered blender (in the Vita-Mix I use about 1 cup at a time), large food processor, good quality coffee grinder, etc. and turn on or pulse on high until the grain starts to break down and turn into flour. Be sure to not grind too long as moisture will build as the machine starts to heat. Scrape the sides or bottom and pulse/blend again until it's flour-like in texture. With the Vita, I don't have to sift because there aren't large pieces leftover, but in the food processor I sift and then blend the leftover larger pieces again.
Scoop the flour into a clean 32oz glass jar and grind another batch until the jar is filled. Then, seal with a lid and place in the fridge for up to a few months. (Always take a sniff to make sure it smells okay, but I've never had a batch go bad.)
Once you try grinding your own flours a few times you'll get the hang of it. And if you don't happen to own a machine that can grind grains too well, you can always find these flours at many grocery stores and online.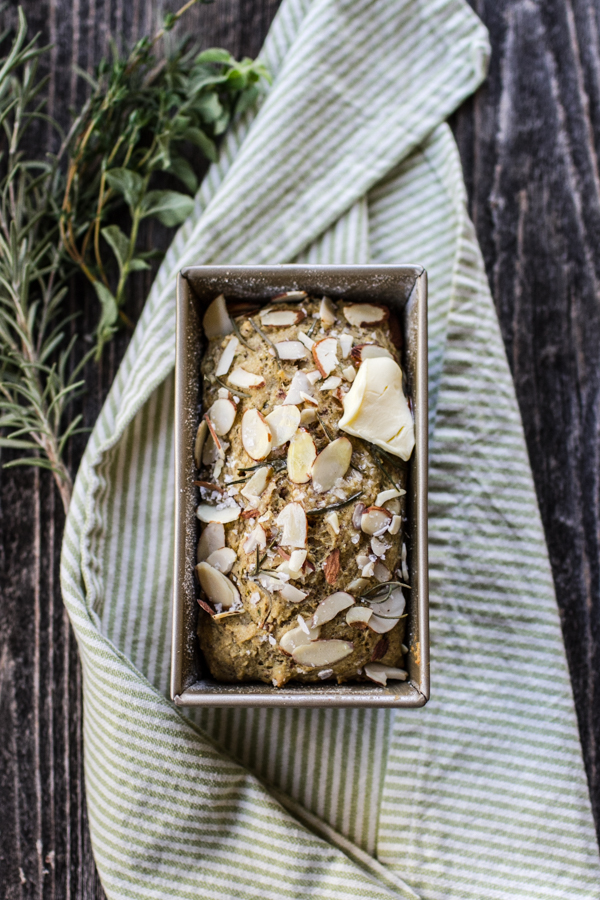 I've been grinding flour for years now and really enjoy the process. It also can help save waste! If you just want to grind a small batch you can grab a scoop of whatever grain you need in the bulk bins, grind it and then use it all before it goes bad.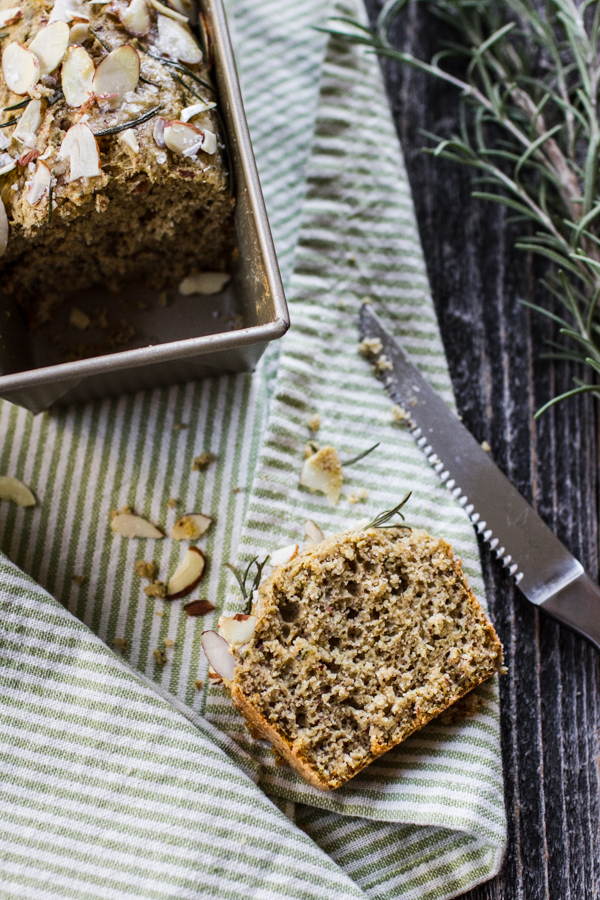 Make satisfying gluten-free baked goods!
Join the online class Secrets of Gluten-Free Baking to learn how to make flawless gluten-free pancakes, pie crusts, muffins and more! Enjoy unlimited access to your online class, and watch from the comfort of your very own kitchen. Sign me up! >>
So, this savory quick bread. Think texture of banana bread but savory. It can sub in instead of a dinner roll or biscuit, and I love eating this with eggs in the morning. I probably (most definitely) ate an entire mini loaf during this photo shoot. It's infused with herbs and studded with the perfect salty, nutty topping. Slater a little butter on top and I dare you not to eat the entire thing.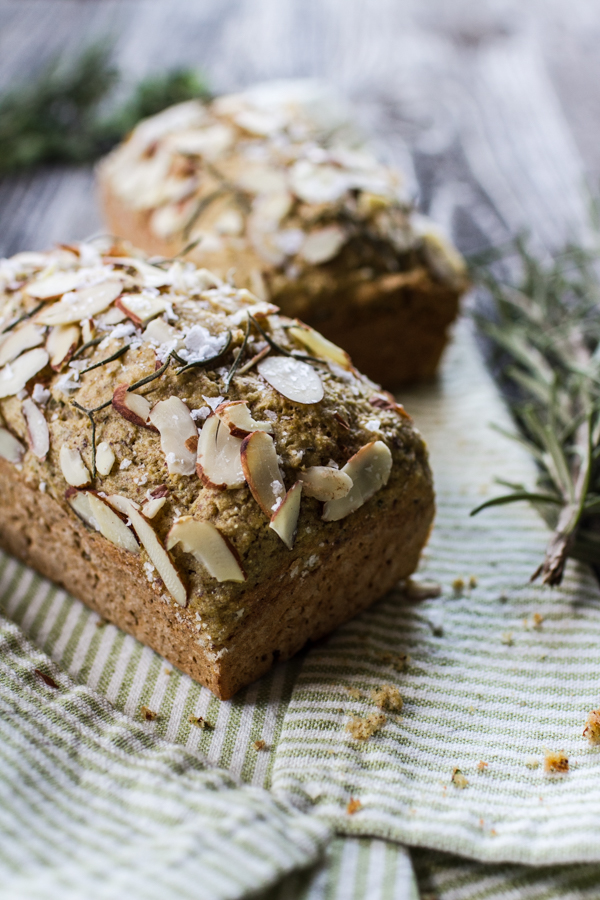 This is the perfect fall and winter loaf to snack on, to take to dinner parties or even bring along for Thanksgiving dinner. Your gluten-free friends or family will love you for it, too!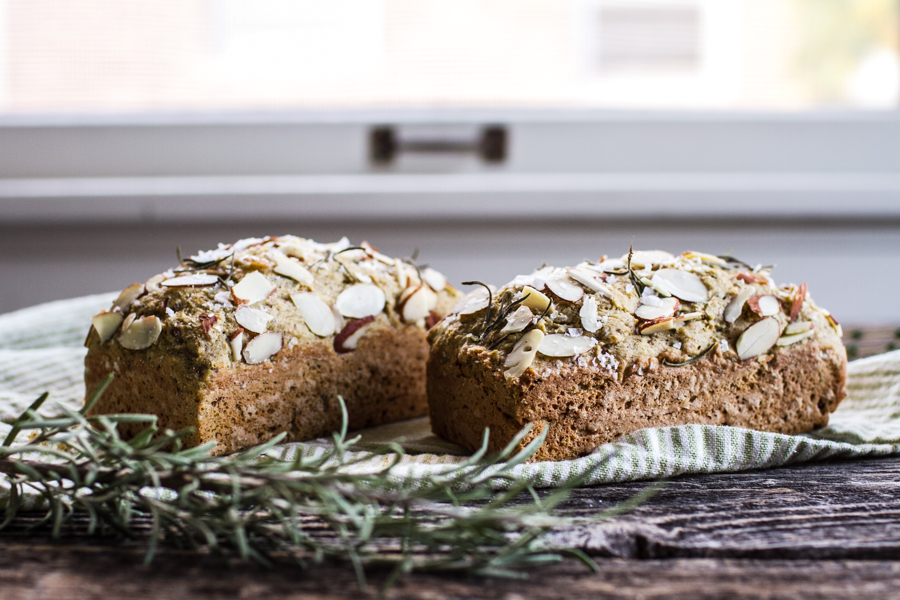 Gluten-Free Salted Herb Quick Bread
yields: 3 mini loaves, or 1, 8×4 loaf, or 12-16 muffins
Ingredients:
1 cup gluten-free oat flour
1 cup raw/light buckwheat flour*
1/2 cup almond meal
2 tablespoons ground flax seed meal
2 teaspoons finely chopped fresh rosemary
2 teaspoons finely chopped fresh thyme
2 teaspoons finely chopped fresh oregano
1 teaspoon fine grain sea salt
1 teaspoon baking powder
1/2 teaspoon baking soda
1/2 teaspoon garlic powder granules
1/2 teaspoon ground black pepper
2 large eggs
1/2 cup + 2 tablespoons whole milk (2%, or unswt. almond/soy)
1/2 cup full fat plain Greek yogurt (or 2%)
1/4 cup pumpkin puree
3 tablespoons sunflower oil (or other baking oil)
toppings: large flaked sea salt, sliced almonds, rosemary
Step 1:
Preheat your oven to 350° F. Grease and flour three mini loaves or an 8 x 4 loaf pan, (or line a muffin tin with liners).
Step 2:
In a large bowl, combine the oat flour, buckwheat flour, almond meal, flax, rosemary, thyme, oregano, salt, baking powder, baking soda, garlic and black pepper. Stir well.
Step 3:
In a medium bowl, whisk together the eggs. Then whisk in the milk, yogurt, pumpkin, and oil until fully combined.
Step 4:
Pour the wet ingredients into the dry mixture and stir with a large spoon (or whisk the mixture) until just incorporated. (When you no longer see dry flour.)
Step 5:
Let the mixture rest for 5 minutes. Scoop even amounts into your three mini loaf pans or pour into your larger loaf pan. Gently spread the batter to even out.
Step 6:
Sprinkle the top of the loaves with the almonds, a generous amount of flaked sea salt, and a few sprigs of rosemary. Bake the three mini loaves for 23-28 minutes, until a toothpick comes out nearly clean (you want it slightly sticky but not gooey). Remove from the oven and place on a cooling rack for about 20-30 minutes.
Note: The 8 x 4 loaf will take about 50-60 minutes.
Step 7:
Slide a knife around the edge of the pans if needed to help loosen, then carefully turn out each loaf onto the baking sheet. Let fully cool, then slice and serve with butter or cream cheese.
Notes:
-*Buckwheat flour you buy in the store is raw buckwheat ground with the hull (outer shell) still on, so it has a much earthier and stronger flavor. I prefer to buy bulk raw buckwheat (not kasha or toasted) and grind it at home for a much milder flavor.
-I love reheating this bread in a cast iron skillet with a bit of melted ghee or oil over medium heat. I toast both sides for a few minutes and eat alongside a few sunny side up eggs.
-The salt on top does produce a bit of moisture when stored in a sealed container.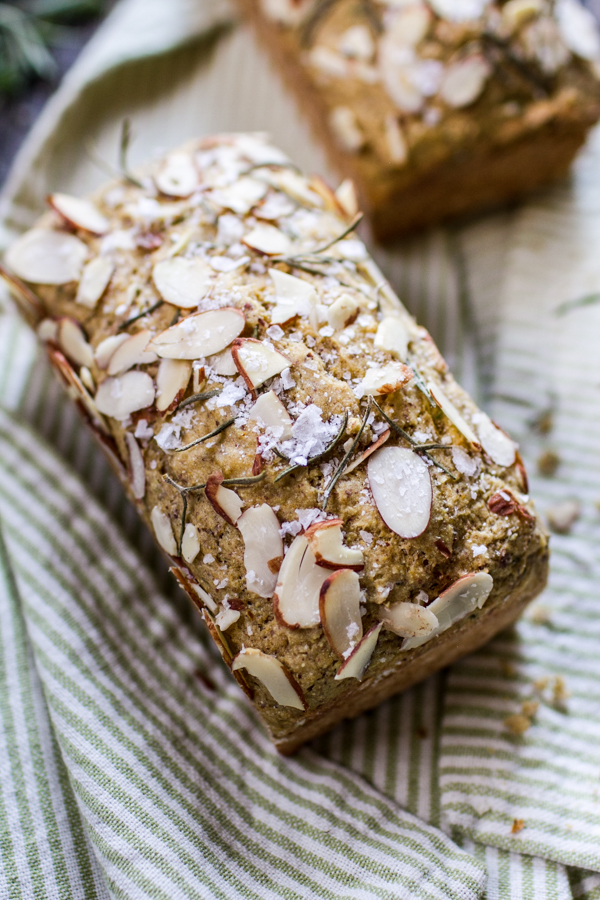 Have you ever tried gluten-free baking? What was your biggest issue?