There is nothing quite as sweet as a handmade baby quilt. Not only are they fun to create, they are beloved and cherished by the recipients, making a truly special gift. As a quilter, what is so great about creating baby quilts? They are small and take less time to make than larger quilts! Since they aren't too big, they are the perfect quilting project for trying new patterns and techniques.
Adorable baby boy quilt patterns can be hard to find, so we've rounded up some of the best! 
Here are eight baby boy quilt patterns we love!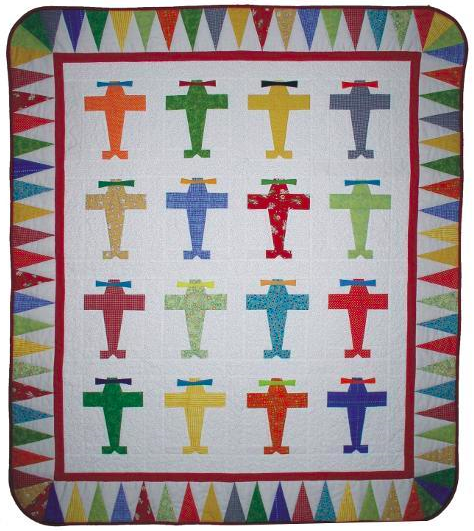 Photo via Carolyn Hughey
1. Flyboy Quilt
Airplanes in primary colors framed in a triangle border are the perfect choice for a little boy. Foundation piecing, appliqué, and bias binding are skills used to create the Flyboy quilt. Pull out your scraps for this one!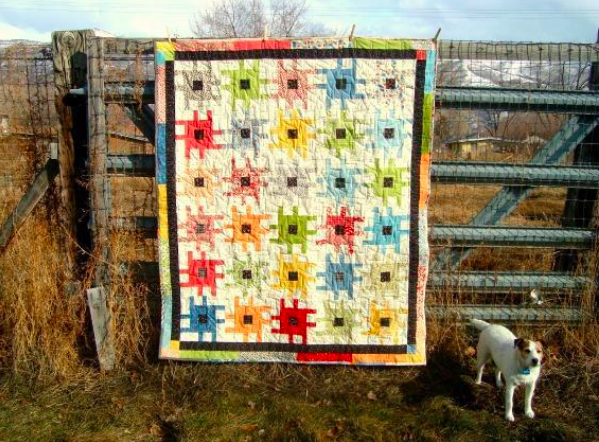 Photo via Patchwork Posse
2. Sprocket Quilt
What little boy doesn't love gears and sprockets? Learn to make the Sprocket quilt using quick quilt piecing techniques, no templates involved! Use your favorite jelly roll or cut up your own strips.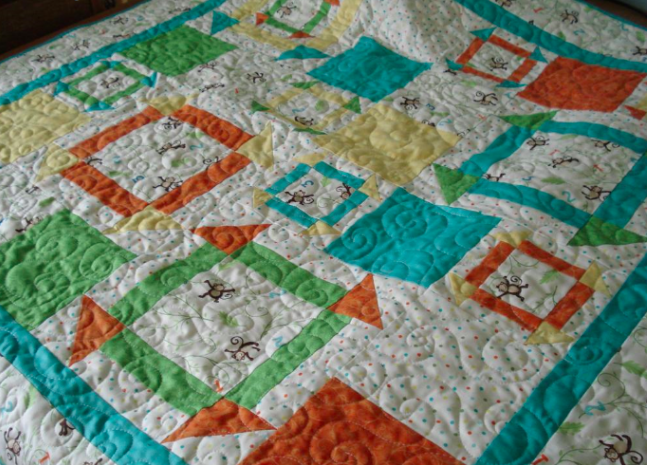 Photo via PamelaQuilts
3. Monkey Around Quilt
Create this adorable Monkey Around baby quilt using two different sizes of monkey wrench blocks! Pair your favorite children's novelty print with coordinating solids to create a fun baby quilt out of a traditional block.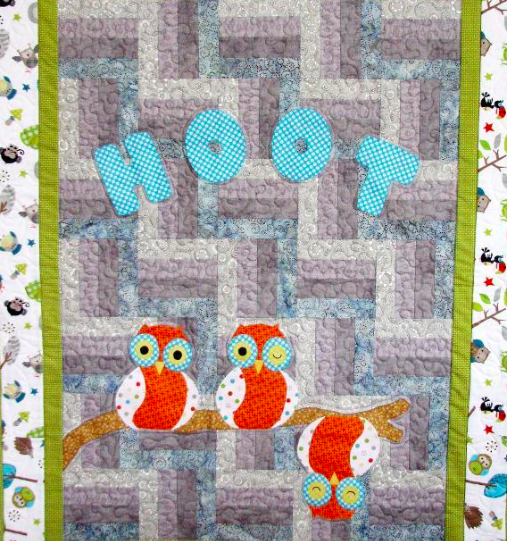 Photo via Squirrely Girl Designs
4. It's a Hoot Quilt
Owls are a big hit for baby quilts! This It's a Hoot quilt features cuddly, sleepy owls and letters fused and appliquéd over a simply pieced background. If you are new to appliqué, this project is perfect for you!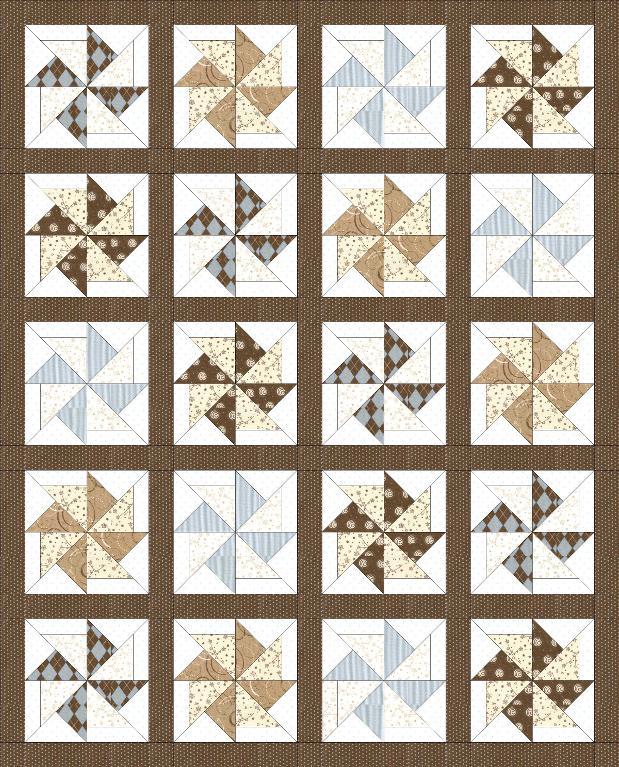 Photo via Cora's Quilts
5. Puppy Dog Tails Quilt
Classic pinwheels blocks and sashing in masculine colors create a timeless baby boy quilt. Chain piece the blocks to come up with a quick Puppy Dog Tails quilt top. This classic pattern will never go out of style.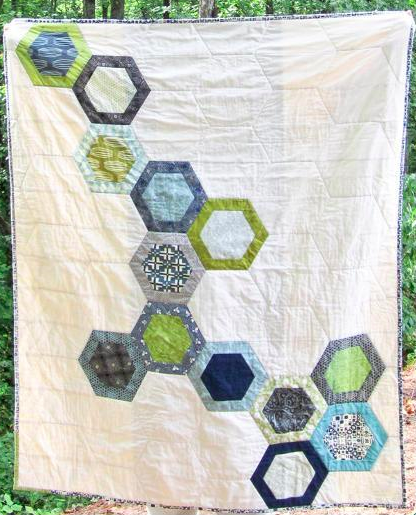 Photo via asquaredw
6. Heximetry Quilt
Try your hand at Y-seams! This modern quilt top features framed hexagons and beautiful negative space. The trendy Heximetry quilt is perfect for any little boy and his modern mama.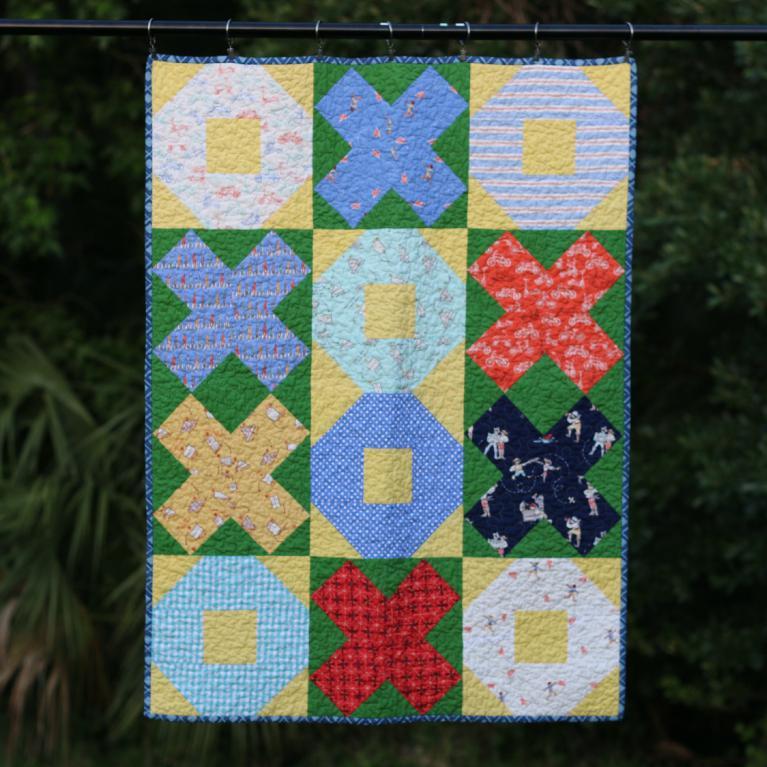 Photo via Don't Call Me Betsy
7. Xs and Os Quilt
Use this Xs and Os quilt to shower a new baby boy with hugs and kisses! Use simple quilting techniques, like flip and stitch squares and half-square triangles.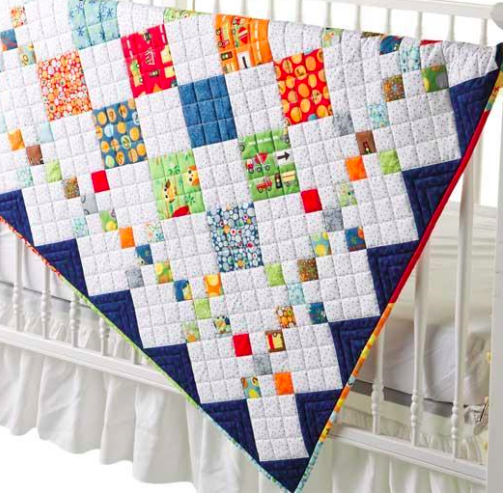 Photo via Pleasant Valley Creations
8. Diamond Patch Quilt
Squares and nine patch blocks work together to form a this classic diamond patch baby boy quilt. If you are new to quilting, this project provides the perfect place to start. Triangle borders are included in the row construction, making this a quick and easy project! 
I hope that you enjoyed this selection of baby boy quilt patterns! If you're sewing for a little lady, be sure to take a look at our cute baby girl quilt patterns, too!