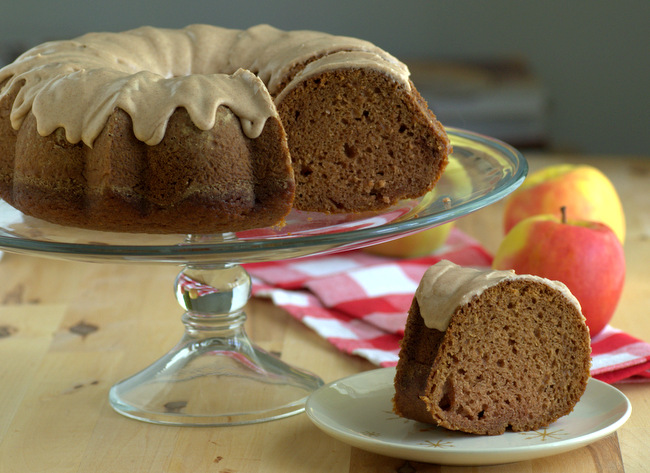 Don't mess with tradition. That's the rule behind this old-fashioned cake, and one bite will tell you why. It's got all the fall flavors you crave (think cinnamon, brown sugar, ginger and cloves), and you can mix the whole thing up in just one bowl, literally in minutes.
If you happen to have extra homemade applesauce lying around, you can use it here. But let's be honest, when does homemade applesauce ever get left over? The kind from the jar works just as well, as long as you pick one without added flavors or sweeteners.
As for the frosting, the choice is yours. Purists might prefer the cake naked, or simply dusted with a little flurry of powdered sugar. But if you've got a sweet tooth, slather away! And if you like just a touch of the sweet stuff, thin the frosting with a little extra milk, then pour it over as a glaze.
Old-Fashioned Applesauce Cake
Yield: serves 12-16
Ingredients
For the Cake
2½ cups all-purpose flour
1 cup sugar
½ cup brown sugar
1 teaspoon salt
2 teaspoons baking soda
1½ teaspoons ground cinnamon
1 teaspoon ground ginger
¼ teaspoon ground cloves
2 cups unsweetened applesauce
2 large eggs
⅔ cup vegetable oil
2 teaspoons vanilla extract
For the Cinnamon Glaze
1½ cups powdered sugar
2 tablespoons butter, room temperature
2 tablespoons milk
½ teaspoon ground cinnamon
1 teaspoon vanilla extract
Instructions
1. Preheat oven to 350 F. Lightly grease and flour a 10″ bundt pan.
2. In a large bowl, whisk together flour, sugar, brown sugar, salt, baking soda and spices. Make a well in the center of the dry ingredients and add in the applesauce, eggs, vegetable oil and vanilla extract.
3. Start whisking at the center of the bowl to break up the eggs, then continue whisking all of the ingredients until the batter comes together and is uniform. Pour into the prepared pan.
4. Bake for 45-50 minutes, or until a toothpick inserted into the center of the cake comes out clean or with only a few moist crumbs attached. Allow cake to cool in the pan for 15 minutes, then turn out onto a wire rack to cool completely.
5. Prepare glaze by whisking all ingredients together in a small bowl. Drizzle over the completely cooled cake.