October is National Apple Month in the United States! This celebration began way back in the early 1900s and lasted for one week. Now, it's a month-long celebration! The goal is to provide education and information about apples, all of the different varieties, and how to use apples and apple products. Another goal is to promote apple sales during this busy harvesting time.
What does this have to do with quilting? Quite a bit, actually! Take a look around the world of quilting, it won't be long before you come across an apple-themed project. The beloved fruit has inspired many charming quilts. Don't forget the apple quilt pattern! The simple core-shaped block with curved sides lock together like puzzle pieces to create a stunning quilt.
In celebration of National Apple Month, let's have a look at six quilting projects that feature apples!

Photo via Amy Friend
Amy Friend recently shared her completed Apple Core Baby Jane Quilt on her blog, During Quiet Time. This traditional pattern is a great way to practice sewing curves and complicated seams. Amy cut her fabric out with a Sizzix cutter. She shares information and a free tutorial on her blog, too!

Photo via Nana Company
An apple a day keeps the doctor away, right? This charming placemat is by Amy of Nana Company. Simple patchwork, embroidery, and raw-edge appliqué are all used to create this mini quilt. Amy is known for her delicate quilted projects, see another one of her apple inspired placemats here.

Photo via Craftsy member Charise Creates
Do you enjoy paper piecing? Not only are they used to sew quilts, paper pieced patterns can be used to sew up all sorts of beautiful projects. This Apple Frame Pouch is the perfect example! Charise of Charise Creates used her apple block pattern to make this bag, but it can also be used to create all sorts of projects. Visit her Craftsy project page to read all about it!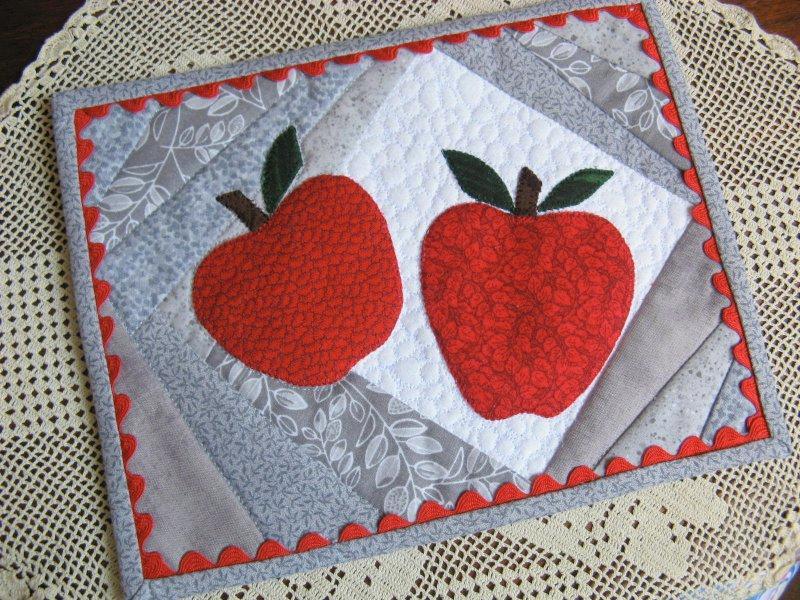 Photo via Craftsy member 2strings
Not ready to commit to a large apple quilt? You have to give a mug rug a try! These mini quilts are the perfect way to brighten up your table. This beginner-friendly pattern is a quick and easy project. Easily whip up a few in an afternoon. If you are new to sewing with rickrack, this pattern is for you!

Photo via Craftsy member Retro Mama
Celebrate National Apple Month with a new pincushion! Fabric apples also make adorable decorations for your kitchen, sewing table or holiday tree. This pattern by Kim of Retro Mama has clear photos and instructions to walk you through this project.

Photo via Fussy Cut
There are also plenty of adorable fabrics that feature apples. For example, I used Aneela Hoey's fabric line for Moda called Little Apples to create my Apple Crate quilt, seen above. You can find more details here, as well as a free tutorial for the quilt.
Will you join in on the National Apple Month celebration!