Did you know items that are likely to already be in your pantry, from vegetables to piped chocolate melts, can be used to make unique and charming cake stamps? I just enrolled Erin Gardner's accessible and thorough class Simply Stunning: Hand Stamped Cakes and am seriously inspired! This roundup of clever techniques taught in the class will fire up your creativity and have you rifling through your fridge for your next stamp.
Here's an inspiring collection of hand-stamped cakes from the class. I can't wait to create my own!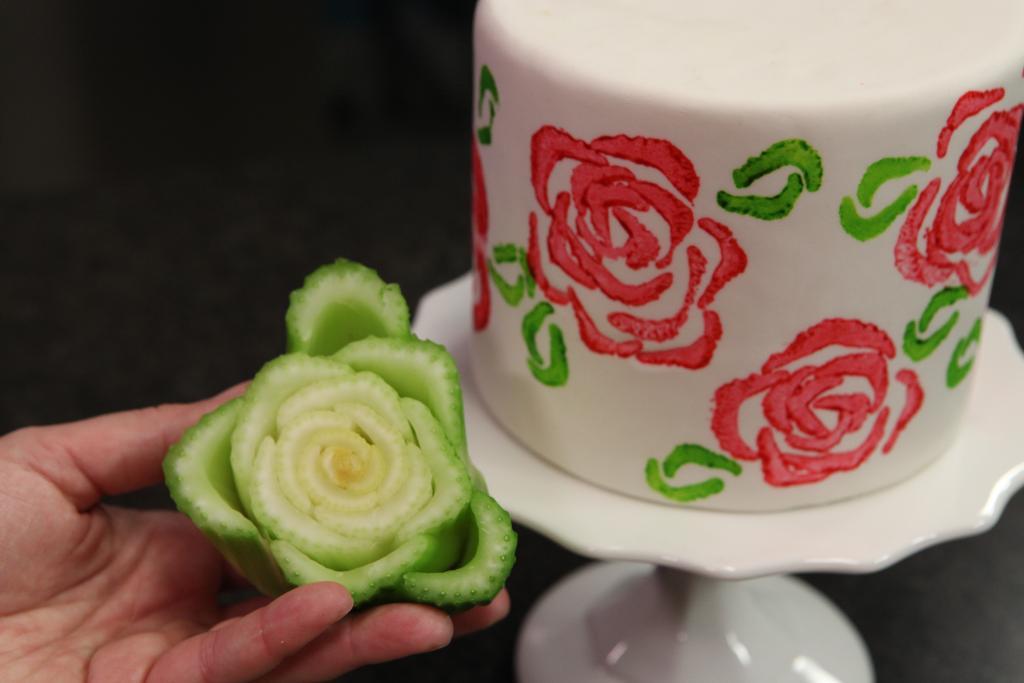 Photo via Craftsy instructor Erin Gardner

Celery stalk rose hand-stamped fondant cake:
Craftsy instructor Erin Gardner of Wild Orchid Baking Co. came up with the idea for hand-stamping cakes while brainstorming ideas for art projects for her toddler. Pretty cool, right? Doesn't this stamped rose cake remind you of vintage wallpaper? I'd be jealous of a kitchen with this wallpaper! Not only will you learn to use celery as a stamp, but you'll also learn how to turn other fruits, vegetables and food items into cake stamp-able delights — in particular, making a beautiful vintage-looking floral cake.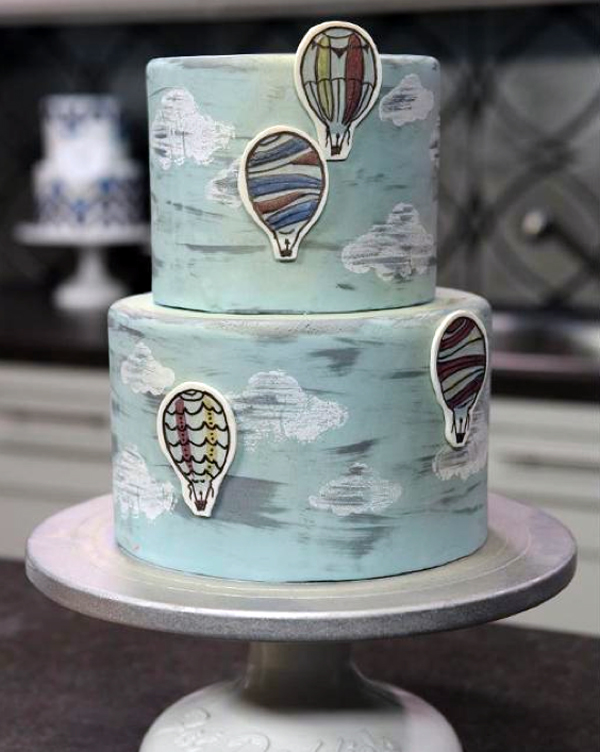 Photo via Erin Gardner
Vintage painted blue sky and cloud stamp hot-air balloon cake:
I thought I had this cake figured out from looking at it — I think it's fun to look at a cake and try to uncover the techniques by guessing how it's done — but I learned so much from watching this class segment on Erin's beautifully designed vintage cloud and hot-air balloon cake. She has such an awesome eye for a vintage but modern design to her cakes and this beauty is no exception – she makes her own cloud stamp, which was a technique I'd never seen before — I am certain you'll learn so many fun techniques in this class. Erin also shows you how to take a typical cookie cutter, such as the hot-air balloon cutter, and make it truly unique by personalizing it.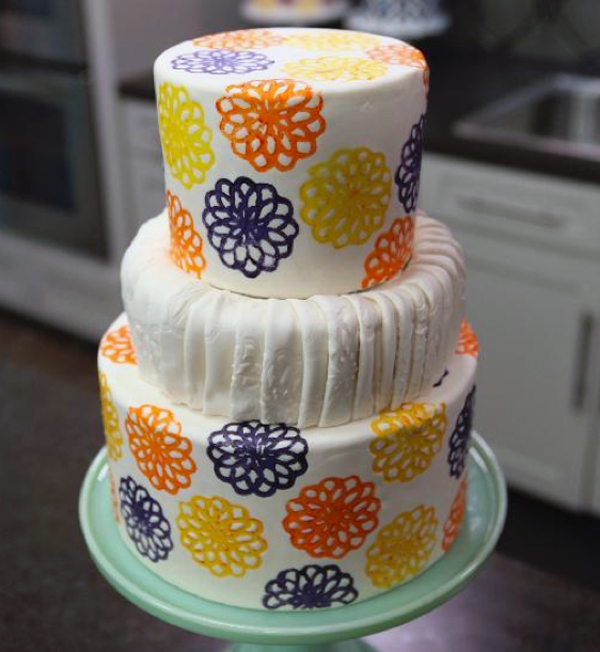 Photo via Erin Gardner

Dahlia stamped cake:
This is another cake with a "more than meets the eye" secret technique! Erin created her own stamp using candy melts — and then stamped away, ending with this retro cool colorful Spirograph-inspired dahlia cake.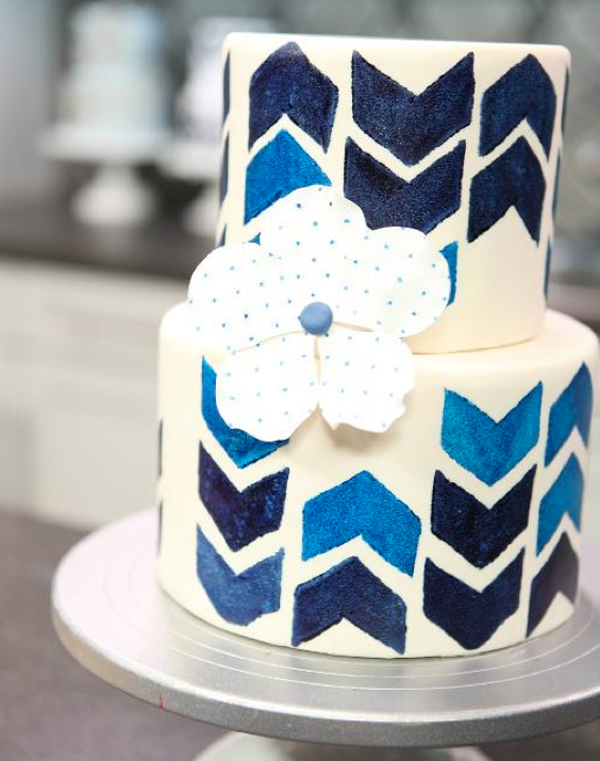 Hand-stamped chevron cake with gum paste fantasy flower:
Erin even sneaks in a straightforward and detailed lesson in creating a beautiful and simple gum paste fantasy flower using — yep, you guessed it — a stamp technique! I love the watery, unique lines the hand-stamping creates. This cake is one-of-a-kind and whimsical.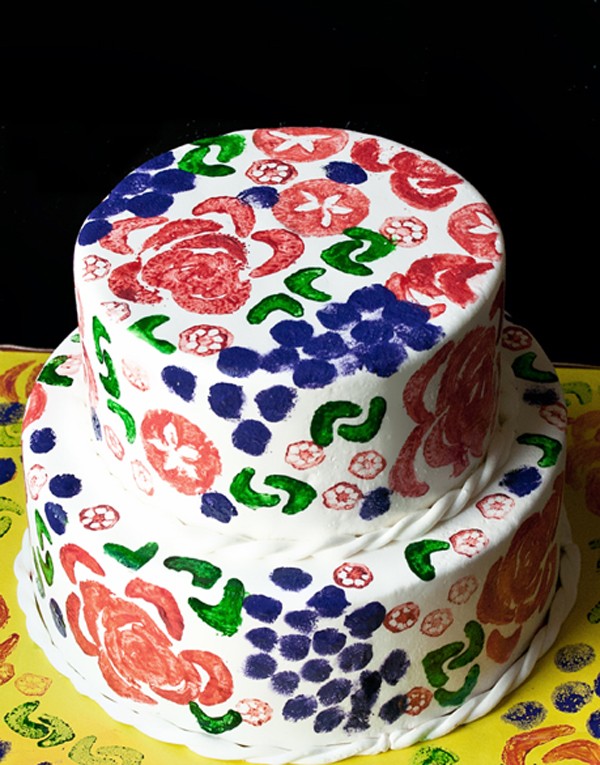 Photo via Craftsy member Cake whiz
Vegetable hand-stamped cake:
Craftsy member Cake_whiz rocked her hand-stamped cake. I think my favorite shape might be that green curved arrow. I bet an entire cake covered in that shape would be pretty cool!
Photo via Craftsy member Cake whiz
Fall-inspired hand-stamped cake:
The cloud and hot-air balloon cake seen at the top of this post inspired Craftsy member Cake_whiz's fall-themed cake seen here. Erin's paintbrush technique for adding color and sparkly sheen looks awesome in the brown and bronze. It adds such great movement to the leaves, too — as though the leaves have been swept up in a blustery day.
If you'd like to learn how to re-create the fun and innovative cakes seen here, sign up for Simply Stunning: Hand Stamped Cakes. We can't wait to see what you'll come up with using some of Erin's fun and magical techniques!

For a sneak peek of one of the techniques see teaches in the class, check out the autumn leaves and mums cupcake topper tutorial she shared right here on the Craftsy blog!
Come back to the Craftsy blog tomorrow for a tutorial on how to make a gum paste rose!
What classes have you taken lately? Let us know in the comments!