Today we're talking about eggs. Did you already guess that from the giant egg photo below? I'm guessing you did. Eggs are one of the most versatile foods you'll find! They can be cooked all by themselves, paired with savory ingredients, and used in baked goods. Eggs come in all different shapes, sizes, and colors.
If you've been curious to learn a few facts about eggs, then this post is for you!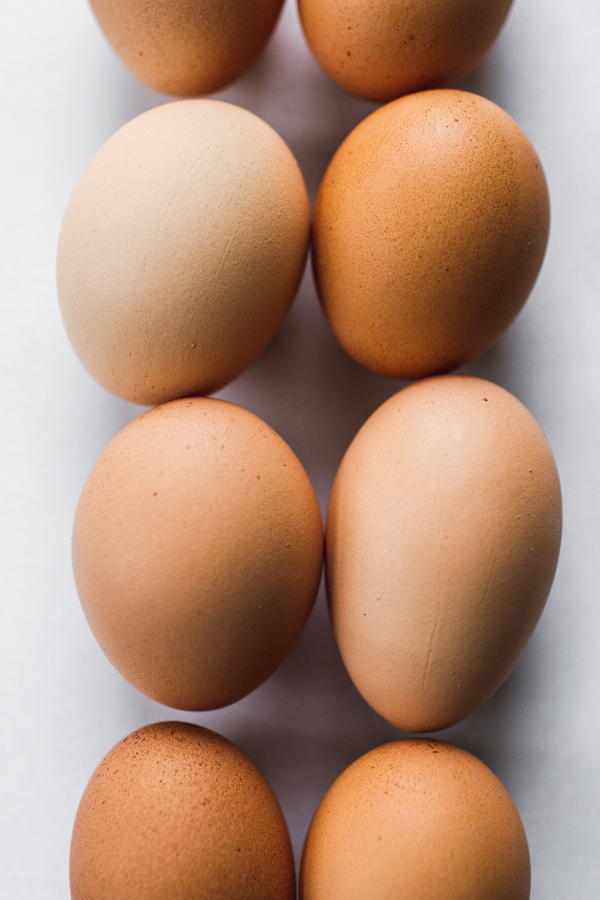 Photos by Edible Perspective
Before we move on to the recipes let's learn some facts about eggs!
One large egg contains 6-7 grams of protein and a mere 75 calories. Because eggs are packed with protein and healthy fats they're also extremely satiating. Eating two eggs in the morning along with a small bowl of oatmeal, whole-grain toast, etc. will start your day off right and keep you full until lunch.
So what exactly does it mean if your eggs have a brown shell vs. white? You may have been led to believe that brown eggs are healthier than white eggs but there is actually zero nutritional difference. The shell color is dependent on the breed of the hen!
Upon further scientific investigation about eggs playing a role in higher cholesterol levels in the body, doctors have since realized in most instances this is not actually the case.
There are nearly a dozen ways one can prepare eggs and this doesn't even count adding them to recipes with other ingredients. Some egg cooking methods are: hard boiled, soft boiled, fried, poached, baked, scrambled, over easy, sunny side up, omelette – And for a simple topping, salt and pepper is always a great choice.
What exactly does the hue of the yolk mean? The yellow shade of the yolk is dependent on the hen's diet. Hens raised in a more natural, pasture-raised environment, tend to have a deeper yolk color because much of their diet consists of bugs, vegetables, and plants. The naturally occurring pigments in those food sources produce a more richly colored yolk.
And now for the recipes!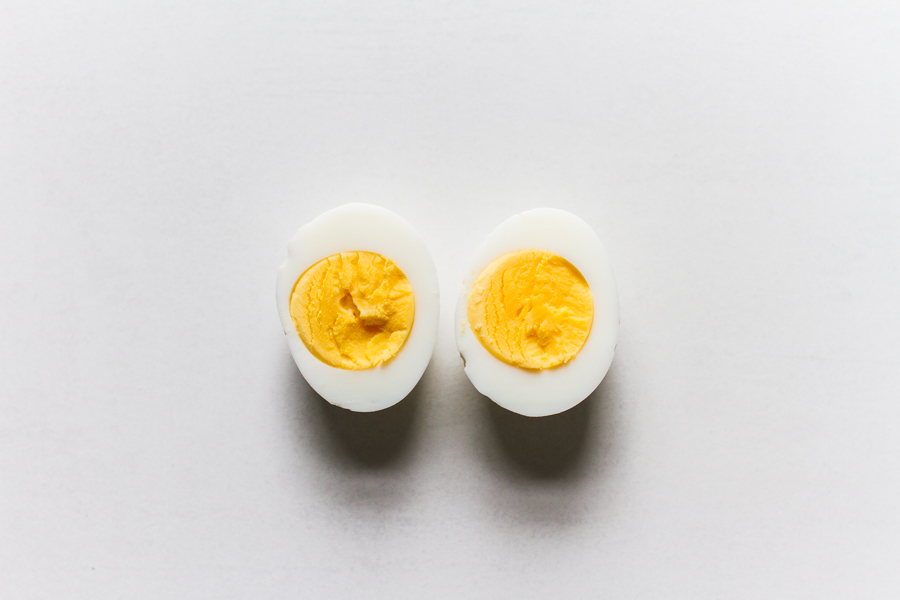 1. Tex-Mex Eggs Benedict with Grilled Potatoes, Avocado Hollandaise and Poached Eggs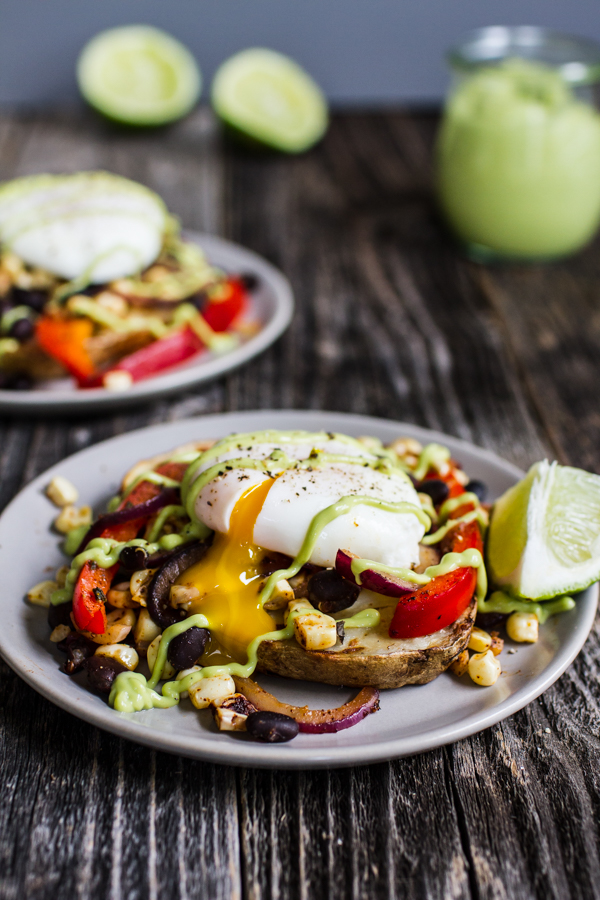 This recipe is a riff on the classic eggs benedict dish. Instead of bread, a grilled potato has been used for the base. There's a Tex-Mex flair with beans, corns, peppers, and an avocado hollandaise. And let's not forget the poached egg on top!
2. Sweet Potato Spinach Frittata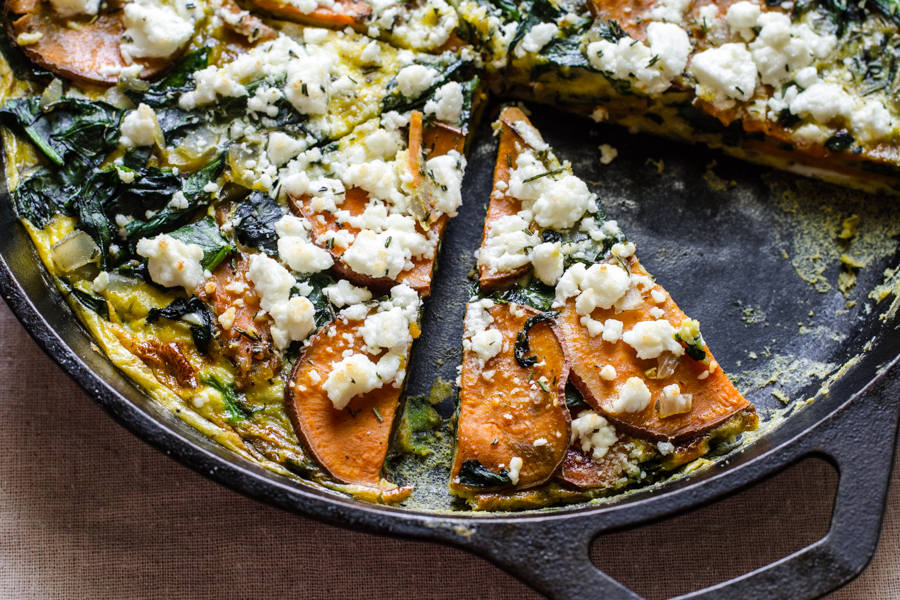 Frittatas are typically filled with vegetables and cheese. They're cooked in a pan on the stove and typically finished off under the broiler in the oven. Frittatas are easy to throw together when you need to use up those leftover vegetables lingering in your fridge, but they're also great to serve as part of a brunch spread. You can never go wrong with a frittata.
3. Pesto Millet Asparagus
Eggs can be added as a fantastic topping to simple grain dishes, bumping up the protein and adding a no-recipe sauce from the yolk!
4. Easy Sweet Potatoes and Eggs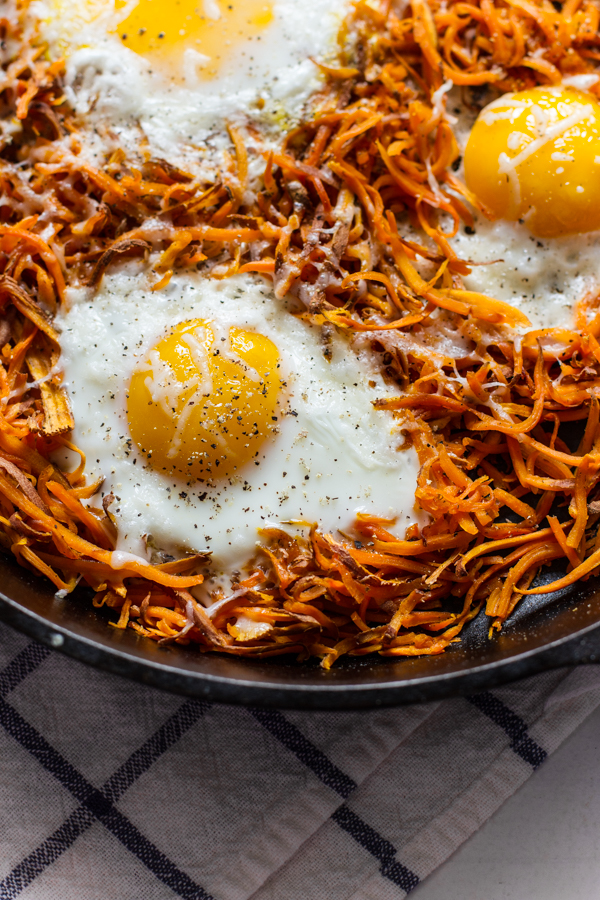 Sweet potatoes are first peeled with a julienne peeler and cooked for a few minutes. Then, a few eggs are cracked on top and it's finished off in the oven. This is an easy dish that can be made any time of day and keep you full for hours.
5. Baked Scrambled Eggs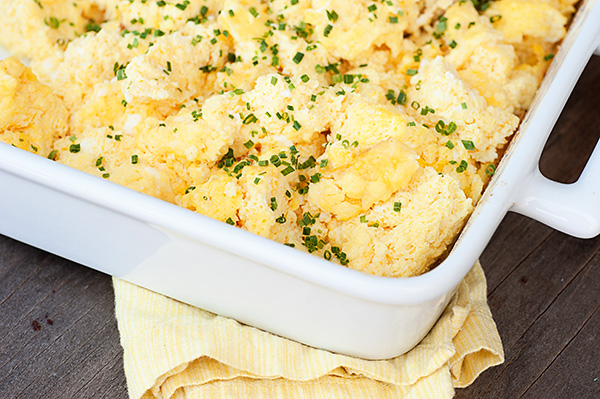 Photo by Karly Campbell
Scrambled eggs for a crowd? Don't mind if I do. This recipe shows you just how it's done!
6. Greek Stuffed Deviled Eggs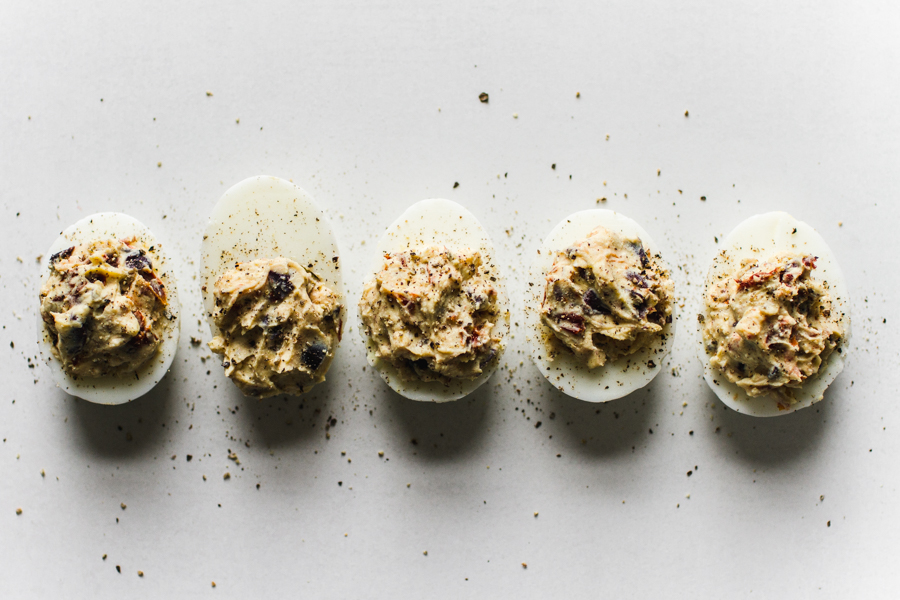 If you like deviled eggs you must check out this twist with Greek flavors like kalamata olives and sun-dried tomatoes. They're to die for, and perfect to serve as an hors d'oeuvre.
7. Simple Baked Eggs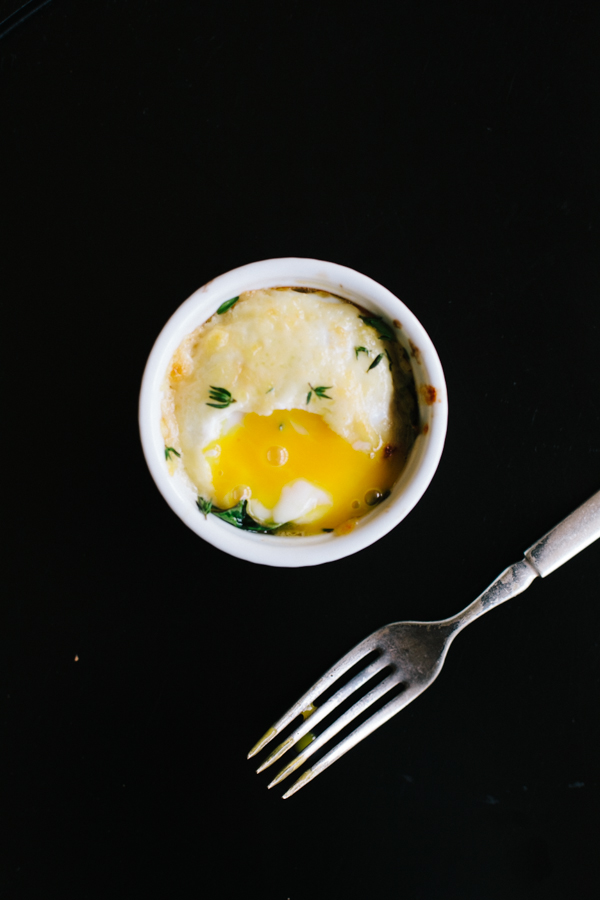 Above photo by Ashley Rodriguez
With just a few extra ingredients, baked eggs are a super easy dish to prepare. Serve your baked eggs alongside a piece or two of crusty bread and you've got a comforting and healthy meal ready in no time.
8. Fried Eggs with Bulgur and Spinach
Another easy recipe to make for dinner that's vegetarian and also high in protein and extremely satiating. Fried eggs have a slightly crispy egg but maintain a tender yolk that adds an extra layer of richness to any dish.
9. Pesto and Roasted Tomato Omelet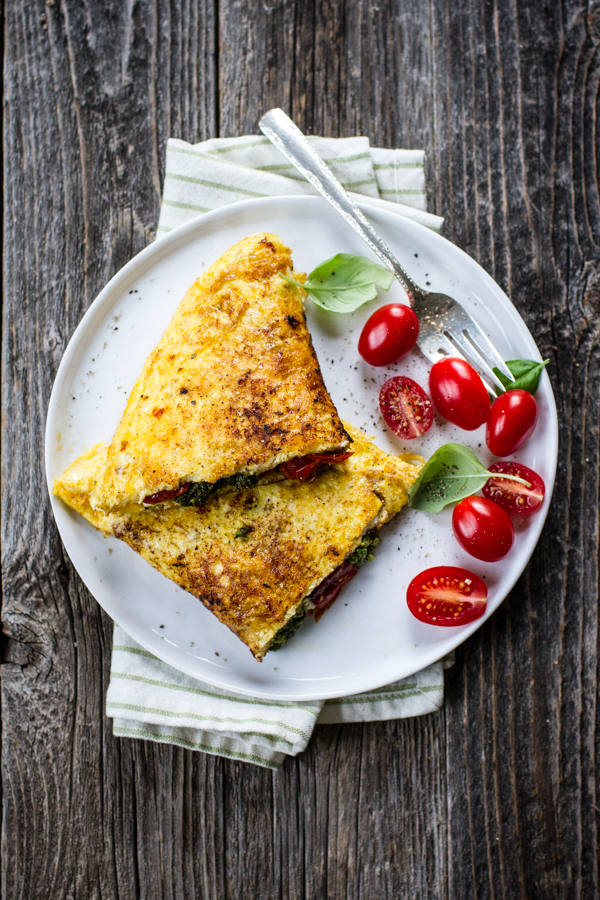 Omelets can be a little intimidating but with this simple recipe you'll be a pro in no time. Plus, this is stuffed with homemade pesto. It's a total win!
10. Mini Lemon Poppy Seed Pancakes

Let's not forget that eggs can be used in all sorts of sweet applications, too! They act as a strong binder and leavening agent in baked goods, pancakes, waffles, and so on.
I hope you've enjoyed learning a little more about eggs today. Time to get cooking!