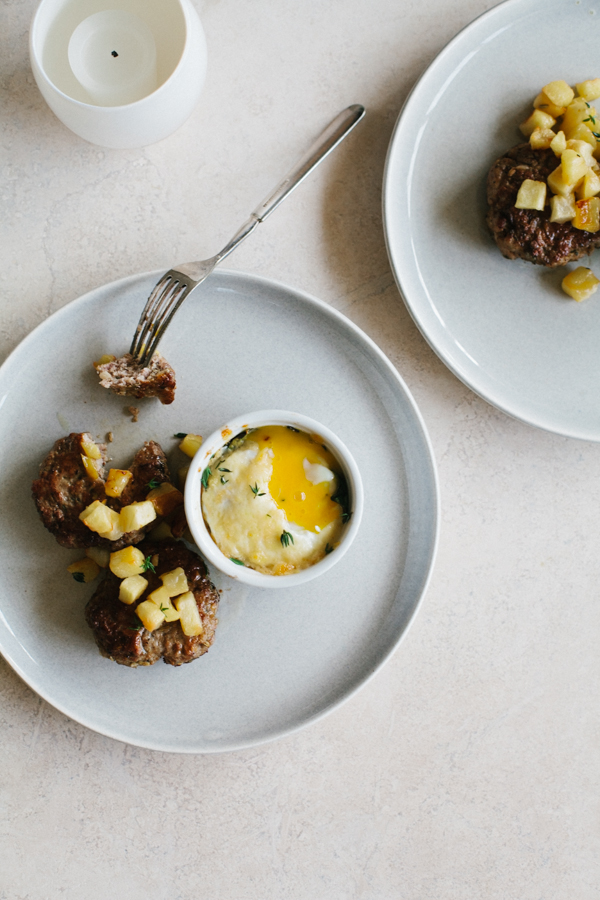 There's a little breakfast spot just up the street from our house. It's small and cozy; feeling almost like an extension of my own home. I go there often enough it really does feel like home. They make the best eggs there. Their eggs benedicts are legendary but their baked eggs are what I crave on a daily basis. But because I really can't go there daily I've turned to my own kitchen to learn the simplicity and art of the baked egg.
A baked egg is of course wonderful for a weekend brunch but really it is the ideal meal for a weekday dinner. Our fridge is never without eggs and with a few simple ingredients you can spice up these eggs and have dinner on the table in about 15 minutes. Serve with a simple green salad and you're set.
Baked eggs, two ways
Here I have two of my favorite recipes for baked eggs. The first one is a little spicy and the eggs get a bath in a tomato sauce. It's finished with fresh mint and parsley which adds brightness and a pop of color to the whole dish. It's perfect for a brunch buffet or served alongside some crusty bread for dinner.
The other is a more traditional baked egg with spinach and gruyere. Feel free to adjust the recipe to use up whatever you have in the fridge. I like a nice runny yolk but if you don't prefer that just broil for a bit longer.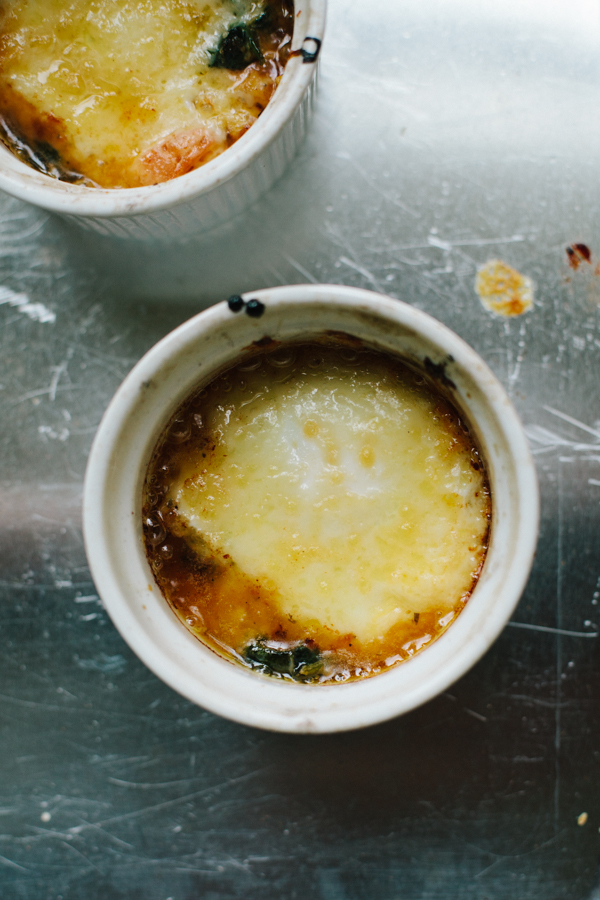 Tomato and Harissa Baked Eggs
Serves 4 – 6
Ingredients
2 tablespoons butter
1 onion, peeled, halved and sliced thin
1 tablespoon minced garlic
1 28 ounce can fire roasted chopped tomatoes
2 tablespoons harissa
6 eggs
salt and pepper
2 tablespoons chopped fresh mint
2 tablespoons chopped fresh parsley
Directions
1. Preheat oven to 350 degrees
2. Heat butter over medium heat and saute onions with a generous pinch of salt for 7 minutes. Add garlic and saute another 2 minutes. Add harissa and saffron and stir, cooking for 1 minute.
3. Now add tomatoes to pan and another generous pinch of salt and simmer on medium low for 5-6 minutes, stirring occasionally, to allow flavors to marry.
4. Using a spoon, make six little little wells in the tomatoes and crack an egg into each. Season them with salt and pepper and transfer immediately to preheated oven. Bake for 7-8 minutes until whites are set. Finish with fresh mint, parsley.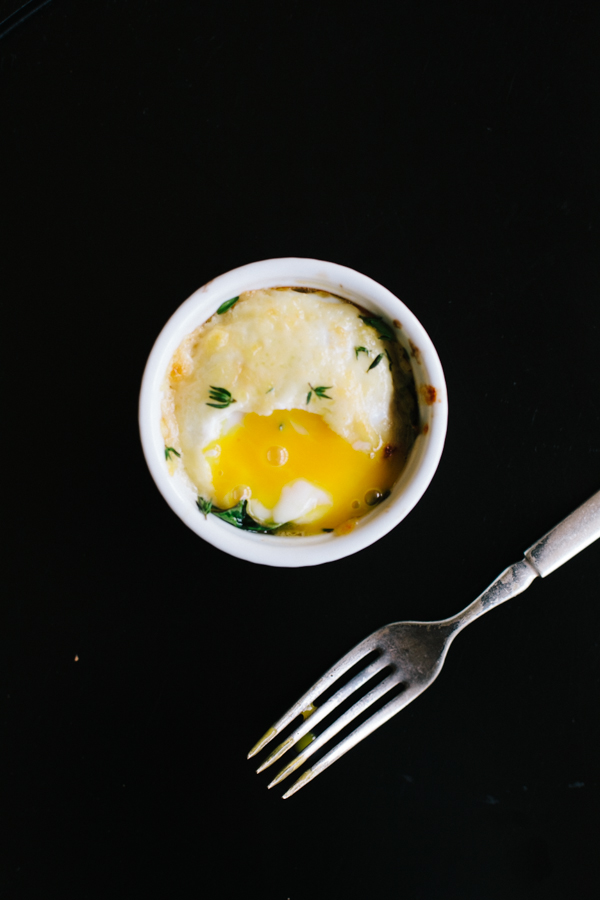 Baked Eggs With Spinach And Gruyère
From Date Night In
Serves 2
Note: These eggs make a great, quick weeknight dinner for the family: Simply double the recipe and bake in a skillet or cast-iron pan.
Ingredients
1 tablespoon plus 1 teaspoon olive oil, divided 1 small tomato, chopped (2⁄3 cup)
1 garlic clove, minced
1⁄2 teaspoon dried oregano
1⁄2 teaspoon kosher salt
3 cups / 90 g spinach
Pinch of freshly grated nutmeg
2 tablespoons heavy whipping cream
1⁄4 cup / 30 g grated Gruyère
2 eggs
Directions
1. Place an oven rack 6 inches below the broiler and preheat the broiler. Grease two 4-ounce ramekins with 1⁄2 teaspoon olive oil each.
2. Add 1 tablespoon olive oil to a medium sauté pan on medium heat. Once hot, add the tomato, garlic, oregano, and salt. Sauté for 3 to 4 minutes, or until the tomatoes are soft. Add the spinach and sauté until wilted, another 2 to 3 minutes. Turn off the heat. Stir in the nutmeg and cream.
3. Divide the vegetable mixture in half and add to the greased ramekins. Top each ramekin with half of the Gruyère and then finish by cracking an egg over the top.
4. Place the ramekins on a baking sheet. Broil until the egg white is just set, 2 to 5 minutes, depending on your broiler. Watch your eggs closely, as you want the yolk to remain runny.
5. Let sit for 5 minutes before serving.