I'm a firm believer that there are two types of people in this world: those who can make scrambled eggs, and those who can't.
Now, sure, it might just be that I'm a little bit picky about my eggs. I want them light and fluffy. Not underdone, but also not dry. And, please, whatever you do, do not let my scrambled eggs brown! There is nothing worse than crunchy, brown bits in scrambled eggs.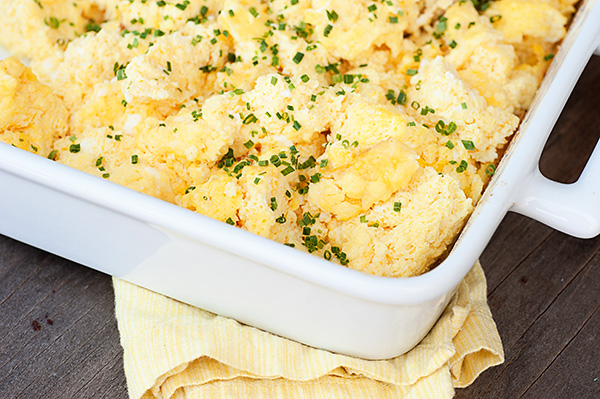 I'm happy to say that I have a foolproof recipe for all of you who struggle to make perfect scrambled eggs.
In fact, even you scrambled-egg professionals will love this recipe. You'll get perfectly fluffy eggs every time. The best part? These oven-baked eggs are even simpler than the stove-top variety most of us are used to.
Not only are these eggs foolproof, they are perfect for feeding a large crowd.
Imagine standing at the stove flipping pancakes, frying bacon and manning the hash browns. Of course your eggs are going to suffer! Unless, of course, you pop them in the oven. They bake right up into fluffy, tender clouds of egg perfection.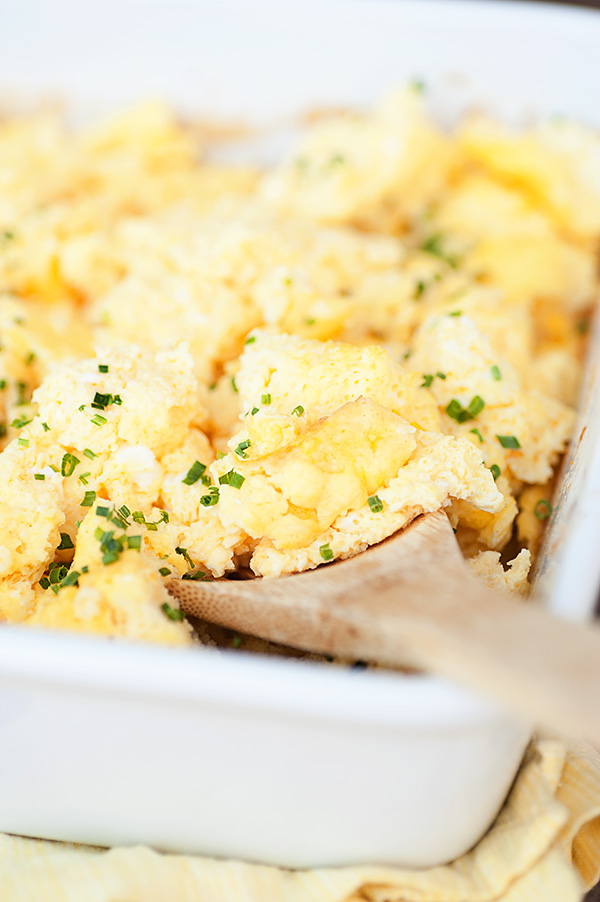 Oven baked scrambled eggs
Ingredients:
4 tablespoons butter
12 eggs
1 cup milk
Dash of hot sauce
Salt and pepper, to taste
Chives, for sprinkling before serving.
Directions:
Step 1:
Turn oven to 350 F. Place the butter in a 9″ by 13″ baking dish, and place in the oven to allow the butter to melt while the oven preheats.
Step 2:
Remove the hot pan from the oven and swirl the butter around to coat the bottom of the pan.
Step 3:
In a large bowl, beat together the eggs, milk, salt and pepper, and hot sauce until well combined. Pour into the dish of melted butter and return to the oven.
Step 4:
Use a spatula to stir the eggs at the 8 minute mark. Be sure to scrape the edges of the pan while stirring. Continue cooking for 8 more minutes and stir again. At this point, the eggs will probably be slightly wet. You can continue cooking them for another 2 minutes (but not too long or you'll dry them out) or serve them as is for perfectly fluffy eggs.
Step 5:
Remove from the oven, sprinkle with chopped chives, and serve.
Doctor these eggs up. They're practically begging for it!
You can easily add in all kinds of goodies to your oven-baked scrambled eggs. Just add these ingredients right in with your raw eggs and cook as directed.
Add a burst of extra protein and flavor to your eggs with small pieces of fried bacon, diced ham or crumbled sausage.
Veggies aren't just for dinner. Mix some diced peppers (bell peppers are great for kids, but a spicy jalapeño would be amazing for a little kick) into your eggs with a bit of onion. I prefer to sauté my veggies in a bit of butter before adding them to the eggs, but if you like your veggies extra crunchy, just mix them right in without pre-cooking.
Cheese is always a delicious option when it comes to eggs. I like to mix things up by stirring in freshly grated Parmesan cheese. Cheddar is always a classic, though.
Give your eggs a burst of Mexican flavor by adding in some diced green chilies, crumbled chorizo and diced red peppers. Top with cheddar and jack cheeses, and add your favorite salsa before serving. Serve them in a tortilla for a quick, filling breakfast burrito.