Do you have extra fabric pieces around the house? From large cuts to smaller fabric strips, these castaways from quilting and sewing projects can serve as a smart replacement for wrapping paper!
Wrapping gifts with fabric from around the house is not only inexpensive, but it's also eco-friendly since the wraps can often be reused. If you'd like to switch up your gift-giving routine, try out these reusable fabric wraps the next time you need to package up a special present.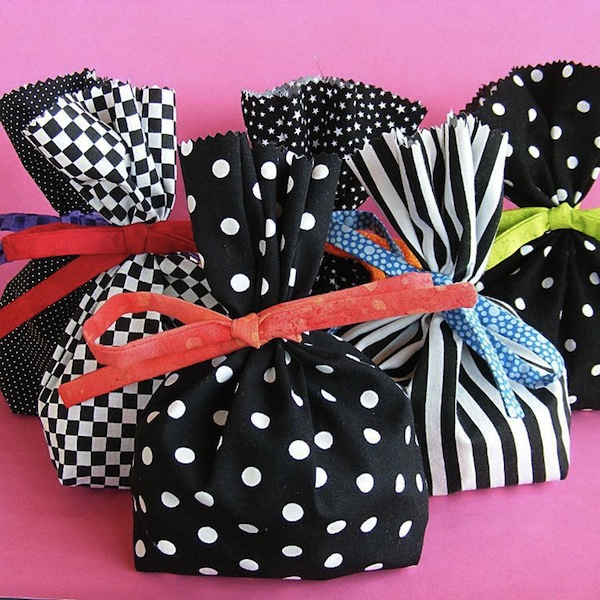 Photo via Craftsy member Wendi Gratz
If you need a quick tutorial for wrapping gifts with fabric, check out Wendi's free Goody Bags sewing pattern. A couple of years ago, she started sewing reusable fabric gift bags to cut down on her stash of paper gift wrap. She suggests making the small size bags (4″ by 7″) for party favors. "Try making some up in a favorite team's colors," she says. "And once you get the hang of making them, it's really easy to adjust the pattern to be any size you want."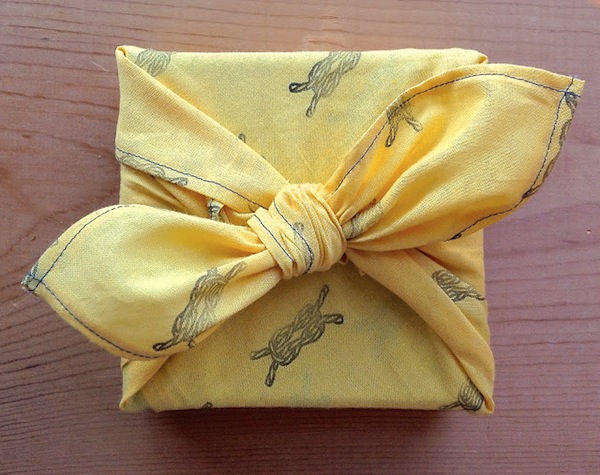 Photo via Assemble
This Japanese-style Furoshiki gift wrap is an easy way to dress up a present. Better yet, why not use a fat quarter to wrap up a gift for a fellow quilter? An oversized fabric square replaces both the wrapping paper and the bow. When the gift has been opened, the hemmed fabric square can be used as a cute scarf or handkerchief, or it can easily be used to wrap another gift.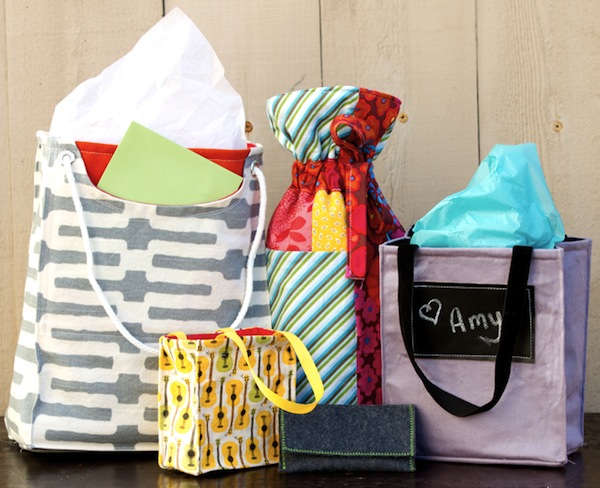 Photo via Go To Patterns
If you like the idea of sewing reusable fabric gift bags, Andrea has created a 5-in-1 PDF sewing pattern to meet all of your gift-wrapping needs. The Go To Gift Bags patter includes a wine bag, three sizes of boxy gift bags, and a gift card wallet. You can change up the pattern with her suggested variations, like a curved cutout, handle variations and a chalk cloth patch for easy labeling.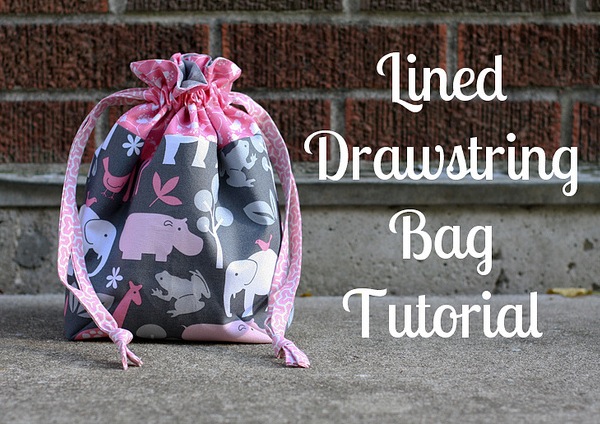 Photo via In Color Order
For a fabric gift wrap that is a gift in itself, try this popular tutorial for Jeni's Lined Drawstring Bag. With a cute contrasting fabric band on top and knotted fabric strings for ties, this bag is the perfect size to wrap a small gift for a friend. In case you'd like to keep it for yourself, it's also a great size for stashing a DSLR camera. Jeni's full PDF sewing pattern includes instructions to make the lined drawstring bag in eight sizes. She also includes a worksheet so you can draft your own pattern in a custom shape or size.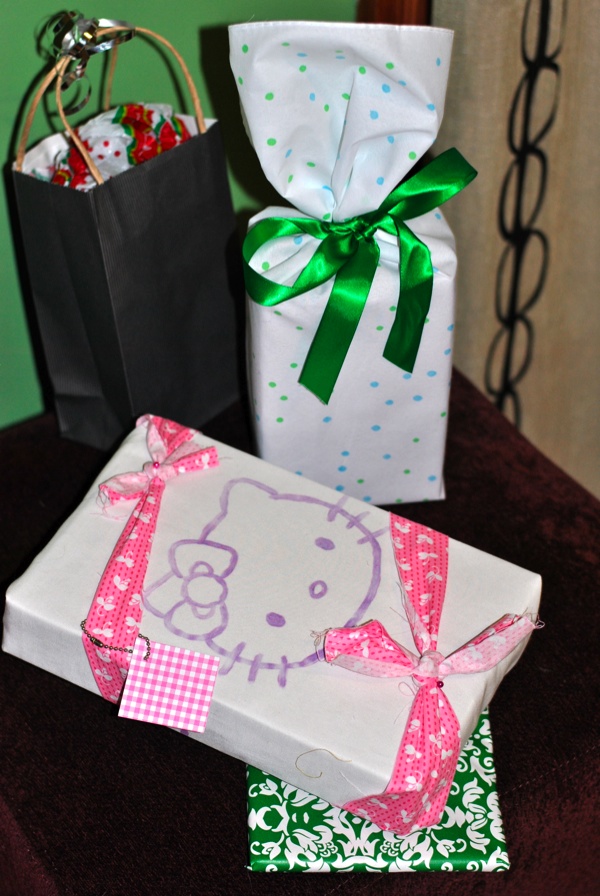 Photo via Craft Buds
To make your own Painted Fabric Gift Wrap, use fabric markers or fabric paint to draw your own simple designs. Fabric scraps from your quilting stash can help finish off the gift box. If you'd like to reuse your fabric later, carefully secure with sewing pins or safety pins instead of tape or glue.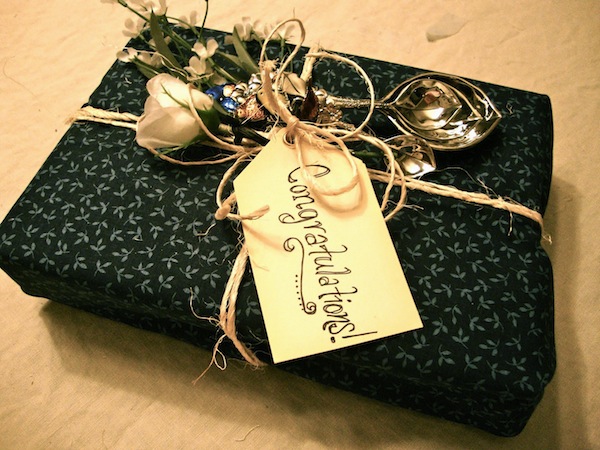 Photo via The Tori Story
Wrapping gifts with fabric can be an elegant option to send wedding, shower or anniversary presents. For her friend Emily's bridal shower, blogger Tori of The Tory Story covered a cookbook in fabric. Silver spoons, twine and flowers topped off the pretty fabric-wrapped gift. Just a few pieces of tape are needed to secure the fabric in the back.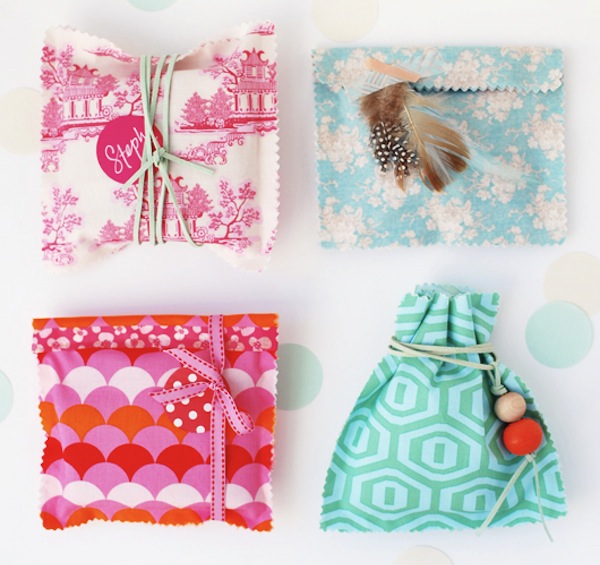 Photo via decor8
These no-sew Fabric Gift Bags are courtesy of Lisa Tilse. You can get the look with pre-cut fabric squares, a pair of pinking shears and double-sided tape. Add ribbon or leather strips to secure the jewelry-size gift bags, plus some beads and feathers for kicks.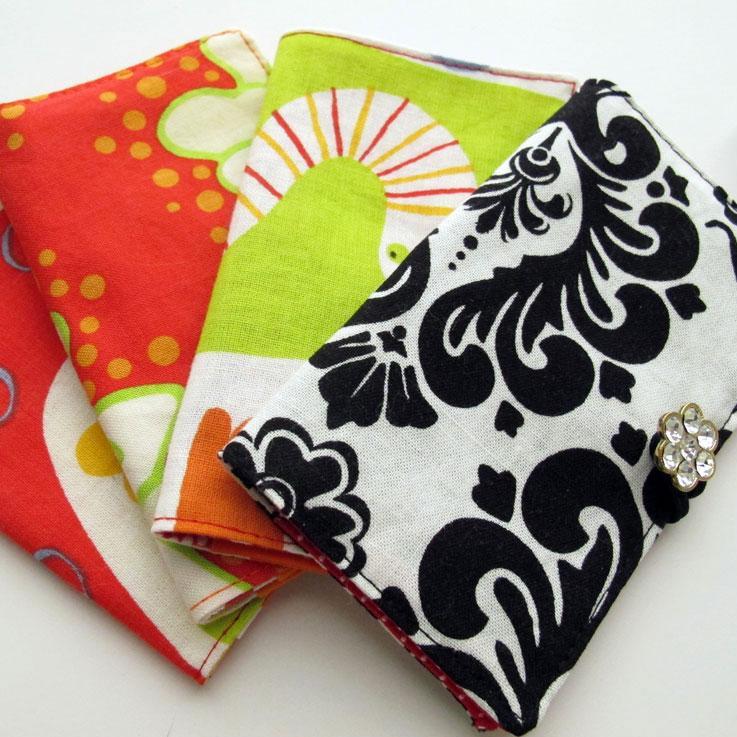 Photo via Craftsy instructor Jen Hagedorn
Give two gifts in one and use up your leftover fabrics by stitching up a snazzy gift card holder, which can double as a small wallet or business card holder. This easy-to-sew pattern includes six pages of instructions and full-colored photos.
What's your favorite idea for wrapping gifts with fabric?