Have you ever wondered what to do with old sweatshirts? There's no doubt that they become a wardrobe staple during the colder months, but they can be so boring!
Luckily, prolific stitcher Zoe of So, Zo…What do you know? has a series of posts on refashioning and today I'm picking out my favorite ideas for sewing a bit of personality into your boring sweatshirts. Zoe's also a very thrifty stitcher, with expertise on transforming larger men's sweatshirts, so you'll pick up some excellent tips on general refashioning rules along the way.
Here are three ideas of what to do with old sweatshirts!
Give boyish sweatshirts a feminine twist with a touch of lace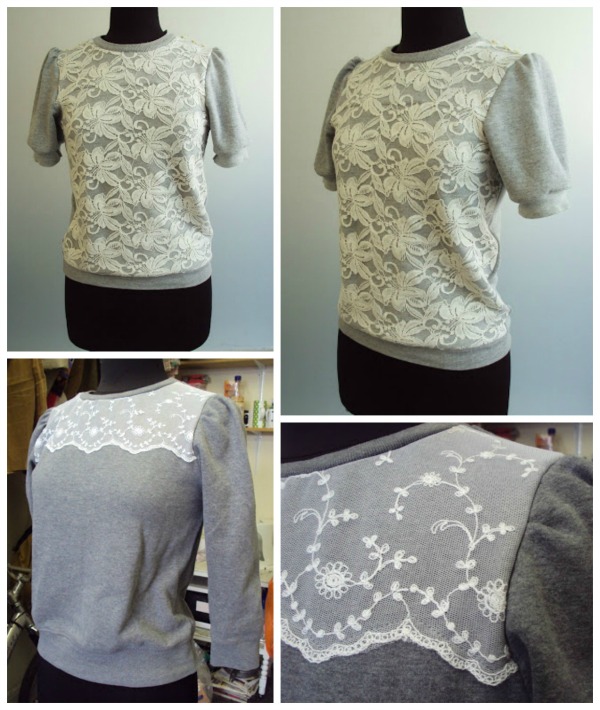 Photos via So, Zo…What do you know?
Using lace is a quick and easy way give your sweatshirts a more feminine feel. Not only can lace be used decoratively, it can also help camouflage a multitude of sins including unsightly stains and moth holes.
Zoe has used a lace overlay to transform a tired old sweatshirts, using the front bodice as a template. In her post, Zoe goes into detail about her careful sweater dissection and how she puts everything back together again.
She's also changed this idea up with a length of wide lace used to adorn the yoke of a sweatshirt. For this refashion, Zoe shares details of how she sewed on the lace, reconstructed the sweatshirt and gathered the sleeve heads by easing the excess fabric into the armhole.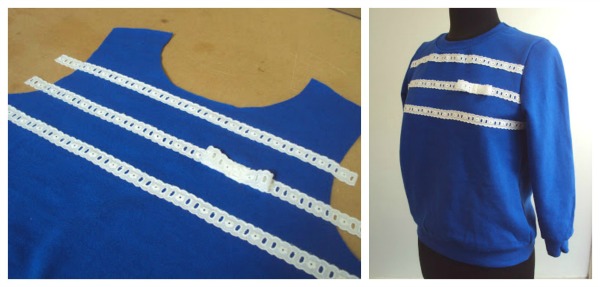 My final lace pick is this simple, yet effective, addition of lace stripes to the front bodice. You can even add a sweet little bow like Zoe did, made with two extra small lengths of the lace stitched down. You can be as bold as you like with this one, adding bows to each stripe or having multiple bows on one stripe.
 Add a collar and matching cuffs for instant sweatshirt cute factor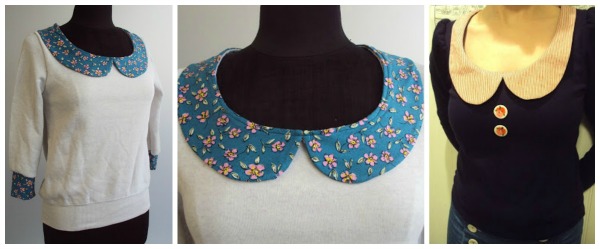 Give your sweatshirts an instant makeover by cutting the neckline into a flattering scoop shape and then drafting a Peter Pan collar and matching cuffs. In her post, Zoe shares useful tips on how to give your jersey collar some needed structure, as well as how to use the stretchiness of jersey to your advantage when making the cuffs. If you have any sweet buttons lying around, you can always add them on for a polished look.
Take a weight off your shoulders with some pretty sweatshirt detailing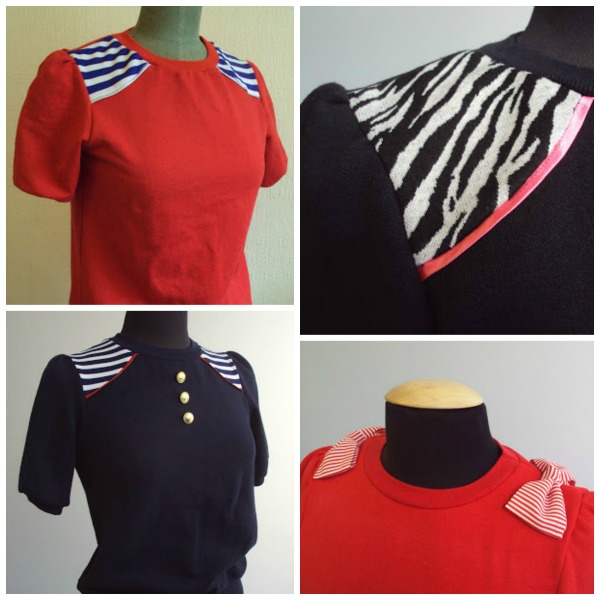 Making a boring sweatshirt unique can be as easy as adding contrasting shoulder patches! You could go for nautical chic with stripes, a sweet vibe with florals, a vintage feel with polka dots or you could unleash your wild side with some animal print. Of course you can't go wrong with attaching cute bows either!
Zoe cuts out her sweatshirt shoulders first and uses that shape as her template for the shoulder patches. Just add seam allowances to your patches and you're good to go. Check out her post for clever ways of using bias binding as flat piping and taking things up a notch by adding buttons.
Appliqué your way to a fun sweatshirt design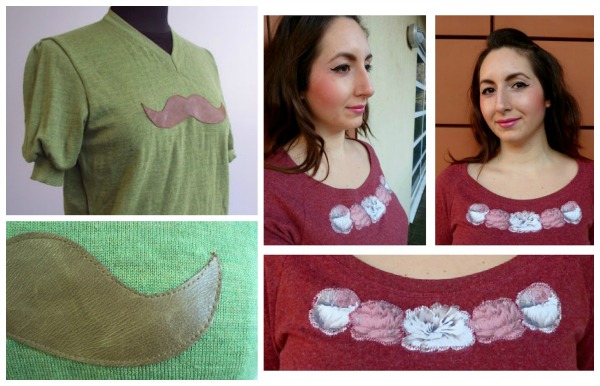 Photos via So, Zo…What do you know? and A Stitching Odyssey
If you're still searching for what to do with old sweatshirts, sometimes all you need is a statement motif for a refreshing refashioned look. Experiment with bold shapes cut out of leather scraps, which you can stick onto your sweatshirt before carefully machine or hand appliquéing. I've also had fun with creating more intricate designs from scraps of fabric, which I've ironed on before machine stitching in place.

Learn to create more funky and fashionable clothing from thrift store and yard sale finds with sewer and designer Betz White in her Craftsy class Project Upcycle!
Sign me up!
Are you inspired to transform a boring old sweatshirt this fall?