When it comes to wedding cakes in 2013, fondant ruffles and frills are all the rage! The design possibilities for these beautiful embellishments are unlimited: you can cover an entire cake, only a single tier, or just a small portion of the cake. Let's explore the many ways to enhance your cakes with these elegant ruffles, that brides so adore.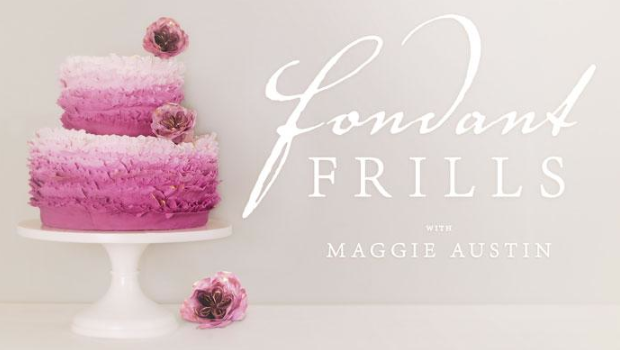 If you're looking to utilize this trendy technique, check out Maggie Austin's amazing online Bluprint class Fondant Frills, where you'll even learn how to make the beautiful cake above. Once you've mastered ruffles and frills, you can add your own unique design touches and delight any bride! Here are a few ideas to get your creative juices flowing.

Photo via Wendy Woo Cakes
Give your ruffles an original look, by placing them sideways on your cake. When you do this, you can create beautiful rosettes of any size. In this form, they give the cake a lovely texture.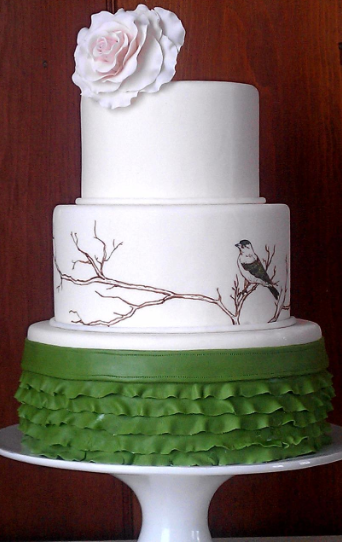 Photo via Bear Brook Bakery
Or make your fondant ruffles in a downward direction, to give your cake a much softer look. This effect allows the designs on the other tiers to shine.
Once your fondant ruffles are dry, try lightly airbrushing them to add a bit of sheen and shine. Don't go overboard though, or you will quickly find yourself with a droopy disaster.
Let's explore this wedding trend even further with inspiration from all of the beautiful cakes Bluprint students have created. It's so interesting how different artists can introduce their own style to the same technique. To me, that is the beauty of cake decorating, you can take a class and then make a cake that is uniquely yours!
This Bluprint student cake features stunning paper thin fondant frills! I love the ombré effect on the bottom. And the Dogwood flowers adorning the top are such a nice touch. The skills to create these charming white-on-white southern flowers are also taught by Maggie Austin in her other Bluprint class Southern Sugar Flowers.
This is a beautiful example of fondant ruffled rosettes on a smaller tier: an increasingly popular design among brides.
Ruffles don't just enhance round cakes; they can work on any shape of cake. SaraJean proves this, with her amazing square ruffle cake. Her use of the ombré effect make this cake a knock out!
I love the gentle touch of petal dusting on this cake's ruffles. It gives the cake a beautiful delicacy and helps define and enhance the fondant frills!
This year, as we move into wedding season, watch for fondant ruffles and frills! I think you'll quickly find yourself enthralled with this trend, as ruffles are both whimsical and fun to create. Are you making any fondant ruffle cakes?
You might also enjoy creating a fondant ruffled peacock cake or making a fondant bow. Come back to the Bluprint blog tomorrow for a roundup of amazing groom's cakes.