You have taken cake decorating classes, practiced the techniques, and now you have gotten your first wedding cake client! So what now? Scream, shimmy, shake and celebrate!
Creating your first wedding cake design can be extremely exciting, overwhelming and a little frightening, so we are here to help with a few tips to get you started and help you finish with a flawless first delivery.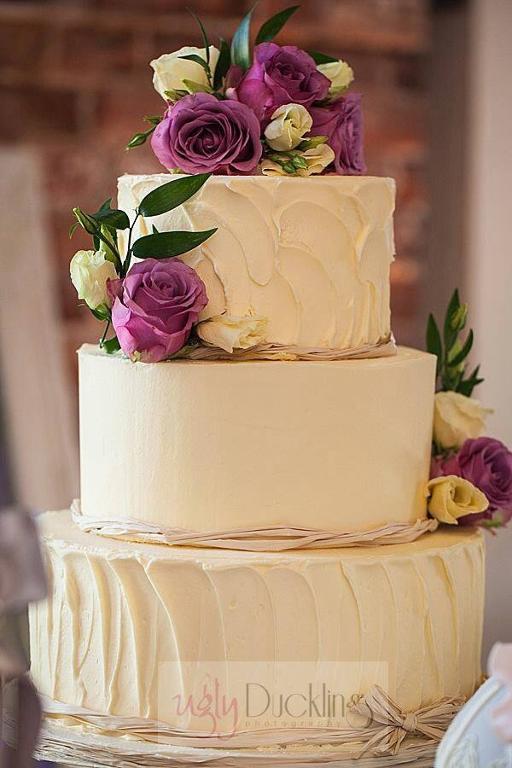 Rustic Buttercream Wedding Cake via Woody77
1. Meeting with your wedding client
Meet with your client, even if it is a friend or family member, and discuss what they are looking for.
Remember this is their wedding cake, not yours, so let them express their thoughts before jumping ahead with your own. If they need help with inspiration, look at their invitations and other details to match the style and feel of their wedding.
The number of servings is very important and should be brought up at the very beginning. It will determine the size and number of tiers you will need.
Before the meeting, review your own costs and enter the meeting with a clear idea about what you will need to charge and why.
Be honest about pricing upfront. Give your client a base price per cake or per serving and stick to it. Don't back down on pricing.
Offer and only agree on designs you know you can produce. Almost all clients will bring cake inspiration they have found in magazines or online. Be honest about your abilities and if you agree to new techniques you have never tried…get going! Practice!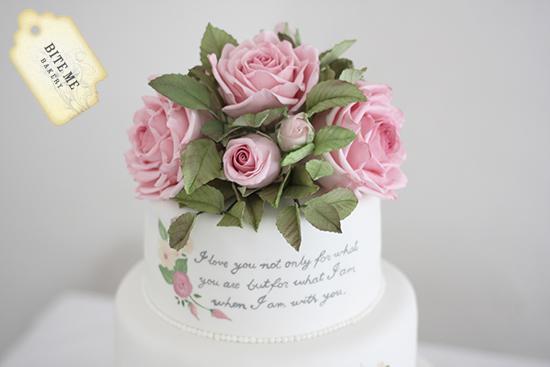 Romantic hand-painted cake via Bite Me Bakery
2. Preparing to make a wedding cake
Waiting until the last minute to try new techniques or to plan and gather supplies will only add stress to an already stressful week. So give yourself a break by preparing early. Gather or order your supplies as soon as the deposit is paid.
Here is a general checklist to review while planning your cake.
Cake ingredients
Icing ingredients
Cake pans
Parchment paper
Cake boards
Cake drums
Dowels
Fondant
Food coloring
Fondant cutters/supplies
Shortening
Powdered sugar/cornstarch
Figures or flowers, if needed
Templates, if needed
Tip: If you are making sugar flowers or figures, prepare them early and make extras in case of breakage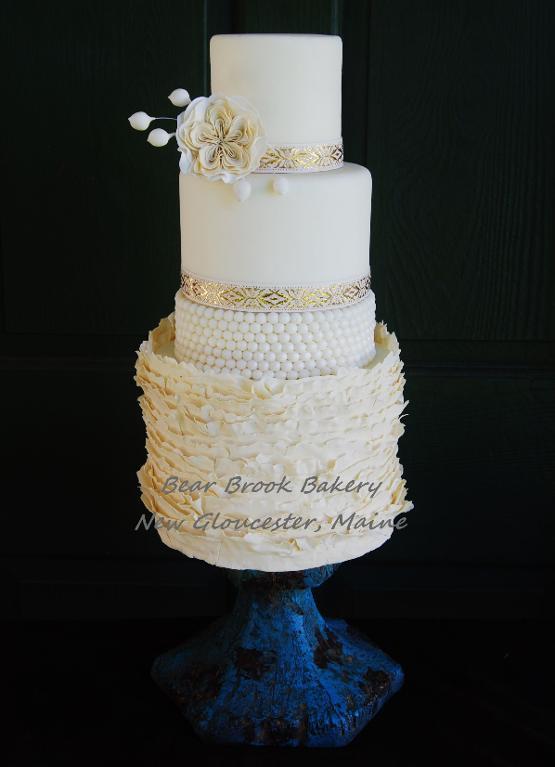 Frill wedding cake via Bear Brook
3. Wedding cake production schedule
You have planned, prepared and fretted over your first wedding cake and now it is finally time to bake and decorate. Here is a quick breakdown of general tasks to complete leading up to the big day. Days of tasks can be adjusted based on the design.
3 days before the event:
Bake your cakes. As you get faster and become more streamlined you may be able to bake 2 days before.
Cool and chill your cakes overnight
2 days before the event:
Fill and crumb coat your cakes, wrap twice in plastic wrap and chill completely
Color fondant, if needed, arrange supplies and premade decorations
1 day before the event:
Cover cakes in fondant
Dowel and stack your cakes
Decorate — depending on the design, you may choose to decorate the tiers before stacking the cake.
Day of delivery:
Finish last minute decorations
Check traffic and leave early. If possible, arrange to deliver the cake 2-3 hours before the event starts.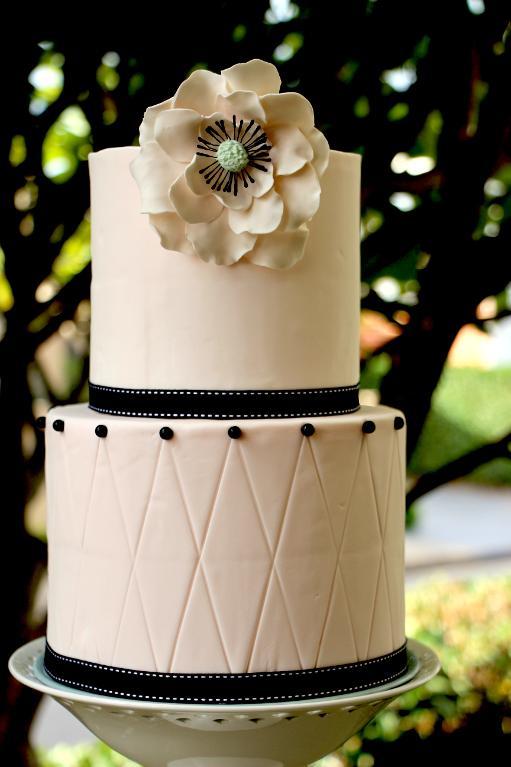 Coco Wedding Cake via SweetieDi
4. Cake delivery tips
After days of work, it all comes down to the delivery. Here are a few tips for a less stressful delivery.
Contact the wedding venue or other vendors (like the florist) if needed, 2-3 weeks before the event to arrange the details of the delivery. Just because your bride gives you a time to be there does not always mean that is when the venue will be ready. Call and double check times.
In Richard Ruskell's Craftsy class Topsy-Turvy Cake Construction, he discusses how to structure a cake properly. Although he focuses on topsy-turvy cakes, his techniques can easily be transferred to stacked cakes as well. Knowing that your cake is well structured will significantly reduce your stress during delivery, so take the time to understand cake structuring.
If you are attaching heavy flowers or bows to your cake, it may be best to attach them once you are at the venue. Heavy, loose decorations can cause ripping, tearing or bulging in the fondant during your bumpy ride.
It sounds so easy, right! It can be stressful at times, but cake decorating can also be extremely rewarding as you see flour and sugar turn into a beautiful work of art!
With these few tips, we know you will find success as you begin and execute your first wedding cake! Be patient with yourself, plan more time than you think is necessary and enjoy the creative process.
What advice would you give to a beginning cake decorator? If you are just starting out, what cake questions do you have?