This vibrant and healthy veggie noodle bowl is a fantastic way to pack a ton of vegetables into your day with just one meal.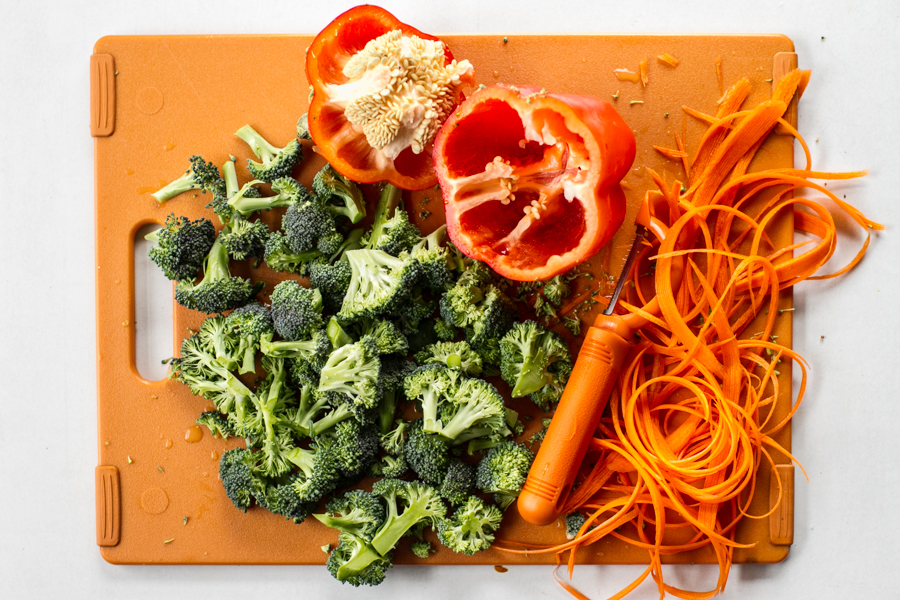 Photos via Edible Perspective
Today you're going to learn how to prepare a healthy veggie dish that is loaded with flavor, packed with protein, and filled with fresh vegetables. This is a super filling meal that packs well for lunch the next day (with a little extra sauce, of course!) and is even tasty cold.
While it appears that the vegetables take center stage in this meal, I have to let you in on a little secret. It's all in the sauce.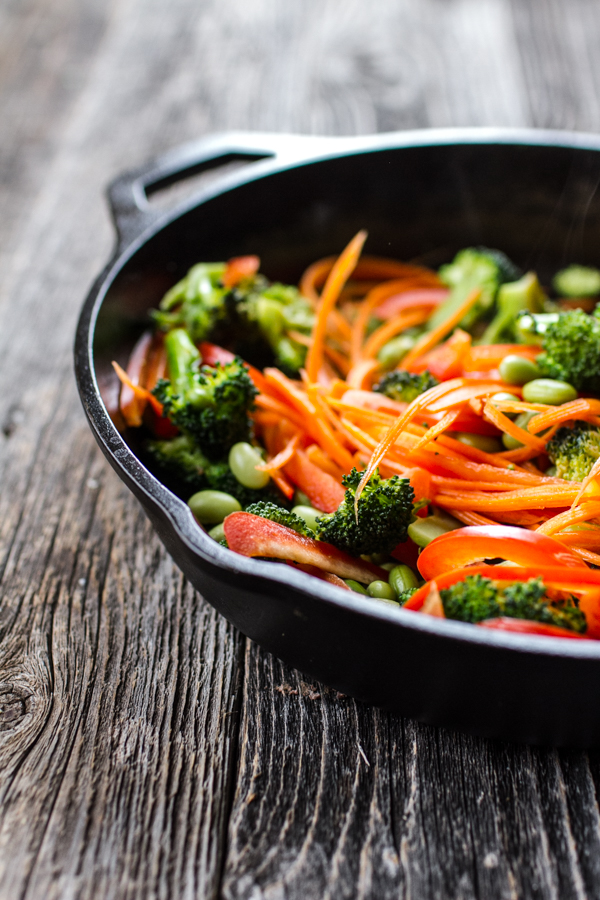 There's no need to be intimidated by whipping up homemade sauce and dressings. For this savory peanut sauce all you have to do is combine the ingredients in a jar, shake, and you're done! I swear it's that simple. And how could a sauce filled be peanut butter not be absolutely outstanding?
Between the peanut butter in the sauce, the edamame beans, and the tofu, this meal is loaded with protein. Whoever asks how vegetarians and vegans get enough protein in their diet needs to check out this recipe.
Loving this recipe? Download the directions and ingredients in easy, printable PDF form, and enjoy it anytime, anywhere, forever!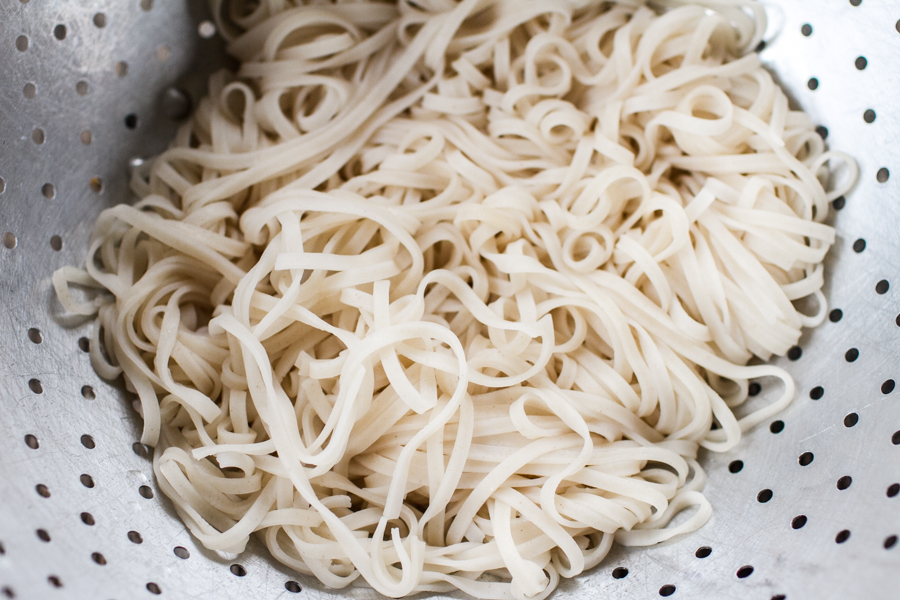 I challenge anyone to try this meal and tell me they're not full and satisfied after eating it.
And check out those gorgeous vegetables.
This meal is fabulous served hot or cold. You can mix it all up with the peanut sauce or serve it on the side.
If you don't have time to press the tofu, keep your eye out for "super firm" tofu that doesn't require pressing. It usually comes in a vacuum sealed wrapper. Or, if you're cool with uncooked tofu (I actually love it!) feel free to skip browning the tofu in the pan.
You can really prepare this dish in a few different ways, so feel free to get creative. If you plan to toss everything together in the same pan before serving, you'll need to use a 14-inch pan or wok — talk about a healthy one-dish meal!
One thing that is non-negotiable is that peanut sauce and limes on the side. I cannot get enough lime juice on this dish!
Pro-tips:
To avoid sticking after your noodles are done cooking, toss them with a teaspoon or two of melted coconut oil or toasted sesame oil. This will help a lot!
Learn how to chop vegetables for evenly cooked results.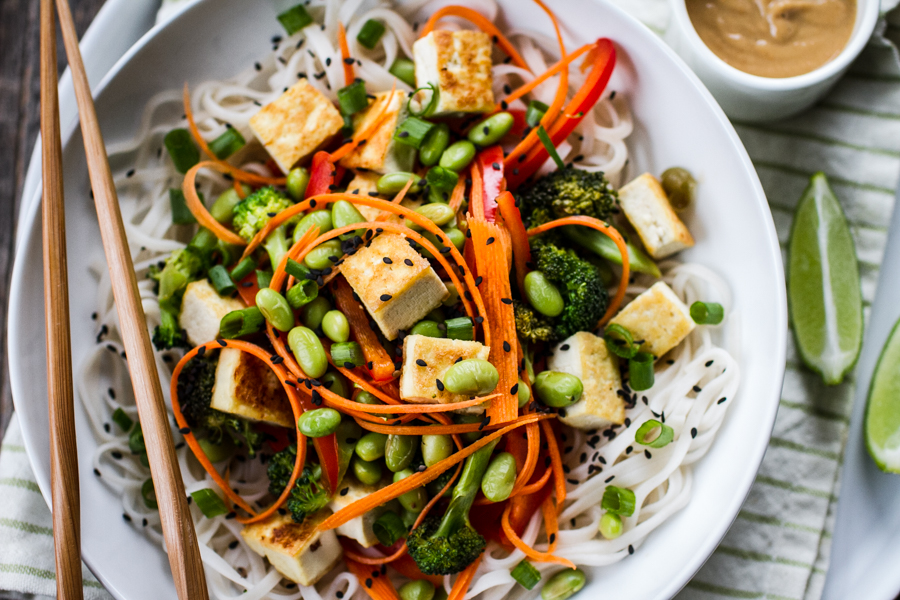 Healthy Veggie Noodle Bowl
Yields: approx. 4 servings
Ingredients:
For the sauce:
1/2 cup natural creamy peanut butter (the drippy kind, stirred well)
2 – 2 1/2 tablespoons tamari (gluten-free if needed, or soy sauce)
2 1/2 teaspoons finely grated ginger
1/3 cup fresh lime juice
1 tablespoon pure maple syrup
2 – 3 tablespoons water
2 medium garlic cloves, smashed
For the veggie bowl:
1, 14oz package extra firm tofu
1, 8oz box pad Thai rice noodles noodles
1 cup shelled edamame
2 tablespoons oil
1 large bell pepper
2 carrots
2 cups broccoli florets
Optional toppings: Lime juice, green onions, sesame seeds (tan or black), roasted peanuts, sriracha, basil, mint, etc.
Drain tofu. Slice into 8 even slabs. Place on a doubled over kitchen towel. Place another doubled over towel on top (or if your first is large enough fold it over). Place a dry cutting board on top with a few heavy books stacked on top. Let the tofu press for 20 minutes. (If you bought "super firm" tofu, you can skip this step and simply pat the slabs dry.) Cut slabs into 1/2-inch cubes.
While waiting for the tofu, prepare noodles and edamame according to package directions. Set aside.
While cooking, combine all dressing ingredients in a jar (except the garlic). Seal and shake until fully combined. Add the smashed garlic, then give a few shakes and set aside for at least 10 minutes. Remove garlic after it sits. Note: Dressing thickens as it sits. Add more water and/or lime juice to thin it out if needed. (Dressing will taste quite salty, but remember, you're not adding any other salt to your veggies or noodles. Do not use stabilized peanut butter containing a stablizing oil such as palm oil. It will be too thick.)
Heat your largest frying pan with 2 tablespoons oil (I like to use refined avocado oil) over medium/medium-high heat. Once hot, place your tofu cubes in the pan and cook until golden brown, about 7-10 minutes. Flip and cook another 7-10 minutes until golden brown. Place cooked tofu on a plate.
While tofu cooks, thinly slice the pepper and julienne the carrots.
After tofu has finished, place the broccoli in your pan over medium heat with a splash of oil.
Cook for 7-10 minutes, stirring frequently, until lightly browning and toothsome. Add the peppers and cook for 2-3 minutes.
Shake the dressing and add more water/lime juice if needed. Add the tofu back into the pan and toss with a bit of the dressing.
Toss the noodles with about half of the dressing to coat well and then pour into the hot pan with the vegetables. Add the carrots and toss well to combine all ingredients and cook until heated through. Add more dressing as needed.
Serve hot and top with extra dressing, a squeeze of lime juice, green onion, chopped peanuts, sriracha, and sesame seeds, etc.