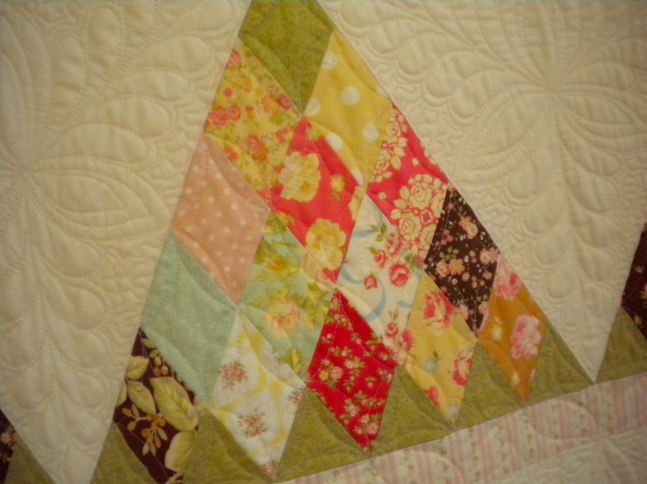 Quilt block from Jelly Parfait by Fig Tree & Company pieced using strip set piecing.
Using strip set piecing is a great way to work faster and save time. The idea is simple– just sew widths of fabric (or even shorter length) strips together so they can be cross-cut into the basic pieces you need for a quilt design. Many patterns come with strip set piecing instructions; however, this technique can be adapted to a variety of designs.
Before beginning, there are a few things to remember when sewing your strip sets.
You want the strip sets to be as straight as possible, especially when adding several different strips to a set. When sewing strips together, you should be careful to keep your seam lines straight. Additionally, don't pull or stretch the strips while sewing, as this could cause "wavy" strip sets. Also, pressing the strip sets is an important step. First, press each seam while closed to set the stitches into the fabric. After setting the stitches, the seams can be carefully pressed to the darker fabric or pressed open.
Using strip set piecing is a great technique to use when creating 9-patch, 16-patch, or even 25-patch blocks, and it works whether your blocks are scrappy or have specific light and dark requirements. For scrappy 9-patch blocks, sew several groups of three different strips of fabric together. The strips should be of equal width. After pressing, cross-cut the strip sets into widths the same size as your original strip width. You will end up will three-patch units that can then be sewn together to make scrappy nine-patch blocks. Your use of lights and darks can also be varied to achieve the final pattern design you are looking for.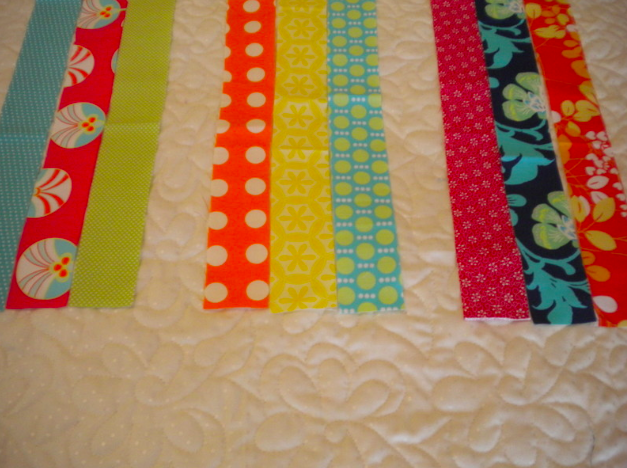 1 ½" strips ready to be sewn using strip set piecing for a scrappy 9-patch block.
To create a traditional 9-patch block using one dark and one light fabric, you will need one strip set pieced with a light, a dark, and another light. This unit will form the center unit for your 9-patch. You will also need to sew a strip set that is twice as long as the first, that is pieced with dark strips on the outsides and a light strip in the middle. You will use two of these units to create your 9-patch block.
Using strip set piecing also works when creating quilts made up of triangle, diamond, and hexagon shapes. Strip sets can be sewn together and then cut at an angle to create these designs according to pattern instructions. Using strip set piecing to create rows of diamond shapes is an effective way to deal with some of the bias—because the strips are sewn together before being cut on the bias there is less handling of those bias edges.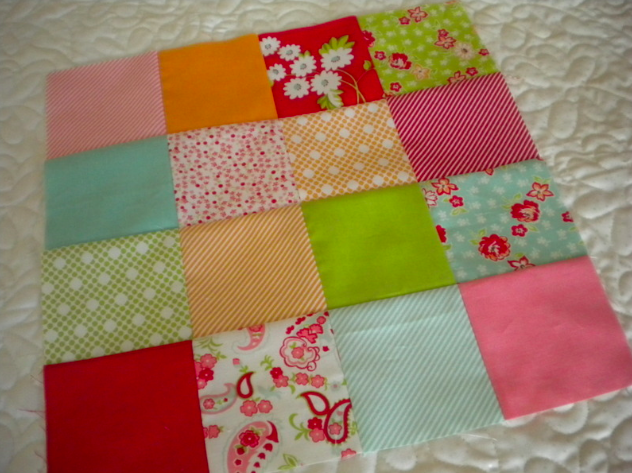 16-patch block sewn using strip set piecing to save time.

Finally, using strip set piecing is also a great technique that can be used for borders or border sections. Strip pieces of different widths can be used to create interest and variety.

You might also enjoy these fast and easy quilt patterns and speedy quilting projects.
How will you save time with strip set piecing in your next quilting project?