There are some must-have cake decorating tools that everyone needs. But sometimes, you'll find the most unexpected tools will really help you out! Here are 10 everyday materials that we use frequenly when decorating. You'll wonder why you never thought of them before!
10 everyday items to use for cake decorating
1. Ribbon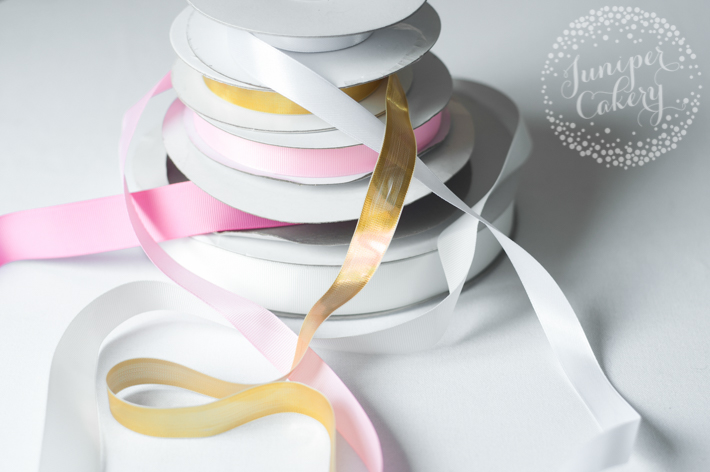 When you're working on repeated patterns or making sure a cake is a certain size, you may think to use a measure tape. But many measuring tapes are too stiff — you may not get accurate measurements or, worse, the tape might scrape or dent your cake.
This is where ribbon comes in handy! Buy an inexpensive reel of ribbon — one that won't be your go-to for trimming a cake tier or board. Use the ribbon as you'd use a measuring tape. Then, measure the ribbon length instead of the cake itself.
2. Surgical scalpels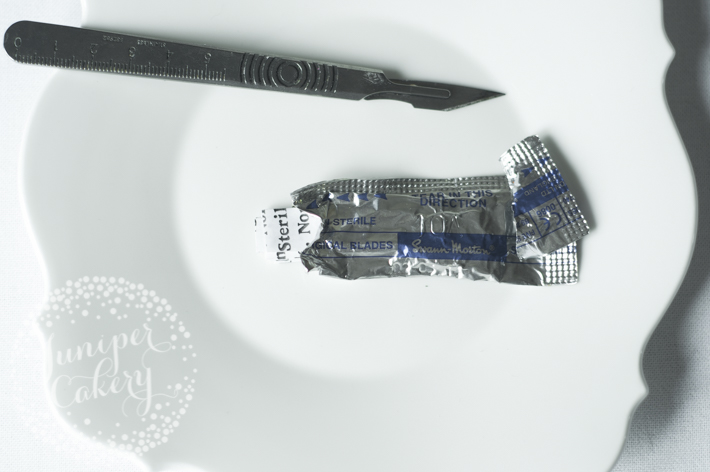 Craft knives are great, but we've found that surgical scalpels are even better for crisp lines and precision. We have quite a few in our drawers for when we need to hand-cut fonts or fondant detailing. They're handy for tidying the base of iced cakes, too.
You can purchase surgical scalpels on eBay or Amazon along with replacement blades for a few dollars.
3. Toothpicks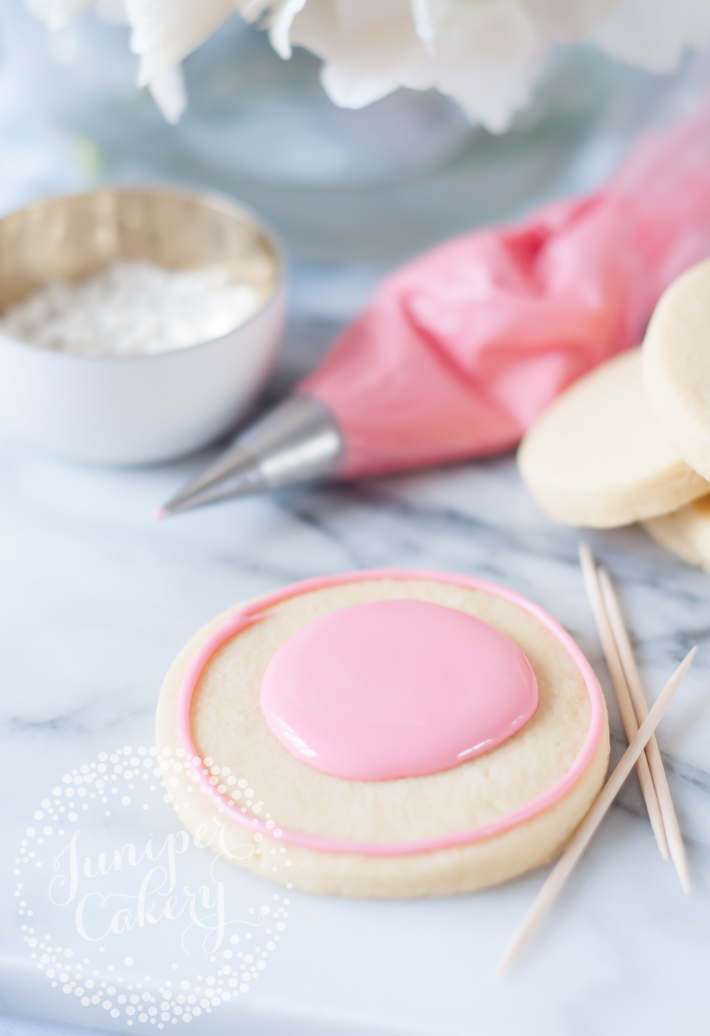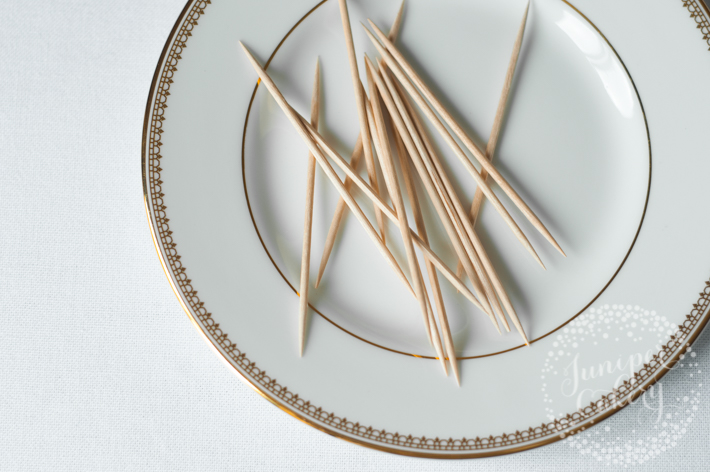 Toothpicks or cocktails sticks are oh-so handy. You can poke pesky air bubbles in royal icing, tidy up piped outlines, add details to gum paste characters and curl sugar flower petals.
4. Clear acetate sheets
You know those clear acetate sheets that were used with overhead projectors? Well, they're great for getting super sharp edges on fondant-covered cakes! They're thin and super flexible, which is perfect for the job.
Once you've iced your cake, use fondant smoothers to work your way around the cake, leveling the fondant on the sides and top. Then, using two small squares of acetate, gently push and sharpen the edges around your cake.
5. Nail art or makeup brushes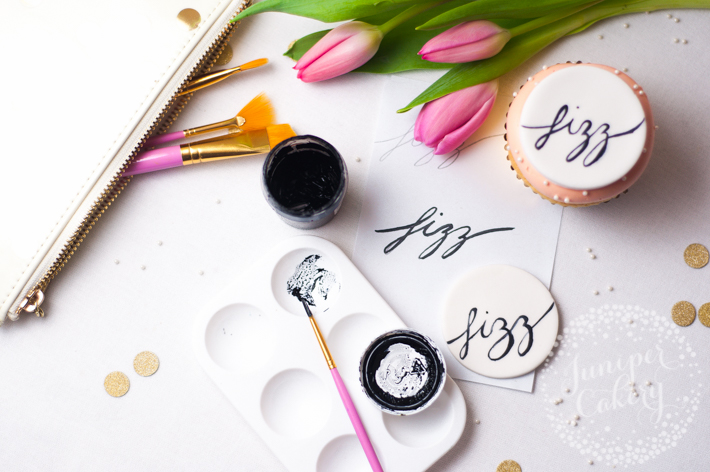 Normal paintbrushes are just fine, nail art or makeup brushes can help you with a range of styles and techniques. Nail art brushes tend to have tiny yet stiff bristles — perfect for small details and calligraphy. Kabuki-style makeup brushes are large and fluffy, which is ideal for dusting tiers liberally with edible luster dust.

Just remember: Reserve your makeup and nail art brushes for edible ingredients — don't cross-contaminate with real nail polish or makeup!
6. Egg cartons
You know you're one dorky cake decorator when getting your hands on a huge egg carton or new apple crate padding brings a smile to your face! They're wonderful for shaping gum paste petals, characters or leaves. The roundedness of apple packaging in particular is perfect for cupped peony petals and tulips.
7. Empty fondant buckets
Sometimes you need to work on a small tier up close. If you don't have a cake stand or turntable tall enough for you to be level with your work, an empty fondant bucket will do the job nicely! Remember to set your cake (board and all) in the center of the tub so that it's steady. 
You can also save those fondant buckets for separating huge batches of buttercream or saving off-cuts of tinted fondant.
8. Card making embossing mats and tools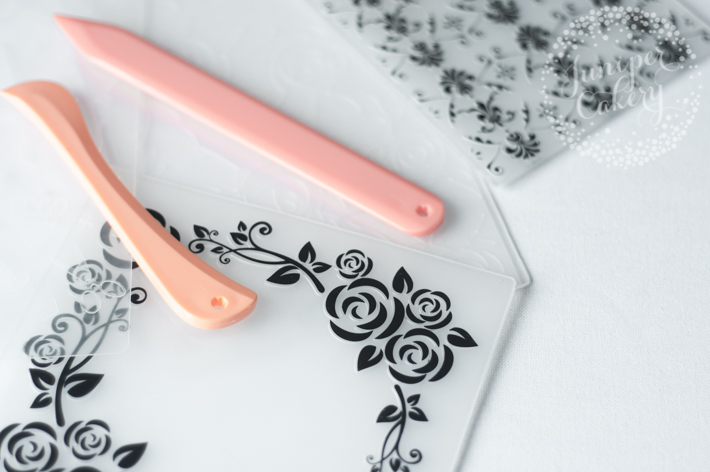 This is one of our favorite unexpected cake decorating tools! If you can't find a particular design or repeat pattern on rolling pins, molds or impressions, try searching through card making equipment!
We've sourced some great prints for embossed cake boards, such as weathered stone-work to repeat honeycomb patterns. You can also find card making tools like scorers that can add texture to fondant or help with sculpting characters.
9. Double-sided tape
Double-sided tape really helps when trimming boards for your cake designs. We've heard of some people adding dressmaker pins all the way around the board or glue-gunning ribbon and lace around an iced cake drum — all a little messy and possibly frustrating. Double sided tape is the easiest, quickest and more tidy way to trim a board. 
10. Unused condiment or sauce containers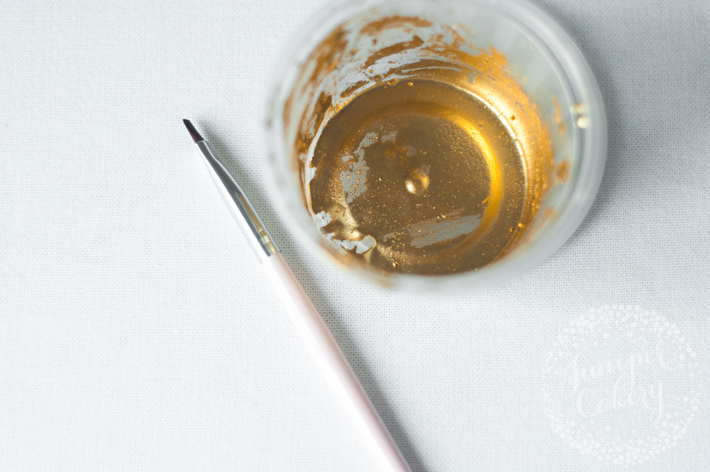 These little tubs (the kind you'd get with a takeout dinner) are great for mixing up colors! We use small sauce tubs when we're working on hand-painted cakes or gold and silver accents.
Make sure that you get them brand new — we buy them brand spanking new so there's no contamination. Choose the kinds with lids, too. When it's time to pack up for the day, we simple wash our brushes and put the lid on!
Stock Up on Go-To Cake Tools, Fast!
Find high quality cake decorating supplies for your next project, at the right price, right here on Bluprint.Shop cake essentials now »