These sea-themed cakes make a real splash! Under the sea is a fun theme to pull out in your cake decorating, as you can create are fun cakes for all types of occasions from weddings on the beach, to octopus themed kid's birthday parties and 1950s throwback under the sea retro dance parties. Little girls are wild about mermaids these days, too; I know I sure was when I was a kid.
Swim alongside as we take a look at some awesome under the sea themed cakes, starting now!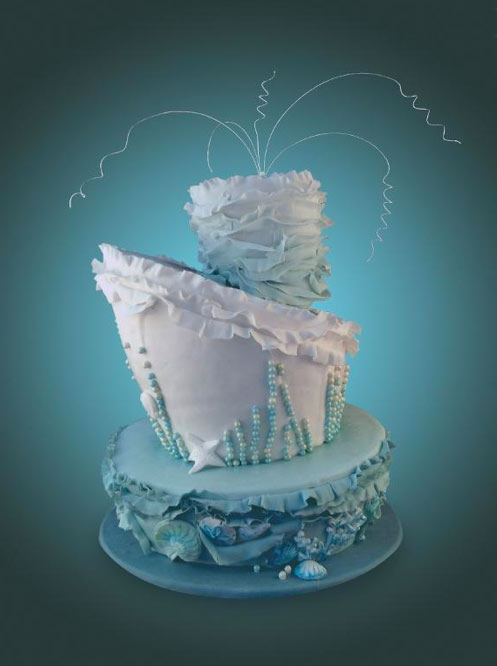 Ocean cake via Bluprint member karinagolovin
Topsy turvy under the sea cake:
This mystical magical aqua seafoam topsy turvy cake has so many whimsical underwater elements! From the shabby chic ruffles mimicking ocean waves to the pearlescent drageés climbing up like shimmery sugar coral, this cake has a fun and playful feel that can't be denied.
[box type="shadow"]Learn how to add shimmer to your fondant in our FREE downloadable Fondant Tutorial.[/box]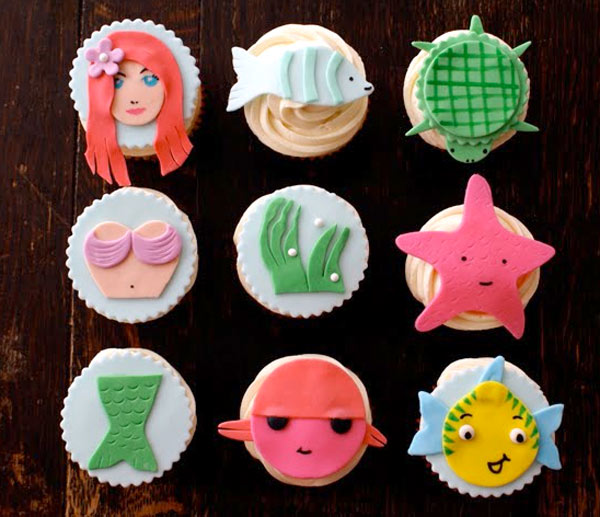 Photo via Coco Cake Land 
Mermaid and friends cupcake crew:
Mermaid maiden, seaweed, crab, fish, turtle, fishie and starfish buddies! This cupcake collection has all the elements that would charm and delight a little child for their under the sea themed birthday. My favorite is the three cupcake mermaid: like a magician's trick of the eye. The cupcakes are topped with fondant decoratives and edible marker.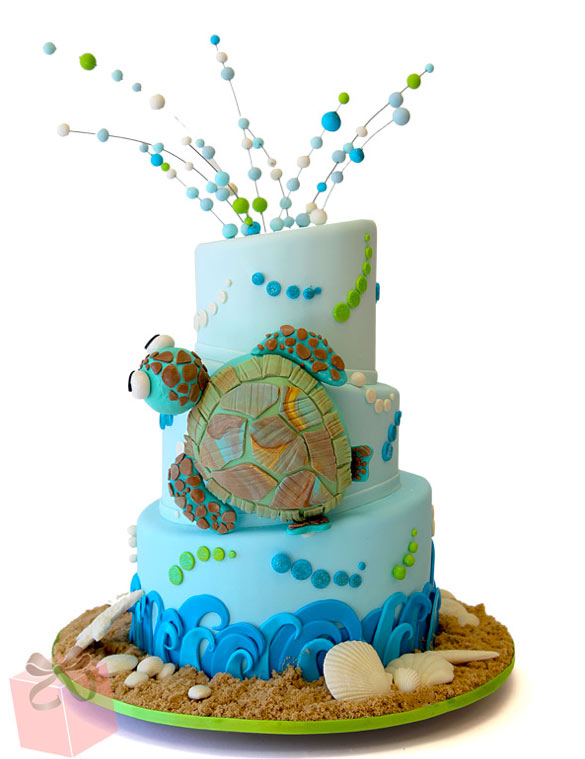 Photo via Pink Cake Box
Sea turtle cake:
I love this fun cake by Pink Cake Box with its whimsical fondant curly waves, "sandy" crumb beach and little fondant circles emulating bubbles. Of course, the sea turtle takes the cake– great texture on his shell spots.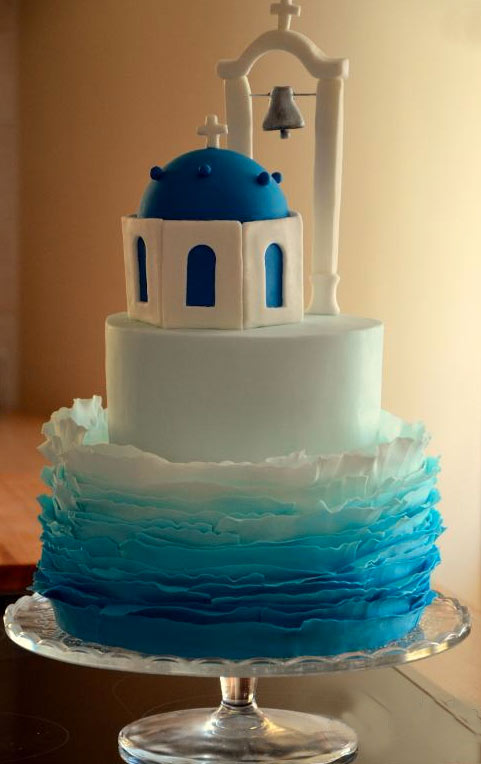 Photo via Give and Cake
Santorini Island ruffle cake:
I love the use of ombré fondant ruffles as rippling waves, don't you? Clever use of one cake tier as part of a church building, too. This cake just takes me straight to the gorgeous waters of Greece.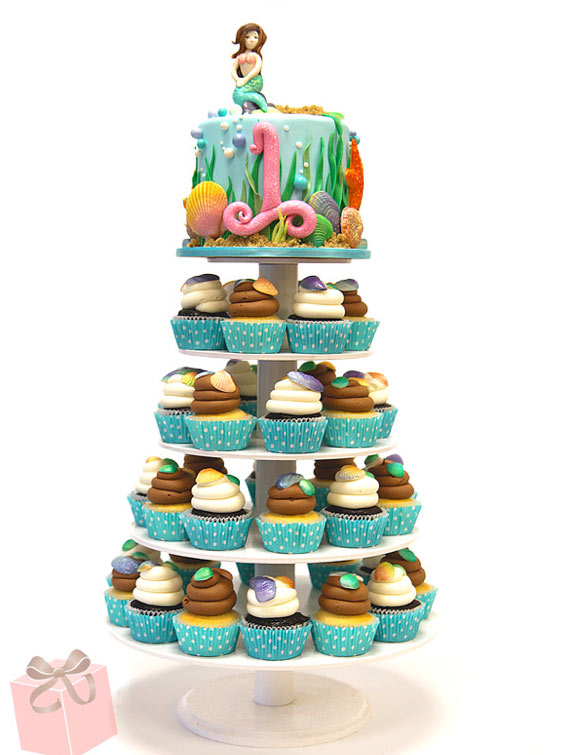 Photo via Pink Cake Box
Mermaid cupcake tower of power:
A pretty little sugar mermaid sits perched atop a tower of delectable looking cupcakes. This cupcake tower is complete with a cutting cake on top, just for the birthday girl. A fun and colorful mermaid theme done right, down to the adorable polka dot teal cupcake liners. I love the details on the cutting cake, such as the tentacle-like "1" and the varying sizes of sugar bubbles and twisting strips of green fondant "seaweed." It's always the little details add up to a great cake. One more awesome thing about this cake? You can learn how to make that adorable 3D mermaid topper right here, from the master herself, Anne Heap of Pink Cake Box, as she teaches Cake Topper Techniques: Figure Modeling on Bluprint!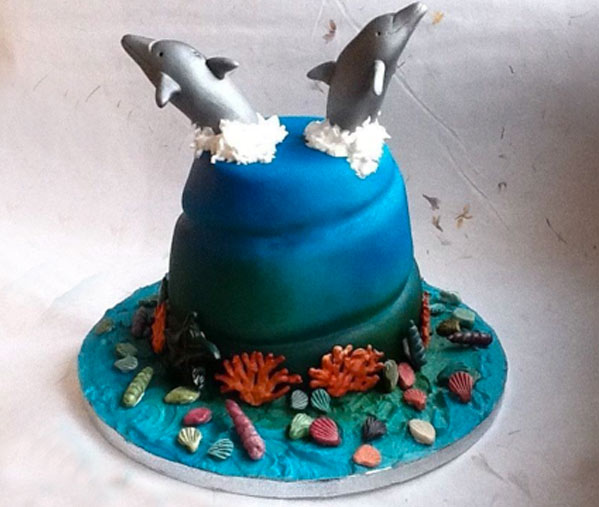 Dolphin Ocean Cake via Bluprint member simmilindsay
Awesome airbrushed double dolphin cake:
Double the dolphins, double the fun! These smiley sugar dolphins are splashing out of their airbrushed cake tier with the addition of ruffly buttercream – super cute! Also, can we talk about great airbrushing? I've never tried this technique but the color is so vibrant and spot on.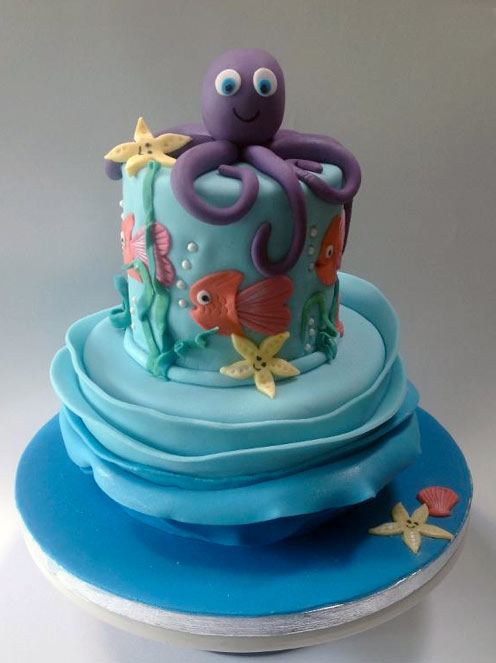 Under the Sea Cake via Bluprint member Suzanne O
Octopus topped under the sea cake:
Just look at that little purple sugar octopus: happy as a clam! (Well, an octopus). Another fun cake example of fondant frills acting as wavy ocean water. Candy drageés make excellent underwater bubbles, too.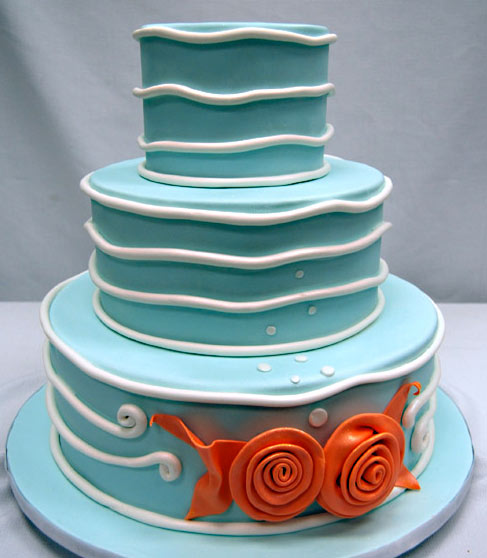 Photo via Pink Cake Box
Ocean themed wedding cake:
Light aqua blue fondant covered cake tiers, white fondant wiggly wave-like lines and varying sizes of bubbly underwater dots give this cake a fun subtle underwater theme. This cake is perfect for the bride who wants something more modern and minimalist, yet whimsical. The bright contrast of the orange rosette flowers is a nice touch too.
Perhaps you're wanting to learn some of the techniques some of these cake artists have used? How about airbrushing a cake? Check out Bluprint's brand new online class The Art of Airbrushing with Lisa Berczel, and don't forget to take a look at Cake Topper Techniques, which will walk you through creating fabulous figures to top your creations.
Do you have any cake secrets for giving cakes a cool under the sea vibe?