Pass me an icy cold coconut-laden drink and let that warm tropical rain shower down on me– yes please. If I can't travel to my beloved Hawaii or a hot and sunny tropical destination, I can always dream it in cakes, right? I should know: I had a tropical vintage Hawaiian themed wedding in the middle of January. In Canada. I love how a beautifully decorated cake can transport a guest and often be the centerpiece in carrying a theme, whether it's a wedding, bridal shower or birthday celebration.
Here's a collection of fun tropical themed cakes to inspire your next cake or party idea!

Photo via Petal and Posie Cakes
Stylized Hawaiian themed party cake:
I love this fun and colorful tropical two tiered beauty from Petal and Posie Cakes. Made for a sweet little one's Hawaiian themed first birthday, I really like the color palette they chose: two shades of blue, pink, orange and green with a modern graphic 1960s-look fondant hibiscus flower. The circle scalloped number topper adds a nice modern touch, too!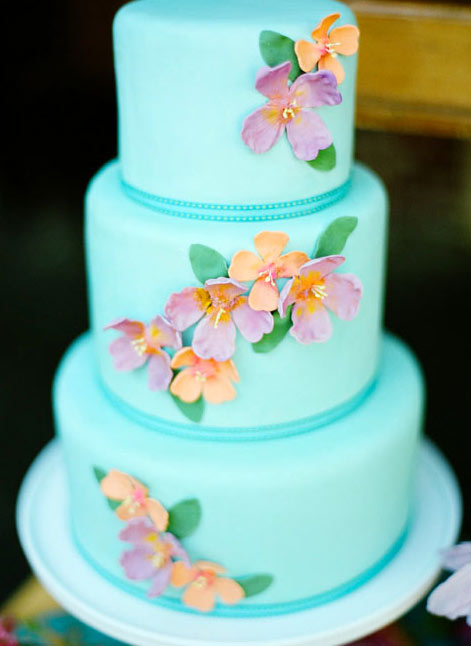 Photo via Elizabeth Ann Designs. Cake by Erica O'Brien Cake Design.
Tropical blue orchid cake:
I could just dive into this soothing aqua blue cake with its peach and lavender painted delicate orchid flowers. It's perfect for a tropical themed wedding! The colors reflect everything that is enticing about a tropical vacation including inviting turquoise water, the fragrance of sweet smelling flowers, and the brightness of the sun shielded by sunglasses lying on the beach. Heaven!
Want to add a bit of colorful orchid love to your cake? James Rossell teaches the art of making flowers that will wow in his class Exotic Sugar Orchids.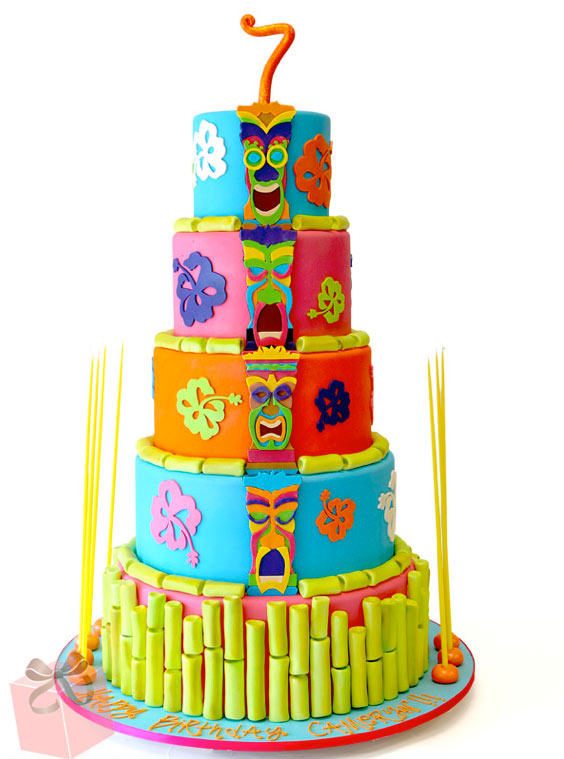 Photo via Pink Cake Box
Luau Hawaiian tiki cake:
Pink Cake Box rocked this tiki themed Hawaiian themed mega cake for a lucky 7 year old girl's birthday party! Vibrant colors and hibiscus flowers combine with tiki masks in kid-friendly bright hues to create a cake to remember.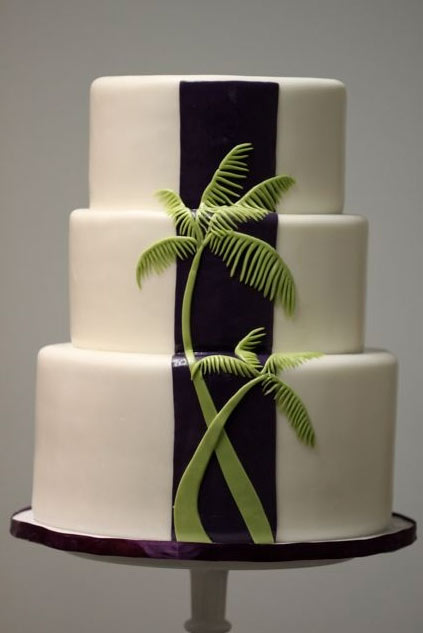 Photo via Sweet and Saucy Shop
Palm tree tropical cake:
This lovely and simple cake is perfect for the bride or client wanting something tropical yet modern and minimalist. Three white cake tiers with a dark ribbon of eggplant coloured fondant and the wind blowing the silhouette of palm trees in the breeze!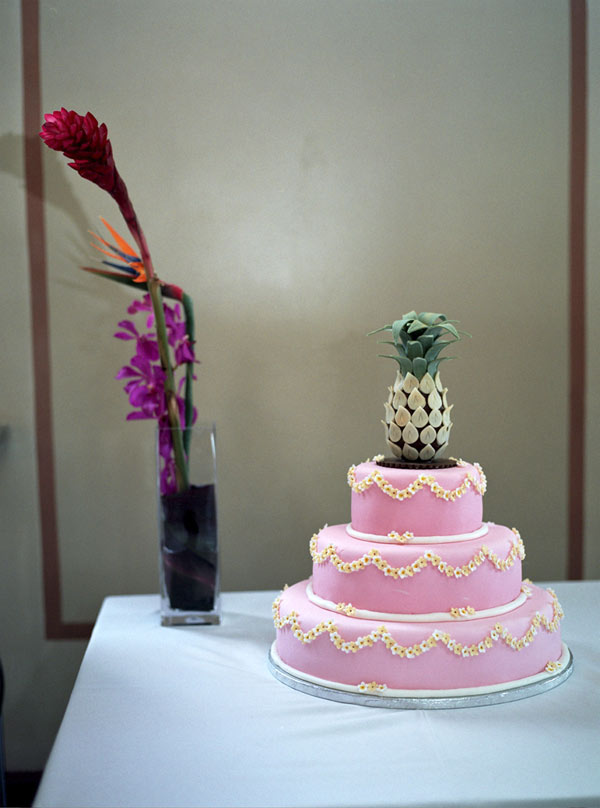 Photo via Jonetsu Photography. Cake by Ganache Patisserie.
Chocolate pineapple topped pink Hawaiian wedding cake:
I will always love this cake: it was my own wedding cake! This was before I knew how to bake or knew anything about cake decorating. I feel like nowadays there are so many amazing resources for making your own cake, including the growing range of exceptional classes Craftsy has to offer! Our wedding cake was vanilla cake filled with mango and covered in pink fondant and adorned with tiny flowers to resemble the traditional Hawaiian lei. The kicker was that it was topped with a giant chocolate Easter egg-turned-pineapple, with the clever addition of green fondant gold petal dusted leaves and yellow fondant teardrop shapes for the pineapple skin!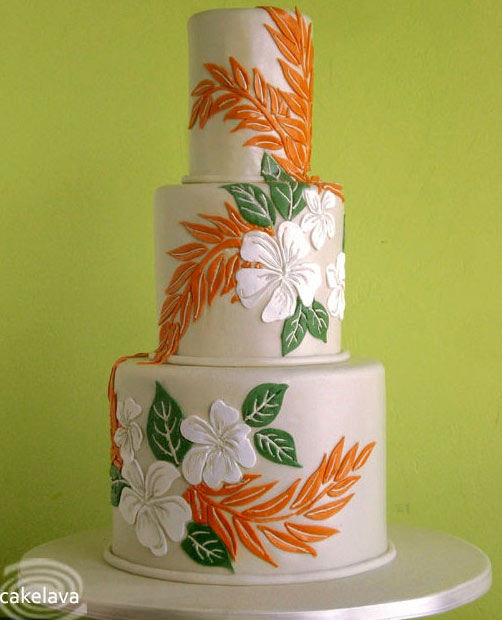 Photo via cake lava 
Aloha love wedding cake:
The wonderfully talented Rick Reichart of Cake Lava knows a thing or two about Hawaiian cakes, considering he and his wife have been making Hawaii's coolest wedding cakes for many years! This modern and fun hibiscus-loving tiered cake uses slightly unconventional colors. The flowers and leaves remind me of tattoo flash art.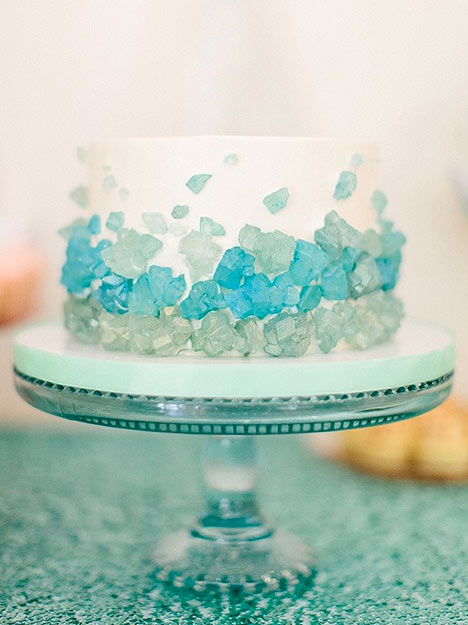 Photo via Sweet and Saucy Shop
Turquoise rock candy cake:
I love this simple application of clear, sparkly aqua and pale sage green coloured rock candy climbing up a single tiered buttercream cake. Doesn't the rock candy look like jewels and gems? Perfect for a tropical themed dessert table in a turquoise sea-watered color palette.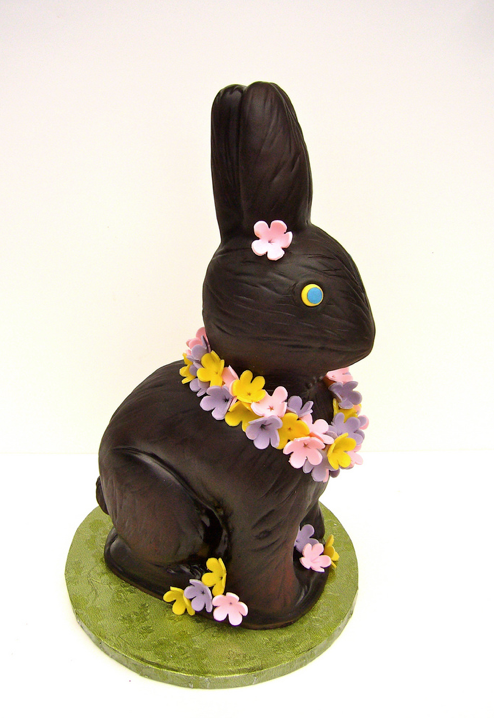 Photo via Amber McKenney/ Sweet on Cake 
Chocolate Easter bunny from Hawaii cake:
I had to include this cake from the amazing cake artist Amber McKenney of Sweet on Cake! I love the textured fondant and dark coloring of this bunny: it's the strong little details, such as the exact replica of the typical chocolate bunny eye, which lead the viewer to want to believe this is a chocolate bunny, not a cake. The pastel colored flowered lei and of course the flower in the bunny's hair give it the Hawaiian touch.
There are so many ways to do a tropical themed cake! For example, simple and modern, such as using tropical colored rock candy as accents, or silly and whimsical, such as putting a Hawaiian lei on a "chocolate" bunny.
How would you create the tropical cake of your dreams?