Surf! Sand! Sun! Summertime by the sea is totally sweet. But even sweeter still are these beach-themed cakes! Each one invokes the spirit of a seaside adventure, with styles ranging from breezy and carefree to sophisticated and chic. Will these cake ideas be a hit at your next occasion? You can bet your bottom sand dollar!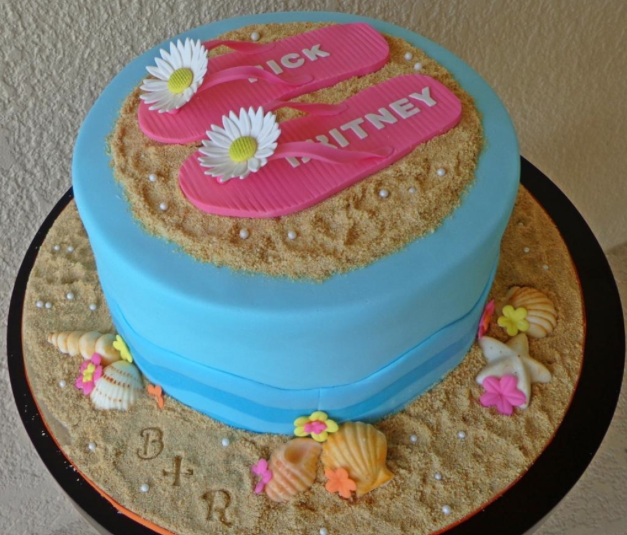 Photo via Bluprint member SweetCakebyDari
Flip flop cake: Inspired by a couple's wedding invitation, this lovely and lively cake really evokes a carefree, beachy vibe. The fondant waves were created using the Wax paper transfer method featured in Bluprint's Clean & Simple Cake Design. The topper pieces were made using modeling chocolate, and edible glue was used to adhere all the bits and pieces. The "sand" is actually crushed graham crackers, dotted with nonpareil pearls and white chocolate shells.

Photo via Pink Cake Box
Seashell cake: Seaside sophistication? Check! Topped with a light Tiffany blue shade of fondant, prettily dotted with pearly white piped edges and finished off with lovely chocolate shells and starfish, this cake would be right at home at a beach wedding or anniversary party.

Photo via Finger Licking Food Blog
Beautiful beach cake: Life's a beach when you cleverly configure a sheet cake into a beach scene! This effect can be created by icing a sheet cake all-over with a base or crumb coat; on part of the cake, adhere brown sugar or crushed graham crackers to form "sand"; on the other half, apply a coat of blue-tinted icing and using your icing spatula like you're an impressionist painter, create "waves" by flicking your wrist as you apply generously. Finish it off with seaside accessories fashioned from fondant or modeling chocolate, and you've got yourself a very sweet and summery treat!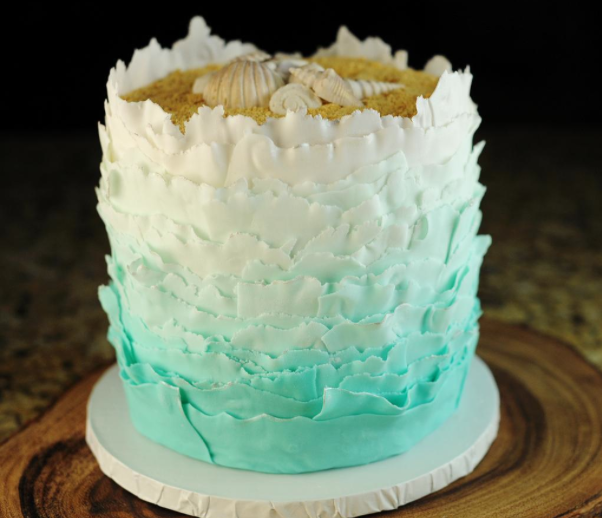 Photo via Bluprint Member drdubski
Ombré beach cake: Made following the Fondant Frills Bluprint class, this cake's ruffles form a color gradation which rather prettily invoke a seaside palette: sand, surf, sky, clouds. A topping of crushed graham crackers or brown sugar adorned with seashells forms a sandy centerpiece atop the cake which acts as a lovely focal point for the eye.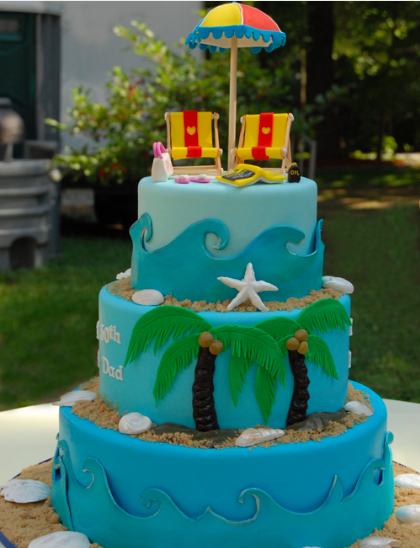 Photo via Clara's Designer Cakes
Tropical shore cake: The beach is about casual relaxation, a theme beautifully illustrated by this fun cake. While the tone of the cake is breezy, though, the cake decoration is serious business: molded shells and starfish artfully scattered on tiers of tropical blue fondant topped cake, complete with cute beach chairs, palm trees and an umbrella!

Photo via Pink Cake Box
Beach bear cake: Beach bums? Not on this cake: it features beach bears! This absolutely adorable cake features blue "waves" made from fondant on the blue bottom layer, a sandy-toned second tier with palm trees, pretty white bead piping around the edges, and adorable teddy bears decked out in their cutest tropical garb, sitting beneath a palm tree.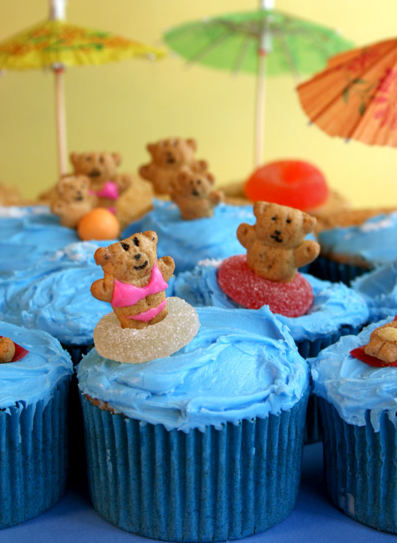 Photo via Bakerella
Adorable beach bear cupcakes: But wait, there are more beach bears, and this time they're sporty! On these beyond-cute cupcakes, a beachy theme can be created quite simply. Start by using solid blue cupcake liners, then frost your finished cupcakes with a wave of blue buttercream. Garnish with Teddy Graham snack crackers in jelly ring "inner tubes", or place round candies next to them to act as mini beach balls. Want even more cute points? Use royal icing to give them tiny bathing suits. Guaranteed to please a crowd and perfect for a party!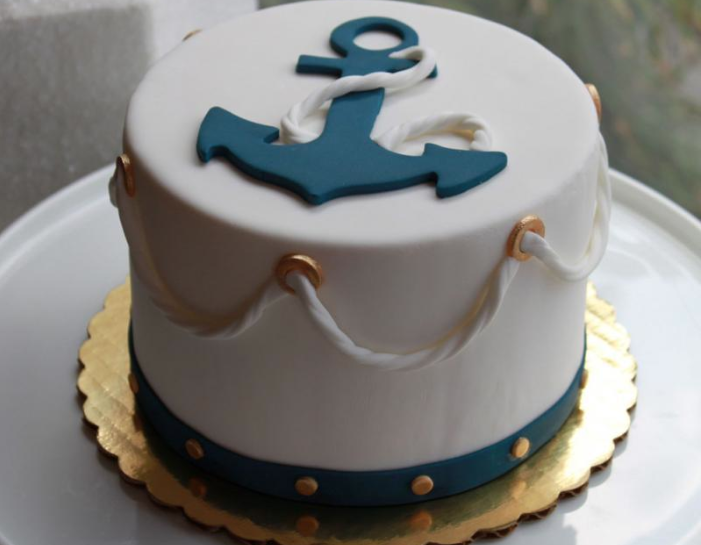 Photo via Whipped Bakeshop
Nautical cake: If you're looking for a classy way to convey a beach theme, consider a nautical cake. This white fondant topped cake features a blue anchor cutout, and is appointed with seafaring details such as "rope" looped through gold-tinted rivets and a blue strip along the bottom of the cake which echoes the color of the anchor. A simple but elegant cake, this would work well at a casual daytime affair but could certainly work well at a dressy event as well.
Now you're ready to hit the high seas of beach-themed cake decorating! Any of these sweet decorating ideas are shore to please the dessert-loving masses! Come back to the Bluprint blog later today to learn how to make waves for your cakes with a step-by-step tutorial.