Nothing compares to a classic, traditional quilt. These works truly are timeless pieces of quilting art. When sewn with precision piecing and high quality fabrics, traditional quilts can become family treasures — whether they are made via machine or are created via heirloom hand quilting techniques.
Do you love stitching up classic quilts? Here are 7 beautiful traditional quilt patterns available right here on Bluprint!
Photo via LRStand
Double Wedding Ring
In this pattern, the timeless Double Wedding Ring quilt is re-drafted to feature smooth, diamond shaped intersections. Make this a small wall hanging measuring 30" square, a king-size quilt measuring 104" square, or any size in between. Use your favorite fabric colors for a coordinated look, or pull out your scraps for a bit of variety.
Get the Double Wedding Ring quilt pattern.
Photo via AnniesQuiltCraft
Shimmering Star
The Lone Star is an easily identifiable, stunning design that is quite hard to miss! Here it is surrounded by floral appliqués that are finished with a blanket stitch. Complete instructions and full-size diagrams are included in this pieced and appliquéd quilt pattern. The final project measures 60" square.
Get the Shimmering Star quilt pattern.
Photo via jrimes
Sawtooth
The Lillie Dale Sawtooth is a twin-sized quilt that measures 63″ by 83". It is full of half-square triangles, but don't let those points scare you off! Careful trimming and pinning allow for a breathtaking quilt.
Get the Lillie Dale Sawtooth quilt pattern.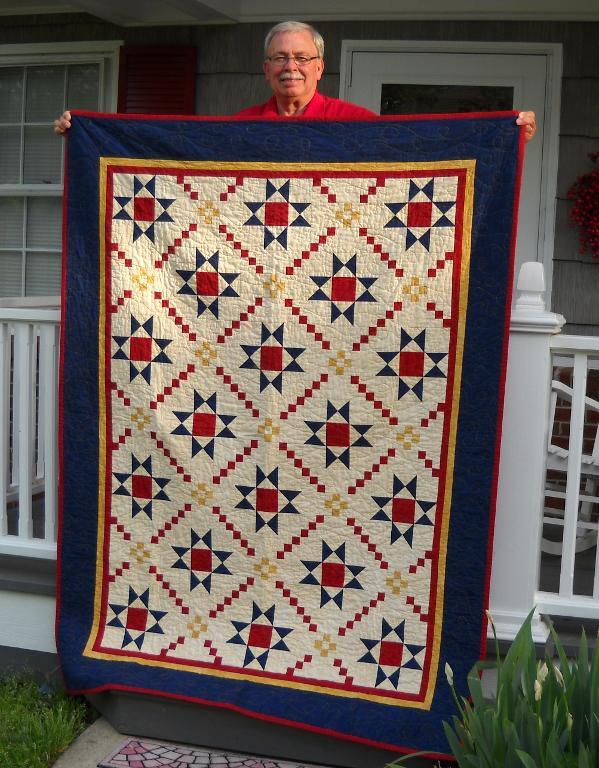 Photo via Sharon Deming

Medal of Honor
The Medal of Honor quilt was inspired by the designer's Heavenly Host pattern. It was designed to be a patriotic quilt for a friend and is made of several traditional blocks. Honor military members that you love with a patriotic quilt, or chose your favorite colors and prints for an equally eye-catching project.
Get the Medal of Honor quilt pattern.
Photo via PamelaQuilter
Irish Chain
The Irish Chain quilt is quite dramatic, isn't it? All of those small pieces suggest difficulty, but simple and fast strip-piecing techniques make this quilt quite easy to sew. This pattern provides plenty of practice when it comes to careful rotary cutting and precision piecing.
Get the Floral Irish Chain quilt pattern.
Photo via DianaBeaubien
Friendship Log Cabin
Friendship blocks and log cabins make a gorgeous pair! Pull out your smallest scraps for this value quilt. Two sizes, queen and twin, are included in the pattern.
Get the Grace's Friendship Log Cabin quilt pattern.
Photo via Maritza Soto

Drunkard's Path
Conquer your fear of sewing curves with this fresh interpretation of the classic Drunkard's Path. It is much simpler than you might imagine! Sewing curves really can be easy and fun. The finished quilt measures approximately 48″ by 72″, though the size can be easily modified.
Get the Modern Drunkard's Path quilt pattern.
What are your favorite traditional quilting patterns?