First birthday parties tend to get all the glory, but two-year-olds deserve incredible birthday cakes, too! Today, we've got the scoop on the sweetest toddler birthday cake ideas, guaranteed to blow the minds of kiddos and adults alike. From gravity-defying cakes created with fondant and modeling chocolate, to fancy frilly buttercream beauties, we've covered it all in this unforgettable roundup.
Find the perfect cake to make to tickle any toddler's fancy!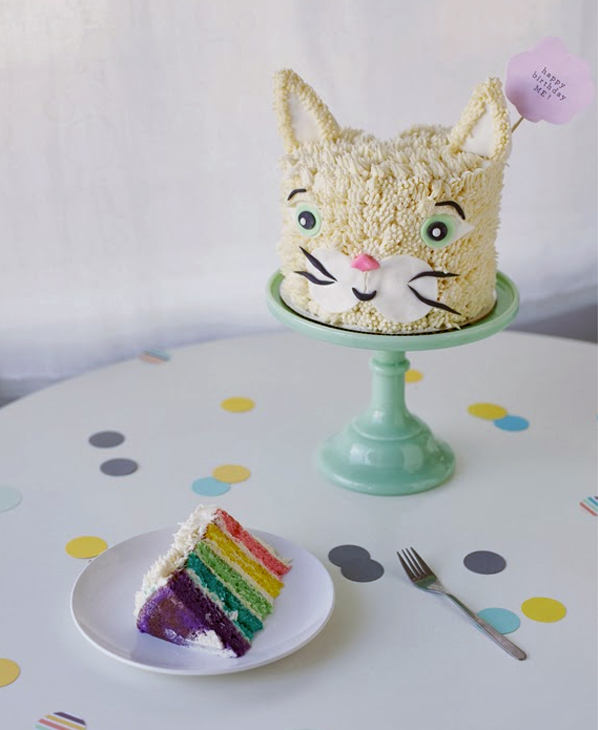 Photo via Coco Cake Land
1. Kitty cake with rainbow layers:
What toddler wouldn't go bonkers for a cake that features a cute cat face exterior and bright and fun rainbow layers on the inside? First indulge yourself in the outside surprise, and then when you cut into it, unearth even more magic! This is definitely a birthday cake to remember.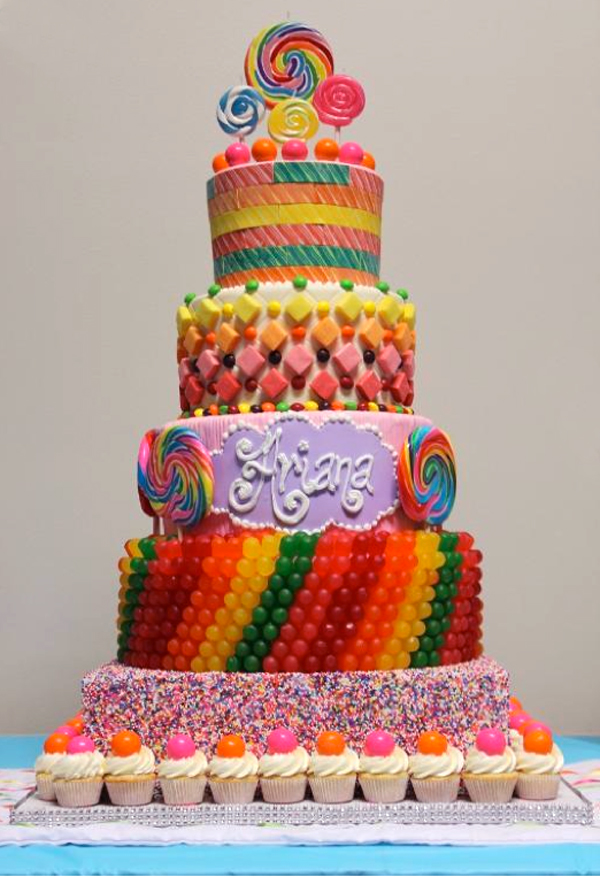 Candy Cake via Bluprint instructor Joshua John Russell
2. Rainbow candy explosion birthday cake:
This is such a fun and well executed idea. Why make every single decoration when gorgeously colored, super bright and adorably shaped candies can do the trick? I love how Joshua John Russell, instructor of the Bluprint class Fashion-Inspired Fondant, created modern yet vintage-look graphic patterns using oodles of candy. The perfectly symmetrical candy ball topped cupcakes surrounding the bottom tier remind me of little cupcake soldiers protecting the candy tower. I think it's safe to say the birthday girl was on a sugar high after this!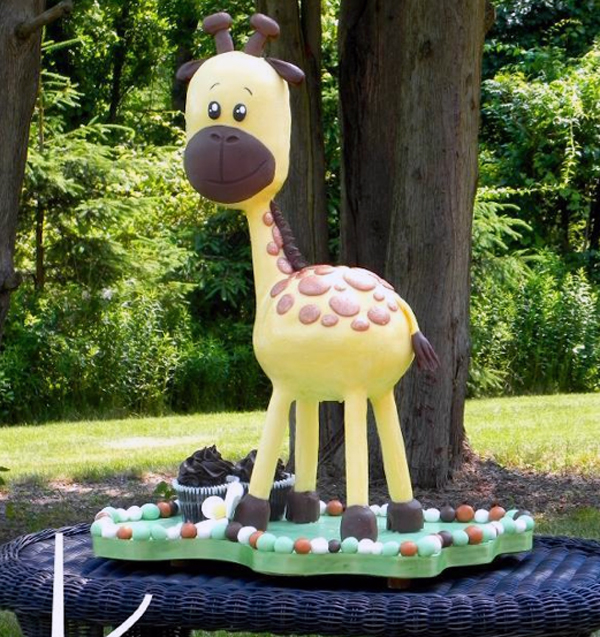 Giraffe Cake via Bluprint member Kara Jean 
3. Giant 3D happy cartoon giraffe cake:
Just imagine the "Oohs" and "Aahs" this amazing giant sculpted giraffe cake would elicit from any crowd. It's absolutely adorable that the giraffe gets to eat cake too: those giant chocolate cupcakes must taste dreamy! What a clever way to add more servings to a cake. Cake artist Kara Jean created this wonder out of sculpted sponge cake, buttercream, ganache and modeling chocolate, after learning new skills in the online Bluprint class Advanced Cake Sculpting with Mike McCarey.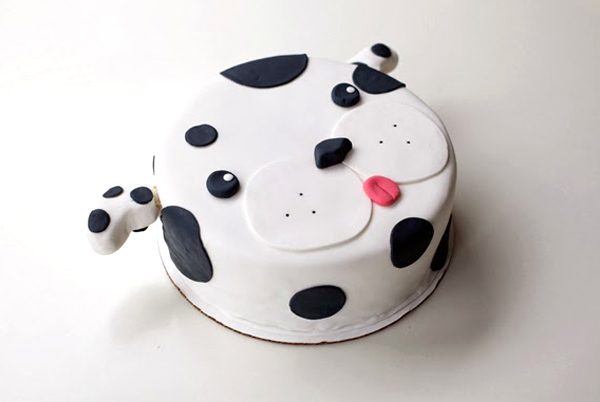 Photo via Coco Cake Land 
4. Spotty the dog dalmation birthday cake:
This sweet and spotty dog cake is perfect for the little canine lover in your life! Dog cake designs are always popular, and this happy-go-lucky puppy is iced with buttercream, and covered and decorated with fondant. Enjoy the full tutorial here.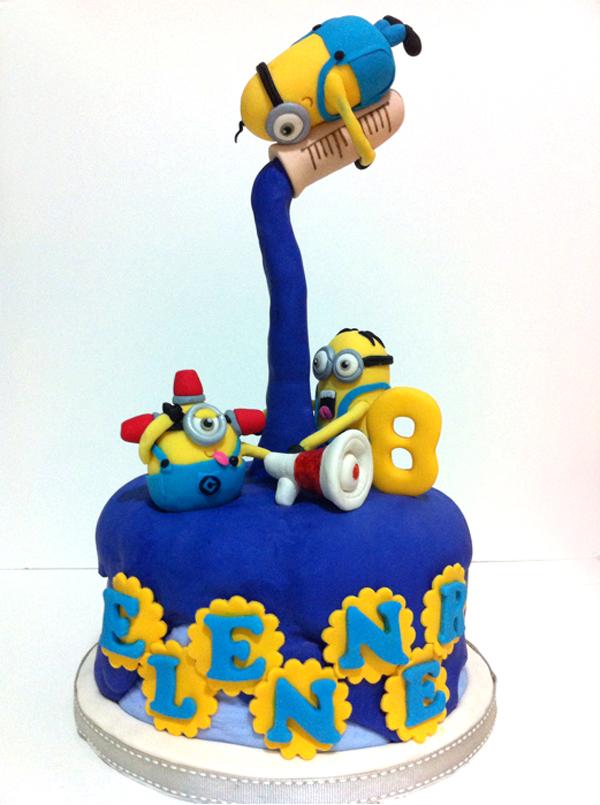 Minions cake via Bluprint member Zesshale 
5. Gravity-defying minions mischief birthday cake:
This vibrant cake was crafted by Bluprint member Zesshale as part of Lauren Kitchens' popular online Bluprint class Gravity Defying Cake Designs. Zesshale created a playful mischievous cake, with electric blue "chemicals" pouring down, and crazy minions wreaking havoc.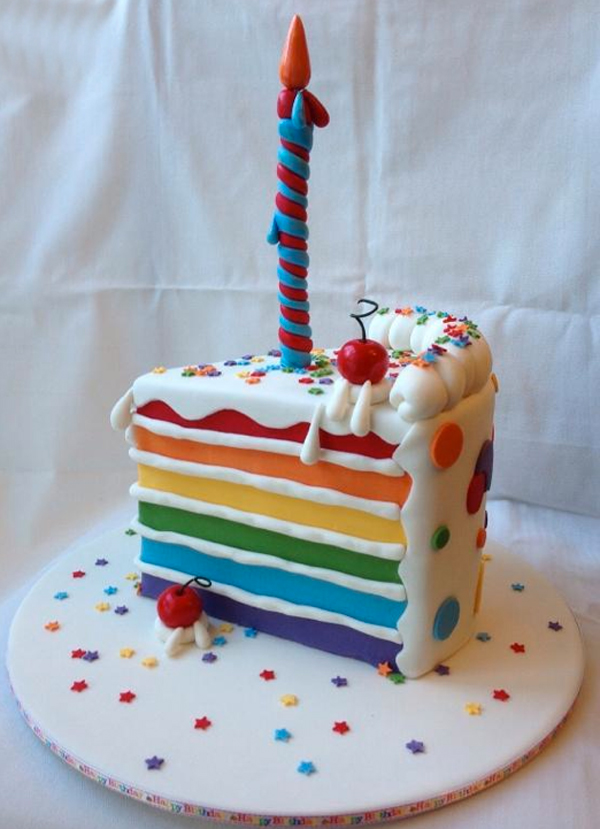 Rainbow Cake via Bluprint member Diana Taylor
6. A big slice of rainbow cake:
This fun and colorful cake has all the fixings to delight a little one on their birthday including a brilliant, bright cartoon-look. This fondant-covered rainbow cake features a real rainbow of cake layers inside too! The dripping birthday cake candle and white icing gives the cake a fun animated feel. Shiny cherries and multi-colored star sprinkles round out this energetic slice of rainbow heaven.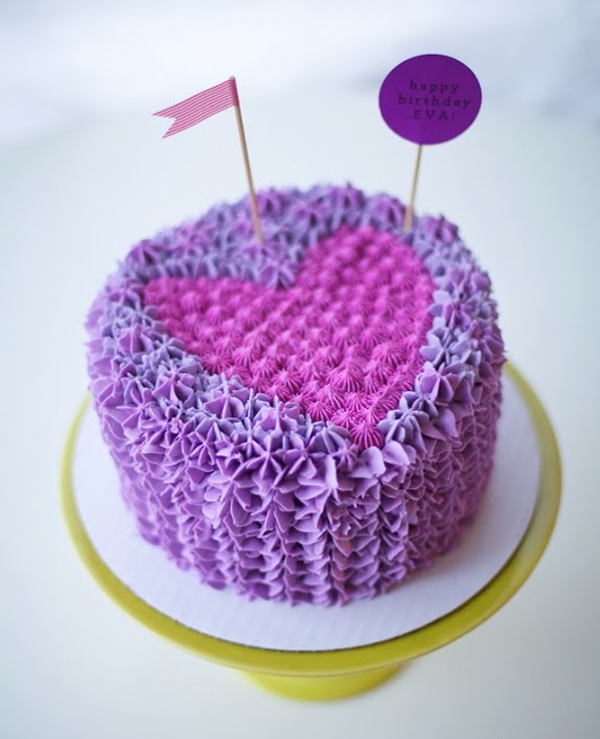 Photo via Coco Cake Land 
7. A purple princess heart ruffle cake:
This pretty and vibrant purple and pink ruffled-heart buttercream piped cake has all the fixings of a princess party: a feminine color palette, frills and a pink heart. An example of a fun, simple cake that would fit right in amongst the tiaras and gowns at a modern, sweet princess-themed party. Find the full tutorial here.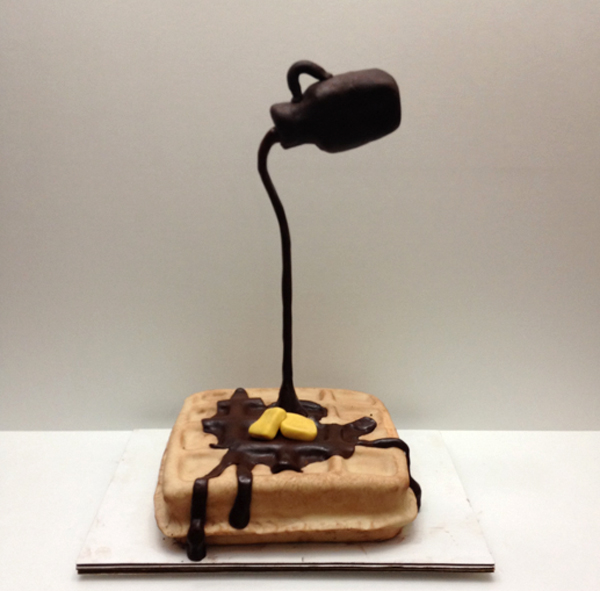 Waffle cake via Bluprint member Taifiq
8. Chocolate syrup and waffle 3D cake:
This cake mimics a perfectly toasted Belgian waffle, dripping with freshly poured chocolate sauce and pads of yellow butter. What a fun gravity-defying cake this would be for a "faux food"-themed toddler party! Be sure to check out our post on junk food cakes for even more party snack ideas.
Here's hoping you now have some sweet ideas for your little one's next fabulous fête!
What are some of you favorite toddler birthday cakes you've designed or seen?