Let's be real — altering knitting patterns is no fun. When we get ready to cast on for a new project, we're super pumped. The last thing we want to do is sit down and think about boring things like math, sleeve caps and bust darts. But why devote so many hours to knitting something special if it's not going to fit well when you finish? Altering knitting patterns is a necessary evil.
The good news is that after altering a few knitting patterns, the task won't be such a pain. While not every knitting pattern is the same, you'll get to know your body and know where you need more shaping or less length. You'll know whether your long arms require a little more length in the sleeves or whether you need to make a bit more room for your hips.
Next time you start a new knitting project, keep in mind a few of these tips for altering knitting patterns to knit a garment you'll actually wear.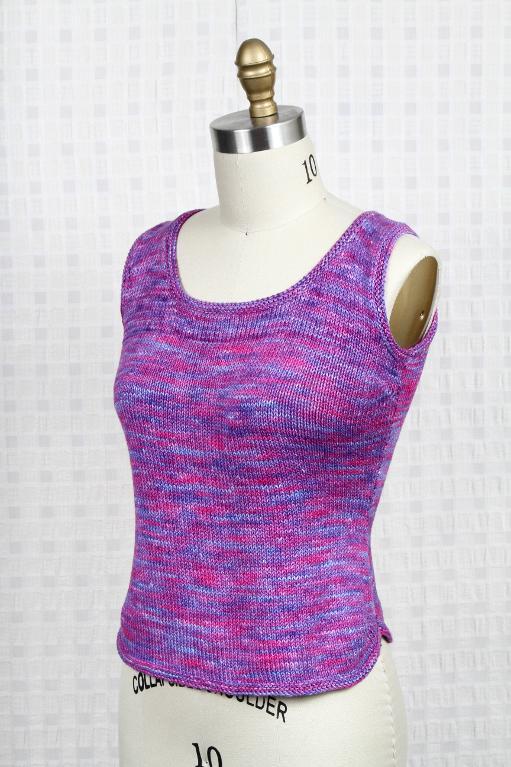 Photo via Craftsy intructor Joan McGowan-Michael
1. Unify two different sizes.
Obviously, not every gal's bust, hips and waist are going to be proportioned the same. If you want the perfect fit for your body, altering knitting patterns is completely necessary. One trick for doing this is to unify two different sizes of the same sweater.
This technique can be a little tricky, but you can get step-by-step help for doing it (and create the Shapely Tank pictured above) in Craftsy's Feminine Fit: Bust-Shaping Techniques class, taught by fashion designer Joan McGowan-Michael.
2. Use an existing pattern for help.
Every now and then, we come across that one glorious pattern that fits us perfectly. If you have discovered one of these patterns for yourself (lucky you!) then take a good look at it. What makes it fit so well? Is it the silhouette? The darts? The shaping on the sides? See if you can apply some of those flattering features to the pattern you're currently working with.
3. Make a checklist.
In Knit to Flatter, instructor Amy Herzog provides her students with a Perfect Sweater Checklist. This checklist covers everything Amy teaches in her class — modifying darts, shaping, ease and more — and puts it in one handy place so that each time you want to alter a pattern, you can refer to that checklist. It's also smart to make notes on past modifications you've made to patterns, in case you decide to use that pattern again.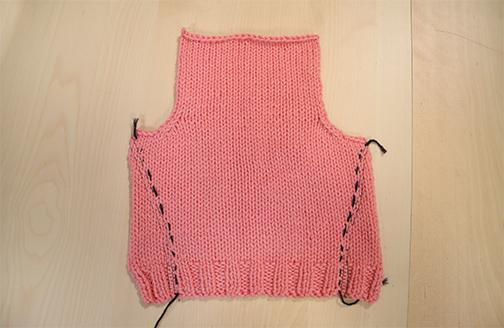 Photo via Craftsy instructor Carol Feller
4. Alter even after you bind off.
Sometimes we don't see that a pattern needs an alteration until after we've knitted it. But guess what? No need to rip out that sweater. There are ways to shape, shorten, lengthen and more even after you've completed the project.
Carol Feller shows us plenty of examples of altering knitting patterns post-knitting in her class Sweater Surgery. Check out Carol's technique for adding some shaping to the side of a too-boxy sweater in the photo above, and enroll in Carol's class to learn even more of these tricks.
5. Work top-down.
Top-down knitting patterns are great for altering because you can try on the piece as you knit. If there's an adjustment that you need to make, you only need to rip out a row or two, as opposed to an entire sweater.
For practice working top-down, check out The Top-Down Icelandic Sweater with Ragga Eiríksdóttir. Ragga's step-by-step guidance will be there along the way, so you can't mess this one up!
6. Take your body measurements one more time.
Sometimes I knit a sweater, only to finish it and see that the fit isn't what I thought it'd be. And sometimes the reason is that I've lost (or gained — bleh!) weight. Before you begin a new project, double-check your body measurements. I know this isn't fun, especially if you're doing it after a holiday or other binge-eating celebration, but you'll be happy you did when your sweater fits perfectly.
Do you alter your knitting patterns? What types of adjustments have you made?