Ever heard the saying "Measure twice, cut once" in sewing? The same applies to knitting. Measure twice, knit once!
Taking body measurements isn't fun for anyone. But you're going to work really hard on that knitted garment, and you want it to fit perfectly. For knitters, unraveling a sweater is probably way worse than finding out you gained an inch in your hips.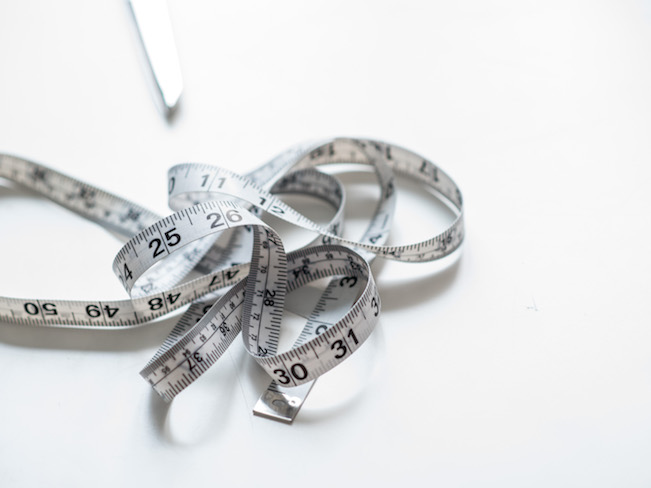 General body measurement tips
Here are a few things to keep in mind when you're measuring:
Strip down to your undergarments! This will give you the most accurate measurements. If you measure yourself while clothed, this could add extra bulk.
Wear the bra you plan to wear under the garment when measuring. Bras can give you different results, depending on whether they're padded, how well you're lifted, how tight the band is, etc. Wear the bra you think you'll wear most often with that garment for the most accurate bust measurement.
An exception to measuring without clothing on: If you're knitting something that you'll wear over another article of clothing. For example, if you're knitting a cardigan that will go over a camisole, wear the camisole when measuring.
Have a close friend help you take the measurements. I stress the word "close," especially since you're gonna be in your undies!
Remember that your bust measurement has nothing at all to do with your bra size. If you wear a 34B, for example, that doesn't mean that your bust measurement is 34″.
Don't want to strip down and take measurements every time you knit? Be sure to record your measurements so you can refer to them for the next knitted garment. If you get ready to knit again and know you've either lost or gained weight, you should record your new measurements. If your body is pretty stable in terms of weight, it's still smart to take measurements at least once a year, because your proportions can shift, even if your weight hasn't changed.
Did you know that measuring tapes can stretch? Be certain your measuring tape is up to snuff. Fiberglass is the most reliable tape and won't stretch like a cloth tape.
Even more body measurement help
The Craft Yarn Council has a wonderful detailed page on standard body measurements, even covering the smallest details in arms and feet. This is a great guide for knitters who aren't exactly sure where to measure.
Find that most of your fitting problems are happening in the bust? Check out Feminine Fit: Bust Shaping Techniques with Joan McGowan-Michael to learn how to adjust the neck, shoulders, waist length and more — all contributors to a flattering fit.
More fitting skills await you in Knit Lab: Fit Your Knits with Stefanie Japel, where you'll get all the info you need on getting the perfect fit and even adding bust darts!
Come back to the Bluprint blog tomorrow for a colorwork knitting tutorial!
Do you always take your measurements when knitting clothing, or do you just guess at the size?