Tiffany & Co. are famous for a few different elements, which just happen to make a lovely design for a cake! So, for this tutorial, we've incorporated three things everyone will associate with the iconic brand — their striking Tiffany blue color, fine pearls, and those sumptuous white bows that adorn their blue jewelry boxes!
Cakes are always quite the luxurious treat, so we love the idea of making this wonderfully elegant (yet so simple to decorate) Tiffany & Co cake for Mother's Day! But with a subtle glamours design and classy details, this cake would make a lovely addition to a bridal shower, sweet 16 and more.
A classy cake for classy ladies. Here's how to make a Tiffany & Co cake!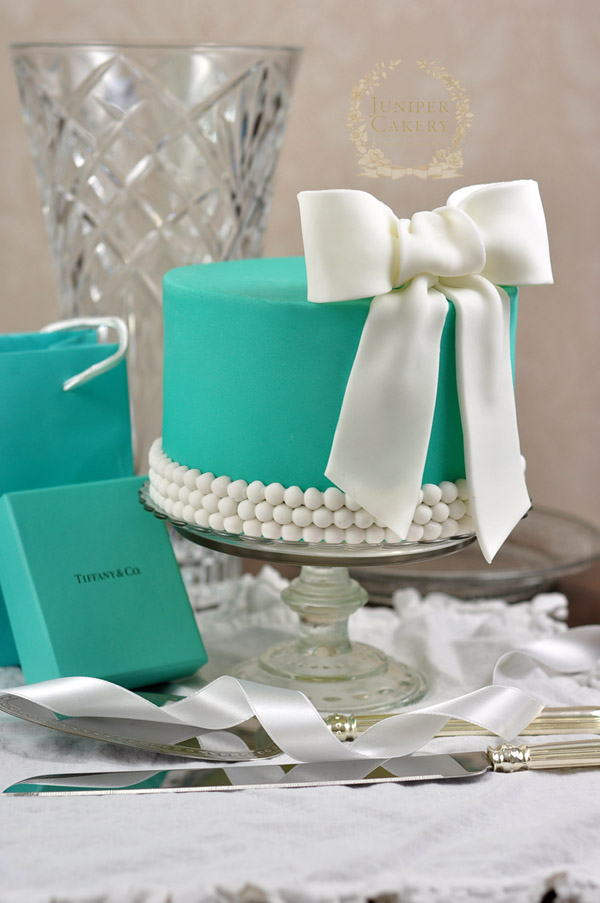 All photos via Juniper Cakery
Materials needed:
Cake filled, stacked and iced in a Tiffany blue colored fondant (see tip below)
White gum paste
White fondant
Cornstarch to dust
String of pearls mold
Small sharp knife
Plastic wrap
Edible glue
Royal icing or melted white chocolate
[box type="shadow"]

Decorate unforgettable cakes, without the years of practice. Use the secret waxed-paper transfer method to apply impressive designs, like chevrons, with zero frustration in Jessica Harris' online cake decorating class Clean & Simple Cake Design.

Sign me up! >>

[/box]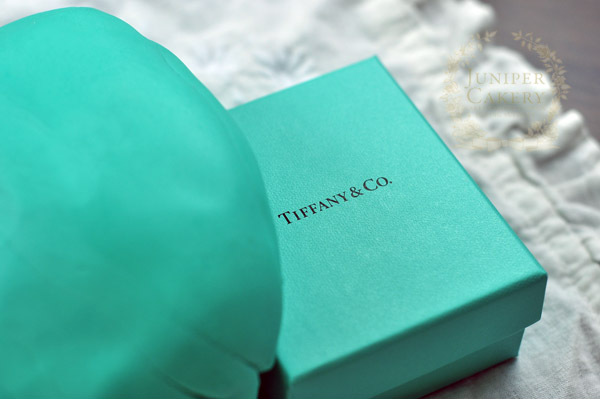 Tip: Creating Tiffany blue fondant
If you're having a problem getting the perfect shade of Tiffany blue, which can be a little tricky, our top tip is to use Americolor's Teal with a little bit of Americolor Sky Blue and Electric Green. Remember to begin tinting your fondant little by little, as it's so much easier to add a bit more color to get the right tone than to remove or add in more white fondant later.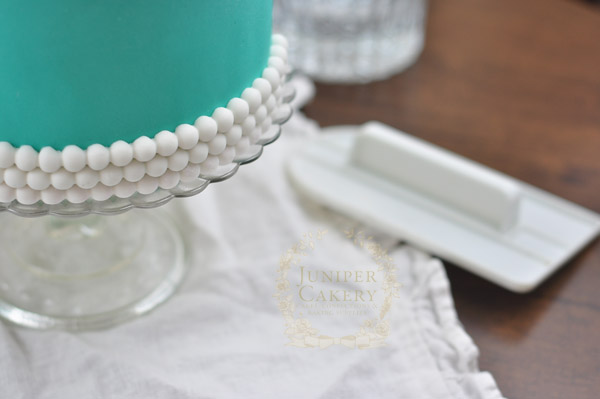 Step 1:
Roll out some fondant into your string of pearls mold and cut any excess away with a sharp knife. Attach three layers of pearls around the base of your Tiffany blue cake with some edible glue.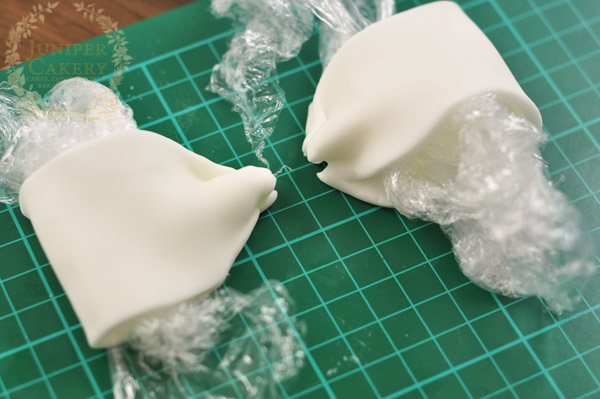 Step 2:
To add a lovely crisp white bow perched atop of your cake begin by rolling out some white gum paste and cutting out two rectangles approximately 2 inches in height and 4 inches in length. Fold each in half with a wad of plastic wrap inside and pinch the ends with a little edible glue to create a soft fold.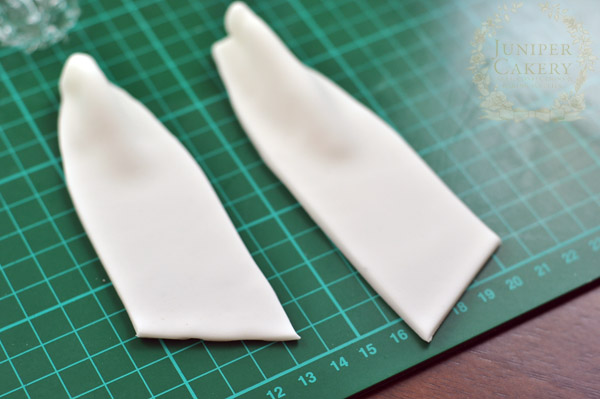 Step 3:
To make the tails of your bow roll out some white gum paste and cut out two long rectangles approximately 1 1/2 inches in width and 4 inches in length. Use a small sharp knife to trim each tail with an angled slant.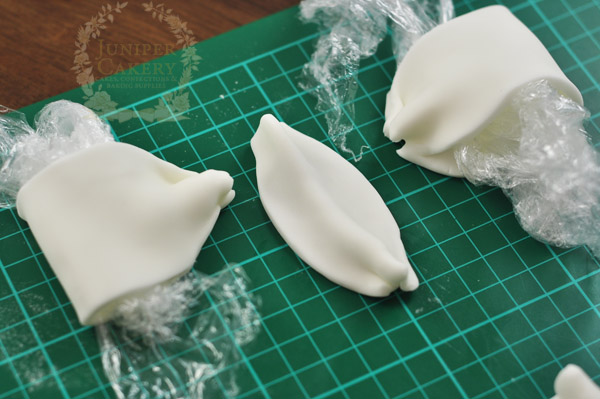 Step 4:
To make the center band of your edible bow roll out some gum paste and cut a small rectangle around 1 1/2 inches in width and 2 1/2 inches in length. Pinch each end to give the piece some shape.
Attach the two looped sections of your bow made in step 3 with royal icing or melted white chocolate before adding the small rectangular band around the center.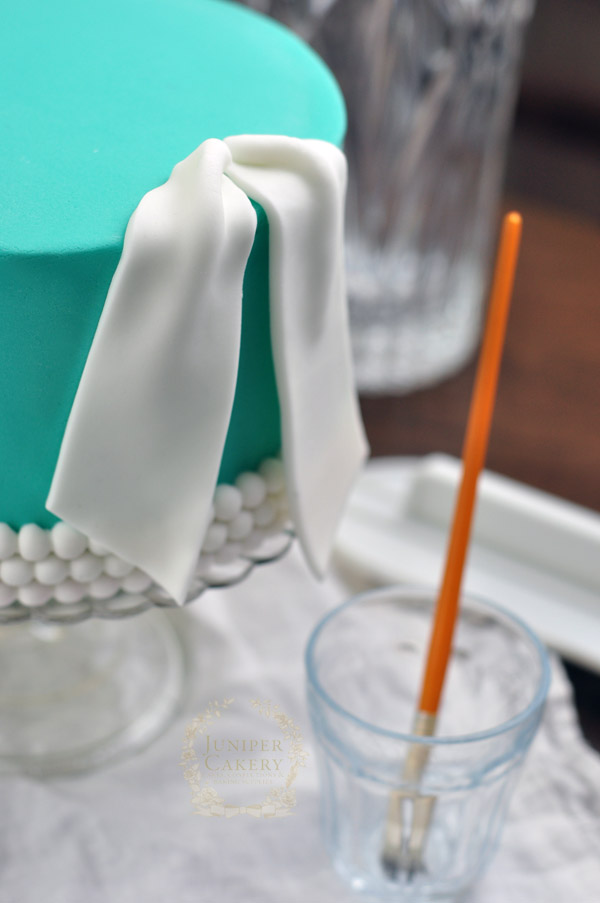 Step 5:
With some edible glue attach the bow's tails to the side of your cake. Sit them just on the edge and let them naturally hang down and make sure that the angled/slanted tips face opposite each other. You can add a little bit more shape by gently pinching the tails to make a bump in the center of each. A great idea for a more carefree styled bow is to cut each tail a slightly different length. For our bow we cut one of our gum paste tails an inch shorter.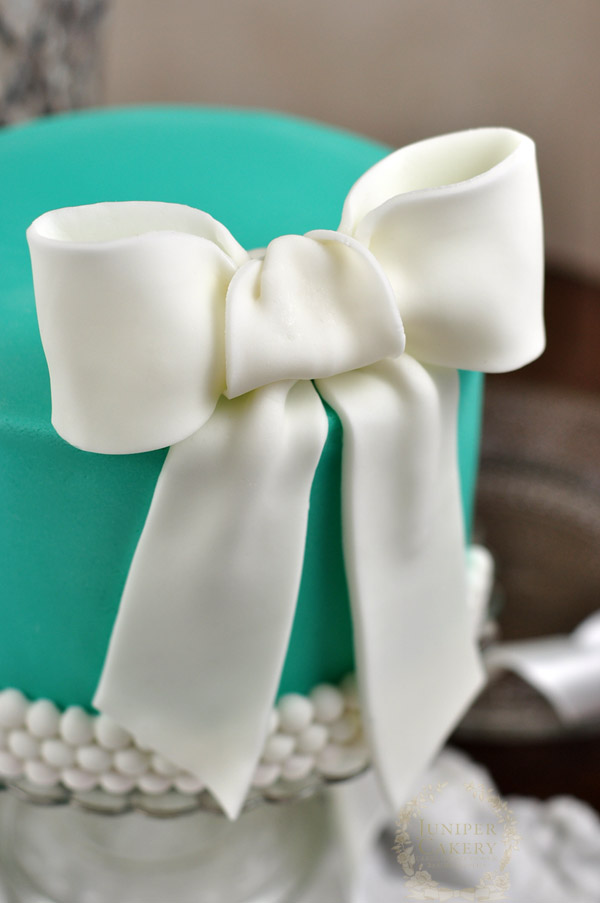 Step 6:
Arrange the other pieces of your bow on top of the tails and secure in place with royal icing or melted white chocolate.
Voila! You should be left with one eye-catchingly sophisticated cake. You can personalize this design further with so many brilliant ideas from adding a fondant gift envelope and message, isomalt jewels scattered around the cake board, extending the ribbon further by adding strips down the sides for a tied-up look or creating gum paste jewelry to adorn the top of the cake!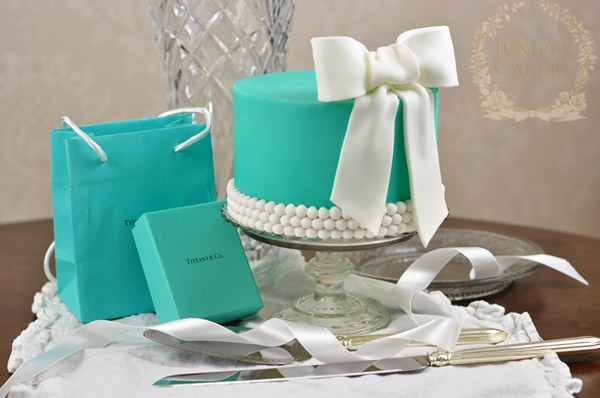 What jewels would you love to create and add to this cake?