With summer comes delicious picnics and wouldn't it be wonderful to plan and create a teddy bear picnic for kids or for fun-loving grown-ups too!
We simply love the idea of sandwiches cut with teddy bear cookie cutters, honey and berry (or beary) flavored snacks and to complete the feast some adorably sweet teddy bear decorated cakes and cupcakes! For some inspiring cake and cupcakes that won't leave your imagination bear read on!
Five adorably fun teddy bear cakes and cupcakes — perfect for summer teddy bear picnics and parties!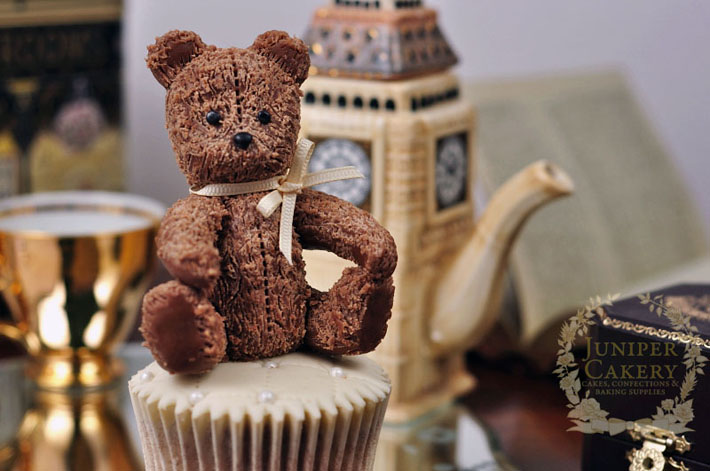 Photo via Juniper Cakery
Antique teddy bear cupcake
Imagine this sweet little bear sat on a picnic inspired cake! We love the idea of playing with size and making lots of bears to sit around a picnic basket complete with little sandwiches made from fondant. Using modelling chocolate is great for positioning arms and legs because it is so easy to mold – why not place a slice of cake in the bear's paw or even use white modeling chocolate to add contrasting accents!
To discover how to create this charming teddy bear, check out our FREE modeling chocolate tutorial from right here on the Bluprint blog!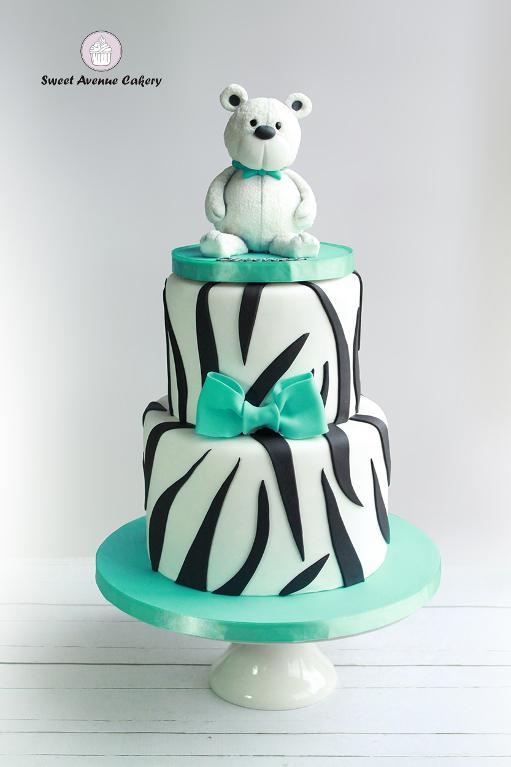 Photo via Bluprint member SweetAvenueCake
Teddy bear zebra print cake
This little teddy bear is certainly dressed to impress! We love how the large bow on the front of the cake matches perfectly with the bow tie and with its eye catching color palette this cake would be a showstopper at birthdays and weddings alike.
Sitting any cake topper on its own little decorated board makes for a perfect keepsake and who wouldn't want this furry little fellow.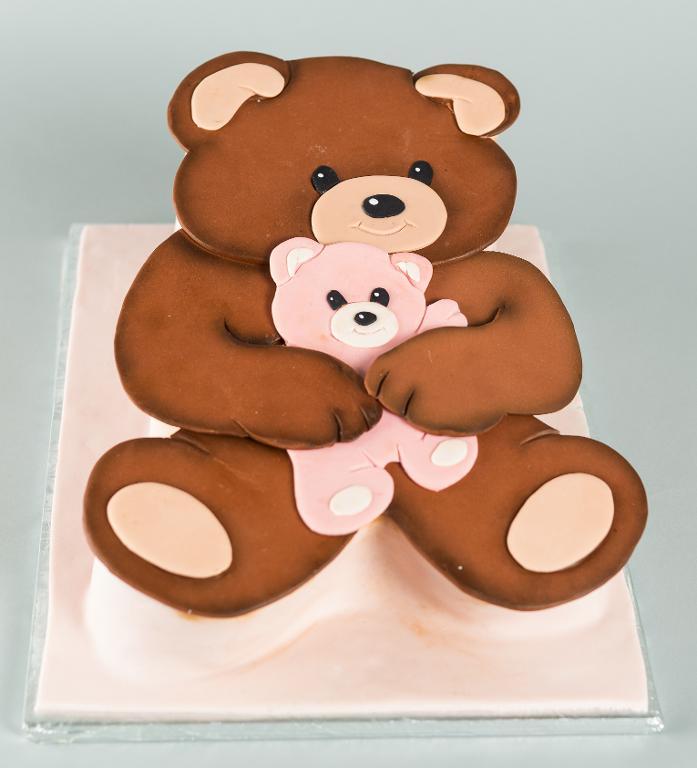 Photo via Bluprint instructor Mike McCarey
Cut-out bear cake
This is a fantastic idea! If you're not confident at carving cakes, why not give this one a whirl? The great thing is all that's needed is a teddy bear outline and you can add the details later with fondant, just like the cake above.
Having the bear snuggle its own little teddy is so lovable and we think this cake would be perfect for any baby's first birthday.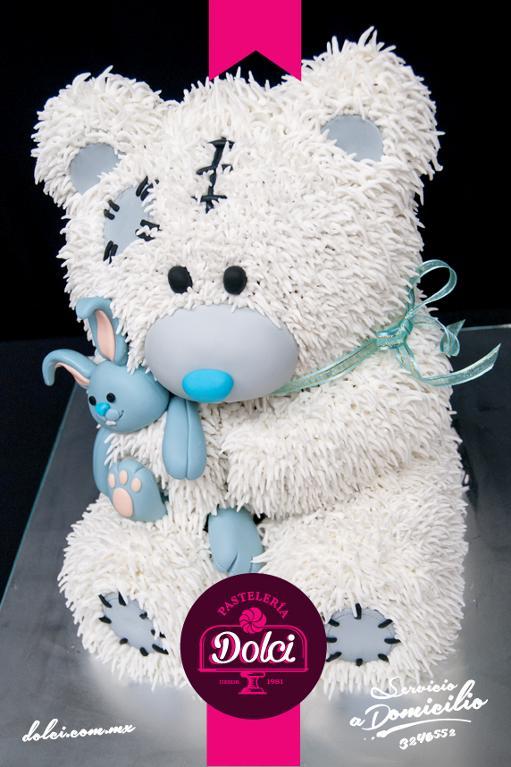 Photo via Bluprint member Dolci Pasteleria
Teddy bear and bunny cake
Who wouldn't say 'aww' when they saw this 3-D masterpiece? Using a nozzle to pipe fur is a such an effective and fail-safe technique and it's fun too!
We imagine this cake taking center stage at Easter celebrations — simply change the bow and bunny to vibrant yellow and pink and you'd have a cake fit for spring. This cutie would make a wonderful baby shower or Christening cake too!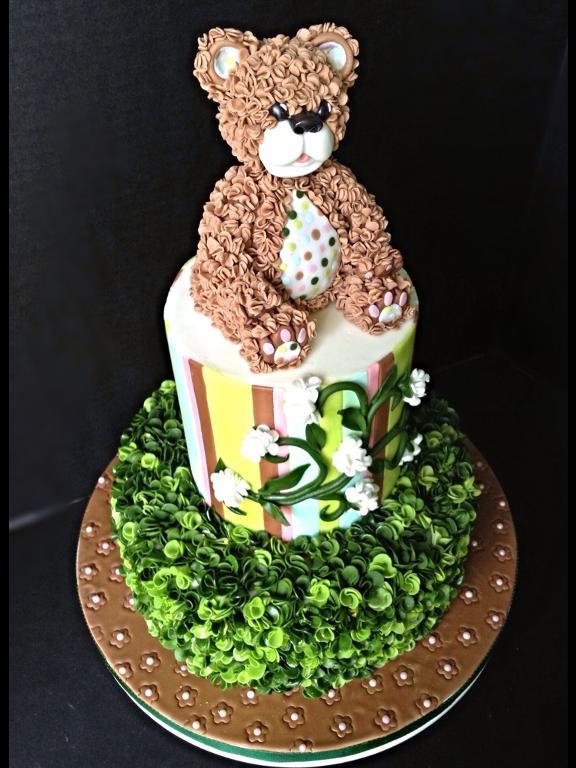 Photo via Bluprint member Vagabond Baker
Forest bear cake
Using fondant circles and folding them to create a fuzzy fur effect makes for a truly adorable little bear and just look at those polka dot paws! We adore the vibrant green hedgerow tier and matching the stripes with the soft green, blue and brown hues with the polka dots is a lovely novel touch. To customize swap the stripes for fun paw prints, it would look as though the bear had clumsily scrambled up the cake to sit at the top — cute!
With so many cute ideas for teddy bear cakes and cupcakes you're bound to be super inspired. You could even create a wonderfully playful berry filled teddy cake surrounded with tasty cupcakes, teddy face shaped cookies and honey pot decorated cake pops for a fabulous themed picnic party!
What sweet treat would you love to create for a fun teddy bear picnic?
Use easy techniques to create amazing cakes!
Learn the easy yet impactful techniques that let you transform sheet cakes into affordable, custom designs with eye-catching dimension & detail!Enroll Here Now »